Ireland might not be one's first thought for a winter destination, but then we're nothing if not unconventional here at The Arb. In this opening salvo of a travel double bill, Larry takes his little one out west for the half term break, to discover the delights of the Emerald Isle…
I have a romanticised image of flying from a small airport like Southampton. Something reminiscent of 1950s air travel; of smiling check-in staff greeting me warmly, breezily waving me through Departures and up the gangway to the plane. Okay, a bit excessive, but it's a million miles from the crowds, disrobing for security and 3km walks to your gate at Heathrow. If you're in reach, and you want an easier ride, Southampton (or one of the other regional airports) is definitely one to consider. And so it was for a far more practical route to Dublin for half term.
The Dylan is one of those properties that makes you feel what it's like to live in a city. It's set away from the hubbub of Temple Bar, in an impressive redbrick townhouse, with ornate capitals and stonework detailing, originally commissioned by Queen Victoria's daughter as the nurses' accommodation to the (now vacant) Royal City of Dublin hospital nearby. It's also bigger inside than it looks (it also discreetly runs into the adjoining building), with a delightfully laid-back ambiance. Some properties just make you feel at ease as soon as you enter; there's no fussing, they're not trying to make a statement, and it all adds to that ease of settling in.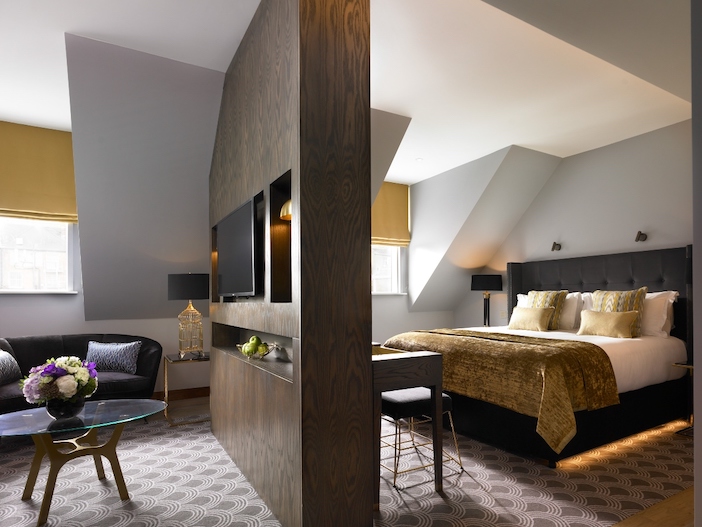 Over a light lunch of one of the finest steak sandwiches I've had in a while, I overhear an American voice behind me, "We were here a week ago, and decided to come back…" well, that's an endorsement before we've barely arrived. Others seem to agree; the lounge, compact and cosy, is full, with locals enjoying afternoon tea. But, for guests, there are other frills; and some very well-thought-out touches in the rooms; the all-important lighting controls, a supremely comfortable bed, and bespoke water and chocolates as part of the turn-down.
Suitably settled, the question arises of how to get acquainted with the city with a little person in tow? First stop, the Little Museum of Dublin. It's not, you might think, for little people, specifically; more a bite-sized introduction to the city's recent history – and certainly not as little as the name suggests, being perfect example of one of the city's impressive Georgian townhouses,  overlooking St Stephen's Green, over five stories, mighty sash windows and 18ft stucco ceilings.
It's an ideal intro into life in the city, with rooms crammed full of artefacts and memorabilia, everything donated by Dubliners, from a first edition of Ulysses to a display of gilded Monster Munch, and with rooms dedicated to such cultural monoliths as The Irish Times and U2. It's also well worth the 'history in a hurry' tour, by our animated young guide, Sean, touching on all the milestones and history makers of the city.
Better yet is Dublinia, adjoining Christ Church cathedral. This really is designed for little ones and, if the Little Museum tells of more recent history, here we learn about the origins of the city, telling the story of Dublin from settlement, through Viking invasion and into medieval life. It's very polished, full of reconstructions and immersive activities, covering crime punishment, disease and even a Dublin fair, with stalls and games to play, among various interactive screens. Needless to say, for all the excitement of the exhibitions, when I quiz my daughter on her favourite part, "the old Viking on the toilet," comes the reply. Here's hoping some of the actual history sunk in.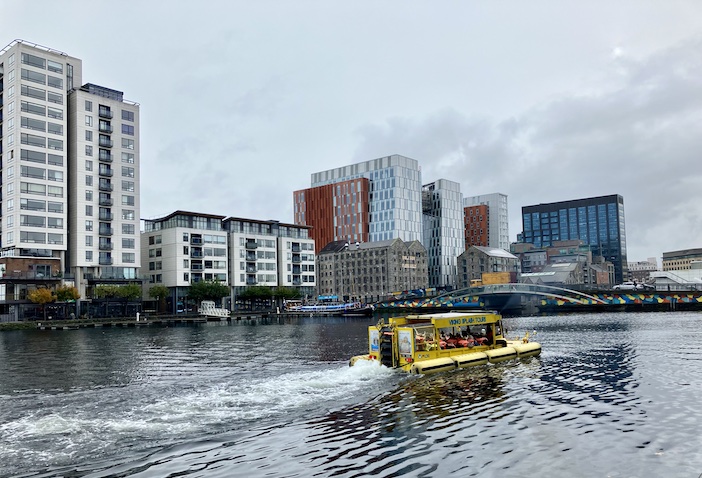 As much as I'd love to cram her cranium with history (ahem, I declare a more personal interest here), I reward her patience with something a whole lot more fun – and perhaps one of the best ways to see the city – the Viking Splash tour. Clearly popular, packed with all nationalities, we're suitably decked out in Viking helmets and swept through the city in a former WW2 amphibious vehicle, complete with a dip into the Liffey basin, to the machine gun commentary and jocular wit of our guide, Brian. The connection to any Scandinavian invaders may be utterly tenuous but you can't fault the fun factor.
The convenient thing about Dublin is that it is eminently walkable, even with a moaning mini in tow. So, when options for dinner were considered, it wasn't a bother to stroll back into the centre for an evening at one of the city's finest. Tucked among pubs on Merrion Row on the north east corner of St Stephens Green, Hugo's demands your attention with its vivid turquoise facade, but which belies an inviting low-lot interior in dark wood, ornate wallpaper and shelves stacked with wine – not to mention some playful, unpredictable decor in the gents' loos – giving it an air of a Parisian bistro.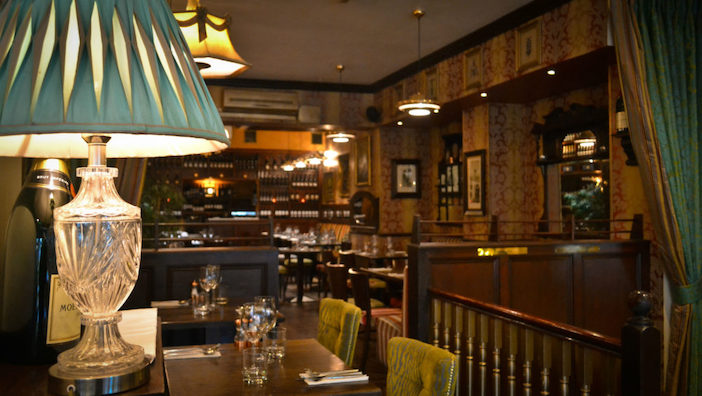 Part-Irish, part-Italian, part delightfully original, and bathed in soul music, its eclectic make-up, however, it's not a gimmick; this kitchen knows what they're doing. Starters of crab with green apple, and a sea bream tartare far outstripping any ceviche I've had, we turn up the Irish with a hearty pork chop with greens and roast potatoes, mopped up with a crumbly Guinness and treacle bread. with a few surprises, Sixteen years running, and every table still booked out, mostly with locals, Hugo's, rightly, is an institution, and long may it continue.
It's a flippant segue but that blend of cultures from Hugo's is brought right up to date the next day at EPIC, a museum dedicated not just to Ireland's history of emigration, but their influence across the globe. And epic it is. Very much a contemporary approach to museum, each room focuses on a theme, through history and into the impact of Ireland's diaspora over the generations, from innovation to arts to politics – did you know 23 US presidents have Irish ancestry?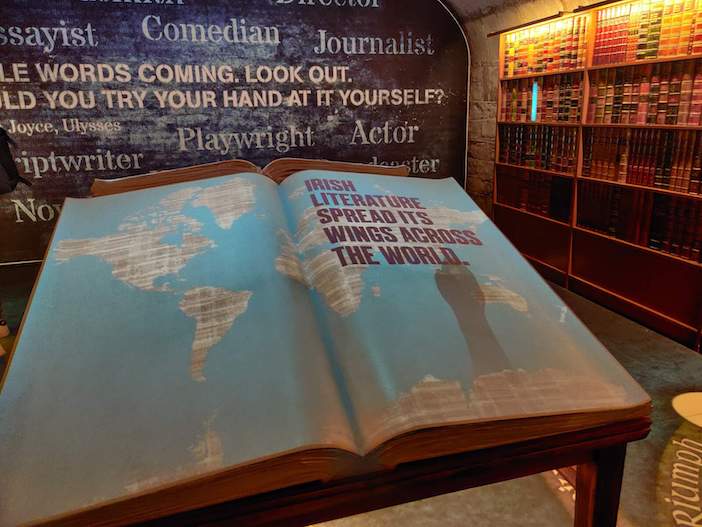 More personally, it features stories of the prominent and not-so-known personalities that have made their mark on the world. One such example that struck me was the extraordinary story of Chief Francis O'Neill, who after being a jobbing globe-trotting itinerant, settled in Chicago, became chief of police and recorded 2500 traditional tunes to preserve the legacy of Irish music.
He's a fitting reminder for something I'm craving while I'm here. And for a Dad wishing to escape his little nest of vipers for half an hour, as Mrs L took our sleepy stress merchant back to The Dylan, I took an opportunity to call in on O'Donoghue's, conveniently opposite Hugo's, for a crack at the craic. Nothing like the tourist traps of Temple Bar Brian warned about, it's an Irish pub in its authentic sense, bursting with character, characters, and near back-to-back music playing.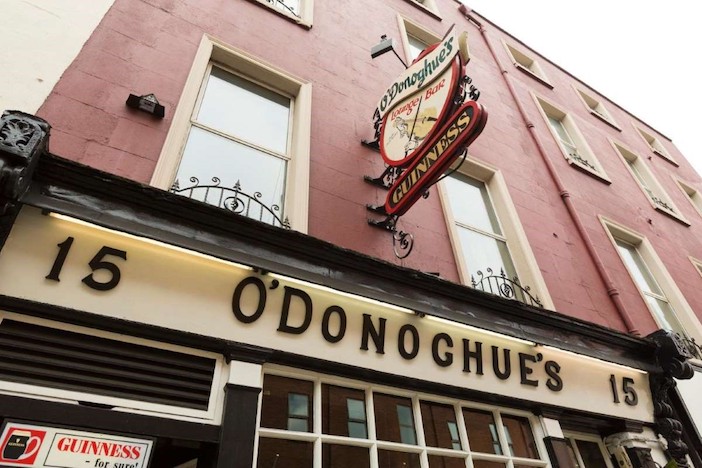 In the bar, strewn with signed dollar bills of visiting patrons, and walls peppered with the photos of decades of musicians that have played here, as my pint of Guinness settled, the quintet of guitar players in the bay window sang a lament about a Dubliner emigrating to the US, echoing our EPIC visit earlier in the day. Mid-song, some tourists poke their head round the corner and begin filming the band, at which the bartender hollers, "the museum's closed, come in and get a drink!"
The band pipe up again, a popular number I can't place, and the whole pub joins in. It's a truly warming, inclusive experience, amid which I can't fault the Irish hospitality. It is warm and welcoming, to a person, and particularly with children; cab drivers, waiters, passers-by, all humouring, even entertaining, our little one.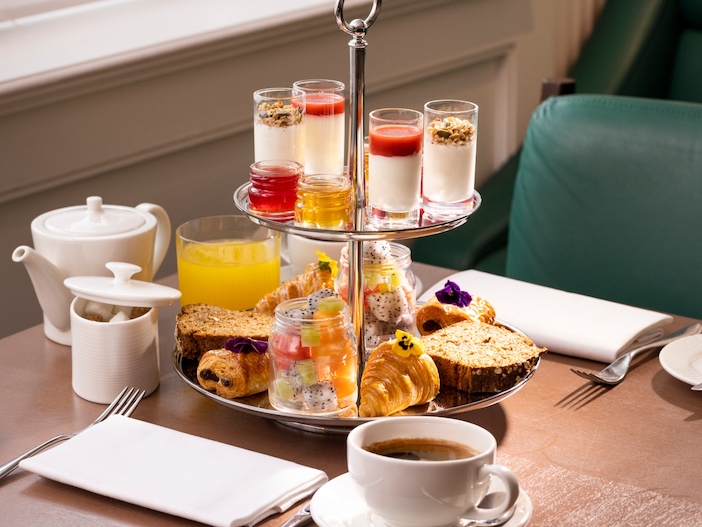 Our Dublin leg concludes the next morning with a Dylan breakfast, featuring a cake stand of mini pastries and assorted jars to whet one's appetite before the main order. And our mini Jay Rayner is nothing if not honest, when our order arrives; "Sorry, Mummy, but these are the best pancakes – even better than yours." And with that crowning endorsement, we say our farewells and head for Heuston station to traverse the south by train and the second instalment of our Irish half term tour…
Larry's half-term jaunt continues next weekend as the family arrive in Cork, gateway to the Wild Atlantic Way, and the final stop of a certain ill-fated passenger liner…