For all its diversity, Kenya is surprisingly compact. From the Luo region, it's a short half hour flight south-east in another 10-seater single prop plane and, from the air, some 3500 feet up, the topography shifts visibly; from small homesteads the dwellings become sparser, we pass low-lying hills, the patchwork of cultivation becomes more spread out before the roads disappear and we're over wide-open tracts of grassland. This is the Maasai Mara. And it's no cliché to say that as we fly over, I look down and see animals on the move across the savannah.
The landing strip is just that: a strip of dirt on a slight rise over the plains. A film of cloud takes the edge off the brightness and it's surprisingly cool, even late morning. To continue the Scottish analogy, we are at about 5000ft, which is the height of Ben Nevis. Two Maasai guides meet us, robed in traditional red tartan, and we're loaded onto an open-back safari truck, thankfully gifted with strong suspension, for the transfer to the camp. And our safari begins immediately.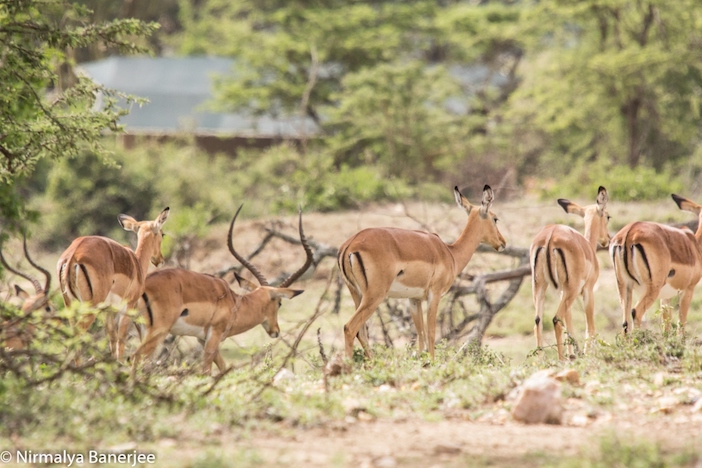 Within minutes, we're off the tracks and into the bush, among giraffes, topi and impala. A pair of warthogs trot with us for a few metres and a lone gazelle, a male, looks forlorn among the shrubs, rejected from the herd by a rival male and now likely someone's breakfast.
We're here during the Wildebeest migration and, halfway to the camp, we spot some in the distance and make our way over. Not quite the herds we might have expected, there are dozens nonetheless and all clearly heading in one direction. As we pass alongside, travelling in the opposite direction, we pause by two hyenas gnawing on the carrion of one that had clearly not managed to keep up. We can hear the crunch of bone as they lunch, reminded that this is no token safari park; this is very much nature's beating heart.
Safari means 'journey' in Swahili and, somewhat synonymously, in the hour en route to our destination, we must have ticked off some twenty animals from any 'must-see' list. It's not even mid-morning by the time we arrive at Porini Cheetah Camp.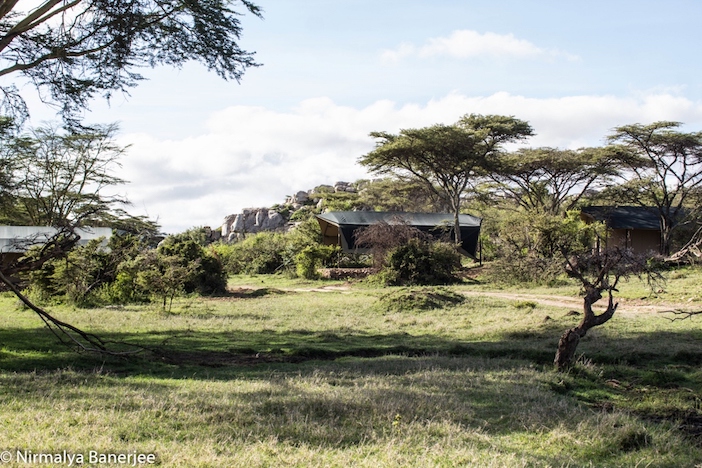 Cheetah is one of six in the Porini portfolio dotted about the conservancies in the Mara. The tented eco-camp is tucked next to an acacia-lined gulley, bordered by a rocky outcrop, a flowing stream and salt marshes, and represents a focal point for animals. For a mobile encampment, the reality far exceeds the expectation. Six double-sided canvas tents are each equipped with double beds (not camp beds either but bedsteads with duvets, plump pillows – even a hot water bottle for the turn-down – yes, they have a turn down), en suites and 'bucket' showers. Lounge and mess tents are comfortably furnished and amenities and refreshments are abundant, served with cheer by the Maasai staff. For such comforts it's surprising that the whole thing can be struck and moved, if necessary, and the ground restored to the land within three months. Unlike most safari experiences, with fixed abodes, swimming pools and the like, this is the real article.
There are some house rules, however, and not of the order one might normally expect. It is, literally, a camp. It's unfenced. We are immersed in – and therefore exposed to – whatever nature offers. We can't leave a tent to cross to another without a guide outside of daylight hours, and a 'quick stroll' to explore is forbidden unless accompanied. That animals literally pass though the camp is not an exaggeration – over dinner one evening the crack and bellow of elephants tearing at trees not 20 feet away certainly adds a soundtrack to the meal – and each tent is equipped with a whistle as an alarm call.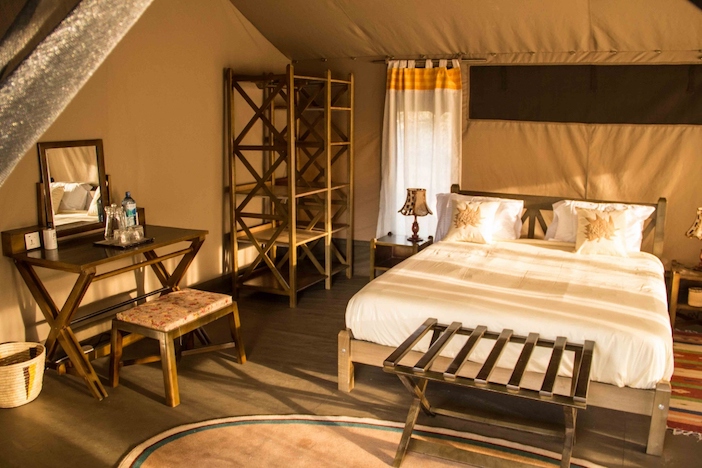 As we prepare to disembark for our first full game drive, I'm immediately advised of a rookie error. Blue clothing is a no-no, as it attracts the vicious biting Tse-Tse flies. I look at my current garb; blue jeans, blue long-sleeved jersey, blue hat. I may as well just present myself as a 3-course Tse-Tse meal and be done with it. But one khaki poncho later and we're off.
For years I've not been too fussed about safaris; it sounds churlish to say that the equivalents of parks such as Longleat, and even a private game reserve near Cape Town, would have been sufficient for me to 'tick that box', but there is one crucial difference that makes it always – always – worthwhile: to see these animals in their own environment, doing what they were meant to do, is an irreplaceable experience.
Of course, it also means that each drive is a lottery. You can go hours without seeing much more than the abundance of the herding animals. Different times of day do offer different activities – as do different seasons – and there are never guarantees, but that's what makes it thrilling. Everyone who has been on a safari has their dinner party moment.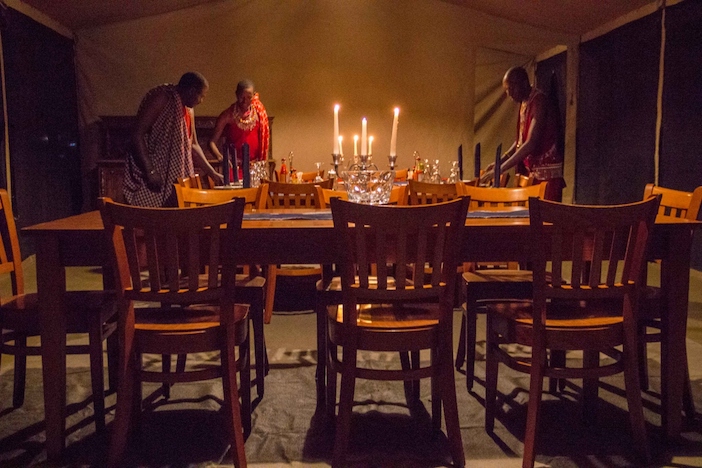 As well as the hyenas, we had an encounter with a rogue elephant, a bush walk for birds, and we picnic'd by a hippo pool (though, fortunately, upwind). But Porini's specialism is the cats, and we weren't to be disappointed.
Naturally, it began before sun up, with a 5.30am wake-up call, coffee delivered to the tent, and a bucket shower – a routine better than many five-star hotels. With the horizon ablaze, we wended our way through the bush, the morning drive ultimately proving unprofitable until about two hours in.
The guides' abilities are something to behold; not just their insight into animal behaviour but how they track and spot. But on this occasion, it was a radio call from another jeep that alerted us to a pair of lions on the prowl. With a gear shift we were there in minutes, and, with some astonishment, managed to pull up alongside a strapping male and his dutiful lioness, lying in wait across a brook from a grazing herd of wildebeest. This, surely, is the stuff documentaries are made of.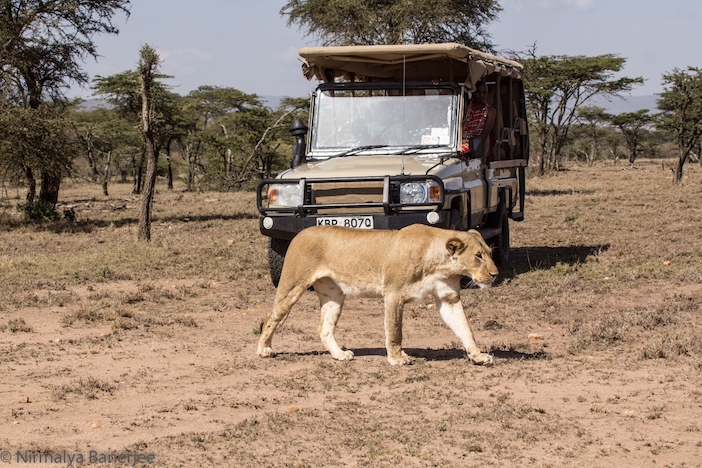 With a running commentary from our guides, we observed for over an hour as the lioness surveyed the herd, using our own vehicle as cover, moving into various vantage positions, ever vigilant – her mate's mind on other things – with us willing her on for a stray wildebeest to cross the gully. Sadly, one might say fortunately, one never did – thus sparing the herd, and our own bloodlust – but it made for a gripping, almost visceral experience. Eventually, the pair moved off to look for an alternative source for their next meal, and we returned for our own three-course feast back at the camp, and further stories of similar encounters from our hosts.
Believe it or not but there's a Maasai guide school, to which we paid a visit (one can on request), where prospective guides learn to hone their skills not only in tracking, animal behaviour, understanding flora and fauna but communication, guest relations and people management. On our visit, we joined a class – imagine 25 Maasai sat at school desks – as our guide, Nelson, took over the lesson and posed them a question about lion behaviour that was to come up in their final exam. As surreal experiences go, that has to rank up there.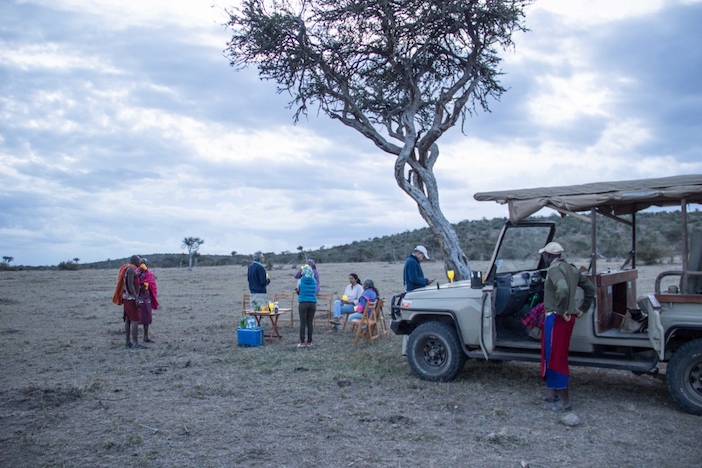 Equally, one of the most memorable experiences of a Kenyan safari has to be enjoying a sundowner out in the bush with the guides. Over G&Ts and macadamia nuts, we get an insight into Maasai life, their guide 'school' and how the trappings of modernity have affected their culture. We're on first name terms now and could be enjoying a beer in a Soho bar, but we're here on the plains, watching vultures circle overhead and distant giraffe silhouetted against the dying sun. I say to Nelson it's a shame not to be able to keep in touch after we leave. 'Sure we can,' he replies, 'just follow me on Facebook.'
It's dark as we drive back in camp, and following a farewell supper, we retire to the campfire for digestifs and an early night, ready for the final stage of our Kenyan odyssey the next morning.
***
In Mombasa, the first thing one notices is the change in climate; the cloying humidity and weight of the heat against the freshness of the Mara. The second is the change in order; in major contrast to the slow, rural pace of Rusinga, and the purity of the Mara, Mombasa is a crowded, dirty, run-down trading port. But it has energy.
Being on the main trading route from India, there's a strong influence from the sub-continent, and the bustle, the chaotic driving, tuk-tuks, the call to prayer, all make Mombasa feel less like you're in Africa, more downtown Delhi. Fittingly, our first taste is a full-on Indian-Swahili meal (though I'm not sure what makes for the Swahili distinction), before we press on to our stay.
Severin Sea Lodge is situated on a strip of hotels and resorts running along Mombasa's northern coast. Proudly displaying its heritage 'since 1972', it is almost a throwback to a bygone era. The rooms, situated in thatched 'bungalows', are as tired as the décor, a sunken bar with poolside access sits forlorn, and pot-bellied Speedo-wearing gorillas hog the sunbeds.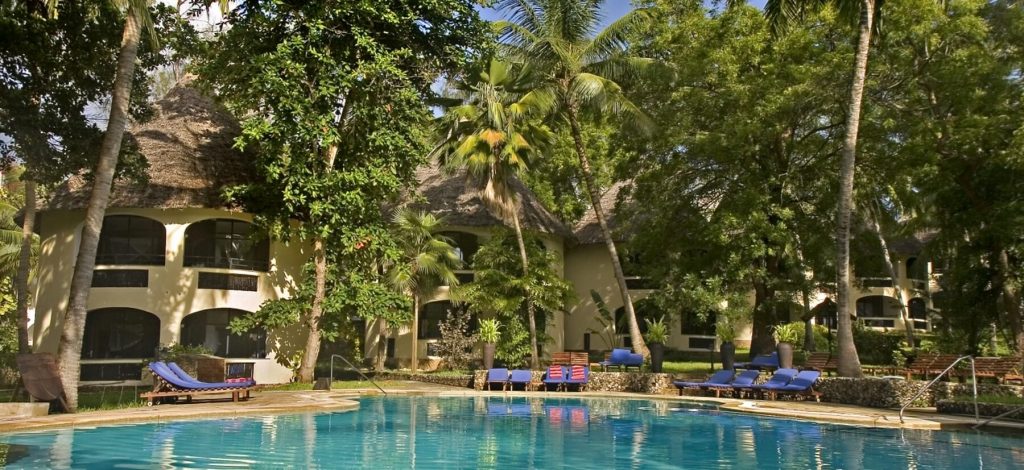 There is, however, something wonderfully retro about it; the main dining area pipes Curtis Stigers over the breakfast buffet, it issues towel tokens at the pool (which carry a hefty fine if lost), and a pair of Mombasan mariachis, hopelessly disharmonious but no less passionate, circulate the guests at dinner. And there are some lovely touches; foliage and fountains, and lots of dark wood and objet d'arts give a feel of authenticity, the most noticeable of which is the Imani dhow in the middle of the resort, a former trading vessel now housing the property's signature restaurant. And you know you're somewhere different when the bartender carries a catapult to ward of monkeys, themselves resident amid the many palms around the resort. All told, it's refreshingly unexpected and provides ample respite to a day's sight-seeing in the frenetic city.
Almost everything about Mombasa harks back to its colonial past, whether Arab, Portuguese or British. The 16thcentury Fort Jesus, overlooking the broad waterway to the mainland, is an impressive fortification for its size, given character by centuries of moss and mildew, and featuring several fascinating curios; most notably charcoal wall paintings by 17thcentury Portuguese soldiers. The fort is also a gateway to the old town, a network of narrow alleyways and near-touching balconies, though sadly now with little in the way of life through it, harbouring several derelict buildings and a clutch of restaurants that struggle for business. Perhaps the most striking artefact from the city's bygone days is the symbolic 'M' of the aluminium 'tusk' gates, across the main thoroughfare into the city, erected in 1956 to welcome Princess Margaret on a royal visit.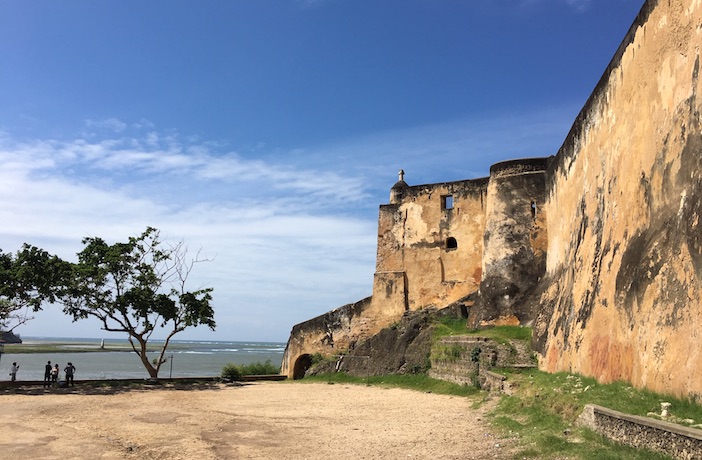 In truth, Mombasa is a challenging city. To even wander the main market, one is very self-consciously a stranger, and we are never parted from our guide, such is the underlying air of the unfamiliar. It's an unfortunate situation, as there is much here that could and should impress, but there is one thing that makes Mombasa a worthwhile stop on a Kenyan trip; its beaches. If you can fend off the hawkers, the crisp white sand, bowing palms and crystal sea make Mombasa's beaches utterly enticing. Couple that with a fruity cocktail and a big grin from a friendly Severin bartender and it's easy to see how this stretch of coast was once a major destination for an exotic holiday. Perhaps it can be again.
For more information about the Porini camps and Gamewatchers Safaris, visit www.porini.com. Prices at the Cheetah Camp start from $420pp per night, full board, including drinks, park fees, game drives, night drives, sundownders, Maasai walks and airstrip transfersThe Wildebeest migration occurs from June to October.
For more information about the Severin Sea Lodge, including details of excursions and events, visit www.severinsealodge.com.
For more information about Kenya, including ideas for your visit and itineraries, visit the official tourist board website at www.magicalkenya.com.
Porini photos courtesy of  Nirmalya Bannerjee.