Booking a holiday can be a minefield at the best of times, let alone deciding what to do when you get there. In this travel feature, Larry takes a different approach; choosing a trip based entirely on learning a new sport. With specialists in active sports holidays, Planet Travel Holidays, the destination proved a pleasant backdrop to an exhilarating experience…
The wind is whipping at the water, sending needles of fine spray over the shallow-sided dinghy. But I can't tell if it's that or the rain. Clouds, grey and heavy, bear down on my nerves as much they bear down on our position. We're a good 500 meters from the shore, itself in a haze through the rain. Never mind white horses, the sea looks like a jacuzzi. "Okay, get in," Dom says.
"The wind's not too heavy," I ask? "No, it's consistent, that's good. Let's go."
I take the bar, clip it to my harness and get in the water, the warmth a counterpoint to the shivers I'm experiencing. Dom passes me the board. The multi-tasking required means I lose focus on the kite and the wind snatches it from me. I fight the instinct to tug the bar and ease it back up to the 12 o'clock position.
Dom leans over and holds my harness while I struggle to get the board on my feet. They find the footholds and I try to lean back against the water, now focusing on the kite, dancing 40ft above me. All the while Dom guides me with instructions, like a metronome. "Bring it back to 12, now 2, back to 12, feel the resistance…"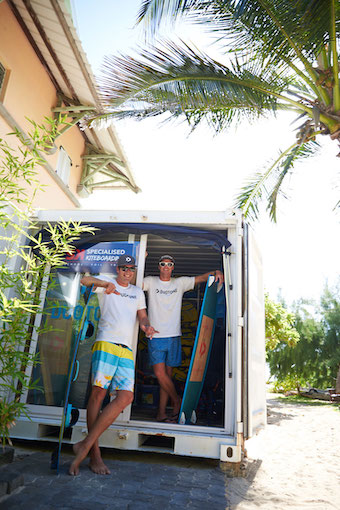 Suddenly, I feel I have control of everything. The day's instruction is starting to click.
As daunting as this experience sounds, several elements ensure that this seemingly reckless activity is as sure as learning to ride a bike. For one, I'm in Mauritius. As an island it's known for its kite-surfing. Indeed, you might even say it's designed for kitesurfing. Its east coast in particular is wrapped by a mile-wide lagoon, and bordered by reefs, ensuring you get all the benefits of the wind, but none of the waves. Where we are, on the south east, is on the windward side, with most winds being onshore, so it's perfect for first-timers. Little surprise that it's here our instructors, Jerome and Dom, themselves pioneers of the sport, have chosen to set up shop. And, thus, I'm in the hands of two of kite-surfing's finest.
As if this serendipitous spot wasn't enough, we're doubly advantaged because we're also a five-minute boat ride from our resort.
Preskil, literally pres qu'ile meaning 'nearly an island', stands on its own atoll in the reef lagoon, set apart from the more populous resorts in the south west. Reopening in May 2019, following a complete refurbishment, the result is a striking contemporary design that's sympathetic to its island heritage. The first thing you notice is that you can look straight through to the sea as you enter, the lobby and lounge opening out to the central pool, it's a photo opportunity as soon as you arrive.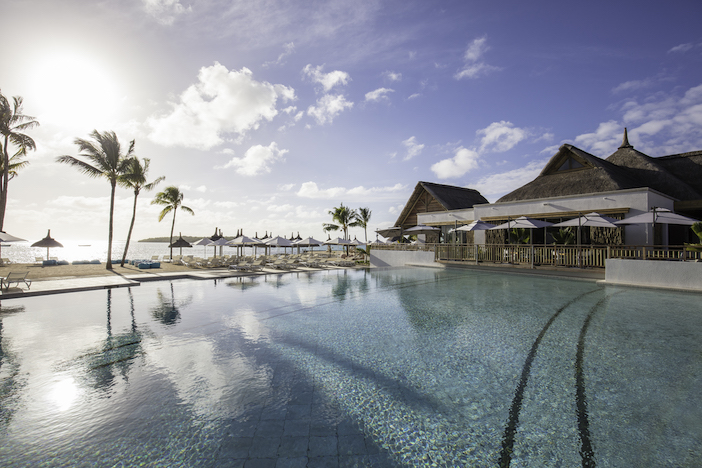 This being the windward side of the island, the buildings, all thatched roof and guava wood, have been sensitively aligned to allow for wind flow. Central to this is the Medley bar, open virtually on all sides, with a high-A-framed roof, it's open, breezy (literally) and thoroughly relaxing. Complimenting this sense of calm, some 18,000 plants, most of which are indigenous, make for a continuous garden throughout – including 2000 mangroves, restoring the island's natural ecosystem – the signature of which is the huge Banyan tree at the entrance, the symbol for the nearby spa.
Dining at Preskil comes from three restaurants, each with their own approach; on the beach, 1810 (so named for Napoleon's naval defeat of the British in the nearby waters), offers seafood a la carte. Set apart from the main area it's a great spot for a quiet lunch with its views of the iconic Lion mountain. There's Mediterranean at Mosaic but, in spite of its conducive spot for an a la carte dinner, falls short of the main buffet restaurant, Rendezvous. Aptly named as a central meeting point, as buffets go, it is terrific, and outdoes the other a la carte options. Salads are fresh and varied, the hot dishes equally so, and there are several nice touches,  including a lethal self-serve ice cream trolley.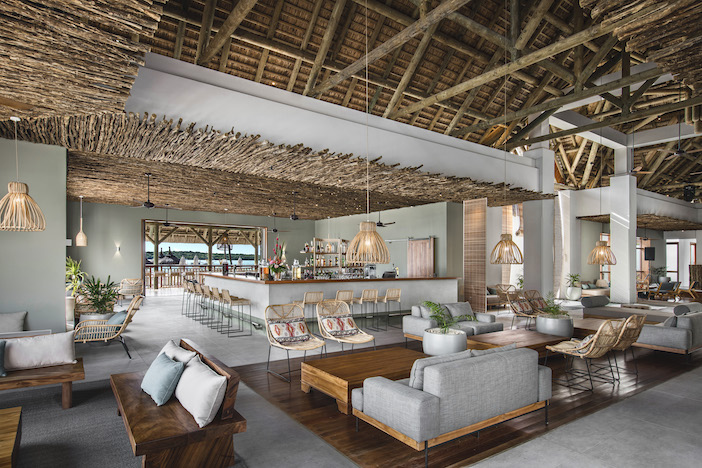 For an island known for its honeymooners, Preskil also has a strong family draw, with several incentives being complimentary for kids, including Tikoulou, the kids' club, and there are no shortage of activities for children and grown-ups alike if, in the event you're there for kite-surfing, there's no wind.
Arriving in Mauritius, as you might expect for paradise, we were met with bright blue skies, crystal clear sea, brilliant sunshine – and flat calm. This, it transpired, proved advantageous. While on 'wind watch' with Jerome, it gave me the chance to explore the lagoon; snorkelling around the corals (themselves largely bleached, sadly, but with no shortage of exotic fish), paddle-boarding, waterskiing from the jetty and, for an afternoon, visiting the nature reserve of Ile aux Aigrettes.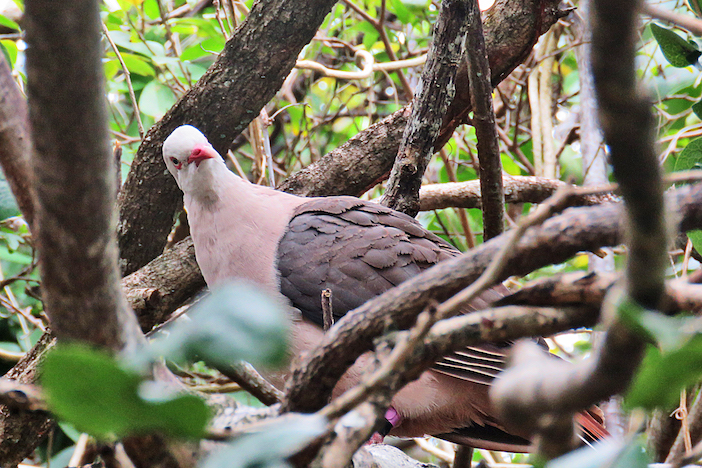 A small, mangrove-festooned island opposite the resort, the Ile aux Aigrettes is a nature reserve of national significance. Since 1985 the Mauritian Wildlife Foundation has been restoring its natural habitat, replacing introduced plant species with indigenous, and reintroducing endemic birds and reptiles that once lived there. A two-hour walking tour of the island is a fascinating insight into how Mauritius might have once existed, with curious fauna such as the Fody, the pink pigeon, and, by complete surprise, when introduced to a huge pile of dung on our wandering, the giant tortoise. Sadly, not all creatures are as fortunate, however, and the only Dodo we encountered was a bronze one.
Two days in, thoroughly enjoying island life, and I'd nearly forgotten why I was there. Sipping a sundowner on the resort's catamaran on a lagoon tour on my second evening, my mobile sprang to life. It was Jerome with the forecast. We were in luck; the wind was coming the next morning.
Kitesurfing is not, as its name suggests, as simple as standing on a board and getting pulled along by a kite…well, it is, but as I soon discovered, there's a degree of multitasking that makes it quite a skill. Effortless when you look at it from the shore, but challenging and rewarding (when you master it) in equal measure. It takes a good two days of tuition, from understanding the kit and setting up on shore, to learning how to control the kite in the wind.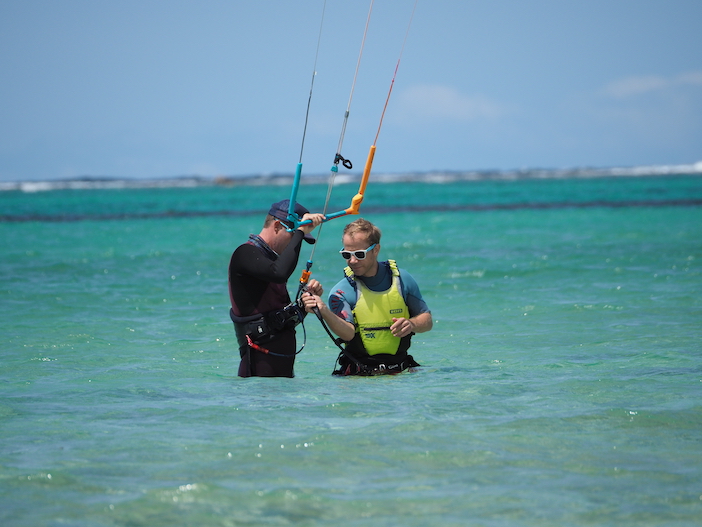 We are, however, surprisingly quick to get in the water – though not, admittedly, on the board. Once harnessed up, we send the kite in the air and, standing waist deep, we send it this way and that, learning the clock face of where to place it to catch the wind and optimise its effect.
Two hours in the morning and we're confident with the kite. Shuttling back to the hotel for a cookery class for a Mauritian chicken curry, I'm careful not to over indulge before we're back at the school and, this time, we're in the rib heading out to open water where we try more lessons in control but, this time, with the current to contend with.
By the end of Day 1 I'm wondering how I'll ever get on the board. As Day 2 dawns, the weather's turned. It's squalling; the sheets of rain passing towards us like spin cycles in a washing machine. The wind's irregularity isn't good, and as we waiting on shore out of the rain, Jerome tests it, giving us a display of aerobatics that's absolutely breath-taking.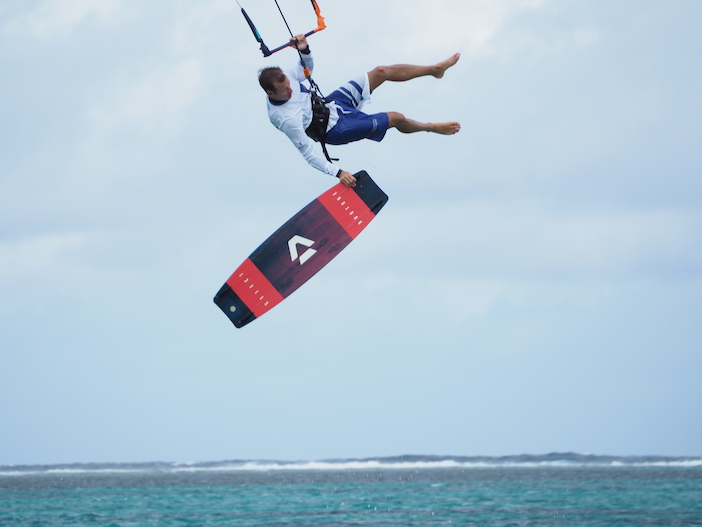 Suddenly, we get a break. The intervals give way to a steady wind, Dom gets me in the rib and we bounce out into the lagoon.
And so, we arrive where we began.
My mission was to get on the board and take flight. And I do. In more ways than one. Bobbing in the water, adjusting here and there, in a moment, everything locks into place. My position is good, squatting with the board level with the water. I bring the kite to 2 o'clock and feel the pull. I don't even sense that I'm lifted out of the water, it's over so quickly, but there's video evidence that I did.
As I go down, I yank the bar toward me, which is akin to slamming your foot on the gas. It wrenches me from the sea and I take flight for a second time, this time without the board, head first, pulled into the air for a few feet before crashing into the water, the adrenaline making me burst out laughing. My lesson is over, but I'm already addicted.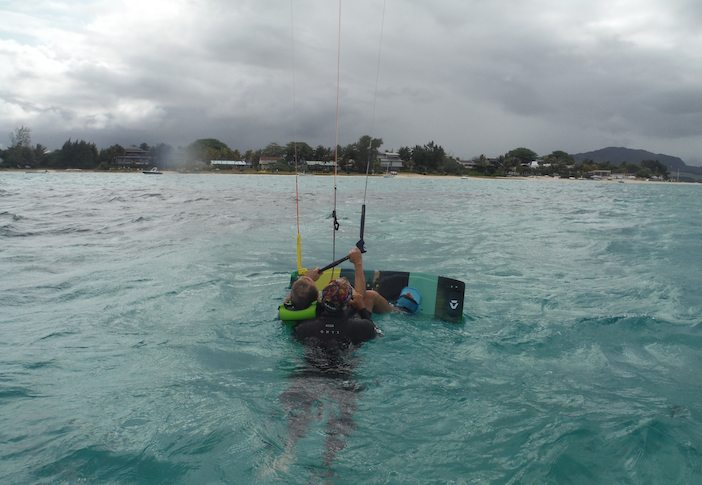 Not twenty-four hours later I'm in the airport lounge with Air Mauritius, enjoying complimentary drinks and a buffet of local specialities, and already researching where and when I can have another go.
Somehow Weymouth in winter doesn't quite have the same ring to it…
Larry travelled to Mauritius with Planet Travel Holidays, offering tailor-made windsurf, kitesurf, dive, ski and SUP holidays worldwide. For details of Kitesurf packages, including bookings and building your own itinerary, visit www.planetkitesurfholidays.com.
Kitesurfing lessons were provided by Specialised Kiteboarding. Lessons start from €110 for two hours.
Air Mauritius fly direct from London Heathrow. For more information and itineraries, visit www.airmauritius.com.
For more information about Preskil Island Resort, including details of activities and special offers, visit www.southerncrosshotels,mu.
Additional photography courtesy of @implausibleblog and Planet Travel.