In this era of cheap air travel, it's easier to have seen more of Europe than to have explored what's on one's doorstep. But for the duration of a flight to Madrid, or Oslo, the south of France, or a slow train to Swindon, Virgin trains sweep you up to Liverpool. A place which, in my childhood in Kent, seemed as distant as, well, Liverpool.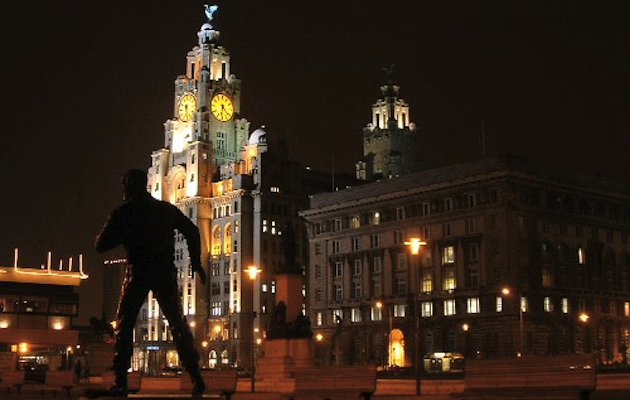 Voted UK's friendliest city by Conde Nast Traveller in 2012 for the second year running, the European Capital of Culture in 2008, home of the Grand National, a couple of second rate football teams and, of course, the Beatles, its recent renaissance is as exciting as its heritage. Liverpool is a city synonymous with the nation's trade during the Industrial Revolution. Seven miles of docks were operating in its heyday and, in 1857, nearly half of the country's export revenue was generated from Liverpool. London barely managed a quarter. I cannot believe I'd left it nearly half a lifetime before visiting.
Liverpool's heritage was evident the minute we stepped out of Lime Street station and caught sight of St George's Hall, standing proud, like a Victorian Parthenon. But, like its majesty before it, so came its decline and walking down a tired, ragged Renshaw Street, this was still evident, wheezing under the grime of a boarded-up picture house and grotty kebab shops. But for its fabled post-war malaise, so has the city undergone an extraordinary transformation in recent years, never more in evidence than at the Albert Dock; derelict until the 1980s, it's now the beating heart of the city's leisure industry, rich with modern architecture framing the former majesty of the buildings at Pier Head, including the city's iconic Liver building.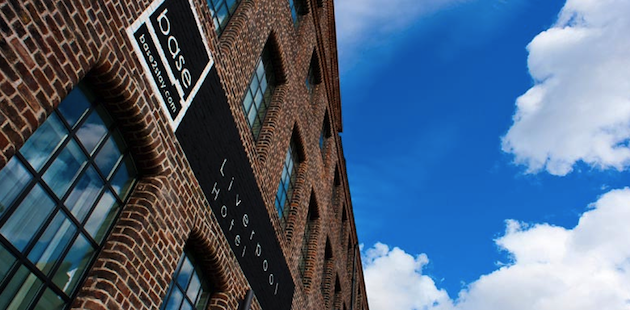 Base2Stay, our hotel is, at first, an unlikely choice for The Arbuturian. Foregoing the Malmaison, the Hilton and similar, the lure to the city came from a concept championed by the Nadler hotels, that of 'affordable luxury'. Namely that the price of a room need not dictate nor be disproportionate to the offering, and achieved when one factors in various unnecessary overheads (like a restaurant). After all, I've often maintained that a city hotel needn't exhaust itself with a restaurant because guests are more inclined to eat out and explore. Alongside a property in Kensington, from what I'd seen of their latest opening in Soho I was struck by a very convincing argument. But Liverpool? Not Mayfair or Chelsea or Shoreditch? Or Edinburgh or Exeter? The dye was cast.
The location is unassuming, almost uninviting. Turning off Hanover Street, behind a Tesco, into what feels like an industrial estate in decline, to the uninitiated this is an odd setting for a hotel. It transpires, however, that this is to its advantage. The setting, Rope Walks, is like a mini Shoreditch – better, in fact; it reminds me of Brooklyn – and oozes trendiness from its very boarded-up, post-industrial fabric. If this sounds alarming, you may be surprised to learn that  the surrounding area, not two streets away, has been designated a World Heritage Site. We pass a bar, The Garden, behind makeshift corrugated iron walls tacked on to a disused factory, and a glimpse inside, reveals hipsters louching around mis-matching furniture in a scene reminiscent of Renoir's Moulin de la Galette. Further still, down one of the area's characteristic cobbled streets, the early stages of music and mayhem echoes from what we learn later is the infamous Concert Square, alarmingly, just behind the hotel. But any fear of that reaching our room, however, is swiftly abated – for all the mayhem that would ensue on the busiest weekend of the year, the hotel exists in its own bubble with barely a hint of a distant baseline to be heard as we entered our suite.

The hotel itself is a converted paper mill and it retains its industrial features of exposed brick and riveted joists, the decor and furnishings are Scandi-modern and artworks and installations complete a picture of creative minimalism. It isn't the Four Seasons, admittedly, and there aren't the trimmings such as bespoke pillows and fruit bowls but the design is chic, clean and contemporary. It straddles the upmarket underfoot at pit-stop prices. (I've spoken to many people who've said it's Malmaison at Novotel prices, to give you two contemporaries in the city.) In short, they provide the comfort you need for a restful stay to explore the city at a price that won't break the bank, or even make a dent in it. And, that said, it's not without it's frills. Services offered include a continental breakfast delivered to the room – that was a pleasant surprise – and a discreet kitchenette (tucked into a cupboard) represents another of Nadler's principles, that of creating the home from home, providing a degree of independence. And this concept of 'affordable' luxury; you're thinking it's a synonym for 'cheap'. Well, if it's any reassurance, the moment I realised this wasn't cheap was when I spotted the Gilchrist & Soames sundries in the en suite. And they weren't nailed to the wall.
It's easy to see why Liverpool was nominated European Capital of Culture; its musical heritage notwithstanding, the very fact the Tate opened their gallery here is evidence enough. It's set in the picturesque Albert Dock, that magnet for all visitors to the city, in a characteristic red brick warehouse. Their permanent exhibition is a revolving series from the collection, entitled 'Constellations', so called because it takes a series of key works through art history and then creates a 'constellation' around that work of all its influences. But the real draw for us was the Chagall exhibition currently on show. Occupying the top floor, it's an illuminating, mesmerising and moving tribute to the master of colourful cubism and dream-like invention.
And from one cultural phenomenon to another, at the other end of the dockside; The Beatles Story. You can't miss the Beatles in Liverpool. Really, that's not advice, that's a fact. You can't miss The Beatles in Liverpool, they're everywhere. And this isn't tacky cashing-in either, theirs is a proud heritage. From the seediness surrounding the Cavern Club in Mathew Street – the area is even dubbed 'Cavern Quarter' – to the ubiquitous availability of souvenirs, you're in no doubt this was the birthplace of one of – if not the – greatest musical band in the world. And the museum is a must. The era is recreated in a walk-through timeline of scenes, from the Merseybeat newspaper offices to the Cavern and Hamburg, to the Abbey Road studios of the day and even the Yellow Submarine.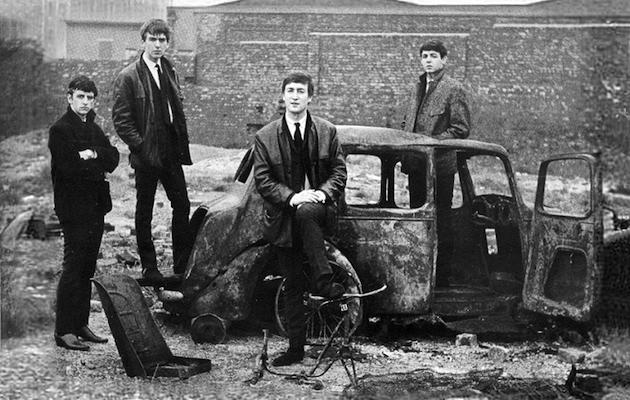 And as if to acknowledge its musical heritage, I have since learned that Liverpool is the World Capital of Pop. Though I'm not entirely sure who came up with that accolade but as if to dress the city in the coat they've hung on that peg they've come up with the LIMF, the Liverpool International Music Festival; a month-long musical mash-up spread across the city, from the docks to Sefton Park to celebrate everything from its heritage to current chart-toppers and new acts with over 250 performances through the run. And it is this that provided a backdrop to a Bank Holiday weekend in the city.
The beauty of most of these performances are that they are free. Almost as soon as we arrived, we were off to Sefton Park – through a distinctly more upmarket Toxteth (where houses now reach the million pound mark) than the one closer associated with Mrs L's and my memory, namely rioting – where we were treated to a concert by the Royal Liverpool Philharmonic. Popular classics they may have been, with rabble rousers from Verdi to Wagner, but it was a colourful introduction to a part of Liverpool we might otherwise never have seen. From one extreme to another, we concluded our musical tour at the 'Party at the Pier' for a raft of immensely popular acts I'd never heard of, arriving as Chelcee (sic.) Grimes was rallying the crowd – screaming at a pitch I couldn't hear but sent dogs howling around the city – to 'make some noise', before a young chap from Juice fm came on and announced the rest of the line up; Lucy Spraggan, Nina Nesbitt and The Saturdays. Slightly baffled by a Queen Tribute band headlining over Texas, it was nevertheless a weekend of tributes with the second stage covering Coldplay, Bowie, even Adele, among others, not to mention a year-by-year Beatles anthology by various tribute bands in Sefton Park. That's the wonderful thing about Liverpool, they're proud of their heritage in all its guises.
Thus music provided a backdrop wherever we went, emanating from pubs and bars and bouncing from the buildings as the 'Party at the Pier' played out, it was as if a soundtrack followed our exploring the city. On our final night, Robbie Williams sang Angels from the second stage at the Pier as we made our way down to Albert Dock for the final time. Only it wasn't Robbie Williams but, of course, a tribute. In fact, save for the song and the setting, I would have imagined I was passing a second rate karaoke bar, that's as much as he sounded like Robbie Williams, but it mattered not; the sun was setting over the Mersey and the Wirral beyond, its reflection flickering off the rippling water in the dock as we made our way to Gusto, for dinner. Having spotted it on the way back from the exhibitions the day before, we felt we'd saved a treat for last, finding a piece of the city ourselves.
Alas, it wasn't to be. The setting is attractive, certainly, and it should have been a pleasant experience but Gusto suffers from the affliction off many middle range restaurants; that think they cater for a cultured crowd but draw the masses, and the menu reflects that, with pizzas and burgers in faux sophistication. It began auspiciously enough, enjoying a decent negroni on the leather chairs that overlooked the dock, but the moment we sat at our table there began a descent into chaos. We dined in incalculable noise, with tables so close a woman nearly sat in my salad as she squeezed past to leave. Waitresses dodged children haring around the tables and somewhere between Rebecca Ferguson wailing from the speakers and the general din, I faintly heard a table begin to sing Happy Birthday. We couldn't hear ourselves so we gave up talking. The pizza we ate was passable, the salad better, but the whole affair rather summed up our experience of dining in Liverpool; most restaurants give an illusion of sophistication but cater for a rowdy crowd. But it was, after all, the biggest night in the busiest weekend of the year.
The evening, however, was salvaged in spectacular style. There's an old notion that if you want to know where to drink, ask a bartender. And the purveyor of that fine negroni in Gusto offered me a fabulous tip. Berry & Rye is a speakeasy in the classic sense. An un-signed, blacked-out shopfront, the only indication we were in the right place were the two people outside, clearly looking like patrons in tweed jackets and pocket 'kerchiefs. Inside, past a friendly doorman, in a dark, low-lit, tight squeeze through cubicles and a rough wooden bar, a lady in a headscarf tinkled on a piano between bouts of '30s jazz. The menu, presented in pages of an encyclopaedia under the letter 'B', was replete with classic prohibition offerings. I settled in to a Manhattan and soaked up the atmosphere, savouring what had passed that weekend in this extraordinary city.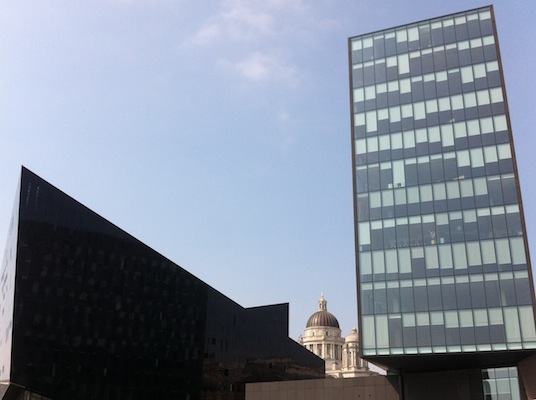 Liverpool is a city of eclectic contrasts; of daring architecture against classic monoliths, of stirring social history against rampant consumerism (Liverpool One makes Westfield look like a corner shop), of baudy hen nights against subversive trend-setting. It's a vibrant, dynamic, and glorious city. Prince Albert remarked in 1846, "I have heard of the greatness of Liverpool but the reality far surpasses my expectation." I think that rather sums up what I felt, too.