There is something so utterly English about messing about in boats. It's not just The Wind in the Willows and Three Men in a Boat – though they have certainly played their part in embedding deep in our imaginations the idea of life on the river. There is that filmic image of languor and heat, cushions and sunshades, the background buzz of pollinators in the flowers, picnics on the riverbank. And there is, too, the fact that this is easy for the amateur. Think of all those punting students. Anyone can do it, right?
And so I found myself standing in the boatyard of Le Boat on the banks of the Thames at Benson and contemplating a gigantic cabin cruiser that was to be mine for a few days. The Major was with me and, on the basis that he had indeed been a punting student, was nominated Captain, while I was going to do the leaping off with a rope and tying the enormous thing up. We had a practice first, of course. Ollie took us for a turn up and down the nearest bit of river and was very encouraging. "Everyone over-steers initially," he said as we zigzagged between the banks. "Just as a matter of interest," I asked, "what does a boat like this cost?" It was somewhere north of £300,000. Gulp.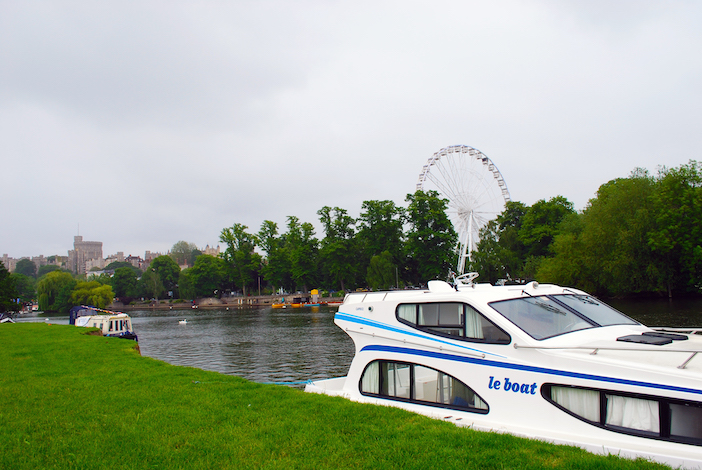 A few minutes later, we were on our own and heading for our first lock. Now, locks on the Thames are fully automated and usually manned. So if you compare this to the manual ones you'd find on most of our canals, it's a lot easier on the arms. Our first lock-keeper had clearly seen our like before. "Don't you worry," he said as he helped me tie up the boat and I watched helplessly as we bounced against the sides of the lock. "Just you take it slow. These things are like dodgems." £300K dodgems?
As he released us from the lock, he called "Look out for the mayflies. They've just hatched out today." Was this, I wondered, an interesting moment for naturalists or a warning? And we were off on our somewhat unsteady path toward our first destination. We were not, in fact, going far. My plan, in as much as I had one, was governed mostly by riverside pubs. So, unsure how long we'd be at the boatyard, I'd picked one for our dinner that night that should be no more than an hour or two upstream. The late afternoon sun came out, swallows swooped over the water (maybe after those mayflies?) and I could swear I saw the flash of a kingfisher.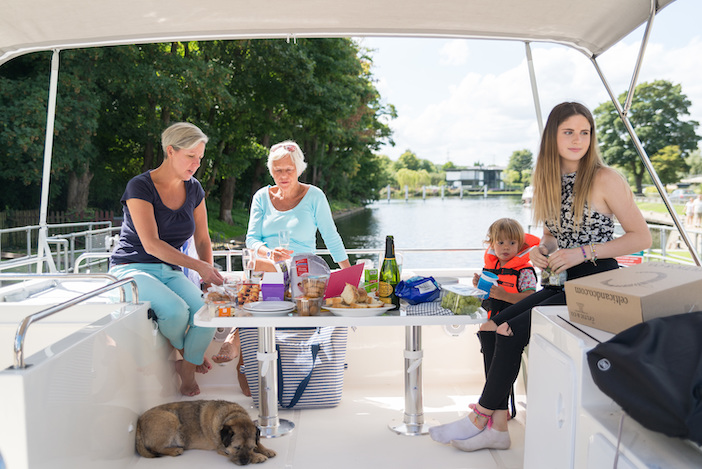 Astonishingly, we reached the Beetle and Wedge at Moulsford more or less on time. It's on a stretch of river immortalised not just in The Wind in the Willows but also Three Men in a Boat and we began to feel rather like the latter hapless companions as we tried to work out where to park (sorry, moor). Don't worry, I assured the Captain, we can stop here temporarily next to the pub and I'll go in and ask them. I'd just leapt off and was getting the first rope round a bollard when a man marched out to me, not quite with a shotgun yelling "Get off my lawn". Fortunately, we found a more tranquil spot just a few hundred metres away.
The next morning was peaceful indeed. Standing on deck with a cup of tea we made a plan to go to Henley. Families of ducks passed by in flotillas and a watery sun offered a small hint of warmth (May, you might remember, was freezing). We had taken a wary look at the weather forecast but, perhaps, we thought it would be wrong. And as those three men in their boat had said themselves, "We could not expect to have it all sunshine, nor should we wish it. We told each other that Nature was beautiful, even in her tears."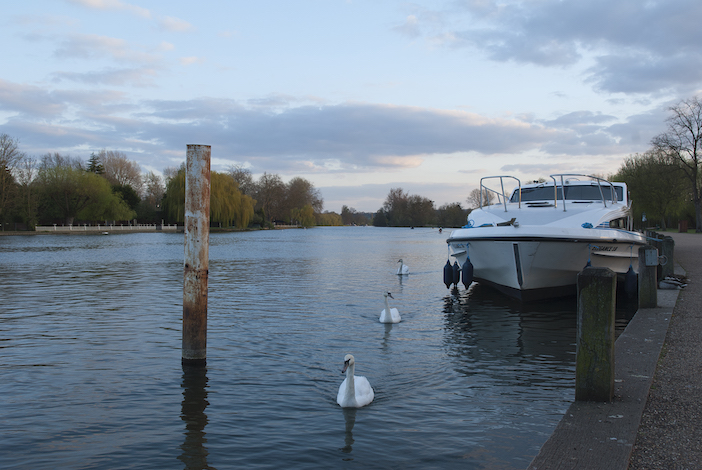 Then the heavens opened. When this happens on a boat – certainly on our boat – there really isn't anywhere to hide. The Captain sits outside and the Mate is outside, too, with that damn rope. By the time we reached our second lock, it was raining so hard we missed it and went down a side stream. Fortunately, this didn't lead to a weir. Also, fortunately the boat (did I mention it was called Elegance, perhaps not the first word that came to mind with our driving technique) had bow thrusters. Suffice to say, this means it can pirouette midstream. Handy.
Time for an executive decision. We were not going to Henley. We were cold and wet – in fact, soaked to the skin – it took 36 hours for my jeans to dry. We were now definitely in Jerome K Jerome territory though at least we didn't have to put up a tent in the rain. We would spend a pleasant day doing very little. The Captain walked to the nearest shop and returned bearing food and wine. As JKJ himself said, "Let your boat of life be light, packed with only what you need and simple pleasures… and a little more than enough to drink, for thirst is a dangerous thing."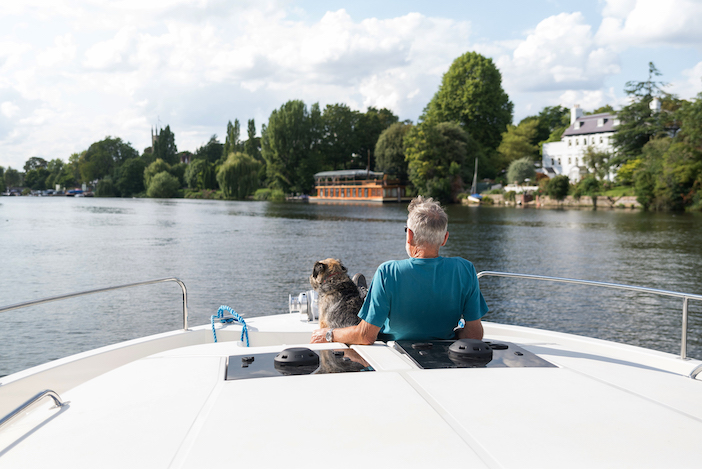 Our third and final day dawned somewhat brighter and we pottered up and downstream bearing in mind we had another delightful riverside pub to visit that evening, Ye Olde Leatherne Bottel. Here they had a mooring for us, the sun peeped through the clouds and set picturesquely over the fields on the opposite riverbank. Dry and warm, peace and well-being were restored.
Messing about in boats for a staycation? Certainly, just fingers crossed for the weather….
Anna booked her boat jaunt through Le Boat, market leaders in boating holidays across Europe. For more information about hiring, boat types available, destinations, even for a spot of inspiration, please visit www.leboat.co.uk.