This is a tale of four wineries. In 65 hours. And a truly staggering amount of wine.
Well-informed, functional adults can skip to the next paragraph; for all others – my pre-trip panic-googling is at your service: Moldova shares borders with Romania and Ukraine. Capital city: Chișinău (KeeShiNow). Flight time from London: under three hours. Principal export: wine. Food? Glorious. 
And thank god for Moldovan food. Not just the glorious flaky weight of the pastries, or the salty richness of pork and cabbage rolls, or the soothing properties of zeama, the traditional noodle soup – but for Moldovan food culture itself: the way abundance and heartiness (and pastry) are so embedded in the Moldovan concept of hospitality that every winery tour comes with stacks of the good stuff. There's such a general flood of cheese-stuffed pastries and pastas and soul-warming chicken soup that somehow it lends a wholesome halo effect to the weekend.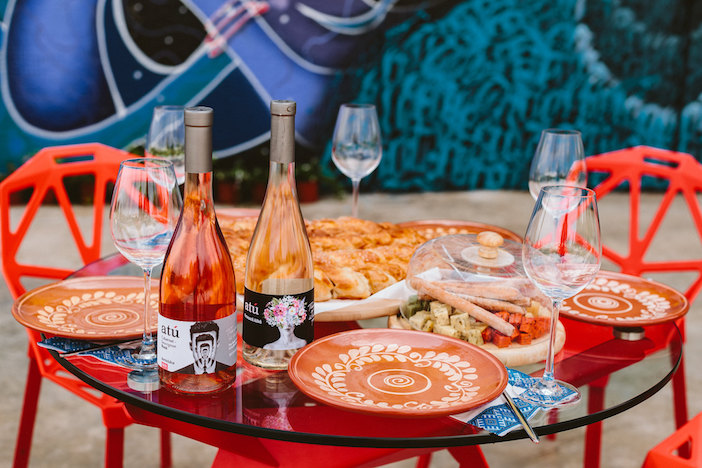 Chicken soup pitstops aside, the itinerary looks ambitious. I've been on a good – or maybe troubling – number of low-sleep, high-blood-alcohol trips, and this bids fair to top them all. Moldova has the highest density of vineyards against arable land in the world, with 20% of the wage-earning population employed by the wine industry.  
And it shows. Granted, we're on an alcohol-forward itinerary, thanks to wine experience specialist Winerist; we meet a lot of genuine experts. But we also meet young, recent graduates (of non-booze disciplines), and airline stewards and hotel staff and designers, who all talk grape varietals and terroir with the same affection, knowledge, lived experience and proprietary passion I mostly associate with elderly French wine merchants. Talk about wine in the sort of way that, say, English people talk about tea: serious business and also entirely everyday, high ceremony and utter routine, deeply personal and also a collective national experience. 
With that much passion floating around, our four-winery itinerary stops looking feverishly ambitious and starts looking like a great effort of restraint. 
The Fairytale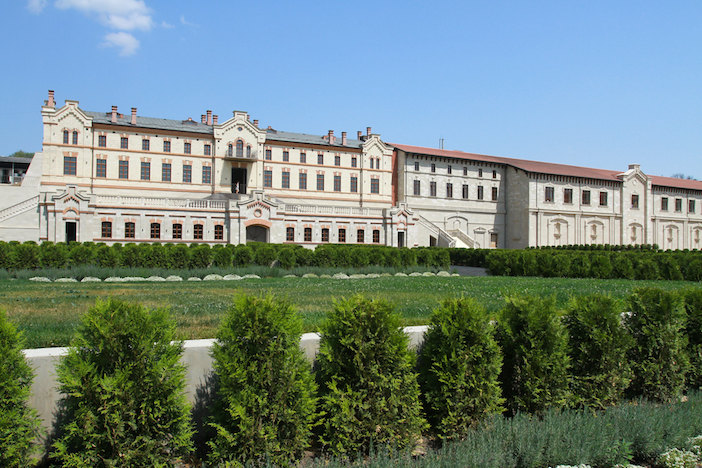 First up, Castel Mimi, the sleekest, most high-design, high-luxe of the wineries we visit, their restaurant and grounds balancing somewhere between the cream-stoned grandeur of a French chateau and the deliberate, textural curves of Scandi design. Underneath it all there's a set of cellars so glowingly-lit, gothically pretty and crammed with wine we could happily stay there all weekend. And upstairs there's The White Owl restaurant, with a fine dining, feast-style menu lovely enough to lure us out of the cellars, made up of modern reinterpretations of traditional Moldovan dishes. 
The Underground City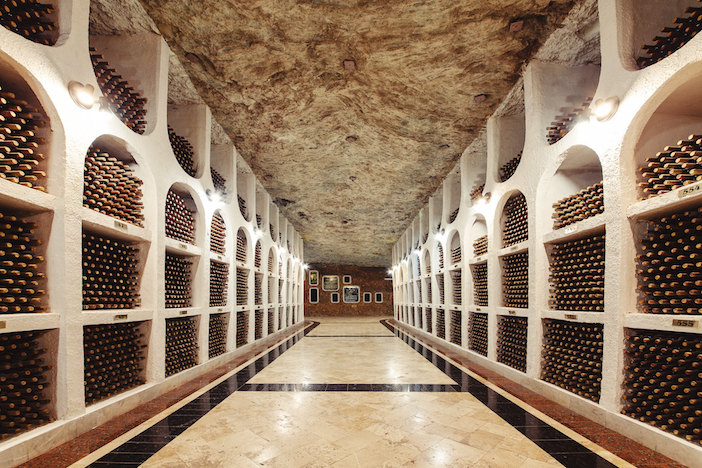 Cricova Winery's a different beast: 120km of wine cellars, spiderwebbing underground through the limestone like a labyrinth. Their tunnels are a subterranean town, with feasting halls (including the one where Putin celebrated his 50th birthday) and a small cinema and street signs and avenues you drive along in golf carts. We drink their fragrant-but-crisp Feteasca Alba, a grape unique to Moldova and Romania, in a pleasingly lunatic tasting room done up as a lavish, underwater palace. We eat salty cheeses in amounts more easily measured in kilos than slices. The story about Yuri Gagarin getting (intentionally?) lost down here for 48 hours in 1996 might be apocryphal, but hey, maybe not – there'd be worse places to spend an unsupervised weekend. 
The Great Escape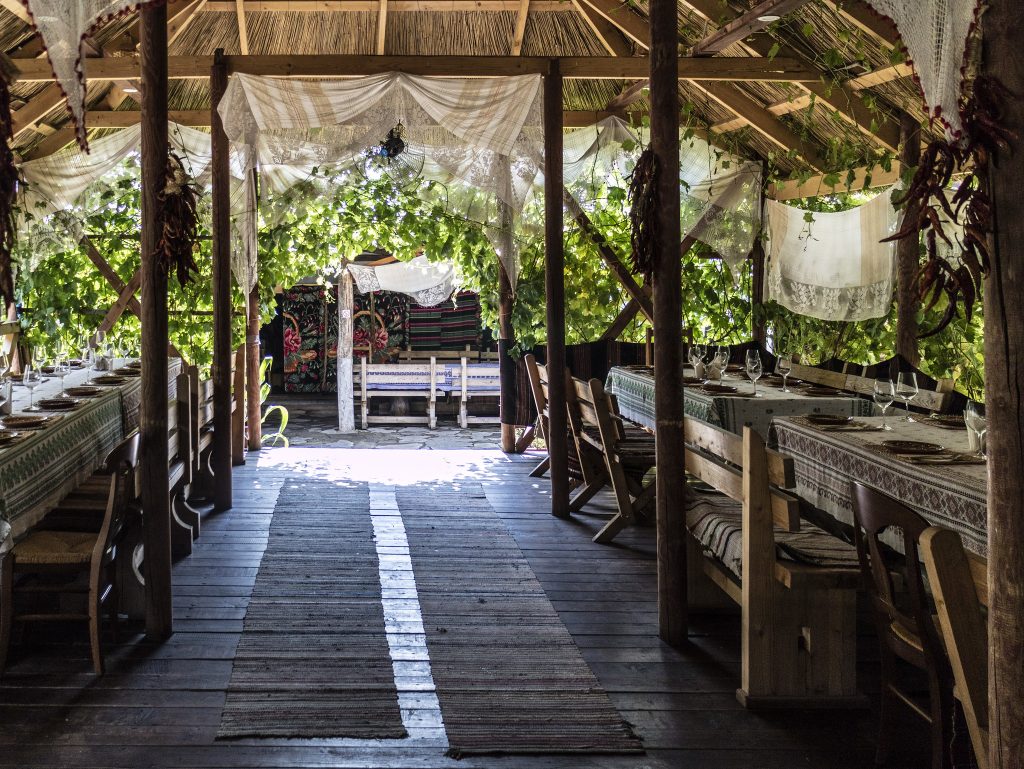 Asconi Winery's a short drive from Chișinău in Puhoi, and repping the traditional Moldovan country lifestyle. As more generations move into the city, and fewer people have parents or grandparents to visit in the countryside, Asconi tries to fill that gap. That translates to taverna-style dining in the summer, long tables set up on the vine-covered terraces; in the autumn, it's the big, wooden-beamed farmhouses that're heaving with sprawling Sunday lunches, several generations crowding a table, toasting each other ('Noroc!', loudly, fyi) and laying into big shared boards of meat haunches, game, cured meats, and the usual, perfect stomach-lining of placinta, the ever-present cheese pastries.
The Urban Dream
The fortunes of Moldovan wine haven't always been on the rise. In 2006, diplomatic relations worsened with Russia, previously the largest export market for Moldovan wine; another embargo landed in 2013. Those hit the industry brutally hard. A handful of years later, though, and the wine sector's rebuilt itself into something old-but-new, balancing elegantly between the instincts and traditions of a country where wine's always been an embedded, intrinsic part of the culture, but the excitement and boundary-smashing energy of a nation much younger to the marketplace.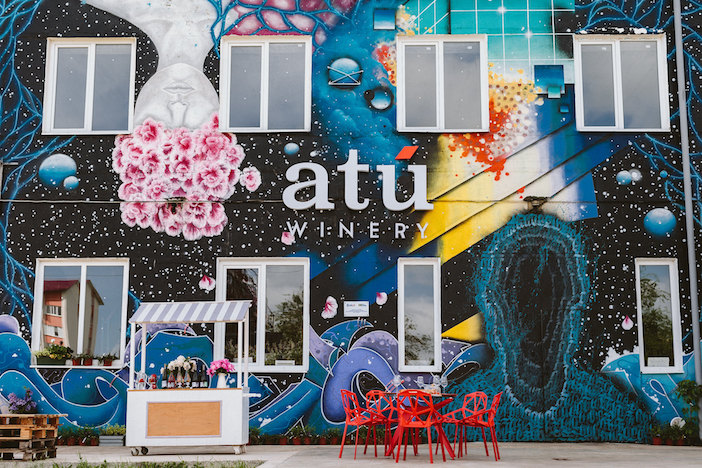 Atu's one example of that. The urban winery's a young couple's highly successful side-hustle. Their warehouse-home's an Instagrammer's dream, the inside and outside covered in vivid, enormous murals commissioned from Moldovan street artists; they serve bottles of green-golden Viorica, a local varietal, that smells of orange-peel and late summer; they're bringing back a 'lost' Georgian grape, discovered on a remote vineyard and coaxed back into production by Atu; they're exporting to China and the UK, they're hosting hiphop nights and graffiti tournaments with local street artists.
They have a large space out front – you know, easy access to the winery's bar, good view of the street art-covered derelict tower that dominates the grounds – where the firepit goes in winter. It's as lovely, informal and expansive as it sounds. And as crammed with cheese-pastries as I have come to expect and, possibly, physically require. 
****
I might have worried about the intensity of the itinerary before we went. But it turns out I have acclimatised very, very quickly to Moldova. The post-Chișinău comedown is… hard. I realise the morning after I arrive back in London that I have been awake for four hours and literally nobody has urged a chilled glass of Viorica on me, or brought me any cheese pastries at all.
Not the lifestyle that I – thanks to Winerist, Berd's Hotel, a host of wineries and the much-needed support of Moldova's finest carbs – have become accustomed to. 
The Arbuturian were hosted by Antrim and Berd's Hotel. Winerist offer 12 wine tours around Moldova. Bed and breakfast at Berd's Hotel starts from €135 per room per night. Flights from Stansted to Chișinău with Air Moldova start at €84 one way. 
For further details about travel, activities and places to stay in Chișinău and beyond, clicks the link to visit the Moldova Tourist Information website.