Following the misfortune of my Girl Guides experience, the next time I camped was thirty years later, as a travel journalist, staying at the Oberoi in Rajasthan. Theirs are the most incredible canvas creations. Tents (if you can call them that) are bejewelled, embroidered with gold tigers and water lilies, bedecked with four poster beds, host an en suite with a roll top bath and, significantly, running water. Hot and cold. This is camping, gilded. It was here I experienced the best meal of my life, with sambals for breakfast (by the chef who taught Jamie Oliver how to create curry, no less). My son was ten at the time, but he admits it's still the best curry he's ever tasted; for breakfast, much less supper. Tiger trekking and an elephant safari helped, of course, but this transcended the canvas experience to another level. I found my zeal again – but it doesn't count. Not in this context.
Camping in the UK is a different experience. As I've said, the element that makes camping tolerable is the heat; the continued expectation and appreciation of it, and a culture that is conducive to children, to family, comes with assured sunshine and an appreciation of living en plein air. It fits the French culture, it brings out the best in Italian, and disciplines Spanish culture and its nocturnal habits.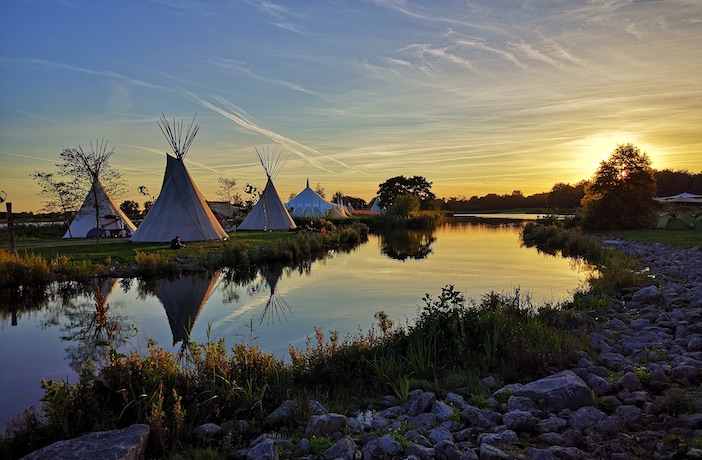 But, in my humble opinion, camping has no place in the English culture. We are not campers. I admit I may now receive statistics to the contrary and hate mail from the Camping and Caravan Club of Great Britain, and, yes, I know it's evolved and you can go glamping and, and…. but I know there will be many who have been stuck behind a caravan in the Lake District, en route to Devon/Dorset/Cornwall et al, who wish those with caravans had been asked to take a 'towing' test, or could at least check their route to avoid un-Caravan-worthy roads.
Of course, in this camp, there are the options of the VW Campervan (look great, but expensive to maintain) and those RV creations (look terrible, and expensive to rent) but they remove some of the alure of camping. VWs feel cramped, and don't accommodate families too well. Besides, beyond a certain age, you might not fit in with the sea-tousled surfer crowd when you pitch up at Polzeath beach. And RVs require more time watching the fuel gauge, burn diesel like a jet engine and are nigh on impossible to reverse park. That was my experience in one in the Yukon. So, campers, we can conclude, don't count.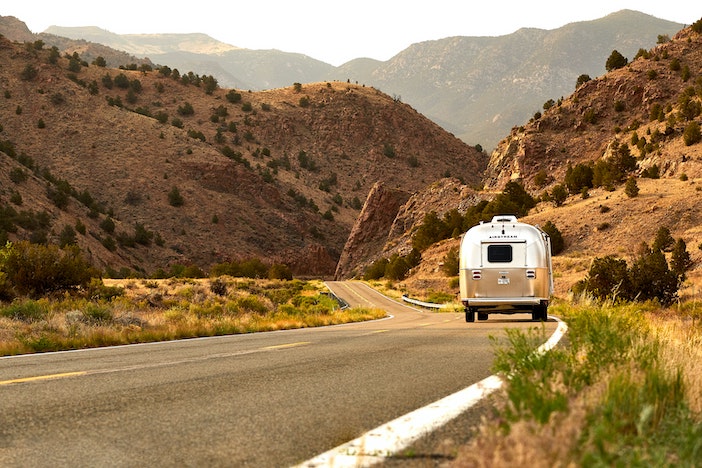 And, on that point about the evolution of camping, we can't include glamping. Yurts are little more than B&Bs more attuned to a Soho House expectation of luxury living than the Girl-Guide-make-do-Angel-Delight experience. Doesn't that defeat the object? Why 'camp' if you're effectively getting into a made-up bed every night? And where's the fun and frustration of pitching your own tent? I don't mean those where you push a button and presto! Your tent, madam. Up in seconds, not the hours it would take my cursing parents to put up the inner and outer sheets, with pegs I would always gore my toes on, tripping over guy ropes. Oh, happy days.
This isn't a polemic, incidentally, or a misty-eyed memoir of days gone by. There's a lot to look forward to camping these days. The sites, for one, have improved dramatically. Once merely fields in which a farmer wants to make more money, they exist now in some glorious places by rivers and beaches. Facilities have improved to add a modicum of comfort and distraction. And, crucially, provide resources. Not just pints of milk and firelighters, but organic butchers, pizza vans and fridge-freezers. And for all my bemoaning the weather, it can be fun too. Storms are exciting and dramatic and always benefit because they clear the air, and everyone knows the next day will be lovely.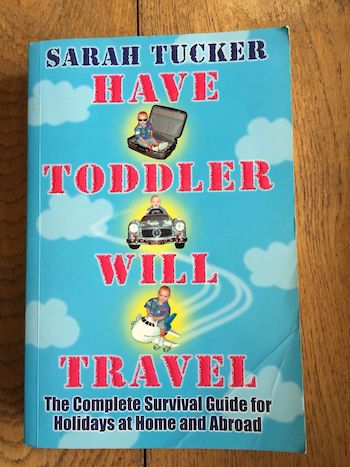 I mentioned earlier my book Have Toddler Will Travel, in which it was camping which came out on top for children. I stand by that. They loved it. It was outdoors, they could get messy, they were with friends, they made friends, they were Swallows and Amazon-ing it, by the beach, near a river, on an active farm. They ate at restaurants which were cheaper and better value than at home, they had a pool to splash in, and adventure on their doorstep. They absolutely loved it.
I asked the parents the same questions. It didn't get anywhere near the top five holiday options. I asked why this was and the answers were illuminating. Canvas has 'thin walls' (I presume as the parents could hear the kids all the time, rather than the other way round), there was a lack of comfort, which the children didn't care about. Campsites were noisy, intrusive, one never felt clean. In short, for every reason the children loved it, their parents hated it for the same.
On the plus side, if it was overseas, it was hot, or there was a pool/beach nearby, and if there were other children for theirs to mix with, that's all they needed. And, for all parents, another bonus; it was excellent value for money. Spending four weeks away in a campsite in the South of France or Adriatic coast was a fraction of the cost of a family staying at a bed and breakfast or hotel in the same destination.
A quick scan of prices now in the UK, one night stays from tent pitches start at £12 per night. Yurts/bell tents/domes/wigwams/tipis/nissen huts/sheds from £45 to £145, and cabins up to £345 per night. Airbnb has given camping a run for the same budget with more protection against the elements. At these prices, there's also an expectation of luxury with camping these days. For one, that the wilderness will not enter your abode. A friend of mine who owns a travel company once told me, 'I owned a campsite and I got so many complaints about birds and insects flying into the tents, I reached a point that when guests arrived, I would take them into the middle of the nearby wood and sit them down, "you see around you birds and bees and bugs? Please remember, they were here first."'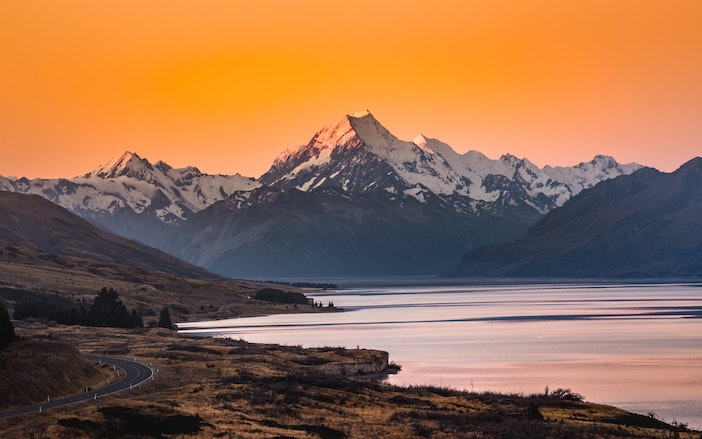 Since Rajasthan, I've camped many a time, and in many ways, and it's renewed my love for it. Safaris aside, the best places to camp, for an authentic camping experience, are on Vancouver Island, BC (you can drive through the Secoyas), Zion National Park in Utah, and Mount Cook National Park in New Zealand. Wary drivers will love the roads and the camping culture is as 'authentic outdoors' as you can get. In the UK, I'd recommend Loch Lomond and the Trossachs in Scotland (beware the midges). It will rain and rain but the beauty of the landscape is overwhelming. And then there's Devon, particularly around Dartmore and Exmoor, if you can avoid the second homers and City set, where you'll have incredible walks and views. Just be respectful of the locals who live there.
But, in short, my view remains that camping in a hot climate is best. And under canvas is best.
And if anyone knows where Mark O'Brien is now, please let me know.
Sarah Tucker is a travel writer, broadcast and author. For more information and further writing, visit www.sarahtucker.info.
Photos by Airstream,  Avis Indica and Marek Piwnicki  (courtesy of Unsplash)