Our next port of call, literally, was to be Mykonos. And here was a taste of the infamous island hopping so inclined by itinerants, backpackers and lunatics. The concept of 'hopping', however, is a bit of a misnomer. I had in mind gleefully jumping from a quayside onto a small motorised vessel, having tossed my kitbag to a willing, cheerful deckhand, and skipping across the waves before hurdling the bow of the boat into the surf once ashore at the next island and waving off my new-found nautical pals with a buoyant 'cheerio'.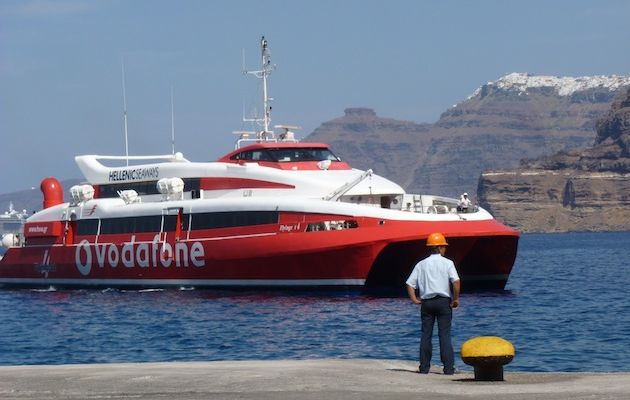 It's less 'hopping', however, more 'hoping'. Or, more accurately, an exercise in mass emigration. Queues for tickets are jumped as anxious evacuees fret over the validity of their papers, their temperaments becoming all the more fractious with news of the boat's inevitable delay. Once ticketed, massive lines form at the dock gates, religiously grabbing and guarding what space one has with one's bags, themselves so voluminous it's not far short of whole houses being loaded onto carts. I saw one chap with a mattress on his back. The self-administered order of these formations simmers with tension which surfaces the minute the ferry comes into view and the crowd breaks into a baying, shoving mob where officials attempt to conserve order but end up compounding the freneticism as they react both to the desperate energy of the crowd and their own schedules they're required to make up. It's not helped with the force 6 gale adding to the drama; the Melte, customary in these parts at this time, I'm told. In the rush, an elderly lady is knocked to the ground and ignored, and a small child cries piteously, rooted to the spot where it was abandoned in the maelstrom. The panic looks partly incited by the number of people seemingly outweighing the size of the boat to accommodate us. But accommodate us all it did.
What didn't accommodate us on this crossing was the sea, and featured several occasions for a collective gasp from the passengers and the odd heart-stopping moment when we feared we might be tipped up. Needless to say the other element to the journey's soundtrack was the noise of those not too accustomed to the motion of the waves making a run to the only toilet available. Grateful to be back on dry land we were met, once again, by the ever attentive staff of the Grace hotel, and greeted with water and cool flannels. Having just endured life as an 18th century navvie, these simple pleasures are manna from heaven. I nearly asked for limes, to boot.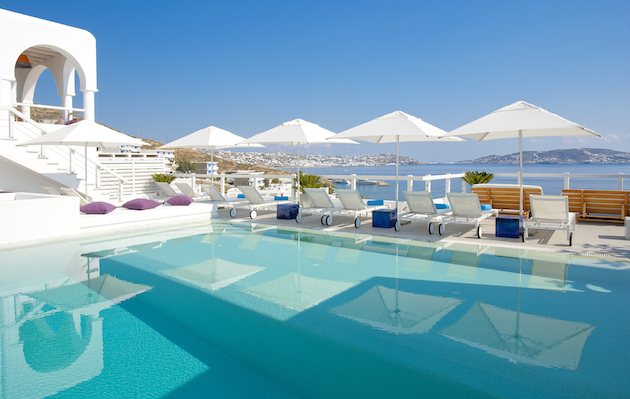 This Grace, while not as picturesque in setting, was no less comforting and accommodating as its Santorini counterpart. Just 3km from Chora, local-speak for Mykonos Town, it's similarly ideally placed; close enough to the action without being in the thick of it and, in this case, in the quiet core of Agios Stefano. Serenity met us as soon as we crossed the threshold, with an almost imperceptible check-in and our bags already in our room as we entered. A smaller room seemed all the more cosy for it and as equally appointed as our last; from their 'bespoking' service to the bathroom toiletries to the terrace plunge pool to the 'memory box'. We felt instantly relaxed.
With more time to spare than our previous arrival, we opted to explore the Chora. Often when you travel to a new town you're advised the best way of seeing a new town is simply to 'get lost in it'. This always sounded like lunacy to me; why would you ever voluntarily want to get lost in somewhere that was so unfamiliar? Can you imagine getting 'lost' in south central Los Angeles? Or Rio? Okay, I'm over-stating it but here, it really is the way to see the town and we were now immersing ourselves into its maze of narrow, meandering white-washed alleyways. I was intoxicated; by its energy and, in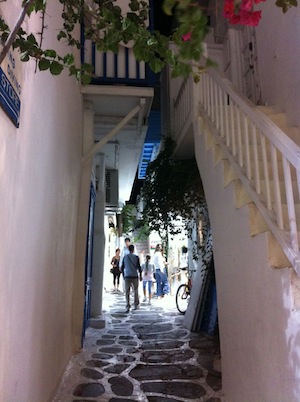 many ways, its beauty. This was, simply, not how I imagined Mykonos. Designed warren-like deliberately to keep the wind off the sea at bay – as well as to confuse marauding pirates in the 18th century with its uniform look, visitors nowadays are fortunate for more 21st century landmarks – the Louis Vuitton shop, in our case – by which to orientate oneself. If that comes as a disappointment, I should say it's all rather tasteful, in spite of the emphasis on tourism, with some lovely boutiques and art galleries that wouldn't look out of place in Fitzrovia. There is wealth here to cater for the wealth that comes.
On that night's agenda was fish. And it came from a fabulous recommendation from Grace's reception, Kounelas. The most tucked-away taverna imaginable, Kounelas is an institution that allows Mykonos to hold on to its charm in spite of the consumerism. Served by waiters that buzzed like bees around honeysuckle it's the sort of place that just has 'catch of the day' on the menu and when your table's called, you choose your catch, it's weighed, priced, and slapped on a grill before being served with rice or potatoes, a carafe of wine and a figure scrawled on a slip of paper to indicate the bill. Absolutely fantastic. I'd forgotten places like this still existed. Rounded by a nightcap of a chocolate crepe near 'Little Venice' – a row of cafes and bars butting onto the waterfront – we were too tired for the techno that emanated from each door front and instead meandered our way back through the town to a taxi rank, only to experience one of the town's infamous blackouts. Far from instilling panic, within seconds candles were lit and gas gauzes fired. It was the closest we came to experiencing what it must have been like years before.
Following our rather turbulent crossing, the prospect of another fine dinner at Grace and motivated simply by an island we'd been rather taken by, we abandoned plans to 'hop' on to Paros. After all, we'd also be the richer for it, in time and euros, and not feel quite so nomadic and unsettled. So, with that agreed, we set about renting a vehicle to explore the island. Our chosen chariot? A quad bike. And what fun it proved to be. Mykonos is small enough to circumnavigate in less than a day, and straddle in an hour. An island map offered beaches to suit all tastes and we settled for one in the north of the island we were told was secluded and sheltered from the island's infamous wind we'd experienced leaving the ferry the day before.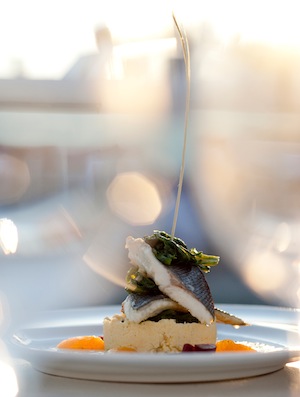 Dinner at Grace was delightful, accompanied by Kostas, the GM, giving us an insight into Greek culture; we dined al fresco, poolside, as if sat on the veranda of a friend's Mediterranean villa, and enjoyed yet more clever spins on classic cuisine from Christopher, the chef. Mykonian salad with finely sliced 'Louza' pork and given a twist with the dressing, shrimps in a gruyere nest with a sauce made from a bisque of their heads, another clever twist on moussaka with the mince wrapped in aubergine parcels and, of course, the only way to serve fish: grilled, in butter. Some classics don't require finessing. But perhaps the finest touch was a baclava so delicately prepared with layer upon layer of crisp filo and clove-toasted walnuts and pistachios, that Mrs L and I completely forgot we were supposed to be full. The meal's ambience was capped by Kostas furnishing our inquisitive minds with an insight into his homeland and rounded with a glass of Samos – the Cyclades' other dessert wine – such that we were the last table sitting long after the lights had gone out.
We had one final port of call on this brief sojourn to the Cyclades. It was, centuries past, the spiritual home of the islands, if not the country itself; the island of Delos. The entire island was a religious shrine for the ancient Greeks and this small, uninhabited outcrop, now a UNESCO World Heritage site, is still shrouded in much mystery; even in broad daylight, once out of earshot of other tourists and their guides, it retains an almost unnerving eeriness. Ruins and footprints of temples and effigies that can only hint at their original scale surround a reed-filled, dried-up lake believed to be the birthplace of Apollo. Some statues and icons remain; the lions, for example, the symbol of the island, worn from centuries of weather, still roar their muted warning.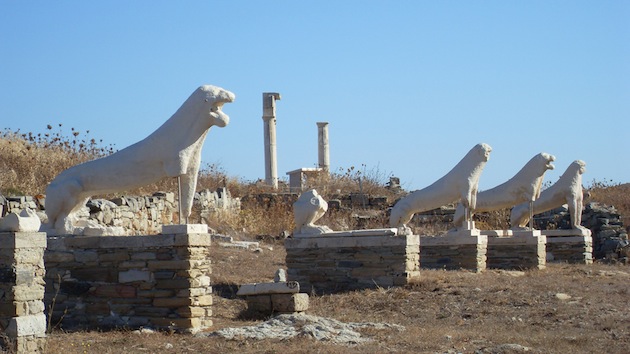 The best of the intact exhibits, however, are Roman. Once conquered, and perhaps by a prerequisite of the vanquisher, the island became a trading post and the port a lively town, and clearly somewhere desirable judging from the amphitheatre and the floor mosaics in the grander houses on the hillside. Roman religious rites are in evidence, too, there being similarities and influences between their polytheistic beliefs; the Romans, however, seem a little more vulgar judging by the broken phalluses gracing one of their temples. The museum on the island is crammed with statues, busts and artefacts recovered from the main complex, and as seemingly ad hoc as they are arranged, with little in the way of supplementary explanation, it does give a sense of the significance of the place. So absorbing, in fact, that we had to be jolted from our interest by the ferry's horn for the last call back to the boat.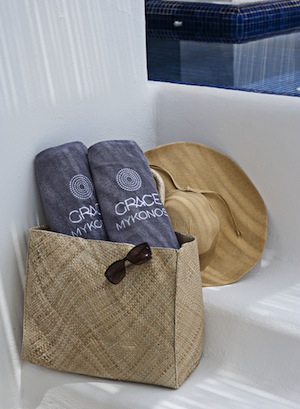 Mykonos has a reputation, one that certainly impacted my decision to go, and were it not for the Grace, I might never have. But it's a reputation unfairly labelled and, having been, now seems behind it. It's a gem in the Aegean; finding a balance between the charm of the old and the sophistication of the new. Personified, it seems, by the Grace hotel.