In Part 2 of his visit to Newcastle, Harry Chapman leaves its industrial past and embraces its future as a city of culture…
Unlike London or Paris which are relatively flat in the centre and spaced out with broad rivers that loop lazily, Newcastle is compressed and with its steep gorges that fall down to the water on each bank, it is just about possible to see all seven bridges stretching out from either direction – and certainly the most famous ones – the organic arc of the Gateshead Millennium Bridge, the confident cast iron span of the Tyne Bridge, the short functional form of the Swing Bridge, the lofty elegance of the High Level Bridge. There is something carnivalesque in this procession of form and colour which is joyful, a little playful even, and thoroughly captivating.
There is one other structure on the riverside which is impossible not to notice, indeed which follows you along the promenade like the eyes of a portrait subject's sometimes does. This is the Sage Gateshead, the monolithic centre for musical education and performance designed by Norman Foster. Situated on a high piece of land on the Gateshead Quays, just up from the Baltic Centre, the Sage was opened in 2004 and was the last big piece of urban renewal of Newcastle Gateshead. Now I'm no particular fan of Foster's style of modernist bombast. It seems to me that in the way of many modern 'super architects', he seeks to elevate in his creation the creator, ie himself. In a crowded city like London this manifests itself as a cavalier disregard for everything that surrounds his 'baby' (and giant babies they tend to be), but out here on the empty horizon of the Gateshead Quays with only the equally behemoth form of the Baltic Centre offering competition, Foster appears to have found his perfect canvas.
I confess I rather like the Sage. To me it resembles a giant chrysalis with great plated scales. On the upper side these are steel, underneath they are glass. It was only when Gwen pointed it out that I saw a pattern was created by these two materials – that of three approaching ships. The undulations of the shell give the impression of rippling water and both these effects trade on Newcastle's history as a great shipping city whose life blood flowed through the mighty Tyne. Whilst the building has largely found favour with the public, inevitably there have been criticisms with some complaining it looks like a large slug. I enjoyed Private Eye's pronouncement the most, the suggestion that it resembles a 'shiny condom'.
In the afternoon my tack changed sharply. Having spent the morning supping on the history of Newcastle and architecture past and present, I was now in for a cultural blast of a quite different kind. For it was one of my duties to cover the lavishness and slavishness of Newcastle Fashion Week which just then was in full swing.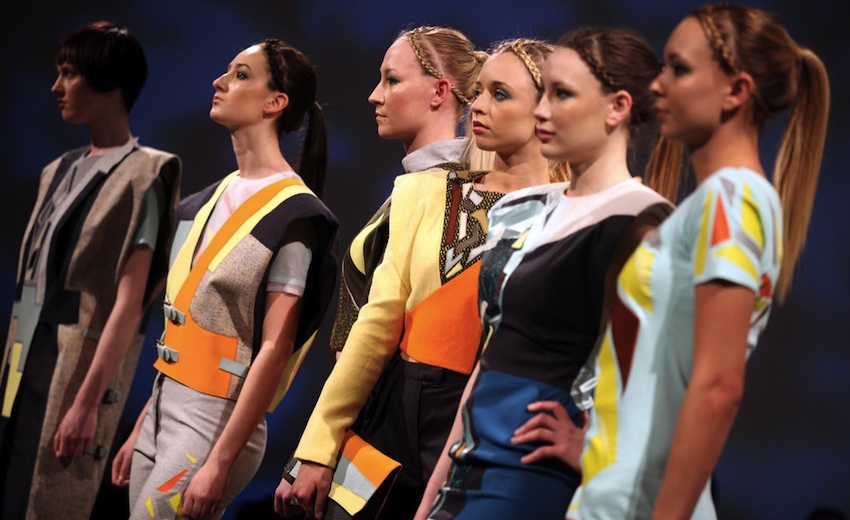 Hosted by Northumbria University (the old Polytechnic), most of the events were being held in the Student Union in the north of the town and it was to there that I now made my way. In the sartorial spirit I steered through Northumberland Street which, I understood, was a shopping mecca for the city. Situated just north of Grainger Town, Northumberland Street was as devoid of charm and as screamingly tacky as the former was tasteful and understated. In it cheap consumerism and garishness it made Oxford Street look sophisticated. The many modern buildings looked like car parks. Big brazen signs for Greggs, Burger King and First Look Sport threatened to jump down and punch my lights out if I ignored them. I wondered, not for the first time, why people are drawn to such low culture when just down the road there were independent shops in lovely surroundings, for the street was packed. Was it the self-swindling belief that a bargain could be found? A divergence of education of some sort? Or a general human hankering for the superficial and the gaudy? Chacun à son goût.
I arrived at the Student Union and had my wrist stamped in exchange for my invitation. I have not been to London Fashion Week, or Paris, or Milan. I confess the only fashion show I can recall attending was at university, which I inadvertently found myself a part of. And that was a long time ago. Strangely enough that experience was not far off from the feel of things here with its shabby hall, homemade cake stalls and local designers flogging their creations off aluminium rails. Despite its blingy publicity Newcastle Fashion Week, at first glimpse, lacked that one essential ingredient of a fashion enterprise – glamour. Whilst London boasts Hollywood royalty and the leading fasionistas of haute couture, Newcastle boasts Wayne Hemingway and Jayne Middlemiss… This year Caryn Franklin of Clothes Show fame and Ollie Locke of Made in Chelsea, erm, 'fame' were shipped in to do the compering. To my desolation I was unable to make the acquaintance of Mr Locke who was making his appearance the next day. More interesting (even) was the proposition of Caryn Franklin. Those of you who remember the eighties may recall the cut glass profile and Cruella de Vil grey-streaked bouffant, alongside the oleaginous Jeff Banks. Although I didn't actually get to talk to Ms Franklin, I'm glad to report that the profile and hair are still very much in order, the grey perhaps a little broader in width. In fact the colours may now have been reversed with the black serving the role of stripe.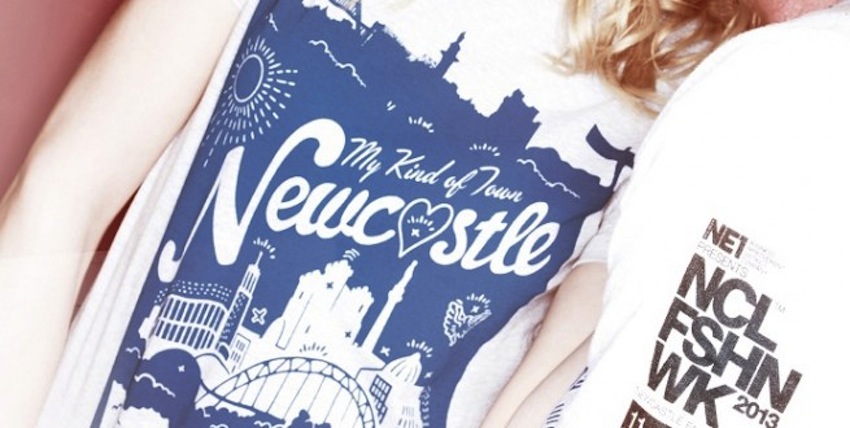 What Newcastle Fashion Week may have lacked in old school glamour it made up for in stripling enthusiasm, verve and an endearing wide-eyed ingenuousness. Although run by NE Limited, an organisation paid for through Newcastle businesses (and indeed the "NE1" is a prominent prefix on all the literature and publicity associated with the Fashion Week) a clue to where its heart lies is probably in the venue itself, that of the Student Union. There was reason other than glitz that Newcastle Fashion Week wasn't a big draw for the A-listers, and that was because it was aimed at the youth and students, greenhorn designers and wannabes who were seeking entry into the world of fashion and who needed tips on how to play the game and simply, just how to earn a living. To this end NFW had an educational, informative and dare I say it, caring side, and for this I applauded them.
The catwalk had just finished when I rolled up but I was just in time for something which was a great deal more revealing and at least as entertaining – a talk by fashion commentator Poppy Dinsey. For those fashion light weights who haven't a clue who this is (and I confess neither did I) Ms Dinsey is a fashion blogger extraordinaire whose site "WIWT", started when she was at college, has now become the largest "outfit sharing" site in the UK (and I confess too to my shame that nether did I know such a plausible sounding thing existed either.) By simply floating images of her daily attire, normally taken as "selfies", along with commentary, and engaging with her audience, she has become something of an internet fashion sensation hailed by the Evening Standard as "One of London's 1000 Most Influential People", courted by the fashion establishment and earning a handsome living into the bargain. An article in Marie Claire tells it simply – "I earn £60K by blogging my outfits every day." In the flesh Dinsey was personable, down-to-earth and at no point patronised her audience to many of whom she was no doubt something of a goddess. And at twenty six, she was only a few years older than most of those present. Her advice for success?  "Work, work, work, have the support of your family, keep grounded and don't be too thin skinned." Solid stuff for those thinking of entering the fey and feckless world of fashion.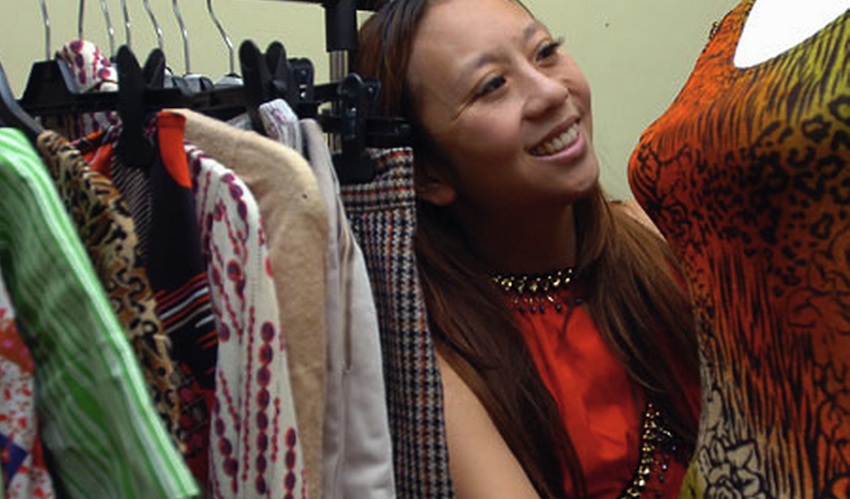 After this there was a lull and I introduced myself to Sandra Tang, the chief powerhouse behind NFW. Like everything about it she was young. I was impressed with her energy and "go get 'em" spirit and the friendly inclusiveness she seemed to have about her (which are hardly by words in fashion.) Her personality was very much imprinted in the feel of the enterprise.
There was one other character I spoke to who was very much a character, who was at once part of proceedings but who also appeared spikily removed from them as well. I had been attracted to his stall which was vociferously vintage – tweed jackets with velvet patches on wooden hangers, woollen ties and an attractively laid out table with chunky cufflinks, cut throat razors and the like. He himself was a walking advertisement for the bespoke tweed waistcoat service he offered, (alongside that of customising old tweed jackets) wearing a fine specimen that was topped off by a gold watch chain. If his wares were that of the dandy then he, with his combination of slicked-back rockabilly hair, round staring eyes and two chipped front teeth, sheared away on the inside to resemble the incisors of a beaver, had more the appearance of a 1950s cosh boy. His cutthroats might even have been part of his arsenal of weapons. And yet when we fell into conversation he revealed himself to be a sensitive soul, someone who was inspired to take up his trade by memories of his natty grandfather. It turned out that he had also been in a band for ten years and had achieved some minor success before retiring from this life in bitterness and disillusionment.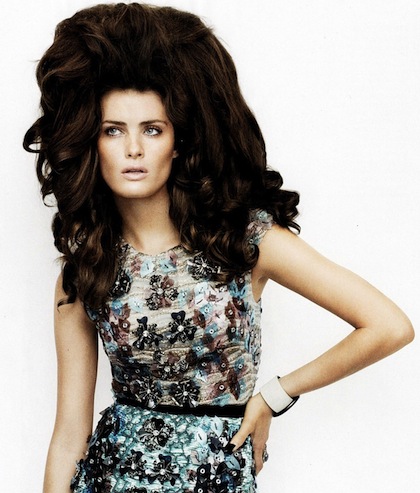 "But lately I've been thinking about writing songs again," he confessed with a shy smile.
Next I had the chance of learning the finer points of the "Geordie Blow Dry" – the tonsorial technique that has taken the north-east by storm and makes the 1980s fashion for "big hair" look impoverished. Unfortunately on a visit to the lavatory, using my foot to depress the lever on the cistern (as is my custom in public conveniences) I split my trousers from the knee to the crotch and so had to limp back to my hotel bearing my jacket in front to hide my shame.
Our time in Newcastle was drawing to an end. After a sumptuous but light dinner at Café 21, the Quayside successor of the first Michelin-starred restaurant in the region, and a revitalising back massage at the Malmaison's in-house spa the next morning, we were all set, braced and fed for the return journey back to London.
Newcastle surprised and exploded many of the preconceptions I had about the city. I'm glad. It's nice to be proved wrong when the truth is so much more colourful and interesting. The history is rich: I didn't know that the "Geordie" dialect, developed away from the Latin and French influences of other parts of the country, is probably the nearest we have to the Old English spoken by our Anglo Saxon forebears and that poems by the Venerable Bede translate more successfully into Geordie than they do into Received Pronunciation! Nor did I know that Newcastle, despite its collieries and industry, has always been a staunchly royalist enclave. It was given the motto, 'Fortiter Defendit Triumphans' ("Triumphing by a brave defence") by a grateful Charles I after holding out against Cromwell's Scots allies for several months during the Civil War. Indeed one of the theoried origins for the term "Geordie" is the town's support of George II during the 1745 Jacobite Rebellion, when much of the rest of Northumbria was on the side of the rebels.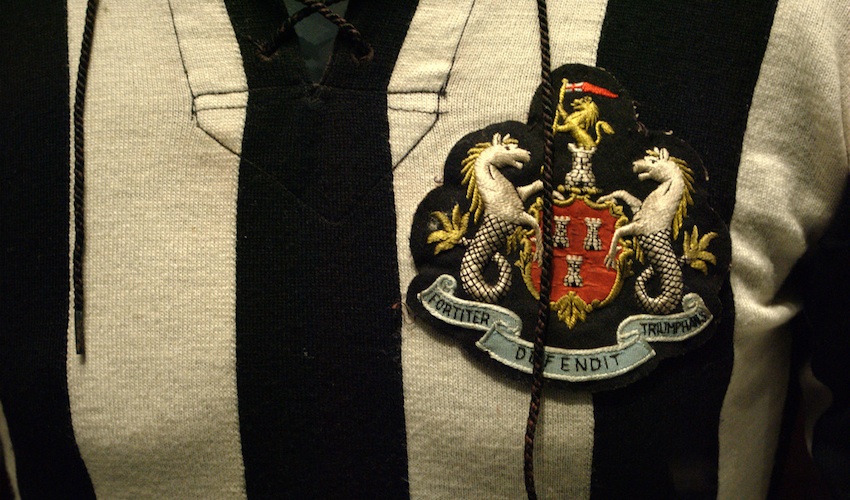 As well as its famous football team, it is also serious about culture, as seen in the time and money spent on the Sage, the Baltic Centre, the massive refurbishment of the Great North Museum, the Angel of the North and the support channelled into smaller enterprises like Newcastle Fashion Week. If I can report in truth that the macho Geordie male with shaven head and swinging gait exists in abundant numbers together with his mini-skirted mate in tottering heels, then I might also observe that he is part of the natural local fauna, as charming and eccentric in his way as Dickens's ostler. If one thing is for certain, Newcastle is not one thing nor will it continue to be what it is here and now. If its long history has taught us anything, it is that it is a place of energy and invention, protean, effulgent and really rather beautiful.
For more information about Newcastle, including upcoming events and things to do in the city, click the link for the official tourism website.