I have long held a desire to see the Northern Lights. Long before, in fact, noted travel broadcaster (and some time actress) Joanna Lumley ventured to Norway and set a million people on a similar course and turned what was once a remote, enigmatic and altogether different destination into every travel magazine's top feature and an excuse for every holiday company to advertise on the London Underground.
I have, therefore, been putting off writing this feature for some time. But it's also seasonal and I thought rather than follow the course of winter sun write-ups – and not being much of a skier – here was a good opportunity for a New Year travelogue with a difference.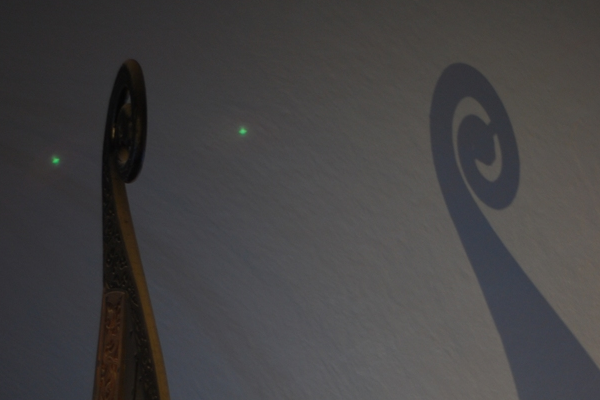 Heathrow Terminal 5
Our story starts here on account of the calamitous journey that sets up the trip. This one's a double-hander and I'm bracing the cold with my photographer friend, Nick, in tow. We arrived in good time for the Bag Drop at BA's flagship only to be told the 13.00 to Oslo had been cancelled due to adverse weather. Not, you may think, on account of the UK's first snow flurries of winter but, ironically, at the Norway end. We swiftly manage to book ourselves on the 19.00 and then settle in for five hours of ennui; made up by memorising the menu at Carluccio's, walking the length of the terminal building and fifteen coffees. Finally, at 5pm, with a sigh of relief that our flight is still running, we're permitted to check in and we pass the security into the cornucopia that is T5's gateside Departures. There is everything from Itsu to oyster bars, from Harrods to Tiffany, so much so that in spite of the five hour wait we still manage to lose track of time and end up hot-footing it to the gate only to be told that due to the absence of our crew (they're inbound from Edinburgh) we won't be boarding until 8.30pm.
They're surprisingly true to their word and we board not long after, calculating we can still make it to our hotel by midnight. This, we soon realise, is a fallacy designed to lull us into a false hope when the pilot announces we now have a two hour wait to de-ice the plane. Three hours later this operation is undertaken and we're then in the air. It is 00.15.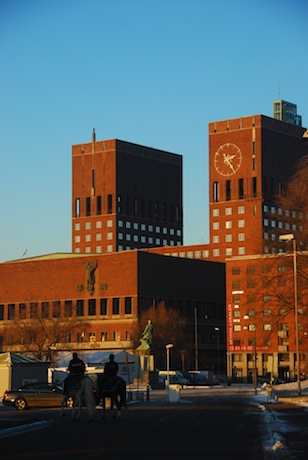 The flight, short as it is, is not without incident. A couple sat two seats ahead of me, their giggling evidently infused with whisky during the long wait, attempt some form of fornication. The girl in front of me kicks the lothario's seat in consternation, he turns and assuming it was the interruptor's boyfriend next to her lands a punch on him. Another passenger breaks up the party before the chief stewardess arrives and admonishes the couple with a ban on further alcohol and threats of the police. The best behaved on board is the little baby to my right who's only complaint was being a little warm at one point.
Breezing through Oslo airport on arrival we collect taxi partners in an effort to share the 800k ride to the city centre only to get spectacularly stung for 1800k (about £180) by a driver who, gesturing to his watch and the absence of other vehicles, suggests we have no alternative – he has a point but it's reassuring to see there are villains the world over.
Once we're dropped off in the city centre and part company with the A-ha fans who were our taxi partners, immediately unaware of our bearings we narrowly avoid freezing thanks to the assistance of a prostitute who escorts (pardon the pun) us to our hotel. Declining her kind invitation to a 'party', citing fatigue and hunger, we dive into the small, secluded but otherwise unworthy of mention hotel that is our digs, greeting the late shift receptionist like an old friend, grateful for the succour of both warmth and a complimentary sandwich before ascending to our room. It's 5am.
At 7.30am we're awoken by what sounds like some sort of post-apocalyptic siege; the construction site opposite (who'd have thought), which we hadn't noticed when we arrived, had sprung into action and the relentless hammering of an industrial pile-driver beat out its 2:4 time unabated. Swiftly-ordered earplugs do little to curb the din but we manage a few more hours' sleep.
Oslo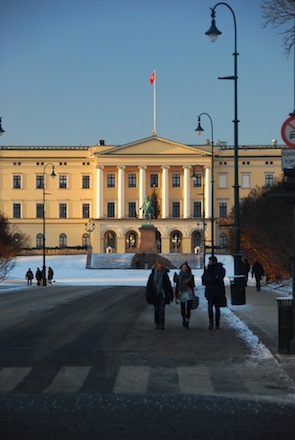 A very lethargic start sees us leaving the hotel at midday and straight into a Pascal café for coffee and a croissant at prices which at this stage make our eyes water but which, by the end of the trip, we would accept as reasonable. Hereupon we devise our agenda and needless to say the traditional plans for 'power tourism' are thrown out in favour of, simply, walking around the city centre and seeing what we come across. Some would say that's the essence of discovery.
It's a plan that pays off; we pass the cathedral, the town hall, the parliament building, and the palace in the distance but by now somewhat overwhelmed by the cold and ill-prepared in the way of headgear, we spot, of all things, an H&M and decide to duck in…and emerge minutes later sporting fake fur-lined Norwegian hats. Proud of our purchases and our efforts to blend in we are, it would appear, the only ones wearing them. The tourist look is completed as we decide to consult our guidebook to consider our next stop. Imagine, two ill-dressed out-of-place Englishmen standing in an Oslo shopping thoroughfare flipping through the pages of a city guide. We settled on the History Museum. Sadly, however, it proved rather underwhelming. Several Viking and medieval Christian artefacts give way to an exhibition on what looked like the luminaries of the nearby university. Upstairs an exhibition of Egyptian sarcophagi did little to appease against the cold but an interesting display of indigenous tribes of the Arctic, including the Sami of northern Norway, did give us an insight into where we're later headed.