Right now in London, and in cities and towns across Britain, clusters of Bavarian-style chalet huts have been erected to create small and large versions of Christkindlesmarkt, the German Christmas market. Vendors in wooden huts are selling mulled wine, beer, bratwurst and stollen, alongside decorations, ceramics, clothing, and toys. Is this how it happens in Germany? I wanted to see for myself, to experience an authentic German Christmas market. I took a four-day trip to Nuremberg – my first visit –  to find out.
The first Christkindlesmarkt in Germany is said to have taken place in Dresden in 1434, for one day. The Nuremberg Christmas market is first mentioned in 1628 but probably dates back further to the Reformation when the tradition of giving children presents at Christmas evolved. I chose to visit Nuremberg (Nürnberg) because of its tradition to hold a four-week Christmas market, from the beginning of Advent until its end on  24th December, Germany's official Christmas gift-giving day. This 4-week period marks the beginning and build-up, both religious and secular, to the celebration of Christmas.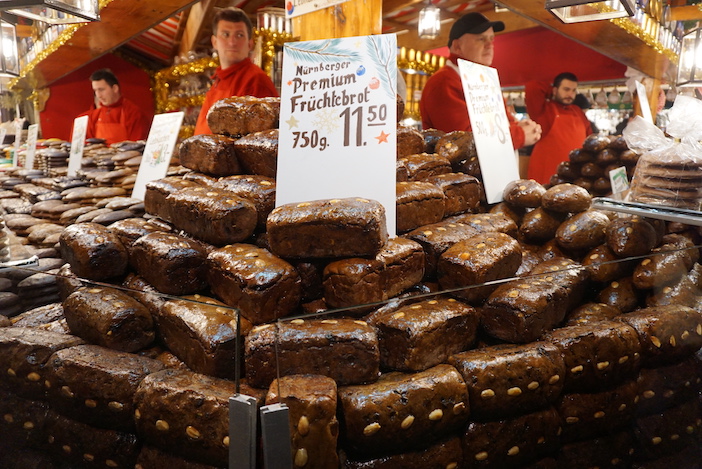 The first thing to love about Nuremberg is that the city is not a tourist destination like Berlin. Nurembergians live and work in the Old Town and I was welcomed as a visitor not a tourist. The majority of people at the Christkindlesmarkt are Germans enjoying this start to the festive season although during my visit I heard many other languages spoken too as Nuremberg holds a world-famous Christmas market that is a global attraction.
The second thing to love is how easy it is to walk the Old Town. Two large parish churches of St Lawrence at the southern end, and St Sebald to the north are visual markers, either side of the Hauptmarkt , the main market square of the Christkindlesmarkt. I have not visited Nuremberg before but found it easy to get around. In twenty-five minutes one can walk from the southern entrance walls opposite the Hauptbahnhof main train station, along Konigstrasse, to the northern-most part where the Imperial Castle is positioned on a hill overlooking the city.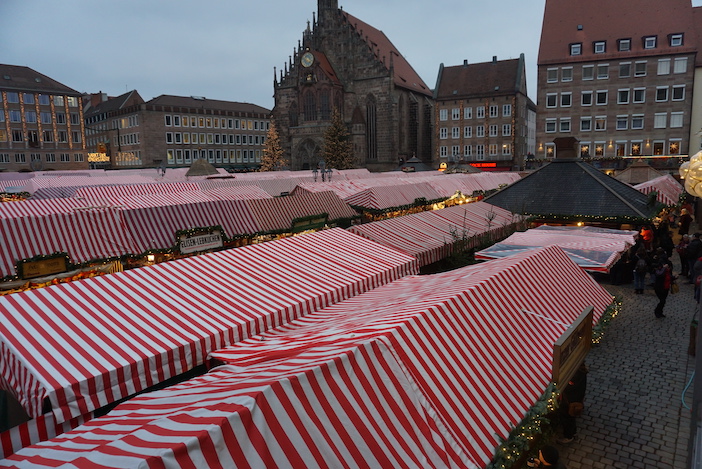 To travel instead by public transport one can buy a Nürnberg Card, which also gives free admission to most museums and galleries. But first I wanted to walk, to see and visit the vendors' booths stretched along the streets and then, on the last day visit the museums on my must-see list. A steady stream of stalls, some dating back to 1890 and made from spruce, had vendors selling hot and cold food and drinks, fresh vegetables, cheeses, flowers and plants. They led me toward the central hub in and around the Hauptmarket where the square is filled with the sight of red and white striped-awnings covering the booths that stand in front of the Church of Our Lady. It is a fantastic sight.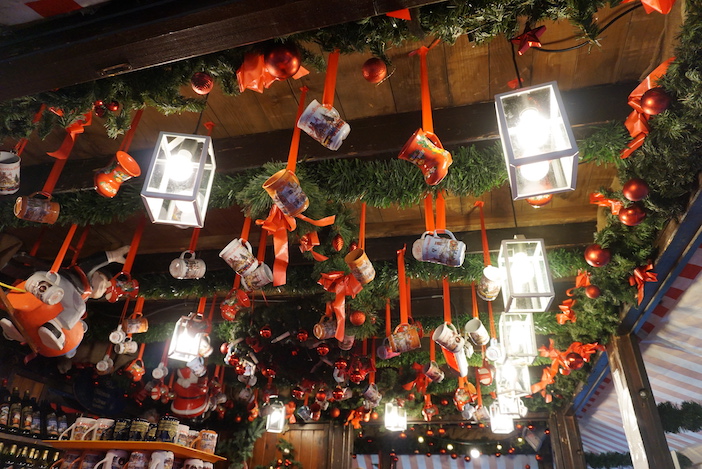 On route to the square my first stop within minutes of leaving the hotel (Le Meridien Grand Hotel, Bahnhofstras.1-3) was at a booth selling glühwein, (to keep warm, of course.) The cost is around 4-5 euro with a 3-4 euro returnable deposit for the mug. I tried the blueberry mulled wine, a speciality. The weather can be cold and the custom is to walk around the Christkindlesmarkt, mug in hand – with a hot drink – it can be hot apple or other non-alcoholic drinks too but the main aim is to relax and enjoy what you are seeing. The streets are a visual feast of colour and light, more so from about 4pm when it begins to get dark. Then the streets dazzle with illuminations.
After the glühwein I stopped to sample another traditional Nuremberg staple, 'Drei im Weggle' – 'Three in a Bun'. For this, three slim spicy sausages, exactly 8 centimetres long, weighing 20-25 grams are grilled over beech-wood embers. This precise measurement and method of cooking dates back to the Middle Ages and is unique to the city. They are served in a crusty bun named a 'Weggla'. It is massively popular – there are so many stalls selling this – and it is the most delicious street food available all-year round.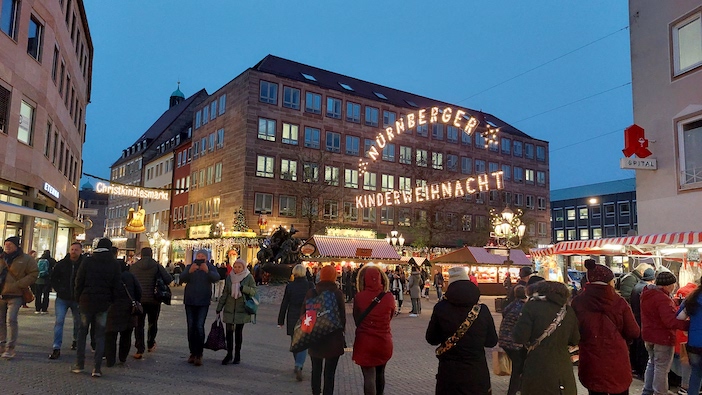 There is more than one Christkindlesmarkt – all open 10am-9pm daily – to visit in the Old Town and all are located in streets close the Hauptmarket. The Kinderweihnacht Christmas market is for children. Stunningly decorated it has a two-tiered carrousel, a mini Ferris wheel, a steam railway, and a Christmas grotto – with Father Christmas inside, plus craft stalls for children to try their hand at making candles, or different types of bread. When I visited it was alive with the sounds of happy schoolchildren. On the other side of the Hauptmarkt is the international Markt der Partnerstadte 'Sister Cities Market' from 20 visiting countries with stalls selling regional produce. The Scotland stall was overwhelmed with customers wanting to try the hot whisky toddy. Close by other booths sell German regional organic produce including 'bee beer' made from honey. It tasted good.
A gold-foil angel – without arms – is a symbol of Christmas in Nuremberg, you see her everywhere,. She was born from a legend of Rauschgoldengel a glittering doll from the 16th century made from thinly beaten brass called Rauschgold because of the rustling sound it made. There are many stalls selling these angels and popular too are Zwetschgenmännle 'prune men' 9-22 centimetres high, with 350 dressed-up characters made from the stones of prunes.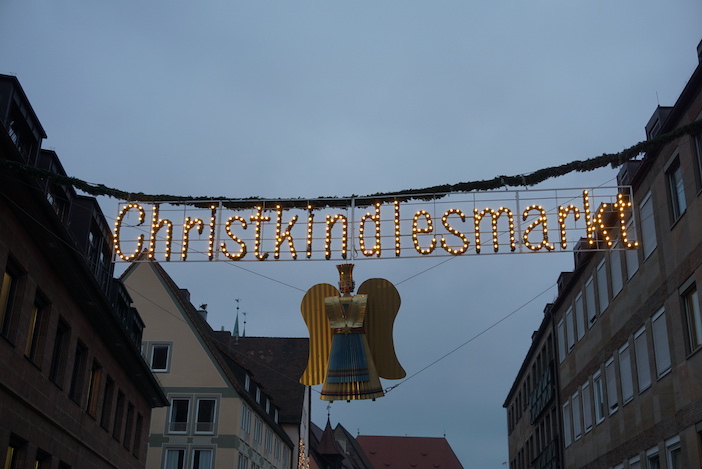 Visiting Nuremberg is such a treat because so many food products are unique to the city with a Europe-wide proprietary protection, carrying the seal of the EU. One is the Franconian gingerbread, Lebkuchen, tracing its origins back to the 13th century. It is made with flour, ginger, cinnamon, cloves and nuts. Some of the soft biscuit-style gingerbreads are coated in chocolate, or glazed icing. The most exquisite is Elise Lebkuchen, which was the take-home present for my family.
After the street food sampling what of the restaurants? There are many excellent places to eat, it was hard to choose. I dined at Opatija Max Kandel (Unschlittplatz 7) with its fusion of traditional-meets-modern cuisine. For the second night I tried the famous Tucher Mautkeller (Hallplatz 2), to sample Tucher beer and Franconian dishes. On the last night I had a special evening at Restaurant Sebald (Weinmarkt 14) a gourmet restaurant that mixes Mediterranean cuisine with local specialities.
And what did I learn from my visit? That the Christkindlesmarkt in Nuremberg is fabulous. And a final special treat for me was to visit the house, close to the Hauptmarkt, where the Nuremberg-born artist Albrecht Dürer (1471-1528) lived. He was a genius and is my favourite artist above all others.
To find out more about Nuremberg's Christmas Market go to www.christkindlesmarkt.de. For more information about Nuremberg, including details about what to see and do, and ideas for planning your trip, please visit www.germany.travel.
Photos by the author