We're all waiting to hear when we can holiday once more, but when travel restrictions are eventually lifted, wilderness escapes are likely to be top of the list. Rwanda's One & Only Nyungwe House, pairs remote luxury with a wildlife experience you'll never forget, as Lizzie Pook discovered on an epic trip… 
It's been a long morning. My knees are bruised and messy with scratches, my clothes are soaked in sweat and mud. I've fallen in a hole. A very big hole. And a sticky-legged insect is inching its way down the back of my neck. On top of that, I'm fairly sure I've been separated from the rest of the group and I'm absolutely positive there are fire ants making their way into my boots. It is absolutely glorious.
I'm on the lookout for chimpanzees in Rwanda's Nyungwe Forest, one of the oldest rainforests in Africa, sitting in the southwest of the country next to the Burundi border. Most tourists travel to Rwanda to watch docile gorillas munch bamboo shoots in Volcanoes National Park to the north. Me? I want noisy, rambunctious chimpanzees, that fly through the canopy so quickly it's almost impossible to keep up with them.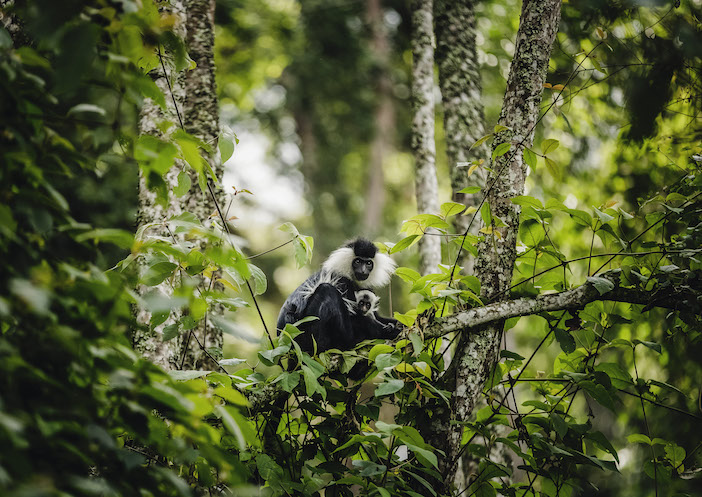 This forest is home to some truly spectacular wildlife – from dazzling blue turaco birds and giant forest hogs, to spindly-limbed golden cats and rare owl-faced monkeys. But it's the chimpanzee troops that encourage people, like me, to trek for hours through tough terrain, wielding hiking sticks and heaving past thousand-year-old ficus trees as sticky cobwebs shimmer like long strings of pearls in the rain.
I pull myself to my feet. Nearby branches creak like bones during a stretch. Somewhere in front of me, I can hear the gentle snick snick of machetes slicing through corkscrew ferns. Above, murky sunlight filters in through the dense forest canopy. I glug water from my bottle, wipe the sweat from my brow then freeze. There. A sound cuts through the trees with a shiver. It's a screech so shrill it sets my nerves fizzing; the chimps are on the move.
Exhilarating as it is, chimpanzee trekking isn't the only way to work up a sweat in this part of Rwanda. Nearby, at the exquisite One & Only Nyungwe House, there's a plethora of activities to keep your fitness honed, while still making the most of Rwanda's epic natural scenery. Its location is blissfully remote – it's a five-hour drive from the capital of Kigali; or a short helicopter ride for impatient sorts with deep pockets – but the cinematic landscape makes it totally worth the schlep.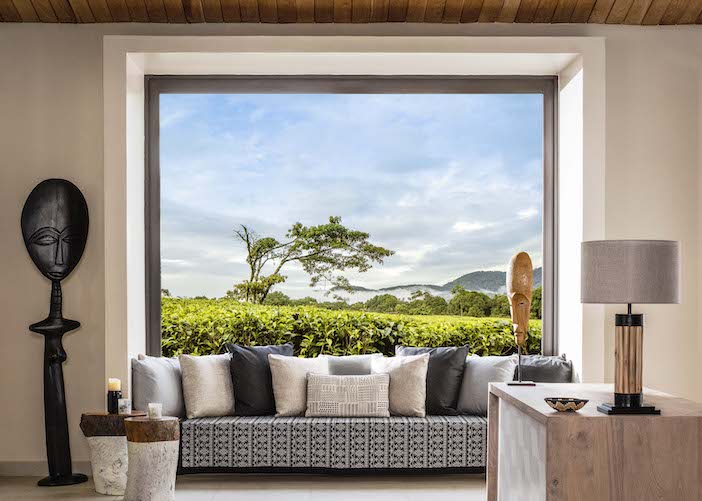 They don't call Rwanda the country of a thousand hills for nothing; roads are unerringly windy, hugged by pristine tea plantations and Triffid-like banana leaves. Protected forests are patrolled by armed guards in well-worn camo and mountain monkeys sit at the side of the road like genial, whiskered old men. The country also doesn't shy away from its shocking genocide history, nods to which are still respectfully and importantly speckled throughout the villages and hills.
Nyungwe House is the sort of mist-cloaked place where time seems to stand still, surrounded by mountains bristling with old-growth forests and pea-green tea plantations that stretch across the landscape like spilt liquid. A stay here means you are always immersed nature: in-house Leica scopes allow you to baboon-spot from your breakfast table, and all rooms and suites (airy and awash with soothing neutral shades and local textiles) face directly out onto the primeval forest, and the long-limbed colobus monkeys that unfurl there at sunrise.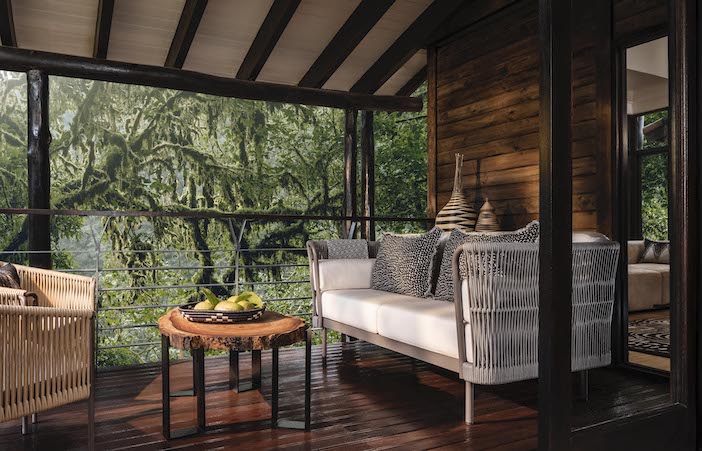 Joseph is the man in the know when it comes to 'wild wellness' here, and when he's not guiding guests through mood-lifting al fresco yoga asanas, he's teaching them mountain-top spear throwing, archery and sweaty forest HIIT drills. Wellness, it seems, is a way of life at Nyungwe House and even the food – courtesy of chef Treasure and his riotously fertile on-site garden – is saintly. Five-course meals involve sweet potato focaccia, cauliflower salads, cassava chapatis and fresh tilapia from nearby lake Kivu. Private dining tables are also available in the chef's garden or on the House's forest decking, where you can eat surrounded by jewel-coloured birds as blossom falls like summer rain around you.
Back in the forest I pick my way around arthritic tree roots to join up with the group again. As we trek – scrambling up ravines and edging our way around tree trunks the width of small buses – the forest begins slowly to open up around of us; squirrels dart nimbly up thick, twisted mahoganies and spiders creep on whisper-thin legs across the forest floor. Suddenly, we come to a stop. There's nothing but silence, like the trees are holding their breath, until it is broken by a low chuckle, coming from the throat of one of the rangers. He points a finger slowly upwards and we crane our necks back in unison.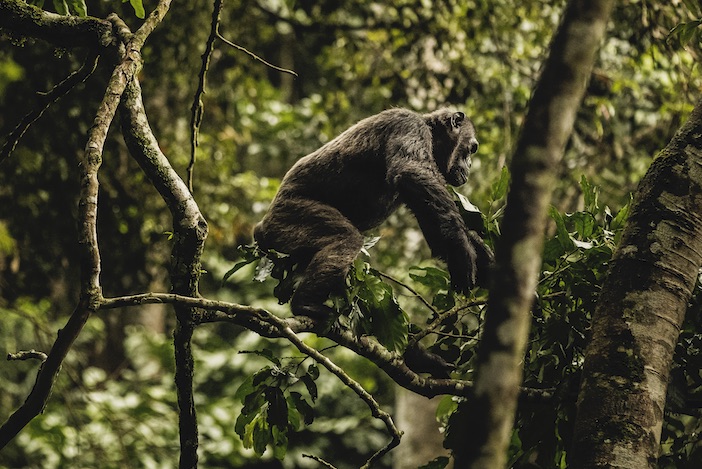 Above us is a mass of thick, black fur, squashed neatly into the crook of a tree. The breath snags in my throat. Suddenly, comes a small thud, then another, then another. I look around us: the forest floor is being bombarded with the remains of half-eaten fruit. There's the sound of scratching from above, then the whole canopy comes alive; a family group of chimpanzees seem to materialise from nowhere, careering through the trees with a swaggering sort of agility. We stand and watch slack-jawed as they crunch termites in their jaws, grooming one another with slender fingers and hurling themselves to the forest floor with almighty yells and screeches.
It all leaves me wondering why some spend thousands plodding towards the habituated mountain gorillas further north, when you can see these fascinating, energetic creatures, free from the crowds, in Nyungwe for around $100 a permit. I leave the forest and the remarkable Nyungwe House feeling totally restored and reinvigorated. Whether it's pulse-raising chimp-trekking you're after, or if your idea of 'health' is soaking up clean, tea-scented air as rare wildlife busies about the forest around you, Rwanda offers a wild wellness experience that goes way beyond treadmills and the uninspiring walls of your local gym.
Abercrombie & Kent offers trips to One & Only Nyungwe House from £3995 per person (based on 2 pax travelling together and sharing a double or a twin). This includes three nights' accommodation, private transfers to and from Kigali and international flights with RwandAir. For more information, visit oneandonlyresorts.com.