Last time I was in North Wales I was eleven. It was high summer in Caernarfon – but instead of rolling greenery and the pretty harbour etched on my memory, it's droves of anoraks and the sensation of my squelching, soaked-through shoes. As North Wales often does, it rained biblically for days.
Twenty years later, winter is nudging into remote north-east Wales as I drive among fallen leaves, frost-tipped moors and waterfalls spilling over bare limestone gorges. The sun is low and fierce, the roads deserted. It makes me ponder why I ever thought summer was the best time of year.
This route winding up through the Dee Valley is the way to Palé Hall, an approach so dramatic it is only improved by pulling up at what must be Wales's most spectacular country house hotel.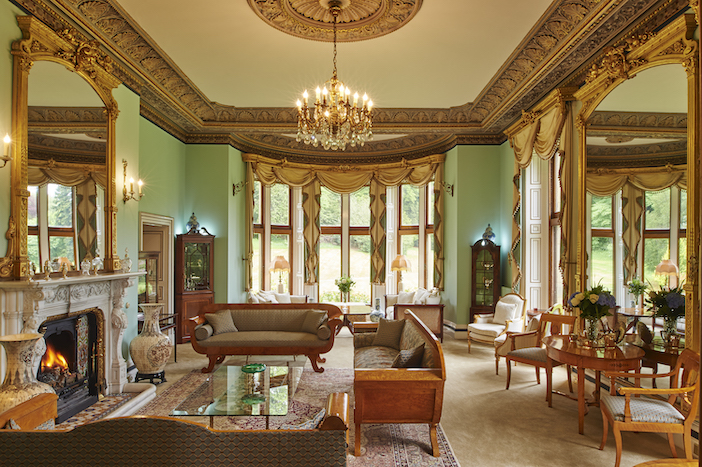 When Palé was built for prosperous Scottish railway engineer Henry Robertson in 1871, it was designed to display his great wealth (the architect was advised, 'spare no expense'). No wonder it looks more like a palace, with turrets and a chiming clock tower dominating several stories of honey-hued stone.
Located on the edge of Snowdonia National Park – the 'adventure capital of Europe', says the tourist board – my hope is to please both myself: a bath-lurking, wine-slurping townie, and my boyfriend, a person so outdoorsy that within minutes of entering our room he had climbed out of the window to stand on the flat roof below.
To be fair, the view is something to behold. Surrounded by a 50-acre estate above the River Dee, colossal evergreens frame the far-reaching scene to the other side of the valley's fold. Glowing in the distance is a hamlet of white cottages that look so inviting I want to march over and ask myself in for tea.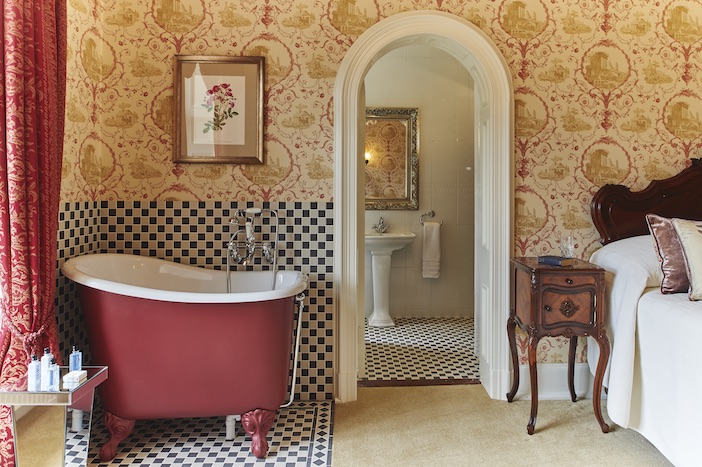 Grade II*-listed Palé is one of three five-AA-star hotels in Wales, having been intricately restored by owners Angela and Alan Harper for its relaunch in 2016. Each of the 18 rooms is individually styled – ours features a scarlet 'Tubby Tub' bath tucked beside the sash curtains and an eccentric black-and-white tiled bathroom. The couple have hand-selected every antique furnishing and Sanderson wallpaper themselves, ushering the property into a new era of glory.
This would no doubt delight its former high-society guests, which include Queen Victoria (the 7ft bath and antique half-tester bed she used are still in use) and Sir Winston Churchill, who in the 1950s could be found potting snooker balls in what is now the sublime, stained-glass windowed Churchill Suite.
Although Palé cuts an imposing figure, the grandeur gives way to a warming sense of homeliness. On arrival, luggage is lifted from our hands and replaced with a vintage coupe of champagne, to sip in one of several plush lounges before checking in. Welsh hospitality is its lifeblood.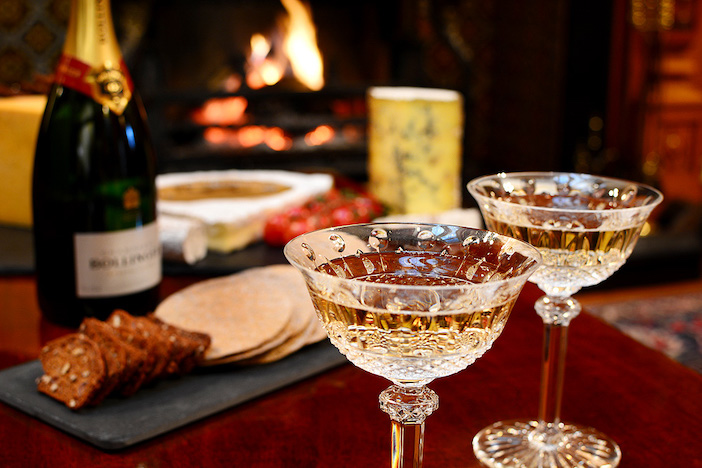 The staff, many from the nearby town of Bara, adore the place, and will relish pointing out features such as its hydro-electric power system (the hotel has generated its own energy from a mountain stream since 1920), or the dining room's preserved original iron stove.
In fact, there are three dining spaces. Evening meals are usually served in the candlelit, hushed Sir Henry Robertson room, where every table is arranged for gazing out of the huge windows and into the floodlit grounds. The menu showcases the finest local ingredients, from the organic roast chicken to Welsh black sirloin steak.
However, you can't come to Snowdonia just for fine-dining and hibernation, no matter how tender the steak or high the bedsheets' thread-count. This is a year-round active destination, especially as from Palé the mountain range is all accessible within about an hour's drive.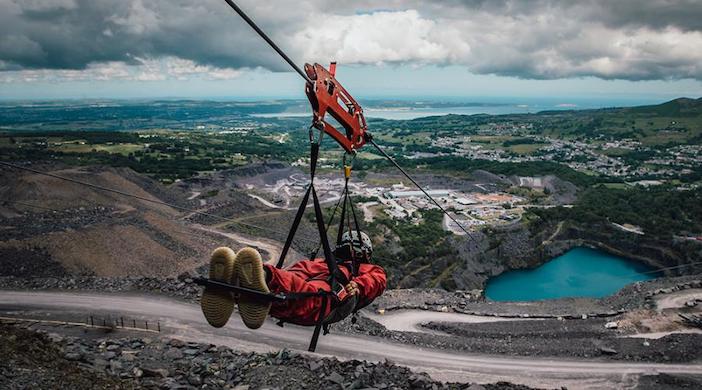 Snowdonia's ambitious adventure branding is largely down to Zip World, which has three action-stations across the region's mountains and caves. This is how I come to be trussed up in a red boiler suit, dangling belly-down from a harness at the top of Penrhyn slate quarry and its startling blue lake. I'll soon be plunging towards it, at a speed of up to 125mph – for this is Velocity 2, the fastest zipline in the world.
The day is so clear that as I face the abyss during the final safety checks, I can see past the tumbling mountains down to the ocean and all the way to the hazy Isle of Man. Four abreast, we soar headfirst down the drastic gradient; face taut in the G-force, heart humming with adrenaline and the air resistance hissing past my ears, for 50 glorious seconds, I am experiencing something very close to flight.
Another day we choose more traditional exhilaration, hiking to the 3,560ft summit of Snowdon, the highest mountain in the British Isles outside of Scotland. Our chosen path of the 5km Pyg Track may be the shortest ascent, but it is not the easiest, with its tiring scrambles over boulders and streams.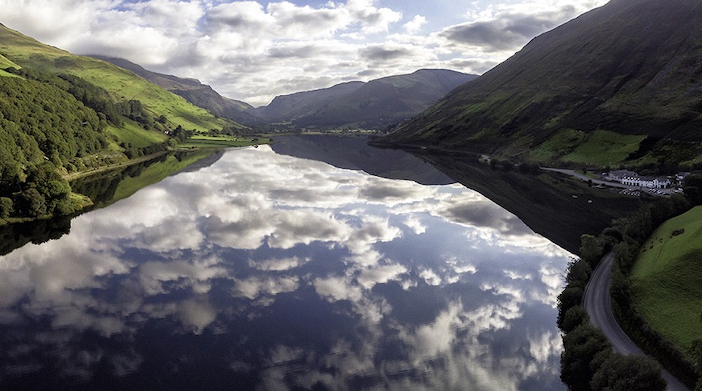 The view from the middle-section ridge is reason enough for our feat. On Llyn Llydaw lake 200m below, a causeway speckled with miniscule walkers is surrounded by the water's reflection of golden-tinged grass and rocky peaks. We pause to enjoy a cold gulp of water and greedy mouthfuls of Palé's homemade flapjacks, letting the roaring wind cool down our flushed faces.
Cheeks pink and hands frozen as we stumble back into the hotel's warm entrance hall, we ferry a couple of local beers up the oak staircase to our room and fill up the Tubby with steaming hot water. Every season has its beauty, but to take on the challenges of wonderful wintry Snowdonia and return to Palé Hall's home comforts, is a luxury indeed.
Palé Hall, Palé Estate, Llandderfel, Bala LL23 7PS. 01678 530 285. Rates from £275 B&B. The three-night Christmas Package costs£1245 per person including meals, based on two sharing a Classic Room. For more information visit palehall.co.uk.
For more information about Snowdonia, including what to see and do in the region, visit the official tourist board website at www.visitsnowdonia.info.