Some might say we're fortunate not to have had winter's icy talons grip the UK to compound the Biblical deluge we've endured. Perhaps missing the seasonal experience, Gabrielle Sander ventured to the 'Land of Ice' for a dose of winter proper…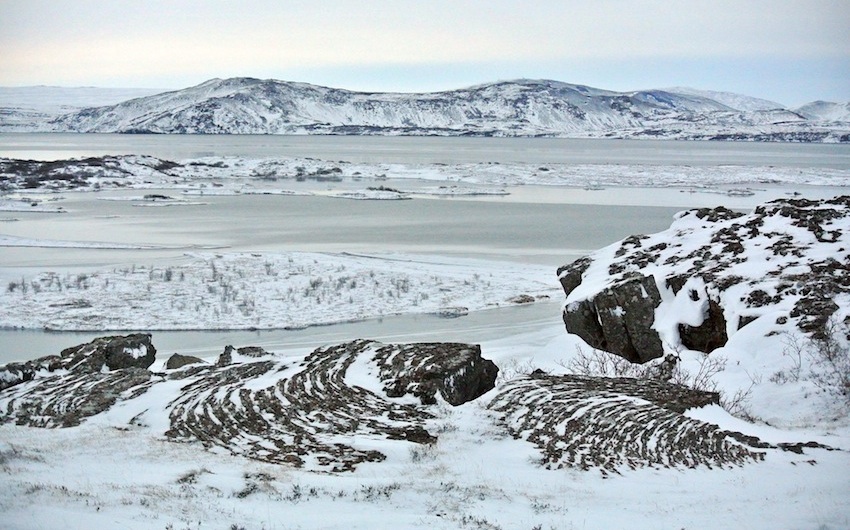 Looking through the plane window, the orange-tipped wing glowing like ember in comparison to the hostile grey, Iceland comes in to view looking literally like a land of ice.  I start to feel a little giddy at the potential sights we're going to be treated to, if the landing strip of Klevavik airport is this good. "It's going to be cold," says someone in the seat behind. "Freezing!" interjects another. I mentally sort through the contents of my tiny weekend case, stored neatly in the locker overhead. Oh, how smug I felt when I managed to fit everything in, in untypical 'girl' style; leaving behind the snow boats, ski jacket and gloves, a little pre-Googling suggested I should probably pack, but I decided I couldn't possibly need; salopettes folded in, in case of emergency.  I lived in the Alps for six months, without most of this gear, and survived. Forgetting, of course, that sunny old Val d'isere, with its nigh on perfect skiing conditions, lack of wind, and mid-mountain mulled wine supplies, is quite different to the oft referred to 'land of extremes' that is Iceland.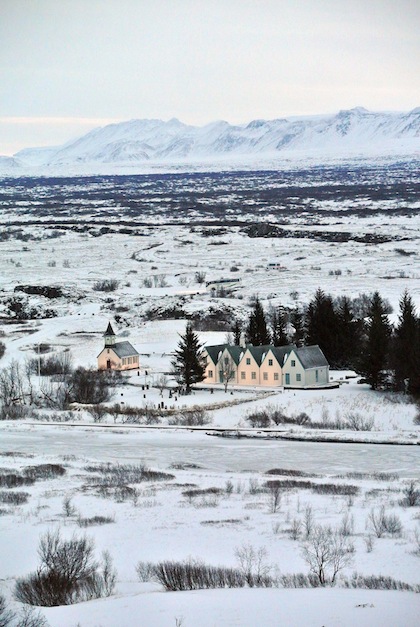 It's a term so perfect for this otherworldly isle, boasting bright, open landscapes, edged with volcanic mountains: some dormant, some most definitely not. It boasts temperatures so cold you can almost feel your body slowly shutting down from shock, and an abundance of geothermal waters that provide, aside from spa and healing properties, enough steam to heat water for all the houses, at around 20% of the cost we endure in Britain. There are days of light, and days of almost night; food ranging from the sublime to so bad the traditional potato and cumin liquor, Brennivin – aka Black Death, to wash it down with, tastes of heaven in comparison. Landscapes so surreal in their beauty, it's like being on another planet, especially come winter; the snow and icy plains tinted with blues, pinks and peaches, changing through the day. Iceland is a place to visit when you're seeking a proper escape from real life; the perfect long weekend break, a relatively short flight away.
Economic crises and over enthusiastic, travel-stopping eruptions have propelled Iceland in to the headlines for all the wrong reasons in recent years, buts there's plenty to smile about in this country. I headed there with the main excitement of finally ticking Aurora Borealis off my list of must-sees, not really knowing what else to expect from the country. Of course, those contrary, ethereal wafts of colourful gas didn't make an appearance, despite almost promising to twice, but there was plenty more to have me waxing lyrical about the place when I returned.
I experienced more food firsts in four days, than ever before: fermented green Icelandic shark (horrific-tasting, yet great for stomach ulcers, so they say), minke whale, cured horse, dried lumpfish, salty haddock crisps, European shag, and – cover your ears, kids – puffin. I turned down the sheep head and ram testicles, not wanting to strike off everything on the list in one trip… There were culinary gems on the trip too, ones that were memorable for the right reasons: creamy lobster soup with the sweetest, softest local shellfish (MAR, Gersgata 9); lamb cured in herbs and smoked goose from Icelandic game specialist deli Ostabúdin (Skólavördustig 8), where I also stocked up on exciting kitchen cupboard additions including birch smoked sea salt and arctic thyme; and tasty IPA Ul Fur from microbrewery Borg Brugghus, served at the very un-Icelandic sounding, The English Pub (Austerstraeti 12A).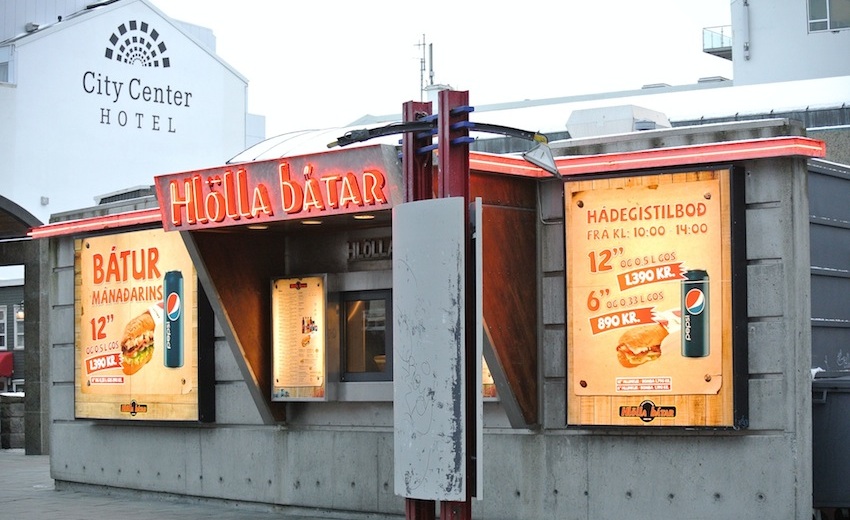 The sights were just as salivicious. The capital itself is very chocolate box cute, with its sherbet coloured buildings, sharp peaked roofs and an abundance of quirky knick-knacks dotted inside – the best example being top harbour-side dinner spot Tapas Husid (AEgisgardur, 101), where the décor is Instragram cool. On the edge of the water, sits Reykjavik's concert hall and conference centre Harpa; not the most exciting-sounding building, but a beauty, glowing on the outside with a glass façade designed by Olafur Eliasson, inspired by crystallised basalt columns of its homeland; the shapes casting giant rainbows on the floors inside on sunny days, kaleidoscopic views of the mountains outside, and lit up with multi-colour LEDs at night. Worth a walking tour even if you don't have tickets for one its shows.
Away from the city, the finest examples of Iceland's out there sights can be spotted on a tour of the Golden Circle a couple of hours drive away. The epic Gullfoss Waterfall, explosive 10,000-year-old Geysir and bubbling pools of belching 110 degree water entertain, while minus temperatures in double figures threaten frost bite in any unexposed, camera-button-digits. The largely uninhabited snow-covered plains, glassy lakes, craggy mountains, dainty wild horses and winding rift valley – a geological border separating North America and Eurasia – that make up the Thingvellir National Park, ensure a full memory card by the end.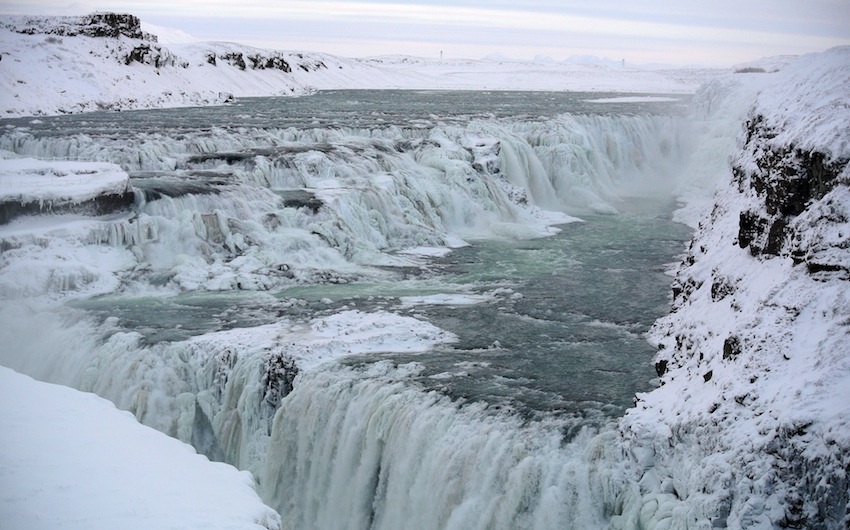 Bright easyJet-orange boiler suited up and in charge of a beast of a quad bike, trekking through the rocky terrain, through snow and up and down slopes, is probably the most fun way to take in the views away from the Golden Circle; the steaming, 30-odd degree blue lagoon, the most relaxing. Around a 40 minute drive from Reykjavik, it would be an incomplete visit to the country without heading there, and being almost equidistant from the city and Keflavik airport, a perfect stop off to strip off the multiple layers – two pairs of socks, jeans, salopettes, thermals, bobble hat, gloves and snood, at final count – and warm the cockles before hopping on the plane back to normality.
easyJet operates 10 flights a week to Reykjavik from London Luton, Manchester, Edinburgh and Bristol. Fares start from £26.49 per person. For more information, visit the website. For more information on Iceland, go to www.visiticeland.com 
Photography by Gabrielle Sander.