"Mozart lives!" is the cry that goes up (after the reminders about phones and photography) before every concert in Salzburg during their first festival of the year. Mozart Week (actually ten days) has been going since 1956, held each year around Mozart's birthday (27 January) and celebrating all things Mozartian.
This is only natural, given that this was Mozart's birthplace. And, of course, were it not for Mozart the big summer Salzburg Festival would probably never have started here either because, lovely as it is, Salzburg is a small city. With just 150,000 inhabitants, it's really more of a big village, but it's brimming with both music and Mozart memorabilia.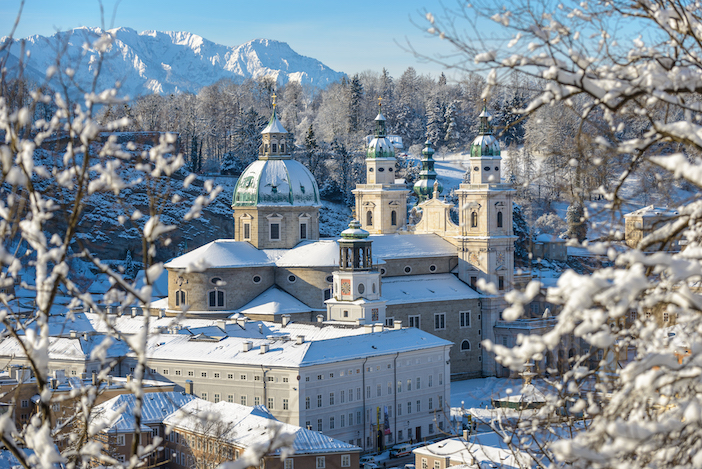 There are three Mozart houses where he lived at different times during his life (the most interesting is the one called Mozart's Birthplace where he spent his childhood, when he wasn't on tour, and you can see the actual instruments on which he practised and composed). You can buy umbrellas and T-shirts, tea towels or notebooks, all emblazoned with that famous profile portrait. And, of course, Mozart balls (chocolate and marzipan) are everywhere. He would have appreciated the joke.
But, of course, Mozart Week is principally a celebration of his music. Since star tenor Rolando Villazón took over as artistic director of Mozart Week in 2019, the motto has been clear: "purely Mozart". There's a new musical focal point every year. In 2021, the spotlight will be on Mozart as a creator of musical drama, with a special emphasis on works in minor keys, since they tend to be particularly dramatic.
Mozart Week 2021 features – in addition to orchestral concerts, chamber music, dance, pantomime, film and talk – three stage productions and three concert or partially staged operatic performances. These include Don Giovanni and the little known L'Oca del Cairo (The Goose of Cairo), a comic opera that Mozart began writing in the summer of 1783 but never completed, allegedly because the composer thought the librettist's plot was absurd!
This, of course, has never been much of an objection when it comes to opera and in any case should not be a problem for Mozart Week that, judging from the 2020 season offers artistic interpretations of untold depths. One of my favourites last January was Mozart's Der Messias. Now, this is Mozart only by virtue of a few tweaks to Handel's original Messiah. The tweaks included extra parts for flutes, oboes, clarinets and horns and a translation from English to German. But, the score, other than for a real specialist, remains essentially the same.
This production, however, was totally unexpected. This is an oratorio that is generally sung as a concert, the four soloists surrounded by choir and orchestra. Here, American director Robert Wilson turned oratorio into opera. Set in a box of light, he moved the black-clad chorus, stately silhouettes, to form complex patterns across the stage. The four soloists were no longer simply narrators singing words taken from the Bible or the Anglican liturgy, but became characters in their own right. Rather surprising characters.
Soprano Elena Tsallagova was particularly impressive and increasingly ethereal (perhaps angelic) as the evening goes on. Crinoline-clad alto Wiebke Lehmkuhl was altogether earthier especially in her duets with tenor Richard Croft, bizarrely attired as a rather creepy Vaudevillean with a speciality of knowing, leering winks.
There were films of crashing, collapsing icebergs; a boat drifted across the stage (Tsallagova as a latterday Galadriel); a headless dummy sat on a chair, his hand holding a lobster's leash; there were magic tricks with water, a male dancer crossed the stage, with flowing ribbons, Isadora-like. There were an astronaut, a golden yeti, and an old man who could be Karl Marx. There again, he might be God.
You might catch that production elsewhere one of these days as it was due to tour – till everything got cancelled. So, what are the COVID rules so far in Salzburg? The news is basically pretty good. In all, there are 65 different events (with all the safety regulations in place) but tickets will be gold dust. So book now here.
For more information about Mozart fest, including the full programme, and to book tickets, visit www.mozarteum.at.
Anna Selby visited Salzburg City for the annual Mozart Week as a guest of the SalzburgerLand Tourist Office. For more information about what to do in Salzburg and planning your trip, please visit www.salzburgerLand.com.