With its varnished wood panelling, brown brasserie chairs and quirky pictures of patrons passed, walking into John's Grill on San Francisco's Ellis Street is like stepping inside a sepia photograph. There's something wonderfully timeless about the place – it feels like it's barely changed since it first opened its doors in 1908. The culinary time capsule, which has played host to an impressive roll call of stars, from Marlon Brando and Lauren Bacall to Truman Capote, features in Dashiell Hammett's 1930 detective novel The Maltese Falcon, which Hammett penned in San Francisco. Living on the nearby Post Street in the gritty Tenderloin district, legend has it that Hammett wrote parts of the novel at the bar of John's Grill, powered by caffeine and nicotine.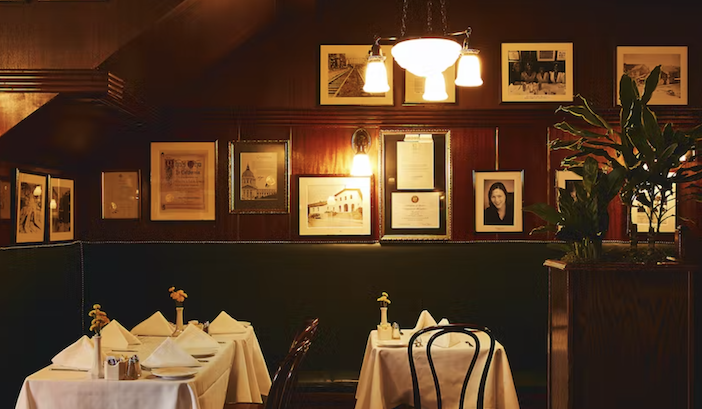 The book's protagonist – eagle-eyed, unsentimental private detective Sam Spade – wolfs down a plate of chops at the grill on the climactic final night in the novel after coming into possession of the elusive falcon. Fans of the tale can tuck into 'Sam Spade's Lamb Chops' then pay their respects to a statue of the infamous bird in a glass cabinet on the first floor. Bypassing the chops, I ordered a deeply delicious, delicately charred, medium-rare rib-eye the size of Alcatraz served with a punchy peppercorn sauce alongside a fiendishly good helping of truffle mac and cheese that would be my last side dish on earth were I ever to end up on death row. Midway through my steak I spotted a wizened wise guy in a pinstriped suit and pork pie hat propping up the bar, who looked like he'd sprung straight out of Hammett's imagination.
Laying claim to being the birthplace of sourdough, San Francisco boasts one of the most exciting and diverse food scenes in the US. Dining is a serious business here, and the best way to get under the skin of the city is to eat your way around it. "People vote with their forks in San Francisco; food is political," Jane Connors, general manager of the Ferry Building – SF's answer to Borough Market – tells me during an early morning tour of the artisan producers who have set up shop here, including a mushroom emporium founded by a former detective. Like London, Frisco is home to a colourful assortment of neighbourhoods with their own distinct character, cuisines and quirks, from hippie hangout Haight-Ashbury – the beating heart of the Summer of Love in 1967 – to the mural-filled Mission district, where locals queue around the block to get their hands on lauded sourdough loaves from Tartine Bakery.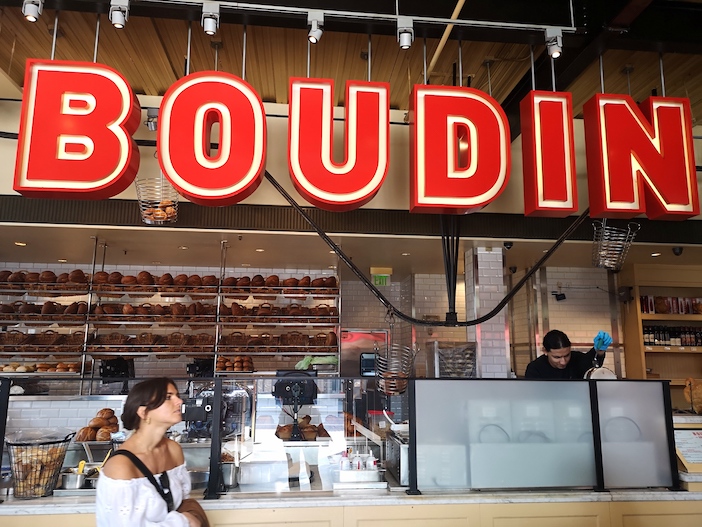 While fermented bread was eaten in ancient Egypt, sourdough as we know it was born during the California Gold Rush of 1849, when miners created magic with four humble ingredients: flour, water, salt and a 'starter' made from fermented dough to transform bland loaves into tangy treats to enjoy during back-breaking gold-digging stints in the hills north of San Francisco. Having enjoyed many a fine slice in London, I was curious to see whether San Fran sourdough was superior in any way.
Putting it to the test, I headed to the original Boudin Bakery in Fisherman's Wharf, the city's oldest continuously operating business, which has been lobbing loaves in the oven since 1849. Founded by Frenchman Isidore Boudin, the bakery's original wild yeast 'mother' dough was gifted to him by a gold miner, and has been nurtured for 173 years – Boudin's wife, Louise, managed to rescue the precious starter from destruction during the devastating earthquake of 1906, which destroyed over 80% of the city. Situated near the sunbathing sea lions on Pier 49, Boudin sells everything from traditional loaves to turtle-shaped rolls. The best way to enjoy the bread on a cold winter's day is from a hollowed out round filled with piping hot clam chowder. The comforting creamy soup and its crunchy, tangy vessel make the perfect pairing.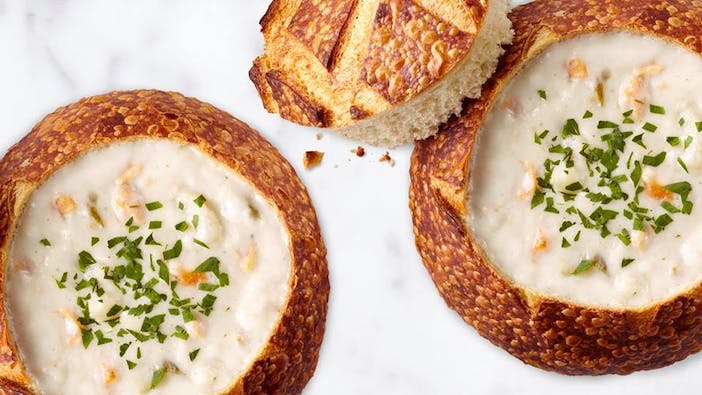 Perhaps it was the sun beating down on my back, or Madonna's Immaculate Collection drifting through the speakers, but it tasted better than any sourdough I'd tried in London. All the elements were dialled up – the tang was more pronounced, the crust more golden and bubbling, and its texture more crisp. The interior was lighter and fluffier, and the overall experience of it more joyous, in the same way that rosé tastes best in the sunny climes of Southern France.
Sourdough comes in handy when mopping up the sweet, tomato-laced sauce in a cioppino; a rustic seafood stew first rustled up by immigrant Italian fisherman in San Francisco's North Beach – home to literary landmark City Lights – in the late 1800s to use up the leftovers of the day's catch. Meaning 'chopped' in Genoese dialect, the stew became a San Francisco staple in 1938 when it was given top billing on the menu at Alioto's in Fisherman's Wharf. Everything but the kitchen sink goes into it, from crab and clams to shrimp and squid. Neon orange and overflowing with shells, it's impossible to eat elegantly – I slurped my way through a hearty bowl dressed in a becoming plastic bib at seafood specialist Scoma's while watching the boats bobbing lazily in the dock.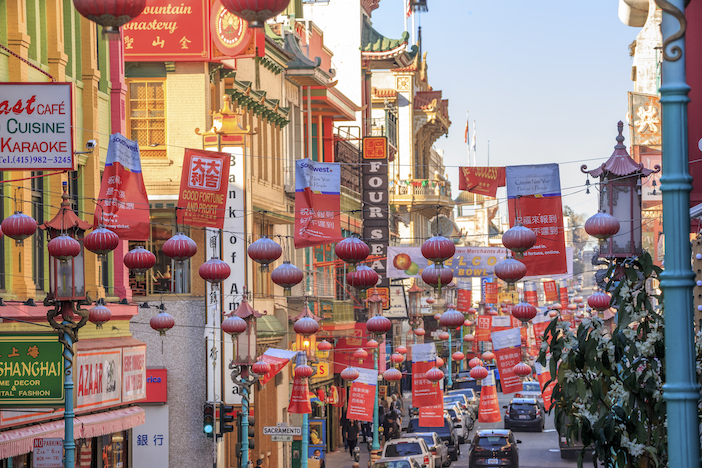 Alongside crab Louie and the Mission burrito, San Francisco is the home of the fortune cookie, which is thought to have been created in 1906 by Suyeichi Okamura at his Japanese sweet shop Benkyodo on Geary Boulevard. The folded fancies became known throughout the city in 1914 when restaurateur Makoto Hagiwara started serving them at his Japanese Tea Garden in Golden Gate Park. Hungry to find out more, I was taken on a jaunt around Chinatown – America's oldest and one of the largest Chinese enclaves outside Asia – by actor-turned-tour guide Brian Raffi, who could pass for Al Pacino on a dark night. Dressed in a black fedora, Burgundy blazer and shiny black boots, Raffi's tour – an animated three-hour monologue – brought Chinatown's history to life in high definition.
Beginning with freshly-baked scallion rolls and fluffy bao buns rammed with sweet, yielding pork, we popped into a wok shop, paid a visit to a Chinese church, nibbled on lotus seed moon cakes from Chinatown's oldest bakery and stopped to listen to an elderly man playing an erhu with a horsehair bow, its haunting sound seemingly lost in time. The morning fog had rolled away, revealing a bright blue sky filled with red paper lanterns and flickering flags strung up between the buildings.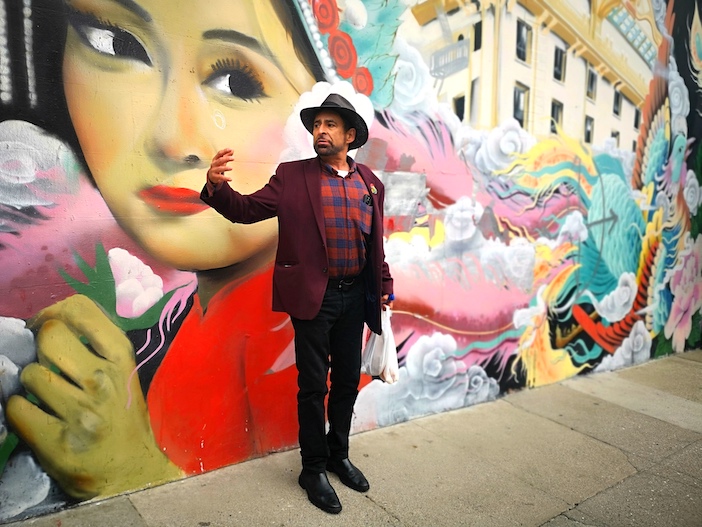 "San Francisco has always been a hard-partying, wide open, Wild West kind of town," Raffi tells me over a sensational plate of Cantonese string beans at Grant Place on Washington Street, where we weaved our way past low-hanging ducks and lobsters thrashing in their tank to get to our table. After a brief tutorial in chopstick etiquette, our feast continued with hunks of glistening crispy duck, which we piled into pancakes slathered in plum sauce.
The jewel in Chinatown's crown is the Michelin-starred Empress by Boon, headed up by culinary alchemist Ho Chee Boon, which, with its mood lighting, pretty pagodas and private booths, feels part opium den part private members' club. Specialising in seasonal Cantonese fare, the tasting menu is the best way to experience Boon's creative flair. The dishes are exquisitely presented and pack a punch.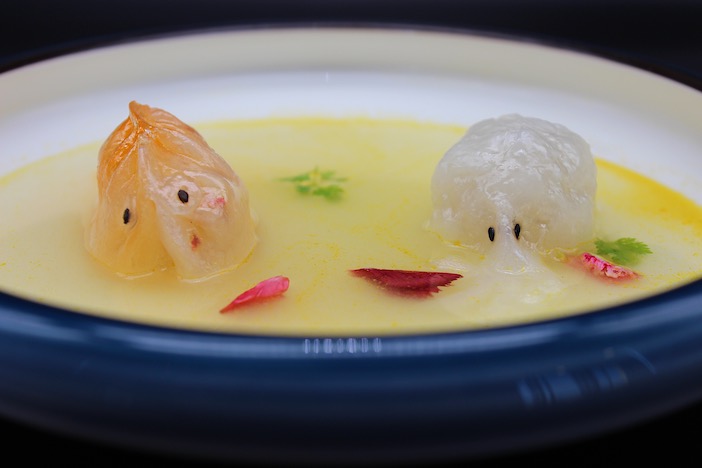 My dainty scallop and caviar roll was an umami delight, while the shrimp and squid dumplings fashioned to look like coy carp came swimming in a piquant hot and sour broth that would kick covid to the kerb. Saving the best until last, Boon's wok-tossed Waygu beef with lotus root and black pepper is the stuff of dreams. Silky, salty and melt-in-the-mouth, I had to fight my dining companions for the final few slivers. Mention must be made of our star-in-the-making sommelier Daniel, who walked us through our wine pairings with ease and enthusiasm, reading the room perfectly. His union of an apple-scented off-dry Rheingau Riesling with a fiery rockfish dish was inspired.
The final stop on my gastro tour was the Mission district, San Francisco's oldest and largest neighbourhood, which is home to a thriving Mexican and Central American community and over 2,000 magnificent murals that tackle everything from gun crime to gentrification. Our affable guide, Mark Paladini, took us past cardboard cutouts of Frida Kahlo and brightly coloured wrestling masks on the way to his favourite taqueria – La Corneta – where he ordered the entire menu. Sitting beneath a giant mural of the Virgin Mary praying in a field of stars, I devoured my enormous breakfast burrito stuffed with achingly tender, slow cooked roast pork shoulder while Mark educated us on the nuances of regional Mexican cuisine.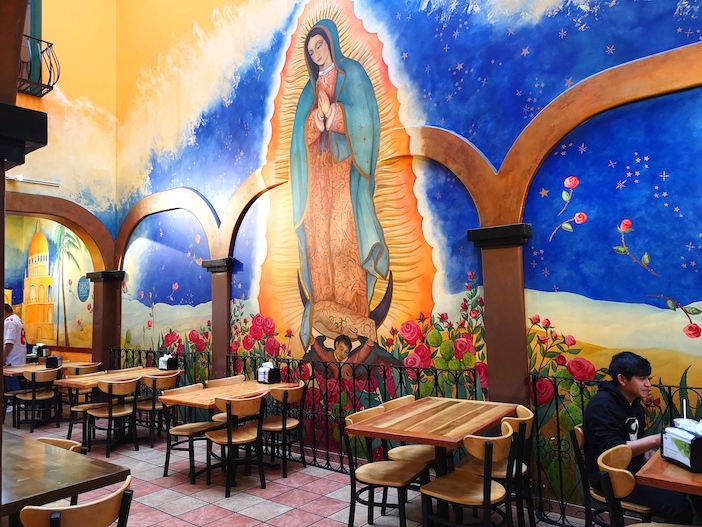 The hedonism was cranked up a notch at our next pit stop – La Vaca Birria – home to dangerously drinkable strawberry Margaritas and perhaps the tastiest flavour bomb in the city; the birria taco, a decadent, slippery wonder filled with 36-hour braised beef balancing on a bed of oozing cheese, which you're encouraged to dunk headfirst into its accompanying beef broth bath enlivened with a squeeze of lime. Meltingly rich and indecently indulgent, it's heart-stoppingly good and worth flying across the Atlantic for. Stuffed to the gills, I boarded my United Airlines flight home feeling like I might expire in mid-air, knowing that it was worth it.
Return fares from London Heathrow to San Francisco on United Airlines start from £577 including tax and checked baggage. For more information visit United.com
Lucy stayed at the Beacon Grand where standard rooms cost £291 a night, and newcomer The Line SF, where standard rooms cost between £182 and £356 a night.
Photos by the author