As the clouds darken and the mercury drops, you may think Scotland the least desirable destination for an autumnal break, but the Western Highlands and Islands can offer clear blue skies and a stunning backdrop for getting away, as Larry discovers…
It all feels a bit John Buchan, like I'm escaping something afoot in London, boarding the Caledonian Sleeper to Glasgow and on to the Western Highlands.
The Sleeper is definitely one way to travel, and while it may lack the romance of the 1930s, there's more than a fair share of novelty to it, certainly judging by the number of people having their photo taken by the emblem on the end carriage. That it leaves at ten to midnight definitely adds a whiff of 39 Steps to the whole adventure, too, skulking away under cover of darkness, though I suspect Richard Hannay was a little less encumbered than carrying a sleepy 5-year-old the near half a kilometre length of the train to our berths.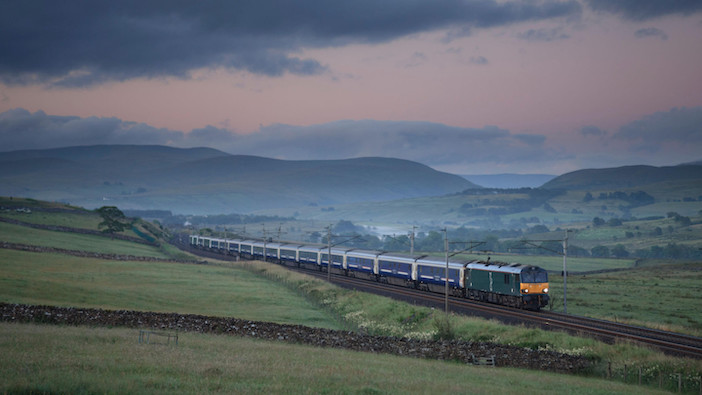 I take the single cabin, Mrs L's magnanimity offset by our little nest of vipers passing out as soon as she hits the pillow. Inside, they're cosy all right, as you might expect. 'Over and under' bunk berths, about 4ft across, but considering they're just designed to be slept in, what more d'you need than a bed? Well, there's quite a bit packed into this cell on wheels; an 'en suite' wet room, basin, and bag of amenities. What's more, as we arrive in Glasgow, with a personalised wake-up call, there's a hearty Highland breakfast, too, before we disembark. This is one fine introduction to a week in Scotland.
Given Scotland's reputation for weather, one might think autumn the least apposite time to visit, and we'd quite prepared ourselves for a wash out. After all, isn't a spray of drizzle over a Highland backdrop all part of the charm? But Scotland has a secret, I'm told; autumn is a time of crystal skies and crisp air, a nip of cold against dazzling sunshine, not to mention a panoply of colour to rival New England in the Fall.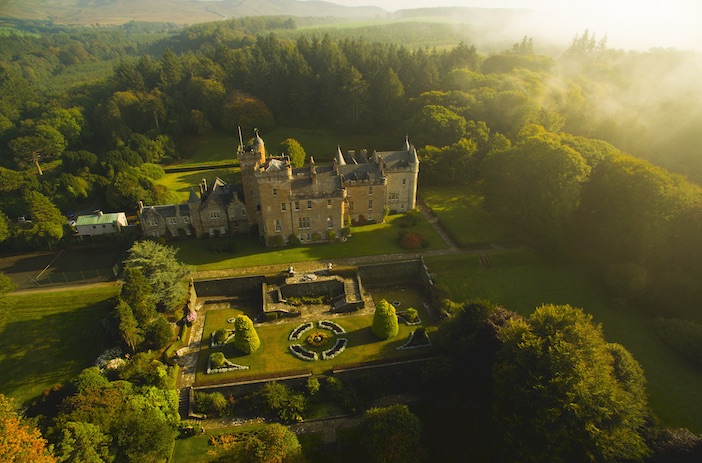 It's with these skies that we take to our first abode. Set on a hillside in 36 acres of beautiful, leafy grounds, to arrive at Glenapp Castle is to arrive in Narnia. The least likely entrance for its name – up an unmarked rural road, easily missed – it's as if they're trying to keep it secret. Once you're through the gates you're on a winding mile drive through a mythical woodland, where moss covered trees and thick ferns frame the banks of a babbling burn.
In most hotels you can take or leave the gardens as a spot for a pleasant stroll but, at Glenapp, the grounds are all part of the adventure and, armed with an illustrated map pointing out abundant points of interest, we're itching to explore. Even the trees have names, like the ancient horse chestnut, Treebeard, by the pond – from which, incidentally, I half expected a hand to emerge clutching a sword through the layer of morning mist. They know the landscape works, too, taking advantage of its features for the guests' enjoyment, playing Azalea Pond Chess, for example, or following the brook out of the grounds and out to the beach at Ballantrae.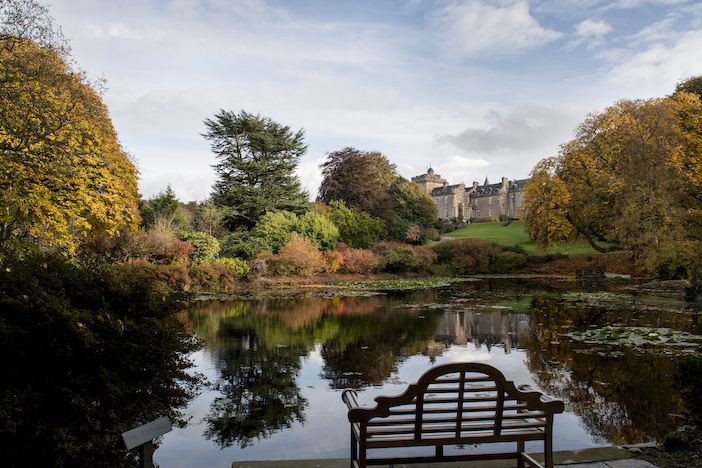 Like the grounds, the castle feels lived in, as if you're the guest of a welcoming laird rather than the distance one sometimes feels at a hotel. Indeed, nothing about this feels like a hotel; there is no reception, no check in. Instead we're met on arrival and invited to sign the visitors' book.
As castles go, it's more like a stately home, built in the 1870s in the baronial Gothic style, complete with fairy-tale tower and dressed with crenellations to give it its name. In its relative short life to date, however, it's had a rich history. Once the home of James Lyle Mackay, while the name may not seem familiar, the company he became chairman of might; the Peninsular and Oriental Steam Navigation Company, or P&O to you and I.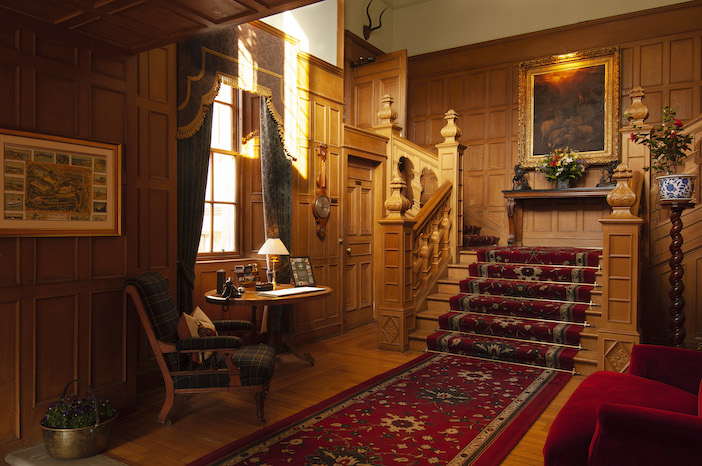 His is a colourful history, too, and it adds colour to the stay as I wander the drawing rooms, the library. Most notably, he consulted on the D-Day landings with General Eisenhower and Winston Churchill, his guest in 1944. His own life was, however, sadly upstaged by his daughter's. A keen aviatrix, she took on a transatlantic crossing just a year after Charles Linbergh's historic voyage but was, tragically, lost to the sea.
MacKay became the first Earl of Inchcape, and as we're escorted to our room, I notice that name on the door. As we enter, we're told we've been upgraded to it. It has its own hall, with the bathroom to the left. When I cross the threshold, I wonder if there's been a mistake.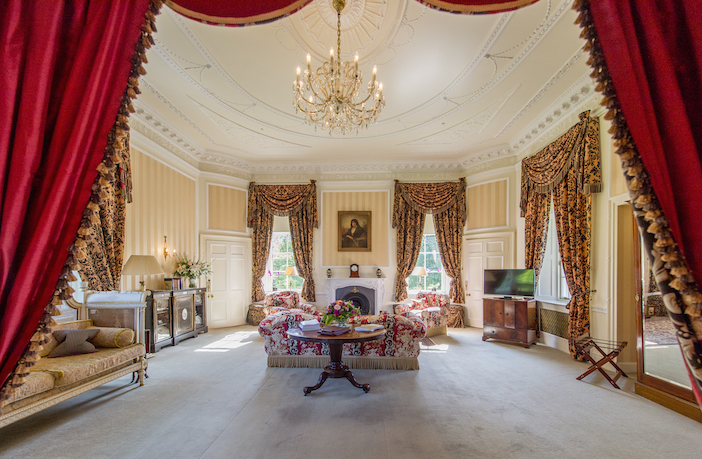 It's bigger than the Queen's at Balmoral. Triple aspect, with views across the grounds and gardens, it takes up most of the second floor of the west wing, an extension added by MacKay. The room is duplicated with his wife's below, an adjoining spiral staircase in the corner giving them private access away from the staff. A 20ft ceiling is adorned with elaborate stucco work, the furniture is period, much of it acquired during the castle's more recent ownership; a Venetian three-seater, a credenza adorned with ceramics, a 19th century armoire in veneered walnut. Oils on the walls are originals.
All this makes it feel like a stately bedroom, not a hotel room. It has character. The floorboards creak underfoot. The bed is made up with blankets, not a starched duvet. Speaking of which, pride of place is given to a four poster, draped in embroidered burgundy satin and featuring its own chandelier. And if we needed convincing we weren't in a hotel, there are no in-room amenities. Instead, when we wake, we ring for tea and moments later a tray appears on the arms of an under butler, with loose leaf made up in silver pots and served in monogrammed china.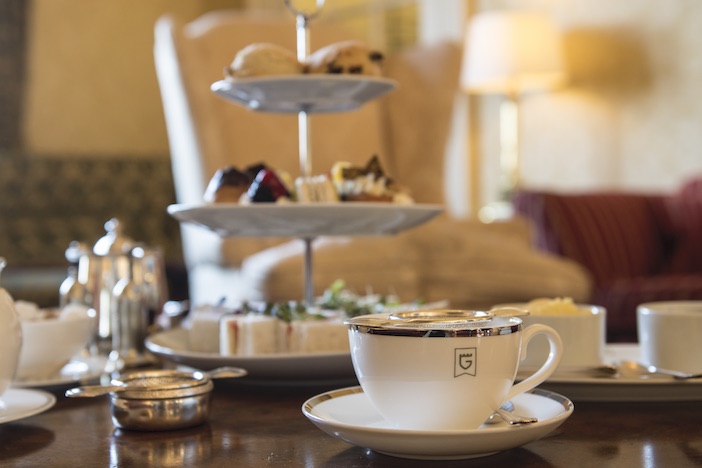 That personalised service extends throughout. As we return from our wanderings and an afternoon of archery, I notice a dinner menu laid on the bed. It's a set six-courses, and date specific. I check my wardrobe. Would a laird expect white tie? And where's my dresser? But I needn't have concerned myself with dated improprieties, we parked our young duchess with fish and chips and an attentive babysitter, and headed downstairs.
In a dining room with scarcely more than twenty covers, I could have settled for my daughter's fish and chips, but here was something unexpected in its execution. Quality dining at a bespoke level, there were dishes that wouldn't look out of place in a Michelin venue in Edinburgh – yet available here, in a country pile in Ayrshire. We feasted on goats' cheese and thyme ravioli in an orange emulsion – a terrific combination, I might add – hand-dived scallops with pickled fennel, roe deer in a port and fig jus, and a pear tatin with ginger ice cream. I'm reliving it as I write. The meal came with lovely flourishes, too; palate cleansers of citrus fruits and champagne spuma, and a pistachio brûlée. While the set dinners are a treat, such indulgences may be a bit much several nights in a row, so they're equally happy catering for a bowl of soup by the fire in the lounge, if one so wishes.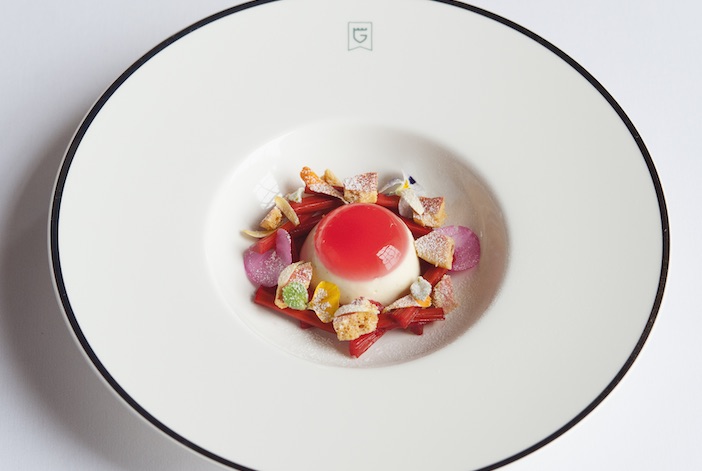 Yet all this feels like it's just beginning. It's as if Glenapp has more potential it's in the process of realising. In those grounds, a vast Victorian walled garden features a glasshouse running down one side. It's in use, for plenty of functions and events, but as I explore its vines and climbers inside, engineering and historical experts are inside poring over plans for a restoration to bring it back to its original state.
Equally, on my visit, I'm gifted a rare opportunity. A carrot, if you will, of epic proportions. I'm asked if I would like to see the apartment. "You mean there's a room that's better than my own?" I wonder. We sneak through a private door, up a narrow stair to a penthouse. It's cute, I think, before I'm led through the work-in-progress of something that would rival One Hyde Park. To host a family, and their guests, I'm not overstating it when I say it's going to be one of the most enviable addresses in Scotland. The views from the roof, as I stand next to the flagpole, looking through the battlements out across the treetops to the whitewashed houses of Ballantrae and the shiny blue Firth of Clyde, are enough to make one feel king for day.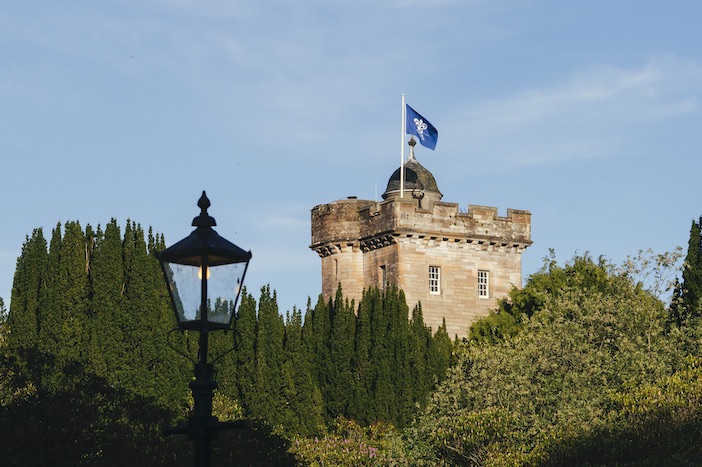 With remoteness sometimes comes a feeling of isolation, and we did wonder if boredom might play a part, particularly when it came to the little one. On nosing a brochure, I spied no less than 63 activities and experiences available, from pebble painting to perfume making, and many designed for families. They're conscious of this, too. A month before arrival, you're asked what you'd like to do so a programme can be planned and preferences accounted for.
Of all the activities, however, perhaps none is more enviable than their Hebridean Sea Safari. Launched last June, it is unique to Glenapp. Indeed, in conversation with others who knew of the hotel during our trip, it is mentioned more than once as something that was something of a stroke of genius. Taking the castle's private launch, one can do short trips to the iconic Ailsa Craig, its abandoned lighthouse and the bird sanctuary there (it's home to some 40,000 seabirds), but, when you have a boat at your disposal, why stop there?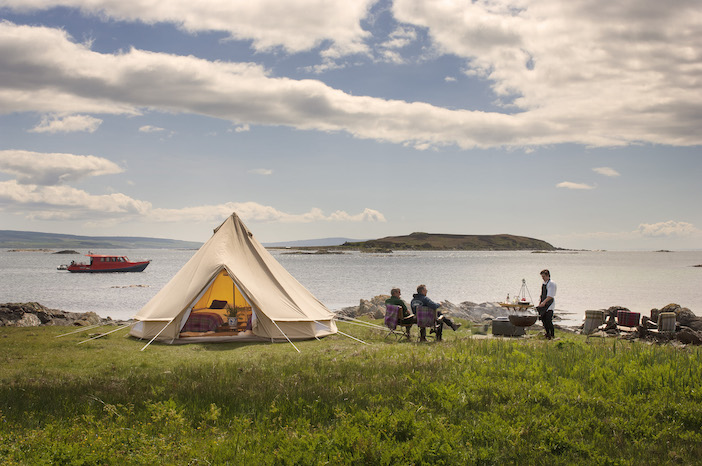 From June to October, the castle takes you beyond its shores, round Mull to islands otherwise inaccessible, ending north of Jura for glamping (with a private chef and butler) at a remote, wild spot and a bespoke itinerary (whether you've a preference for distilleries, fishing or otherwise). I note, too, for a broader Highlands and Islands experience, if you want to continue your journey, you can be dropped at Oban, our next destination.
In our short stay, we've managed just three activities out of 63. For us, the boat would have to wait for next time. We are going onward to Oban, but overland…
Glenapp Castle is a member of Relais & Chateaux and Pride of Britain hotels, and was recently voted 'Independent Hotel of the Year' at the CIS Excellence Awards. For more information, including special offers and festive packages, visit www.glenappcastle.com.
Larry's Hebridean adventure continues tomorrow in The Arbuturian…