It's something I couldn't fully appreciate on the drive down, riven with fatigue following a fitful night's sleep on the ironically-named Sleeper. But now, rested, if reluctant to leave the cradle of Glenapp castle, we're on to the second part of our Hebridean half term, and I take in the drive.
Again, we're blessed with the weather – that's three consecutive days of sunshine (Scots will tell you it's better than in summer) – and the coastal drive to Glasgow affords the deepest blue sea shimmering against the muted earthy autumnal tones of domed hills and the smattering of white crofts as we progress north.
It's four hours to our destination but, extraordinarily, I'm wishing it were longer. Once past Glasgow, we quickly break into the Trossachs National Park. If that sounds unfamiliar, I'm sure you've heard of Loch Lomond, its central feature, and our route takes us up the western shore. Heather gives way to woodland, bursting with autumnal umber, copper and gold as we weave our way along the water's edge. The surrounding hills get higher, their sides a patchwork of paint-by-numbers in ferns and firs and conifer forests. Past the loch, the landscape opens up, the munros get craggier and snow-capped, and we're into the Highlands. It's so photogenic, I want to stop at every layby, but I know my iPhone won't do it justice.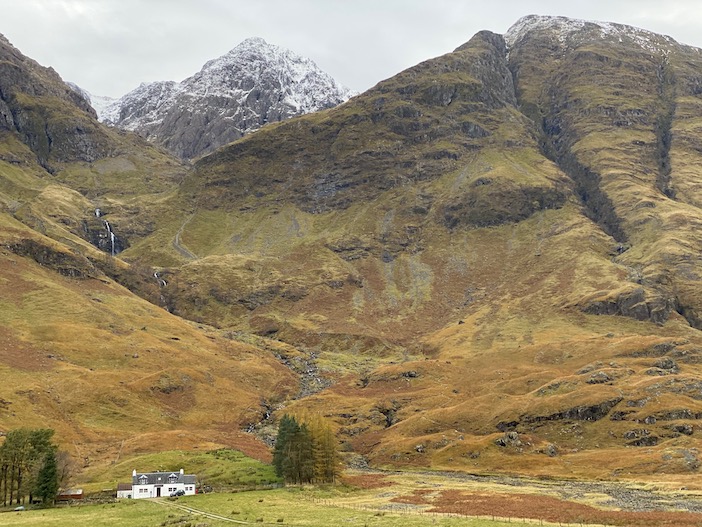 Our route takes us through the majestic and menacing Glencoe, which should be overrun with tourist-themed paraphernalia, but it's surprisingly, refreshingly spartan; a visitor centre, a sign to a hotel and ski resort, the odd inn, a stray backpacker and little else. The roads, too, are clear and forgiving.
Before long, we're running along the shoreline of Loch Linnhe, arriving in the small fishing port of Appin and the former ferry inn that is now the delightful Airds hotel. It seems a curious spot to run a hotel and triple AA rosette restaurant, but this secluded corner of Argyll is, in fact, a haven for those in the know. There are second homes here and, the setting aside, its topography – bordered by mountains, it catches the Gulf Stream to make it more temperate – makes for a retreat to rival Cornwall's finest.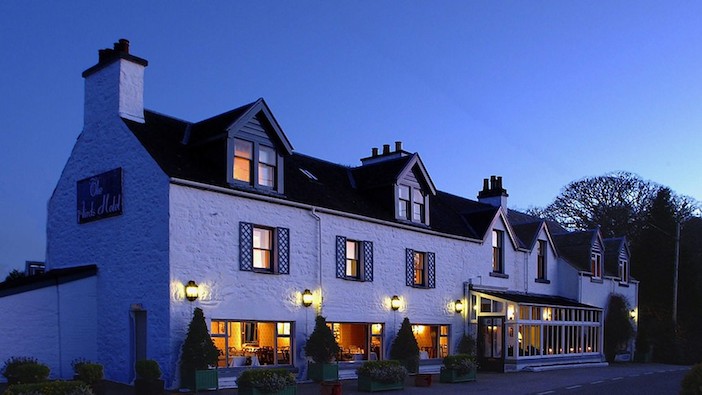 From that modest exterior, you wouldn't imagine this humble roadside abode has racked up countless awards including Good Hotel Guide's Best Luxury – and Most Romantic – Hotel in Scotland this year, but what makes The Airds work is that it nails that Scottish idyll of 'cottage cosiness set in stunning rural seclusion' to a tee. Add to that a restaurant to cross the country for and you've got a winning combination.
Fuelling our need for 'cosy', we arrive just as the weather breaks. You enter, simply, a home, to be met with what The Telegraph's Fiona Duncan lists as one of the UK's Top 20 Places for a Warm Welcome. That, and a glass of prosecco to enjoy by the fire, does wonders to soothe the drive to get there, particularly if it's been raining. As I sip, I'm torn between watching the changing scenery from the window – the lighthouse in the estuary against Lismore and the cloud-covered hills of the mainland beyond – and admiring the collection of contemporary art in the main lounge, itself a pristine interiors showroom; the sort you'd want to recreate for your own.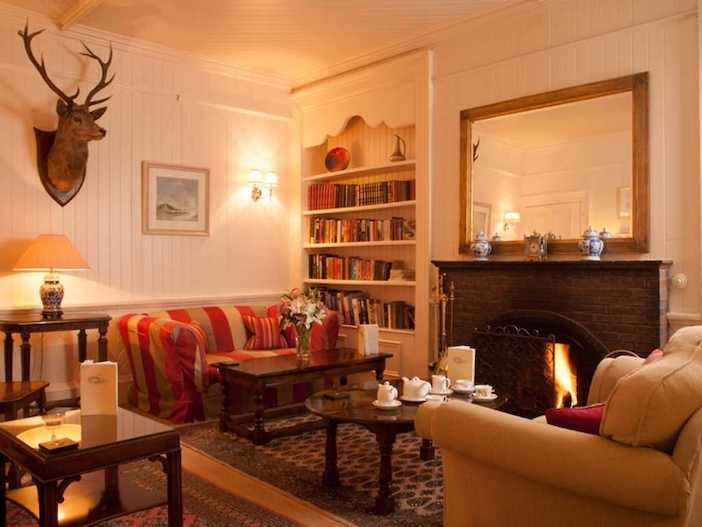 But it's not simply the quintessential cottage cosiness that's the draw (have I said that already?), however, nor the welcome as warm as the fire, but the dining. Oh, boy, the dining.
A series of amuses, including a white onion and truffle velouté, whetted the appetite ahead of our starter of pork cheek ravioli. I can only describe it as a roast dinner favourite encased in pasta, with bite. I was through it before I noticed Mrs L had gone silent. She was focused on scraping the glaze from her bowl. "That," she remarked, "was one of the best things I've had for a long time." Wow, I wondered. What was it? "Pea soup," came the reply. To transform the humble pea into high praise takes some alchemy.
As we ate, I should comment on the other side of that warmth to warrant Fiona's praise. Personable service. Throughout the meal, Andres, the assistant manager – formerly of Glenapp, no less – a garrulous Latvian with a Scottish brogue, keeps us as enthused for the meal as we are entertained. His modesty over his wine knowledge, too, was unnecessary; his recommendations were spot on, suggesting a crisp sherry with the starters, and white Macon-Verzé burgundy subtle, nothing on the nose, delicate floral notes delivering window-dressing to my exquisite John Dory.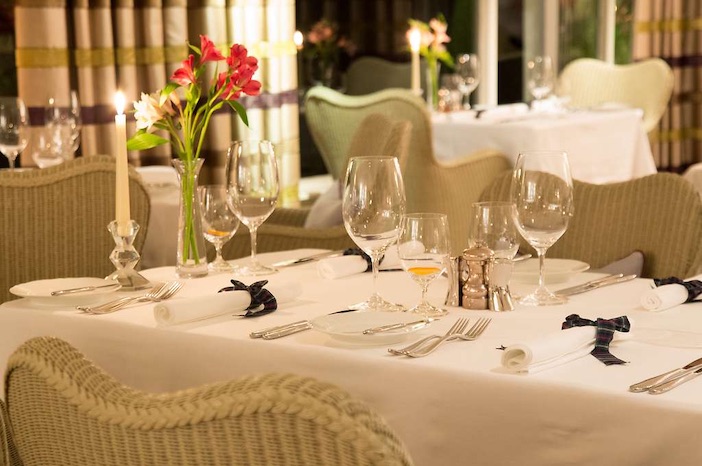 For dessert, a first. Opting for the cheese I was asked, 'What cheese do you like?' I offer a few preferences and a few minutes later a plate arrives with a selection, many new to me, that seem to nail my sensibilities. While I'm tucking in, Mrs L is busying herself with an apple crumble souffle with ginger ice cream. Something she added was the best thing she'd eaten since the pea soup less than an hour earlier. Little wonder people come to Airds for the food alone, and decide to stay. Little wonder, too, the restaurant has featured in the Good Food Guide for more than forty consecutive years and held its three AA Rosettes for more than 25. I salute you, chef Calum Innes.
With the blissful silence of the loch surrounding us, it wasn't until a knock came, followed by tray of tea and pastries, that roused us all from our slumber ahead of a Highland breakfast and a fond farewell, and we were into the rain, admiring once more the colours of the season as we descended to the Hebridean gateway, Oban.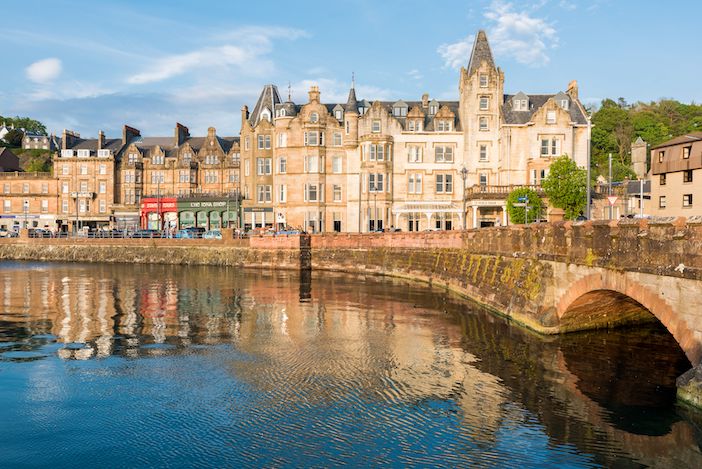 Located at one end of the harbour, The Perle occupies a handsome position, its Gothic façade symbolic of the Victorian grandeur the town still exudes. It's not without its limitations, however, as the lack of parking – and porters – makes unloading luggage a challenge, but once settled it's a central vantage point from which to enjoy and explore the town.
Rooms are contemporary, comfortable and well appointed, and much of its historic structure is still prevalent – high ceilings and windows making the most of the view across the harbour – if somewhat juxtaposed by some of the more modern amenities. The bar, Brew & Co, for example, seems anachronistic; modern and minimalist, a missed opportunity to keep the integrity of what is clearly a landmark building in the town.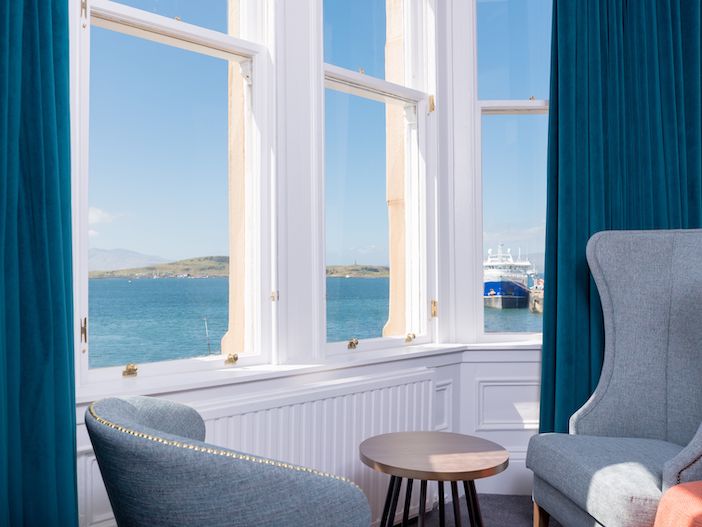 By the same token, the restaurant, BAAB, being a Levant offering, would seem a curious option somewhere so quintessentially Scottish. But there's method in this. Having enjoyed the culinary delights of the region for three days, something Eastern Mediterranean provided a refreshing change, and it's easy to see why the restaurant was full. A menu of mixed sharers, from fattoush to falafel, tamarind prawns, mussakhan pizza and lamb kebabs, was delightfully delivered, taking what was clearly fine Scottish provenance and giving it a spicy Baharat twist.
A quick glance of a brochure shows several highlights for things to do here (McCaig's Tower, Dunstaffnage Castle, the Oban Chocolate Co.), even if it seems more of a stopping point for adventures beyond. Chief among these is, of course, the distillery, and the fact that it's central, and not on some isolated promontory, shows how integral it was to the town's industry. Built in dark grey Bonawe granite, like much of the town's architecture, inside it's warm and inviting, sensitively appointed, offering tours (naturally) and tastings (of course), with a welcoming bar and a comfortable lounge with which to enjoy a dram or two by the fire.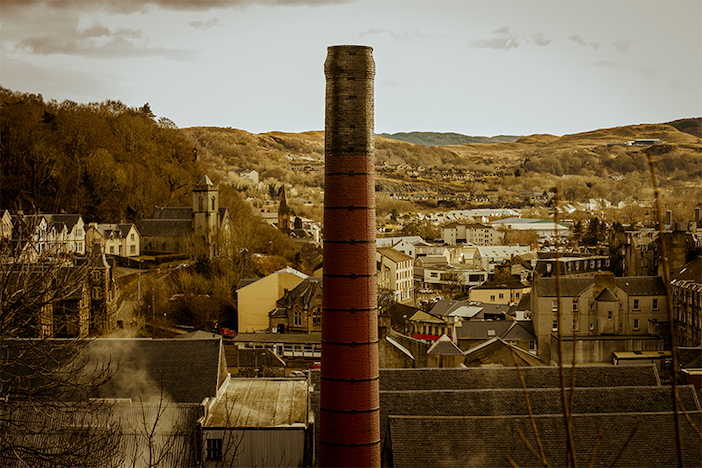 It would seem an odd decision to conclude a visit to the Hebrides in Oban, where everyone seemed to be beginning theirs, and watching the ferries departing to Mull from the highpoint of Pulpit Hill I've more than a whiff of regret we're not able to continue our adventures. But in the short window of our visit it's given an enticing introduction to this most alluring part of Scotland.
We may not have made it out to the islands, but I think there's a definite 'yet' to come…
Airds Hotel & Restaurant is a member of Relais & Chateaux and Pride of Britain hotels, and has been named Luxury Scottish Hotel of the Year 2020. The hotel is offering a 3-night winter escape is priced from £125 per person per night (2 sharing ½-board for 3 nights) and includes a heart-warming whisky mac and early morning tea/coffee delivered to the room with a newspaper of choice each day. Valid to 26th March 2020 and subject to availability. For more information and reservations, visit www.airds-hotel.com or call 01631 730 236.

The Perle Oban is part of the Perle group of hotels. For more information about The Perle Oban, including further information of what to see and do and details of Oban's Winter Festival, visit www.perlehotels.com.