From the rooftop terrace of Riad Fez, we survey the city that stretches out beneath us: layers of horizontal hills topped with dark green cypress trees overlook a huge mosaic of whitewashed buildings in varying states of crumbling grandeur. Satellite dishes attach perilously to many a flat rooftop, upon which the Saharan sunrays bounce. A warm, light breeze and audible call to pray completes our multi-sensory picture.
Fez is one of the oldest cities in Morocco – the 'cultural capital' dubbed-so, for being home to the University of Al-Karaouine – an ancient hub of spirituality and education. Founded in the 9th Century, it is frequently referenced as the world's oldest – preceding our own almost-ancient University of Oxford (where teaching began in 1096). For centuries, this city was known to host and attract the highest figures in academia – and those known for their particular attention to detail.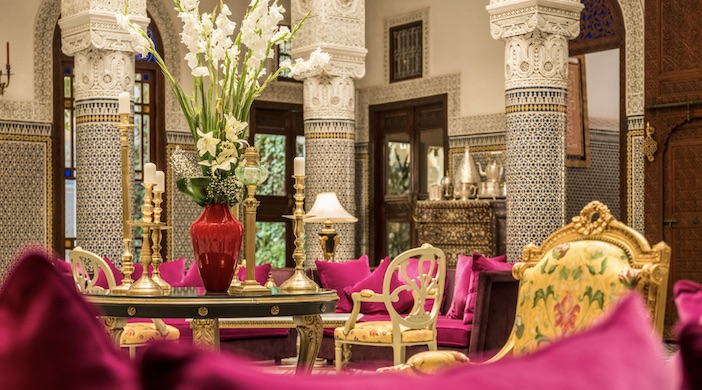 If elevated minds in Fez are de rigueur, then so too is an elevated standard of living. Stunning examples of elegant accommodations are plentiful here, and Riad Fez is just one of these. Once a family home, dating back to 1890, it has since been transformed into a palace of five star luxury – with ornate detail at every close-up or wide-angle lens. The bathrooms here are a particular architectural feat – since none of these existed prior to the modernisation works being done.
The hotel boasts beautiful decoration – with a grand piano at the centre of its main internal courtyard, fringed with purple velvet sofas and pretty, unique gold-etched traditional furnishings, and intricately made mosaics that line the walls and the floors. Brass knockers on perfectly carved wooden-arched doorways lead into a labyrinth of other wonderfully appointed other rooms. Scents from the Cinq Mondes spa enlivens the senses in its basement lair, while similarly Parisian Diptyque products grace the bedroom en-suites.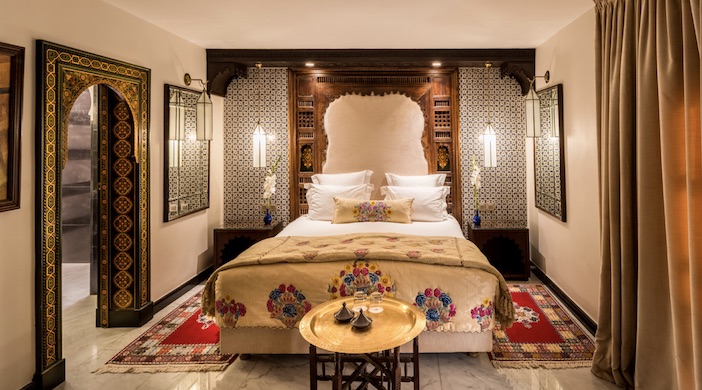 If scented, sensual-experiences are your thing, then for a more modern twist on Fez's lifestyle head over to Riad Sahari – former Military summer residence turned bouji enclave for when more a more civilian state of glamour is required. Here in the Givenchy spa you'll emerge a vision of zen, and/or at the very least, squeaky clean, especially if you opt for a traditional hammam – quite the experience to any naked-novices of this traditional-style massage persuasion(!).
The vibe is definitely up-scale chic – with 50 modern bedrooms replacing more obvious mosaic-motifs, and a restaurant that is popular with shiny brunchers come the weekend. The upstairs Jungle Bar here is worth a visit for a livener with a view, or simply to inhale a wildly bohemian ambience that inhabits the decorative wallpaper alone. The Presidents Bar, next door – and strictly members only, boasts a large wood burner, lit up on chillier days, and low-level sofas, commanding a feeling of hedonistic 1970's party days and nights, under an altogether modern veil.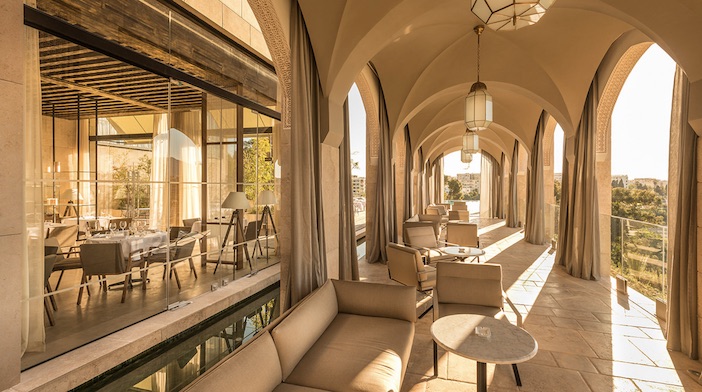 Continuing the aromatic theme, Fez, alongside its brains, is also the capital of handicrafts – evidenced through the city markets, under the recently much-modernized tarpaulin gaze of the Medina. Spices and scented oils a 'plenty reside on the side of carts that proudly sit outside in the midday sun. You can also find widow-weaved carpets (according to the local guide) at a co-operative that hosts women who find themselves with no other means of income, made from Australian merino-wool; beautifully bashed items of more metallic inclination, hand-thrown ceramics, and mosaic-studded furniture that cause eyes to bulge when realizing the extent of the attention to detail maintained when being created – each individual tile is placed on the floor upside down, according to the desired pattern, before moulding it into the final item.
Perhaps the most impressive, and memorable part of Fez are the 14th century Chouara tanneries. Huge, colourful holes in the ground, painted all shades of white, and further colours of the natural rainbow, that cow, sheep, camel and goat hides are dipped into to create the brilliantly hued examples of leatherware – used in all manner of crafts once ready – slippers, bags, jackets, and more.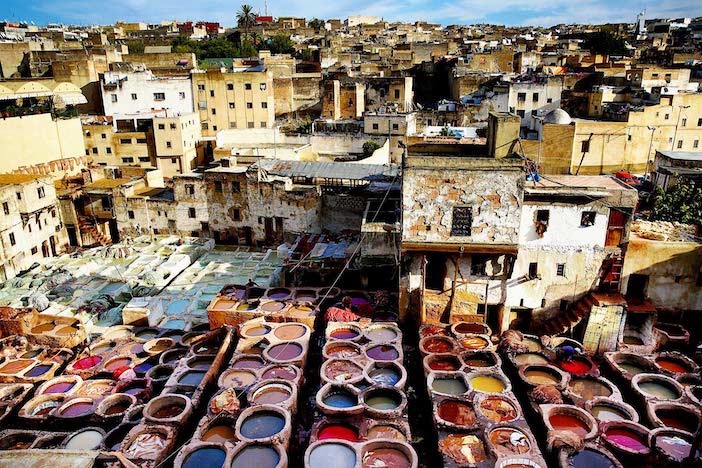 Not only impressive for its scale of production, the distinct aroma that joins with the experience of watching these working tanneries is not something you'll likely forget in a hurry. We are told, once a sprig of mint is passed to hold under our noses, that the liquid into which the leather is dipped – aside from its natural colouring ingredients, also contains limestone salt and pigeon poo – adding to the somewhat pungent nature of this yellow-sandstone walled arena. The craft is impressive, no machines are used, and the people who carry out the practice do so with a swift, unique, style.
The final piece in Morocco's sensory puzzle can't be anything but the cuisine – from street-side fare to panoramic hotel dining rooms (check out Fez's Palais Faraj), and everything in between, there is every opportunity to participate in a distinctly Moroccan, culinary affair. The most authentic, off-the-beaten-track place we experienced during our stay was at Fez's Palais Mnebh – on 15 Rue Souiket Ben Safi (pre booking required – great for groups) – where we took lunch on our first day.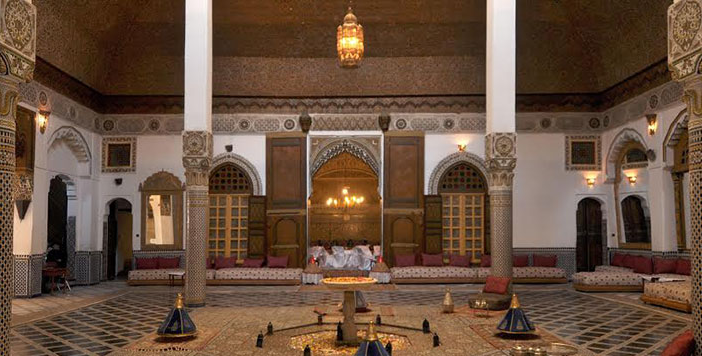 One time 18th Century Palace, this high-ceiling building has hosted visiting international Royalty, became the city's first French college, and today offers a glimpse into local life. Classic dishes of babaganoush and other such vegetable based dishes emerge from the kitchen in what seems a never ending cycle, followed up with vast couscous laden tagines and meat-based promenades based around what seems like hundreds of prunes and apricots. If you don't arrive hungry here, you'll be needing a surrogate stomach by the time you finish up.
One place to learn this impressive way of cooking is at the Riad Star – a quick flight from Fez and easy way to consolidate a multi-stop city visit. Here, in the purpose built demo kitchen where we learn that Gordon Ramsay has recently finished filming with Fred Sirieix and 'Gino', chef Khalifa Eskouri will walk you through Moroccan cuisine from market to table. It's not simply cooking though, here you'll also learn all about "Tagine etiquette".
Outside of the old Medina, further culinary delights can be sampled on a must-visit tour of Jemaa el-Fna square – hosted by Canadian born Mandy – previously an advisor to the public sector, and who now makes a living out of hosting foodie tours with her company Tasting Marrakech – around the city.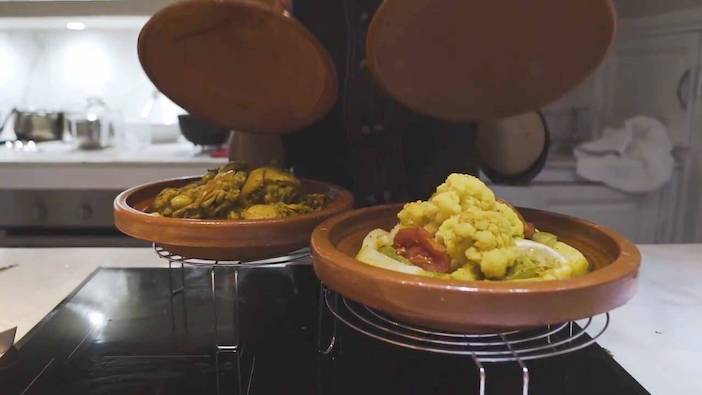 Mandy will guide you through the array of culture and cuisine in this square that boasts light and life – visiting a variety of different street food stalls where you can't help but be taken by the aromatics and beguiling visuals that take place before you – try the traditional Moroccan flat breads, Harira – a bean based soup, egg and potato sandwiches (quite the thing, so we are told), deep fried calamari, Makkouda (potato patties) and the ubiquitous Moroccan mint tea. After all this, if you're still hungry for more, and had enough of tagine, for just one night – head to more contemporary hangouts such as Kabana – a recently opened, rooftop bar, just off the square, serving Asian twists on more local cuisine under the fairy-lit sky.
Clearly, in Morocco, aromatic adventures await.
Air Arabia operates direct flights to and from London Gatwick to Fes and Marrakech twice weekly, with prices starting from £51 one way. For more information and bookings, visit https://www.airarabia.com/en.
Fes Hotels: Riad Fes is a member of Relais & Chateaux hotels. Room rates start from £150 off-peak. For more information, including details of spa treatments, visit www.riadfes.com. Room rates start at Hotel Sahrai from £150 off-peak. For more information, including their Givenchy spa treatment menu, visit www.hotelsahrai.com. Hotel Sarai is a member of Small Luxury Hotels of the World.
Marrakech Hotels: Rooms at Riad Spice cost from £128 per night, based on two people sharing, including breakfast at the time of your choosing. For more information, visit www.marrakech-riad.co.uk. Half day cookery sessions at Riad Star cost from £42 per person (minimum two people) including a visit to the local market to select ingredients and the chance to enjoy the fruits of your labour at the end of the course. For more information, visit www.marrakech-riad.co.uk.