It's 3am by the time I've checked in and headed up to room 306 of the Fontecruz Sevilla Hotel, exhaustion-driven alertness spurring me on to unpack and move in there and then. A plate of charcuterie and cheese lay in wait for an almost-dawn feast; after a lengthy journey thwarted with weather delays, it's a welcome, if slightly unnecessary, treat. Fullness and the luxury of soft, feather-cosy bedwear, lead me swiftly to deep slumber.
The sun is streaming through a gap in the curtains by the time I wake next morning, highlighting the remnants of manchego and bread crumbs. Pulling back the heavy drapes, a more appetising sight greets me: the brightest of blue skies and the spire of Seville Cathedral, and I'm instantly filled with the excitement of exploring a new city. The 40-bedroom Fontecruz, a new boutique addition to the Autograph Hotels collection of independent hotels, has all the charm you'd expect from a 14th century former palace. It's characterful, with a traditional Andalusian indoor courtyard for a main lobby sheltered by a 16th century intricately carved ceiling, carefully transferred from one of the historic suites to an area where it can be enjoyed by all, original marble columns and decorative wrought iron work. Spanish guitars fill various nooks, each one next to a card with a player's name or lyrics, remind you this is a city known for its Flamenco music.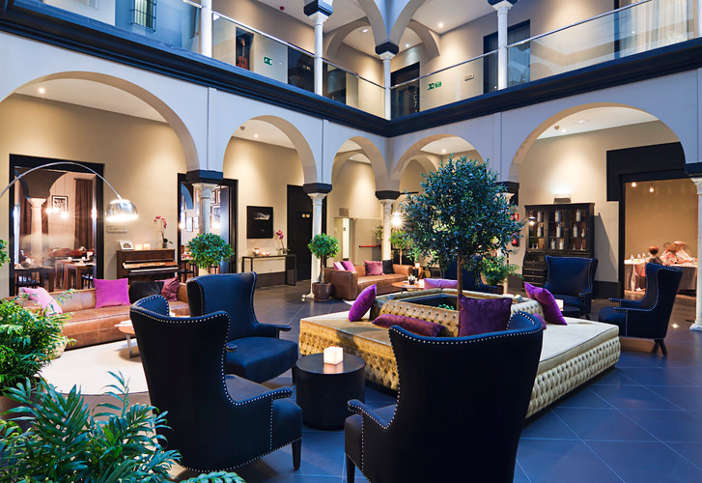 For detoxing and easing muscles after long days spent treading the cobbled streets, there's a hammam. Tucked under the stone arches of the old wine cellar, which once served as a direct underground path to the cathedral, is quite possibly the nicest hammam I've sweated my pores in. It's a short walk to the outdoor pool, which is handy when I sit in the opaque wall of steam for a little too long, and need to cool down sheepish or else pass out. It's October, so the water is relatively cold, nothing a couple of lengths can't solve though, and just the right size to get from one side to the other in seconds.  

Up two levels and the rooftop terrace serves a fine caipirinha with equally delicious views of Seville's rooftops, the cathedral – so close you can see people in the bell-tower – and surrounding churches. A controversial cigarette-shaped tower (so uncharacteristic of the ancient town, it almost lost it its UNESCO status), sticks out like a sore thumb by day, but is brilliantly concealed as the rest of the buildings are carefully lit up by night.
Aside from being a pretty place to hang out, the Fontecruz Sevilla is sat right in the thick of the old city, so there's an immediate feeling of being part of the action. That action being mostly people socialising over wine and tapas, a sport I was more than happy to partake in over the course of the weekend.
Back to that first morning, and after a micro tour of the hotel and a breakfast of iberico, peaches and eggs, we head outside where a horse-drawn carriage awaits to take us on a recce of the old city centre, the lazy way, taking in the riverside Avenida du Portugal, which would have made for a lovely morning jog route had I not been so lazy, and various parks and cultural spots, we schedule in a closer look at over the coming days. Not surprisingly, being one of its most famous exports, there are bitter orange trees everywhere, packed with big green fruits yet to ripen for harvest in December and ship over to the UK to make marmalade; when at the same time, the hotel whips up fresh batches for guests to enjoy at breakfast.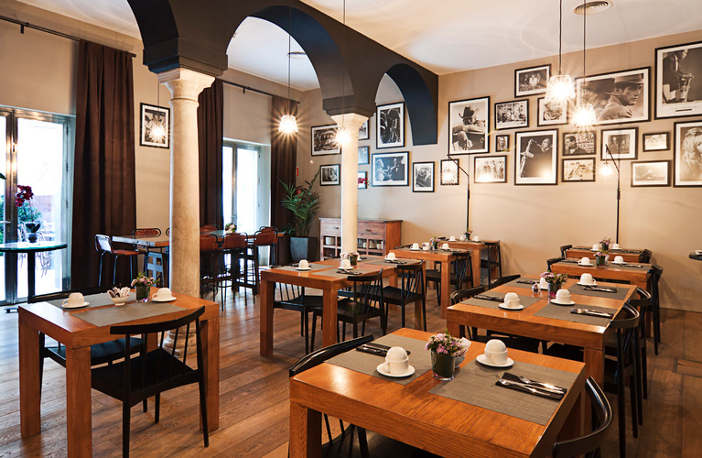 The city's architectural piece de resistance is the royal palace of Alcazar, residence of the king and queen of Spain when they're in town. Its popularity sealed by the swarms of people queuing to get inside, which make the ones outside London's Madame Tussauds seem tiny in comparison, while the savvy people who have booked online, such as us, wander swiftly inside (for an extra euro on the ticket price, I highly recommend it). This World Heritage Site took up quite a few MBs of camera space, with Baroque, Renaissance and Mudejar design elements throughout, via intricate 14th century cedar wood carvings, geometric plasterwork, patterned ceramic tiles, mirrors, arches and gold leaf. Scenes that'll look familiar to viewers of Game of Thrones and Kingdom of Heaven, having been filmed here; the former, being responsible for the gardens being closed off the day we visit.
Another mighty and rightly popular Seville sight is the cathedral, the largest in Spain, the 3rd largest in Europe, after London's St Pauls, and the largest gothic cathedral in the world. In short, it's big. Built on the remains of a mosque, it's another melting pot of architectural styles making for a genuinely interesting place to visit – I say that as someone who would rather explore the unique wares in the local supermarket on a city jaunt. 45 chapels, 81 stained glass windows, dated from the 15th-19th century, a main alter plastered with 2,000kg of gold leaf, and a walk to the top, made easy with ramps, rather than the slippery steps you usually need to navigate in these places, which rewards you with excellent views over the city. There's also the Christopher Columbus tomb, said to contain the remains of the great explorer, though as it transpires from the guide, it could be his son Diego, or grandson Luis… An interesting relic, no less.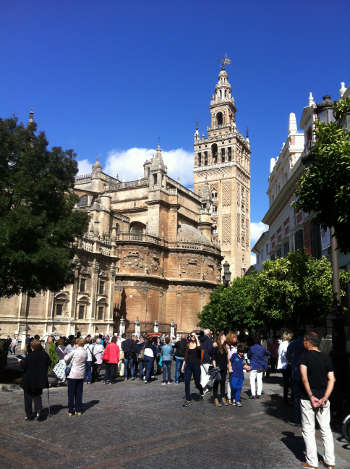 In between historical sights and meandering down, around and through the maze of narrow cobbled streets of the Old Town, in and out of shops selling souvenir tiles, olive oil, and Flamenco dresses for wine bottles to take home and give to an unsuspecting cat-sitter… there are tapas bars plentiful – around 3,000 in the city centre alone, in fact. Seville's oldest, El Rinconcillo on Calle Gerona, opened in 1670 and as such oozes character and charm, its literal translation 'a small corner' summing it up perfectly. Meat hooks hang from the wooden ceiling, some occupied by iberico hams, waiting to be plucked down and slivered in to soft, sweet, salty morsels, and accompanied by a smooth glass of Duezo Temperanillo, or chilled Manzanilla, for an easily digestible 2-3€ a pop. Bottles that look as old as the shelves they're placed on line the walls, while the lovely ceramic tiles seen all over Seville, add a punch of colour. A popular little place, and as such, expect to wait for a few minutes to find a vacant spot, or if you're lucky, like we were, be invited to share one with a group of locals, where we feasted on said iberico, crunched on battered chocos (octopus), and worked through slices of mountain goat cheese with a delicious serving of Pedro Ximenez, before hitting the road.
Over on Calle Galera, you'll find La Brunilda, one of the city's youngest tapas bars. A former 18th century stable, it has the exposed brick and arty lighting the likes of Polpo champion. Here the tapas is a little more refined, with little bags of buttery picos greeting you at the table, and dishes that are lapped up by the group and live on through Twitter-gram: the freshest creamiest round of burrata with pesto and olives; mushroom risotto with strings of cheese that dance around mid-air as fork heads to mouth; beautiful triangles of seared tuna; tender beef crispy with flakes of sea salt…more excellent wine. No space for pud; though with savoury this good, I wouldn't want it anyway.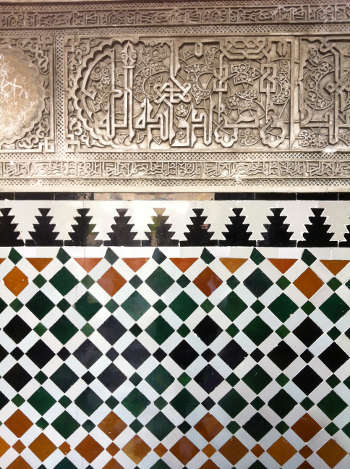 Over in the Jewish quarter, we lunched at El Contenedor, where décor is fun and colourful, and tapas dishes are delicious and generous: with highlights such as the signature duck dish (arroz con setas y pato), and a salmon tartar made crunchy with cashews and peppercorns. Worth the little trek across the river.
Long lunches are made for these places, and it's clear why, for Sevillanos, it's common to lunch and dinner out, and siesta after… When asked for favourite food haunts, the locals we dine with say with certainty that "all tapas places in Sevilla are good", which, combined with such accessible prices, must make home kitchens in the land, pretty redundant.
After three days of this, I'm quite partial to the idea of livin' la vida Sevilla full time. When I retire, perhaps. With 295 days of sunshine last year, the weather is made for just that. Temperatures reach such heights in the summer that canopies are draped between the buildings, providing cover while shopping, and you pay a premium for tables in the shade. A concept, as a Brit, I can't comprehend. Autograph Collection's new social media strapline is #exactlylikenothingelse, which is also rather suited to its new location in this charming Andalusian capital.