The great thing about Sweden and particularly the northern reaches, is its complete desolation. It has the long, rolled-out carpet of amplitude that allows me to walk around without hearing the accents of other meddlesome Brits on vacation.
Northern Sweden isn't high on the tourist agenda like Stockholm and Gothenburg in the south, which explains my preference to bound towards the top pole. I can still disappear into the bleed of the local population, despite being the only non blue-eyed blond kid on the bus. But that's all about to change.
You can now reach Skellefteå, in the southern circumference of Swedish Lapland, via a new Ryanair route from London. So even more frozen murder mystery fanboys can discover the Scandinavian pernicious of a culture built upon its repressed thrillers, pointy-beards and home furnishings.
Arriving at Skellefteå airport, equipped with everything needed for Arctic conditions, the warmth of the Gulf Stream caused immediate heat sweats. The expected temperatures of a terrene this far north were clearly amiss, and my questionable investment into layers of Triclimate-Waterproof-Gortex-ThermoBall North Face finery mostly unnecessary.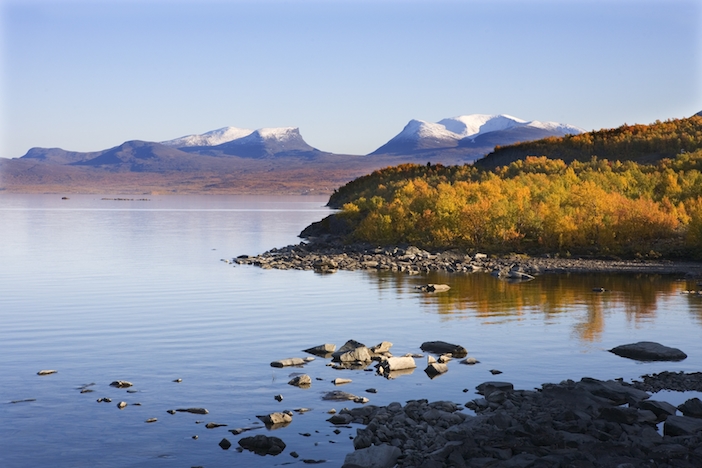 As I left the airport, a periwinkle-blue sky permeated across the curvature of the firmament, highlighting the wild alpine land. The atmosphere was crammed with a balmy moisture. August in the Swedish Arctic Circle is a few degrees warmer than an English May morning.
I spent the night at the Stiftsgården Hotel in Skellefteå, a former vicarage dating back to the 1500s. A cute tale accompanies the stay: when the Russians occupied the manor in 1809, the priest who resided at the vicarage with his family, fled, leaving their young housemaid in charge of showing "hospitality to friends and foes alike". It is said, that her charming reception to the soldiers saved the vicarage, at a time when the Russian army were renowned arsonists upon vacating a surplus property.
The following morning I travelled to Svansele and had breakfast outside over an open fire. The Svansele Wilderness Centre aims to teach and replicate traditions of the Moose People and inhabitants of 5500 years ago. Moose, reindeer and arctic char are blazed on a smoking skillet and served with potatoes and homemade wildberry jam. In emblematic Viking fashion, beer is served over morning coffee.
The Centre is home to 680 preserved (most are scarily lifelike) animals. A menagerie to the bizarreness of taxidermy, with seven-foot brown bears and 180k reindeers intimidating those with Zoophobia. Stuffed wolverines, elk, beavers, and the arctic fox gaze out through glassy-eyed stillness; and the intricate cutting, gutting and stuffing of small birds adorn the branches of an in-house forestry. Before leaving, I played Viking darts in a dangerous adaption of target practice, throwing a Franziska axe at a makeshift wooden bullseye.
A two-hour drive north to the Båtsuoj Sámi Centre in Arvidsjaur – a forest settlement of wooden shelters and reindeer pens – I entered a Sámi tent called a lavvo with an elder from the community. She told me tales of the Sámi – or the Sápmi – people and explained why such semi-nomadic reindeer herding across the country in winter is necessary for the preservation of the herds.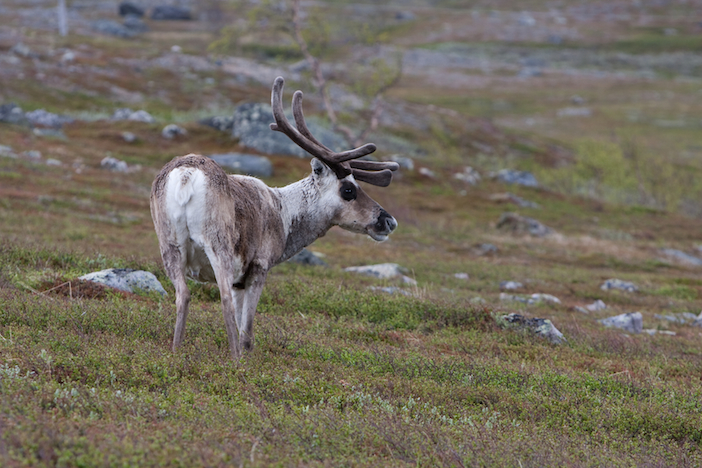 There's little in terms of employment or income for the Sámi, so they rely heavily on tourism and reindeer-husbandry, leading a skinflint-meagre existence. There are 44 native communities in Sweden who derive income from reindeer-herding, making it the prime source of revenue – as well as a means of practical and functional materials. A bone-knife is used to slice torkat renkött (dried reindeer meat) into strips of jerky, with black coffee as dark and lethal as the winters this far north.
The circular framework of the lavvo is reminiscent of a teepee or wigwam, with the floor made-up of birch twigs and covered in layers of reindeer fur. There's a central fire and small, sacred alter where prayers (and sacrifices – more reindeers?) are made to the multitude of Sámi spirits and gods. There's also a ceremonial drum made of – well, you know what it's made of – covered in shamanist symbols.
Furthering my Sámi education, I travelled to Jokkmokk, north of the Arctic Circle, and Ájtte – the Swedish Mountain and Sámi Museum. The land of the Sámi extends across the territory of four nations and encompasses an area of mountainous and forested country. Vast amounts consist of tundra, the only Sámi word to be used in the English language.
That afternoon I rented a kayak and took to the Jokkmokk lake where both the Pärlälven and Appoälven rivers end. Tens of thousands of lakes dot Swedish Lapland and there are over 6,000 km of rivers, making it an angler's wet dream, and a living, swimming fish counter for locals.
Matti and Stina Holmgren offer a number of seasonal activities through their company Jokkmokkguiderna, and we each paddled the mile or so from their river-edge home to an islet, where we made a fire, drank coffee and ate cinnamon buns made that morning.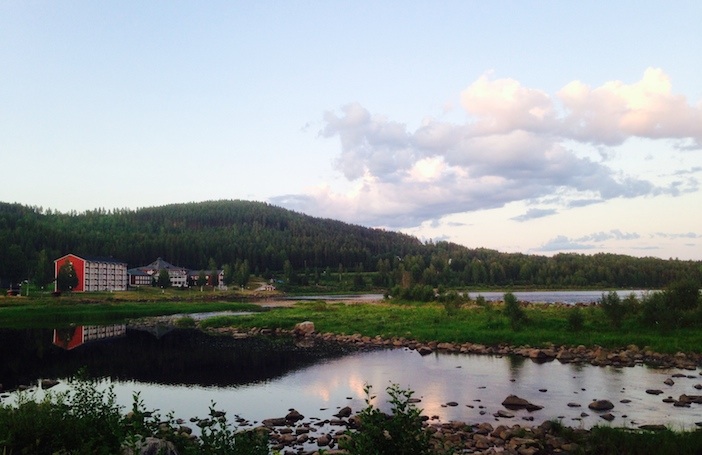 Storforsen Hotell in Bredsel is at the foot of Europe's longest rapids and after a brown trout dinner, as the light disappeared and the dark blanket of the Scandinavian sky fell, I walked alongside the crashing water. A violent pummel of fast-flowing rapids and the crashing of waves against rock, created a buzz of white noise that remained in my ears until morning.
There are fields of wild flowers and tall pines, quiet lakes holding the sky's purple reflection and families of reindeer who stop traffic. It's peaceful and very still. There is beauty in the silence. Not in a Kent countryside or weekend in the Cotswolds kind of way, but a bleaker, northern, nature-is-all-around-me, sentiment.
The emptiness and northern-mass melancholy produce a sense of wild abandonment, making it perfect for murdering. Yep, you could floor a reindeer as easily as a neighbour and none would be the wiser. It gives an eerie realism to Scandi shows like The Bridge and Wallander. But television cannot film the purple hue of a Lapland sky as you stand beneath and gaze skywards. It cannot walk through timberland and a foggish haze at dawn, and stop to watch a white reindeer tame an itch by scratching its antlers against a tree.
Click the links for more information about Swedish Lapland and Skelleftea. Further information, including details of travel and accommodation can be found at www.visitsweden.com.