I've always loved open-water swimming, from the adrenalin-infused January cold of Loch Eil – where the British commandoes trained – to snorkelling off coral reefs in Belize. So, in a pub on a Friday night in Glasgow, when I got chatting with a modern-day Viking, he piqued my interest as he declared "Swimming is Iceland's national pastime" and my mind was transported to a frozen land of majestic mountains and crystal-clear lakes.
Two months later, I was in a suburb of Reykjavik, ready to plunge into the ice-cold sea.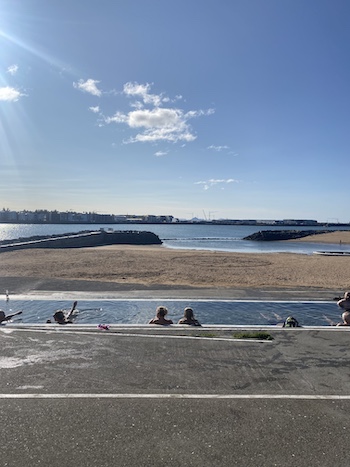 Iceland conjures up images of epic Tolkienesque scenery. So, I was slightly confused when I turned up at Nauthólsvík Geothermal Beach, sandwiched between an airport and a random collection of buildings. At first, I thought I was in the wrong place. However, I followed the steam to find a brutalist concrete structure with hot spring baths behind the beach, looking out to sea. I'm a traditionalist – I want snow and cold – none of this winter sun nonsense, but as the piercing water literally took the breath out of me, I would have taken a sun lounger in Tenerife in a heartbeat. As I fought through the burning pain, my wimpiness was only reaffirmed by an older man doing length after length; seemingly the cold doesn't affect Vikings.
Now what the man-made beach lacks in aesthetics, it makes up for in character. Forget the tourist trap that is the Blue Lagoon, sitting in the Nauthólsvík geothermal springs, you'll hear Icelandic rather than English, as commuters have a dip after a day's work. The facility also has a sauna which is included in the entry (810 Krona). I came out of the changing rooms on a drug-like high. Despite the swim not delivering any of the raw beauty I'd come to Iceland for, I felt I had shared a cultural experience with ordinary Icelanders, no mean feat considering a country with a population of just under 400,000 gets nearly 4 million visitors in the summer months.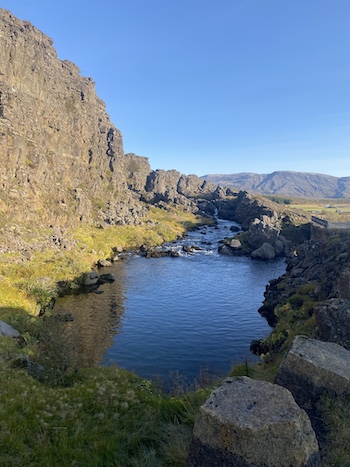 However, I still hadn't scratched the adventurous itch that had brought me to Iceland in the first place. That's why, the next day, I found myself in Thingvellir National Park, home to the world's oldest surviving parliament. The Mid-Atlantic ridge separating Europe and North America runs through the park, creating deep gorges, rivers, lakes and waterfalls. I was stunned by the sheer power of nature.
I love snorkelling, there's something amazing about going under the water and entering a different world. So, when I found out Dive.IS offer year-round snorkelling trips between tectonic plates at Silfra Fissure on Lake Þingvallavatn, Iceland became a bit of a pilgrimage. Like an astronaut, I rather ungracefully squeezed into my unbelievably tight dry suit; squeaking along the frozen moorland only added to the impression of cosmonauts on another planet. Reaching the steps that would take us into the arctic waters, we waited for the go-ahead from our guide David, who had tricked a rather gullible couple into believing that their dry suits had heaters.
As a brutal North-Atlantic wind battered us, playing the hardy Scot, I confidently lowered myself into the water and then became acutely aware that we were pretty close to the Arctic Circle. The sting of the cold water against my body, yet still being dry, is a strange sensation and takes a bit of getting used to – my hands and face were the only parts exposed to the water. However, the minute I put my head underwater, the discomfort was alleviated instantly. My own wonder was interrupted by my friend's muffled expression of shock. Luckily, the snorkel glugged out her expletives.
An underwater marvel is being created as the Eurasian and North American tectonic plates are slowly ripping apart. Not to go all 'geography nerd', but this creates huge fissures in the rock and an almost mythical underwater world that would give Atlantis a run for its money. As I slowly floated through the gorges, the crystal-clear water formed a portal to massive underwater canyons. Huge chunks of basalt are stacked on top of each other as if Thor were playing Jenga. There are practically no fish and the only life forms are moss-like substances on the rocks. Perversely, this only adds to the sense of surrealness.
The biting glacial water and ridiculously good visibility, combined with the buoyancy of my dry suit, made the whole experience feel rather ethereal. It's no surprise the water is so clear when you consider almost all of it has made the journey from the Langjökull glacier, taking three decades to trickle from the ice cap to the Þingvallavatn lake, via the rift valley. The bed of the lake seemed tantalisingly close, so I filled my lungs with air and free-dived down. I felt like I was in an Alice-in-Wonderland illusion as the sandy floor didn't get any closer. I was later stunned when David told me it was roughly 60 meters deep. Despite being in the water for 45 minutes, when it was time to get out I didn't want to leave. I felt a buzz akin to completing a marathon as I warmed up over hot chocolate.
Back in my Reykjavik base, the Raddison Blue 1919 Hotel, I prepared to head out for the city's famous happy hour. Now I'm usually a boutique hotel enthusiast but based in what was once a shipping headquarters in the early 1900s, the building has retained much of its historical charm. The hotel's main attraction is the best location in town, with the famous Hallgrímskirkja church, harbour, Skólavörðustígur (Rainbow Road) and all the top restaurants in walking distance.
Another draw is the hotel's fantastic Michelin-recommended Brut restaurant. Serving fresh local cuisine with a seafood focus, the restaurant is a high-end, yet relaxed, affair. Traditional dishes like Icelandic sea snails and crab are given gourmet makeovers and it's worth asking the super-friendly staff to pair a wine –they usually never miss – with the freshly caught fish of the day.
Iceland is all the rage these days due to a combination of the country's natural beauty, airline layovers and, of course, the influence of Game of Thrones. Now while undeniably amazing, this means some of Iceland's most iconic spots are becoming a bit crowded. Some choose to ignore Iceland's three most iconic attractions – linked up in a tourist route known as the Golden Circle – in favour of the less discovered east of Iceland. However, as a first-time visitor, I wanted to tick off the Geysir geothermal area and Gullfoss waterfall, as well as the aforementioned Thingvellir National Park. As predicted, these sights were amazing but hordes of camera-toting tourists jostling for the perfect photo did take away from Iceland's natural beauty. However, the Golden Circle trip I was booked on had the biggest of aces up its sleeve.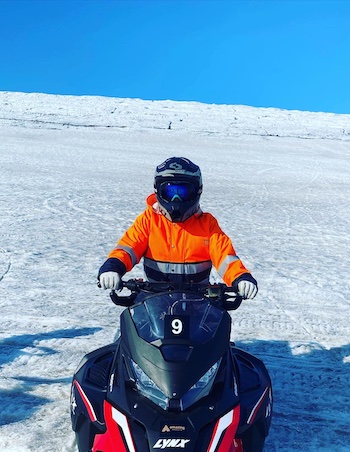 After getting suited and booted, we jumped into a converted four-by-four driven by friendly guide Erik. Fair with a ginger beard, he quipped "I'm the most Scottish-looking Icelander, we could be related". As we took a turning off the main road and onto a dirt path into the Icelandic Highlands, the landscape could have been straight out of a sci-fi film. Nothing for miles but barren red sand and lunar rocks, then out of nowhere rose steep mountains, the pointed tops capped by snow. After about half an hour we were up in the hills, the Langjökull glacier now easily visible. And then suddenly the rocky dirt path stopped and we were onto the glacier. Waiting for us was a row of snowmobiles, and after a demo and safety briefing, we were off.
Langjökull is the second largest ice cap in Iceland but is sadly receding at an alarming rate due to climate change. We followed an ice road that had been dug into the glacier, as I skidded along the ice, leaning to the side like a motorcyclist to take the corners at speed. The wind rushing past my head, I turned back to look. Jet-black jagged mountains pierced the blue sky, rising out of the glacier and in the distance nothing but icy white infinity. We climbed higher and higher until our guide gestured for us to stop. He explained that there are many deadly crevasses in the area and to be careful to stick to the route. As the wind blew and ice froze to every part of me, I realised I had found what I came to Iceland for: an alien wilderness, inhabited by hardy Norsepeople who have managed to nurture a relationship with the most brutal side of mother nature.
Double rooms at the Radisson start from £250 pp a night. For more information, please visit www.radissonhotels.com.
Harris snorkelled with DIVE.IS. Guided trips, with pickup from Reykjavik start from £163 per person. For more information, visit www.dive.is. The Golden Circle tour and snowmobile trip with Artic Adventures start at £269 per person. For more information, please visit www.adventures.is.
Header photo by S Migaj (courtesy of Pexels), other photos by the author