I find myself once again on the Glacier Express, Lavazza in hand, leaving Chur and starting the slow, steady climb deep into Engadine and, as ever, my eyes are fixed on the visual feast before me. Snow-capped mountain peaks sparkle in the sunlight, glimpsed through dense pine forest, needlepoint church spires adorn postcard hillside villages; the panorama made cinematic through the wraparound glass ceiling of the train's observation carriage. The difference, however, was that my last visit was in summer. This time it's all wrapped in a carpet of pristine white snow.
My destination is not the customary end point of this train, St Moritz, but we divert to a stop a short hop into an adjacent valley. Pontresina is St Moritz's littler, lesser-known, quieter cousin. And, as odd as it sounds, I've not come to the Swiss Alps in winter to go skiing. At least not downhill.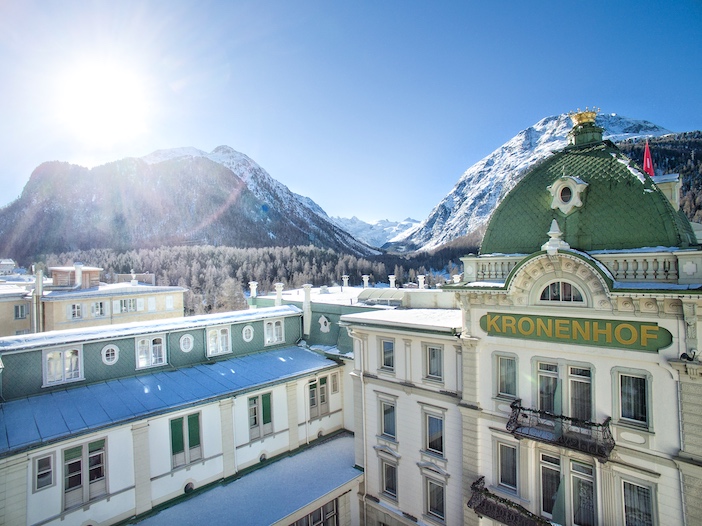 Smaller and sleepier Pontresina may be but we are still in the realm of the grand Swiss hoteliers of the Victorian era. The Grand Hotel Kronenhof is sister to the legendary Kulm, the grandfather of grand Swiss hotels. You can't get more grand. (With the exception of the Dolder Grand, perhaps.) And the Kronenhof is its proportionately pint-sized Pontresina sibling.
There's still plenty of ornate wood panelling, Baroque furniture and beautiful frescoes on the ceilings, and full height windows looking out onto sweeping mountain vistas. But, rather than the stuffier, somewhat prissy personas of its peers, the Kronenhof has an intimacy in its grandeur. It's somehow cosier, more relaxed. The pianist tinkling away in the main salon seems to be doing it for pleasure rather than profit, and his melodies follow you through the hotel; a fire cracking in a small reading room makes it inviting rather than forbidding, and even the dining room feels homely in spite of the number of covers and the opulence of its décor. Little wonder, then, that people often visit here for weeks on end. Unlike in St Moritz, you come to the Kronenhof to get away, not to be seen.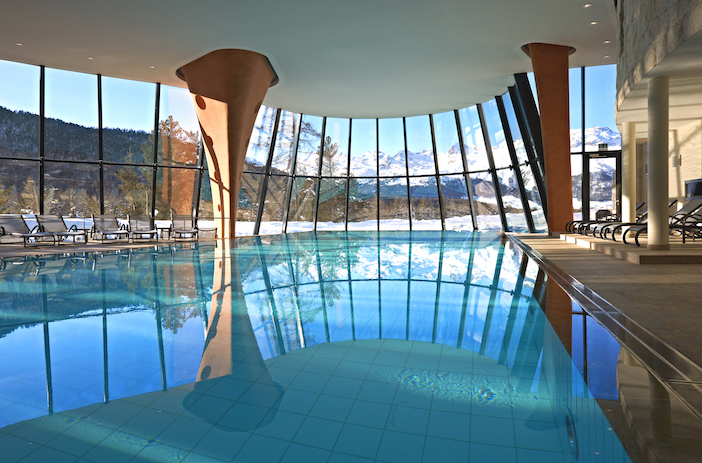 There's an inherent recuperative quality that seems to resonate through the Kronenhof. The spa, focused around its stunning pool with panoramic windows to the Val Roseg glacier beyond, features, as you would expect, an array of aquatic aparatus to restore and reinvigorate, from its 'footpath' of alternating hot and cold pools to reenergise tired legs, to its Finnish steam cavern and (my personal favourite) the floating grotto. Bobbing in a circular pool, cloaked in darkness, among gently undulating waves and soothing atmospheric music, it was all I could do not to fall asleep and emerge, prune-like, late for dinner four hours later.
As relaxed as the dining is, there's still a sense of occasion in the neo-Baroque splendour of the grand restaurant. Even in the obligatory jacket, I'm still outdone by the waiters in white gold-braided blazers, pouring wine from silver decanters. Traditional set menus are surpassed by a dessert buffet that could fell a rhino and a cheese trolley I've not seen the like of since Claridge's. But the best option for dining, however, has to be the cosy kronenstübli, boasting 16 Gault Millau points for its a la carte at the hands of chef Fabrizio Piantanida and noted for its speciality, Canard a la Presse, the Rouen-style duck prepared tableside.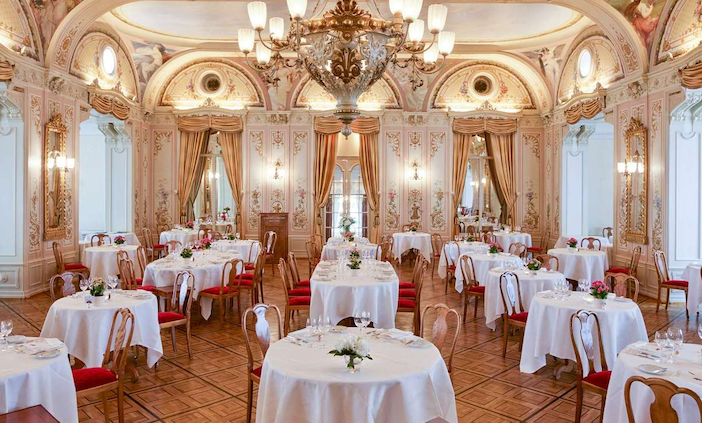 Much as it would be tempting to remain cosseted in the Kronenhof's pillow-like embrace, this is Switzerland and it is winter, and it would be improvident not to step into some ski boots and feel like one's earnt one's float tank, so to speak. But this is where there's skiing with a difference.
I wasn't being dismissive when I said you don't come here for downhill. You can, certainly, and, like St Moritz, the swishing pistes and peak-traversing joys of Corvatsch are very much at your disposal. But Pontresina is known for the other kind of skiing. The flat kind. Cross-country. Nordic. Or Langlauf, to the locals.
Some 220 kilometres of trails stretch through the valley and its environs, past the Upper Engadine lakes and beyond. For real pros there are even illuminated sections for night trails. It is, in short, the destination for cross-country.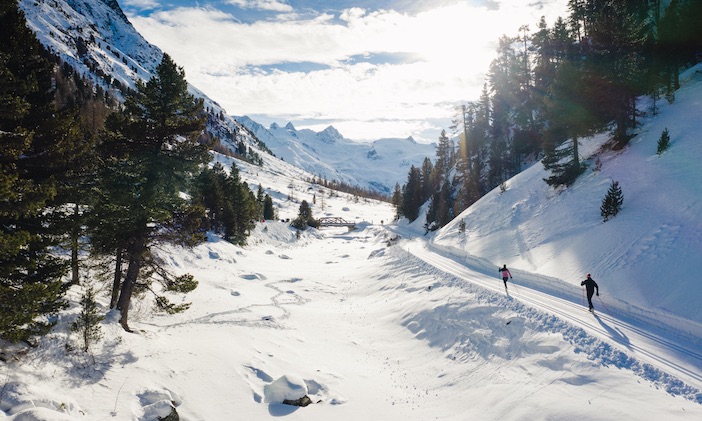 To watch the professionals do it, as with most things, it looks trifling, effortless. Like nothing more than a brisk walk, with the benefit of gliding. And, indeed, having tried it once before in pine forests of Vermont, I thought I might spring back into it quite naturally. I had visions of completing the route to the Alp Bond, along the tracks of the Bernina Express, and onward into Italy. However, even with a refresher course, it became painfully and swiftly evident that I'd barely get out of the carpark.
But lessons were what I needed. There's a technique to achieving that efficiency of movement you see when the pros do it, even on the climbs when one ends up waddling like a pregnant penguin. A few circuits of the training course later, however, levelling up a different technical point each time, and something starts to click. We're soon ready to get out into the open.
If downhill gives you the thrill of speed, cross-country gives you the chance to appreciate your environment. We follow a course along the river Flaz, the sunlight glittering through the tree cover, melting snow dripping delicately from branches and bushes, and glimpses of the Kronenhof on the hillside above offering an inviting respite from the morning's exertions. Pontresina is also the home of one of the world's leading langlauf marathons, due just days after my visit, and our session takes us onto part of its course. There was something of a minor thrill to cross the finish line just a shade ahead of one of the competitors on a training session, however short-lived the glory of having managed a fraction of his distance.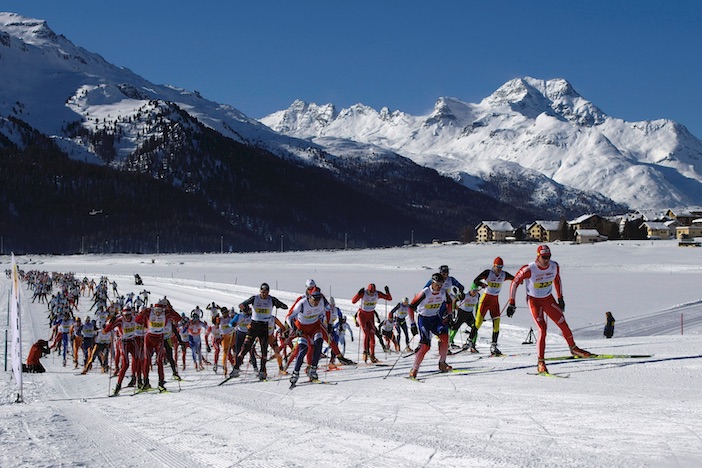 There's something else they don't tell you. It's absolutely knackering. It's one of the most rigorous work-outs you can imagine. I managed 3.3km in a little over an hour, and by the end of it, I'd stripped fifteen layers down to a sodden T-shirt and shed half my bodyweight.
What it did, however, was make lunch at the Kronenhof's Pavilion restaurant all the more enjoyable. There are few rewarding pleasures in life than feeling like one's earned a hearty meal. And here, in front of the hotel's curling rink, basking in the sunshine, cloaked in a furry blanket, sipping Moet and refuelling on barley soup and buckwheat pizzocheri, I was already planning the next excursion.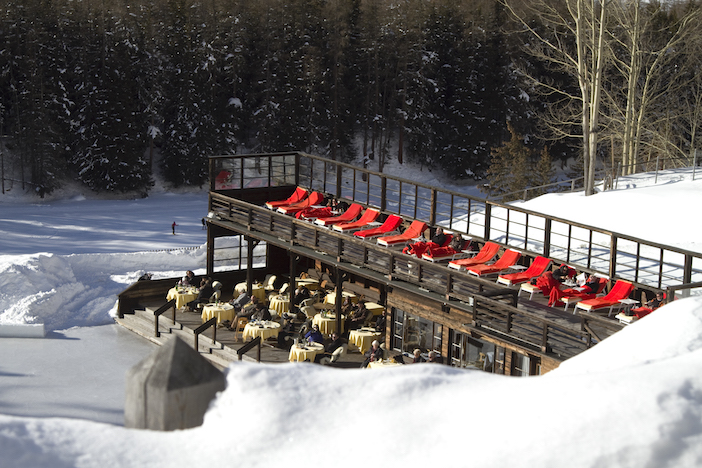 I won't dismiss downhill, it's fun and exhilarating, and the lifestyle that accompanies it has its place, but there's something about Nordic ski that feels more, well, rewarding. And, in its spiritual home, it's an escape from the crowd rather than the pursuit of it. So, I'll save St Moritz for the tourists, the high life and the hedonism, and join the Swiss round the corner in Pontresina.
Winter room rates at Grand Hotel Kronenhof start from CHF565 for two people sharing on a half-board basis. For more information, including all rates and a number of benefits (discounted ski passes, activities like moonlit skiing, early bird skiing etc), visit www.kronenhof.com.
For details of the ski school Schweizer Langlauf-und-Bikezentrum Pontresina, visit www.pontresinasports.ch.
For more information on Switzerland visit www.MySwitzerland. SWISS offers more than 170 weekly flights from UK airports. One way fares start from £67 including all taxes, fees and surcharges. SWISS are also happy to transport your first set of ski or snowboard equipment and boots free of charge in addition to your standard free baggage allowance. For more information visit swiss.com or call 0345 601 0956.
The Swiss Travel Pass offers unlimited travel on consecutive days throughout the rail, bus and boat on the Swiss Travel System network. Prices from £171 in second class.