Theo's nose is deep in the dirt. Frantically circling a small patch of land, tail wagging feverishly, it seems like he's on to something. Silence descends upon the group and we all rush to the scene, keen not to miss the moment. Theo's accomplice, Mario, is brandishing a sharp dagger and a toothy grin. Gently pushing Theo aside, Mario begins hacking at the freshly sniffed earth, and, seconds later, holds a large black truffle aloft to raucous applause.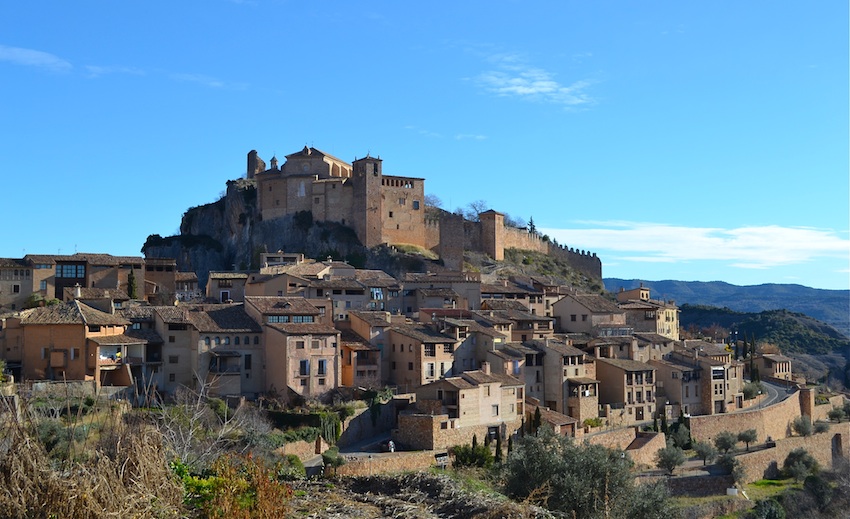 I'm in the Secastilla Valley at the foothills of the Pyrenees in Somontano, northern Spain. It's mid-January but feels more like late March. Mother Nature has been kind and we've been treated to blazing blue skies and glorious sunshine. The Spaniards in the group keep telling us how lucky we are, as just two days before the region was covered in a blanket of snow. While Alba in northwest Italy and Périgord in the south of France are well known for their bounty of truffle treasure, Somontano is also dotted with black gold.
Thus, every year during peak truffle season, Spanish wine company González Byass, best known for producing Tio Pepe Sherry, hosts a truffle hunting excursion for a group of willing UK-based food and wine writers, chefs and sommeliers via its Somontano-based wine estate, Viñas del Vero. Serving as the ideal antidote to the inevitable January blues, decamping in the sleepy and heart-stoppingly beautiful village of Alquézar was like stepping back in time. Home to just 300 inhabitants, the only sounds you can hear on waking are the chirping birds and the church bells ringing in the hours. There's something incredibly therapeutic about being sent to this kind of place, where you have no choice but to slow down and switch off. Sitting out on my balcony staring at the rising sun and watching the swallows flit in the sky, I felt a pang of sadness in my gut at how our wired world is distancing us from nature and a desire to be constantly connected means we're missing what's in front of our eyes and are failing to be present in the present moment.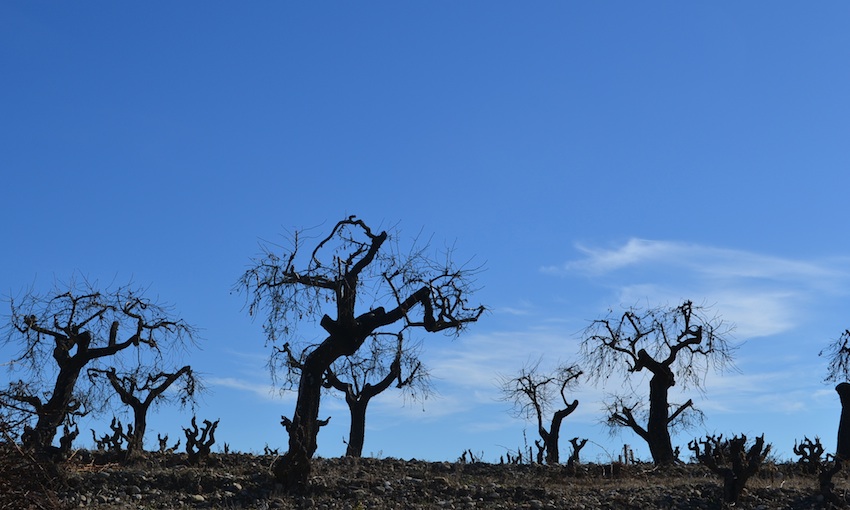 I digress. Before the hunt, our 20-strong group heads to Viñas del Vero's La Miranda vineyard, filled with Garnacha bush vines, the fruit from which goes into the estate's Old Vine Garnacha – a wine that sings of raspberries, damsons, plums and spice. Silhouetted against the cornflower blue sky, the gnarly vines appeared locked in some tribal dance. Sam Clark, co-owner of Spanish restaurants Moro and Morito in Exmouth Market, appeared far more interested in the almond trees, which he was shamelessly shaking, cracking the fallen shells against a rock and scooping out the edible treasure, handing the nuts around the group like a squirrel seeking approval. 
Kicking up dust in a four-by-four while heading for the hills in the Secastilla Valley dotted with quince, walnut and olive trees with shimmering silver leaves, before we so much as get a whiff of a truffle, we have to trek quite a distance, passing rosemary, juniper and rosehip bushes en route. Two-year-old Theo is raring to go.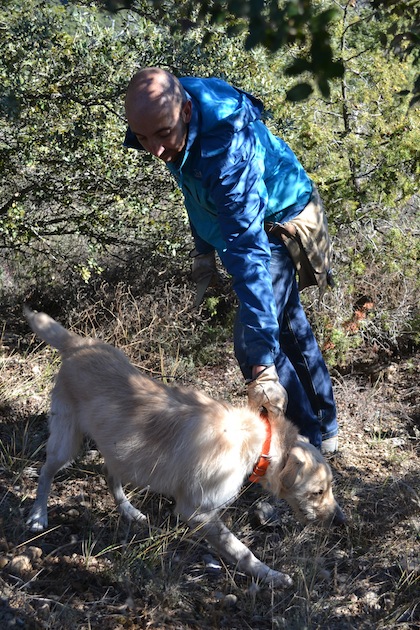 Still a work in progress, he seems more excited by us than the prospect of doing his job, though after some coercion leaps into action, sniffing out a pair of truffles shaped like Champagne corks in a mere ten minutes. Blond, scruffy and thin as a whippet – they keep the dogs hungry to make them better hunters – Theo was seeking a specific kind of truffle called tuber melanosporum, native to southern Europe. Echoing grape growing, in order for truffles to thrive underground they need poor soils and little rainfall. Forming between 5-50cm under the earth close to the roots of oak, hazel and cherry trees, black truffles take around 10 months to ripen and are harvested between November and March, commanding a staggering €600 per kilo. A trained truffle hunter, Mario sells his pungent wares directly to local restaurants. If kept correctly, a fresh truffle can last up to two weeks, though for the gourmands among us with fresh pasta or scrambled eggs at the ready, it's unlikely to ever go the distance.
While pigs were traditionally used to hunt truffles, particularly Alba's famous white truffles, dogs are more commonly used today as the squealers became too adept at devouring the truffles before their masters could scoop them up. And while canines are just as capable of gobbling the black gold, they tend to tow the line. Continuing our hunt, we stumbled upon fresh wild boar prints in the mud. Walking on in silence, our pace and hearts quickened. With one final truffle under Theo's collar, Mario declared the hunt over, though before we could enjoy the fruits of our furry friend's labour, Mario reaches into his rucksack and pulls out a truffle the size of a small country. Black and bulbous, it looked like a giant pickled brain – either that or something Black Beauty might excrete after a dodgy curry.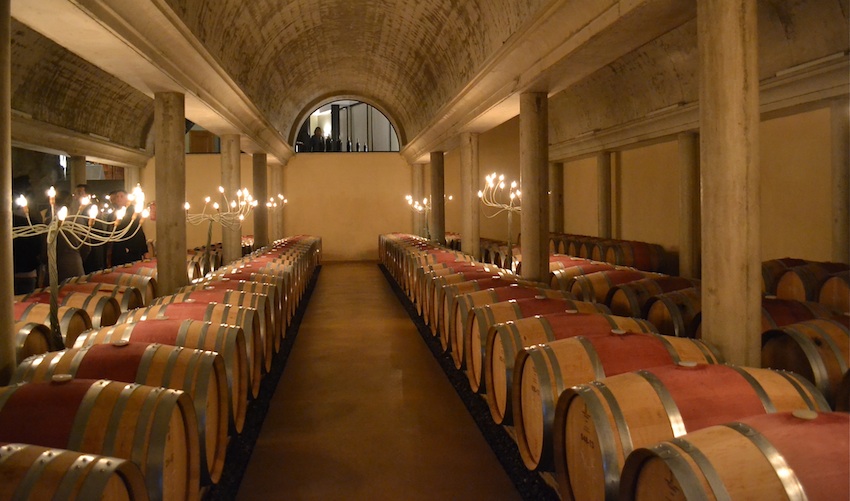 After a quick siesta, we're whisked off to the jewel in Viñas del Vero's crown – Blecua, home to a cathedral-like wine cellar and private dining room. With black truffles (unsurprisingly) the dish of the day, after a tour of the winery, a ten-course feast followed, cooked by Carmelo Bosque, head chef of the Michelin-starred Lillas Pastia in nearby Huesca, named after the innkeeper in Bizet's opera Carmen. Among the many colourful canapés on offer were hen stock served in a truffle-lined wine glass, chicken liver purée covered in truffle shavings and the craziest canapé I've ever eaten, which involved donning a plastic glove, having a cloud of truffle foam squirted into my hand and being told to open wide. As messy as it sounds, it tasted delicious and harked back to the playfulness of Ferran Adrià at the now defunct El Bulli.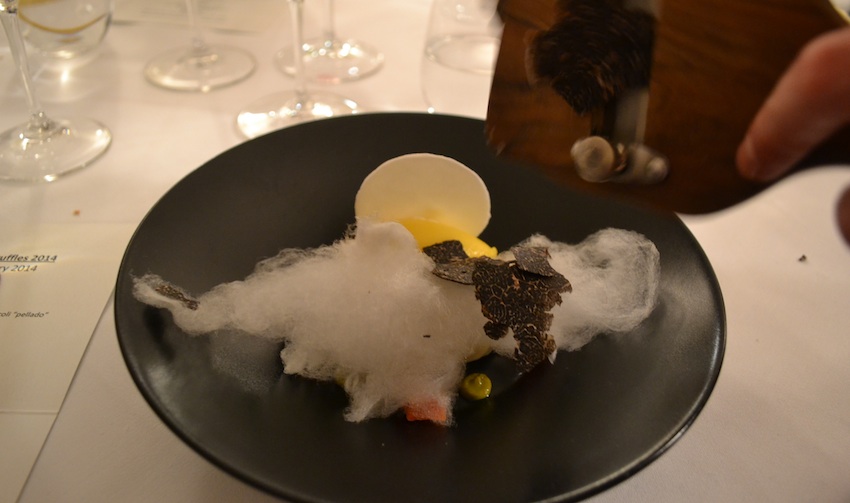 Among the main events were 'pleasure of foie and truffle' consisting of a medallion of foie gras piled with a mountain of shaved black truffle, which we were advised to hack at in order for it to slide into the onion broth below. Roast kid meanwhile, was pimped with the addition of a generous swoosh of truffle béarnaise and married beautifully with the standout wine of the night – Blecua 2004. A blend of Cabernet Sauvignon, Merlot, Tempranillo and Garnacha, if served blind I would have placed it in Bordeaux due to its aromas of pencil shavings, cedar, tobacco and leather, and sweet fruit palate of black cherry, cinnamon, liquorice and fig. No course during dinner was exempt from the truffle treatment, with even dessert – a crazy concoction of candyfloss and citrus sorbet – given a sprinkling. All truffled out, I retired to my room sleepy and replete, a bottle of black truffle oil by my bedside allowing me to uncork memories of the hunt when back in drizzly Blighty.
Photography by Lucy Shaw.