Looking for something different in a summer destination, Simon Rumley discovers an array of waterfront delights in the Swedish archipelago…
"If you need me, let me know; gonna be around. If you've got no place to go, if you're feeling down, if you're all alone when the pretty birds have flown, honey I'm still free, take a chance on me."
A pop classic. Lovelorn lyrics from one lonely teenage heart to another, most probably. Almost definitely. And yet…And yet…? If you've ever been lucky enough to visit any number of the 30,000 Swedish rocks, skerries or small islands that have lain in the Baltic for eternity, basking in the Summer's sun and huddling in the Winter's ice, you could easily interpret these tender words as a paean to the stunning and unrivalled spot that is collectively known as the Stockholm Archipelago, an area so pure and romantic and breathless that, indeed, it easily conjures up the energy and excitement of an all-consuming, teenage crush. And a first one at that.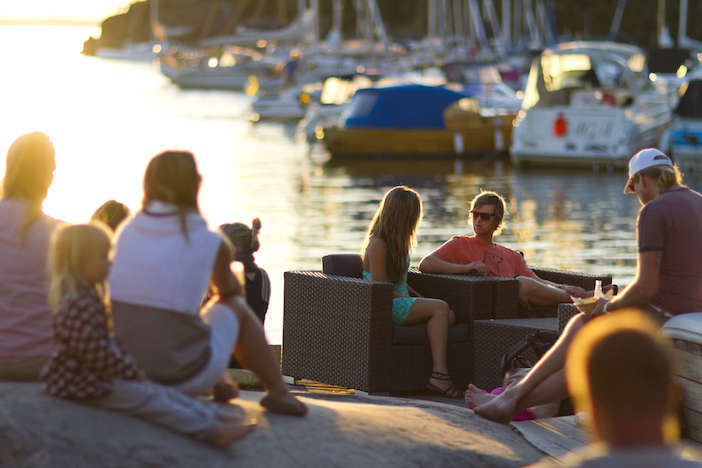 Not surprisingly, the above's lyricists, Benny and Bjorn, often spent their heyday Summers in the area, relaxing, winding down, enjoying nature and, of course, penning some of the biggest musical smash hits the world has ever heard. Their songwriting hut can still be found on the island of Viggso although doe-eyed fans aren't encouraged to visit as it belongs to a larger, inhabited property. However, this magical playground where swimming, sailing, canoeing, fishing, walking, camping and cycling are all de rigeur, is slowly but surely positioning itself as a keen contender for those who don't want to tread the more traditional Grecian/Spanish path for the umpteenth time.
For any holiday-maker who dislikes long commutes to and from airports (isn't that everyone!?) an immediate boon is that the Archipelago starts only about 30 minutes East of Stockholm's airport and is easily accessible by vehicle. Some of the islands further away also require a ferry upon which you can take your car whilst the less accessible islands require smaller water taxis which are for good two wheels or legs only.
Assuming you're not in a major hurry (hey, you're on holiday!), the nautical themed Hotel J on the outskirts of Stockholm in Nacka serves as an ideal de-compression chamber between whatever city you've come from and the islands. Situated just on the cusp of Stockholm's harbour, the rooms sport dramatic black stained oak floors with elegant but minimalist crisp furnishings and balconies which overlook the sea.
Grab some of the confoundingly delicious salted caramel chocolates with mint and a hint of liquorice and also a meal at the nearby (5 minute walk) Restaurant J. Both part of the hotel yet separate from it, it's a popular local destination, sitting on the water's front and serving a fine collection of local dishes with Seafood Casserole being one such surprise. Consisting of salmon, shrimp and potato cooked in coconut milk, flavoured with coriander and lime it reminded of Asian cuisine but was no less impressive for it.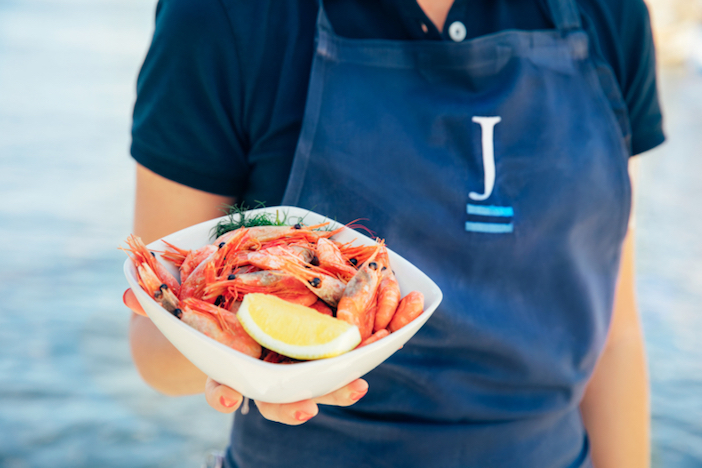 If you're a coffee nut (old bean) and adventurous in a random way, trusting your taste buds to lead you forward, you could do worse than allow any or all of the five delectable flavours from Archipelago Coffee to inspire your journey. Established only a few years ago by an Irish man and his canine, Jack and Muttley, this intrepid and hard-working duo roast their coffee on Rindo and sell it not only locally but also increasingly further afield. Morko, Rindo, Sandhamn, Vaxholm, Vardmo are all prime destinations and it should come as no surprise to discover that local inhabitants preferred the taste of the coffee named after their own island until they did blind tests after which results varied alarmingly.
One of the more surreal places to visit from the above selection is Varmdo' Artipelag, a world class, 32,000 square foot art museum which wouldn't be out of place in London, New York or Tokyo but sits, almost literally, in the middle of nowhere. Privately funded by Bjorn Jakobson who set up the globally successful 'BabyBjorn' baby carrier company, it's a testament not only to one man (and his wife)'s singularity of vision but also a design which defies incongruity and successfully harmonises what could have been a monster with the forgiving nature that surrounds and ultimately dwarves it.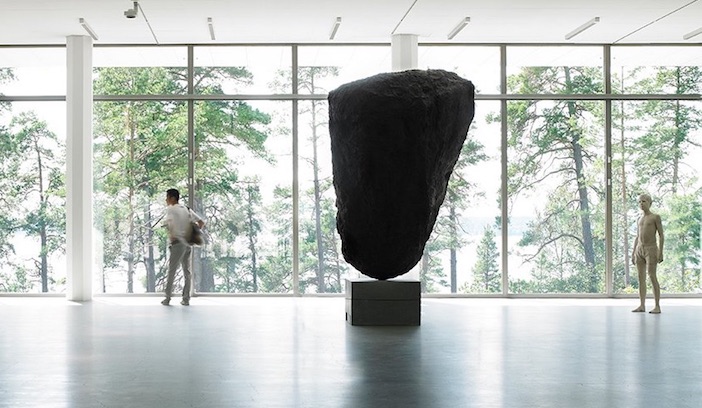 Dressed in bevelled, sweet-smelling, pitched-pine planks, with a roof covered in shades of green and muted blood orange Sedum plants, like many of the best museums, its structure rivals the art it exhibits. It has two art shows a year, two restaurants (the upstairs buffet one, a destination in itself, flowing with bountiful prawns, salmon, herring and local meats etc) and a hall called The Artbox which hosts regular concerts.
The Archipelago crown surely has many jewels but one of its most exquisite has to be the Frederiksborg Hotel, also on Varmdo, close to the Artipelago and a stone's throw away (across the water) from the Archipelago Coffee Headquarters. Frederiksborg is actually a round, beige bricked fort constructed in early 1700s on the Oxdjupet, the main waterway into Stockholm and once considered to be the strongest fortress in Europe.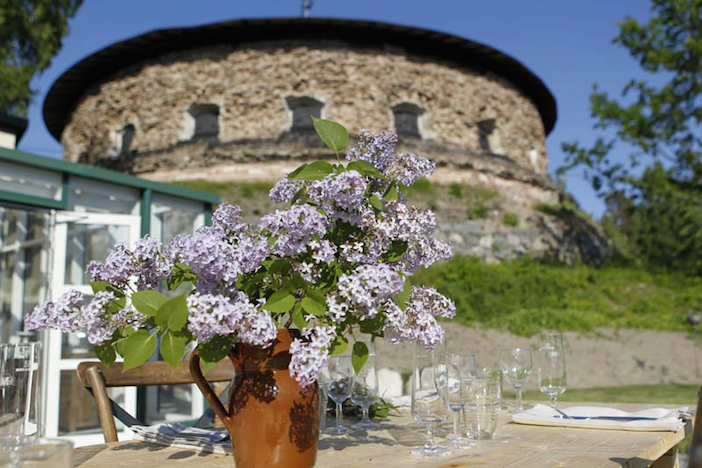 The hotel and restaurant built in its shadow are run by Pontus, a genial former financial manager and offer mesmerising views wherever the eye cares to glance: the sea and another island (Rindo) in front, forest to the rear, and the imposing fortress to its left. With little more than a handful of rooms in the hotel and the same quantity again of more traditional rustic, copper coloured cabins to its side, its quintessence is both macro and microcosmic and it succeeds in offering an exclusive but intimate atmosphere with very affordable prices.
Not surprisingly, the restaurant (with both outdoor and indoor possibilities) lives up to the hotel's effortlessly exacting standards and if you've finished your evening feast before night finally encroaches (in the middle of the Summer at around 10pm), you can rush down to the water's edge and stand on the concrete jetty, marvelling at the fiery but soothing Sunset, the colour of a rich and hearty Aperol.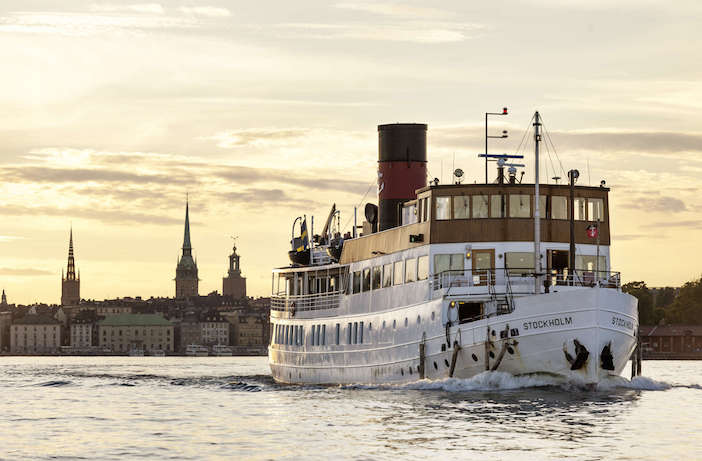 Once in the Archipelago, one of the undeniable pleasures is actually the travelling itself, sitting back on the ferries and watching the scenery calmly pass you by. Not only the rippling midnight blue waters or the erect emerald pine forests but the dream-like picturesque houses, some intimate, some expansive, noble and proud structures all, a rare mixture of masculine strength with female sensitivity and playful colourings.  With jetties, bbq grills, dining terraces and occasional jacuzzis, it really looks like the good people of the Archipelago are living their own dream.
Two such people who want to share their dreams are the brimming with energy, hostess with the mostest Linda Wahlström and her charming and smiley husband, Jesper. They run a Vogue-worthy Bed and Breakfast on the island of Vaxholm which, with around 5000 inhabitants, is one of the larger islands in the Archipelago. Nothing is too much trouble and with a massive, soothing, grey flecked granite mound in their back yard which gently imposes over a quaint courtyard with a fully-functioning cherry tree and multi-paned spacious greenhouse structure for private dining, their set up is as enviable as their attitude is welcoming and inclusive.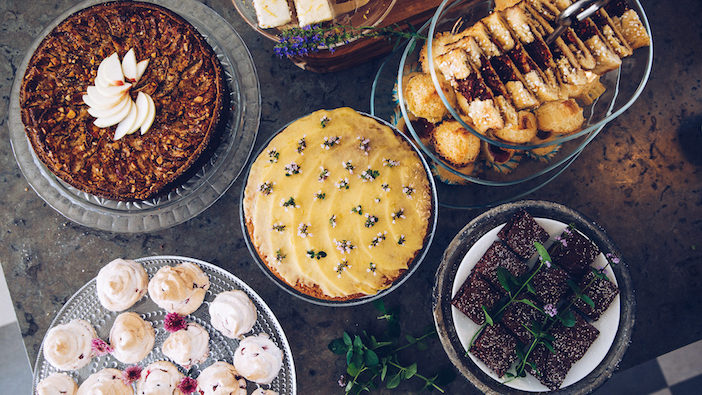 They'll invite you to help cook your own meal (not mandatory, of course) or even to try your hand at Cinnamon bun-making and if you want to buy some local produce? Not a problem, there's a small hut brimming with such stuff (including the aforementioned coffee).  If you're lucky, they'll even take you on a midnight mission to swim, au naturel, under the moonlight in the beguiling but bracing nearby waters or pack you an incredible picnic lunch fit for Royalty and which includes succulent herring in various flavours, homemade salmon paste, new potatoes, cheese, chives and fresh strawberries. Quite delicious.
Whether you take this on a perambulatory excursion around their small but charming town, catch a boat to go spinn-fishing for unsuspecting pike or perch (all of which have to be thrown back into the sea for conservation reasons), hire a floating sauna (after which you MUST fearlessly plunge into the surrounding fresh water) or simply journey on to another part of this magical destination, you're guaranteed the possibilities are endless, the air is fresh and, for the time being, the tourists are few.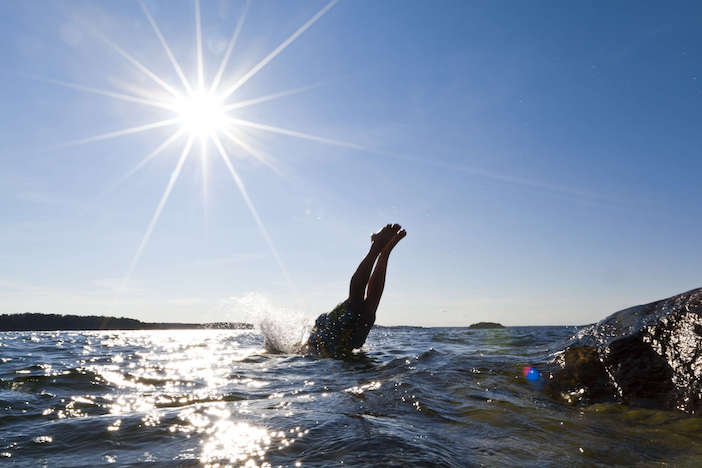 "You know I've got so much that I wanna do, when I dream I'm alone with you, it's magic. You want me to leave it there, afraid of a love affair but I think you know that I can't let go. Take a chance on me, come on, give me a break will you, take a chance on me."
For more information about Stockholm, including ideas for what to see and do in the summer, visit www.visitstockholm.com. And for more details about the archipelago specifically, visit www.StockholmArchipelago.com.