As the school holidays arrive, and swimming trunks and sunscreen are packed with vigour, Larry takes an alternative tack and heads into the Arctic Circle, to experience summer with a difference…
It's a myth that Santa lives in the North Pole. That's just embellishment to impress the kids. But it is true that he does live somewhere unconventional, somewhere off the beaten track, somewhere you've likely never heard of. Unless you're Finnish. Or an elf.
Rovaniemi, I learn, is the official home of Father Christmas. On the fringes of the Arctic circle, it's the gateway to Finnish Lapland and you're reminded you're in Santa territory the moment you set foot off the plane. It is, after all, 'Santa's official home airport'. I didn't know he had one. Posters show his house, him looking studious in his office, his elves clothed in primary colours beaming out of a Welcome to Lapland poster. While it feels oddly out of season, to say the least, like seeing mince pies on the supermarket shelves in September, it adds to the intrigue, as if we might be searching for Bigfoot in the Himalayas. But, on this occasion, Santa is not on the itinerary.
We're going beyond Santa's domain. As we board the bus, our driver gives a cursory "Santa's House" gesturing to his right and we throw ourselves at the window to get a passing glimpse of a wooden chalet. After a three-hour flight to Helsinki, followed by another hour to Rovaniemi, we're heading further north still, through great tracts of emerald-coloured spruce and birch and the dark lakes we saw from the sky, to the small, remote region of Pyha-Luosto. After mile upon mile of flat forest, a mountain rises up – albeit modestly – on the horizon with the unmistakable imprint of pistes trickling down its sides.
We are in what is regarded as Europe's last great wilderness. That alone might be reason aplenty to visit but, as with many little-known places, it's not quite as untapped as it sounds. Pyha-Luosto is, in fact, two halves of a resort of sorts, but I use that word in its loosest sense. Set in 140 square kilometres of a national park, this is not a resort the like of which you might see in the Alps, and the activities are very much more of a 'wilderness' bent.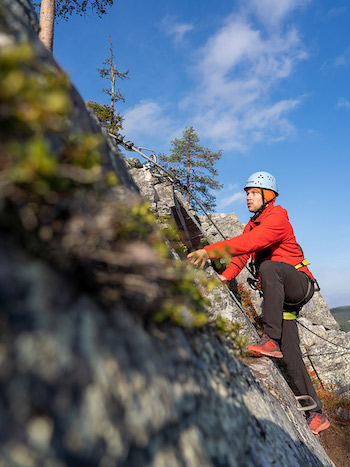 The downhill won't set any records or boast countless kilometres of runs (it's more for Nordic skiing), and if you ask about apres-ski, you might get baffled looks. This is far more about getting out into nature, and, as summer takes hold, it's about the hiking, biking and lake and river-bound activities.
The newest offering is the Pyhakuru adventure park. Set in a gorge in the side of the mountain, it's the idea of an enterprising group of chaps who have set up a 'guided' climbing facility. Reminiscent of Go Ape, we're not, however, 20ft up in the trees, but scaling a cliff face. Like its arboreal cousin, we're harnessed up and clipped onto a steel rail that snakes its way up the rock we're climbing, aided by convenient footholds, crossing rope bridges and gliding down ziplines as we follow the course. It might not be the attempt at El Capitan I was hoping for but it's no less thrilling, and it's worth it for the views alone. At its highest point, I turn from the course and look upon an infinite forest canopy that disappears into a veil of mist on the horizon. My instructor, Antti, gestures to a line of hills in the distance, "Russe," he says, "70 kilometers." Now this really does feel like the wilderness.
There's a warmth of feeling that I'm here, in nature, but, at the same time with a sense that I'm on the cusp of discovering something. There is a new hotel underway, in keeping with the landscape, as well as a series of lodges nearby, and I get the sense that this will soon take hold as a destination. It feels as I imagine the early alpine resorts must have seemed, just as the inspired idea of creating a leisure destination took hold, but there's no risk of high streets of high-end boutiques coming any time soon.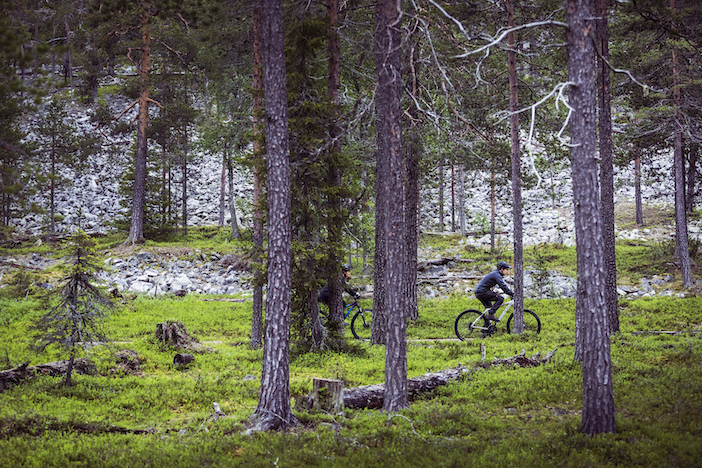 The park is a protected area, best explored on bike through its many trails. And this is forest unlike any other; candle-like spruce trees and wispy silver birch dominate, plenty of moss and ferns, but there's something else, something I can't put my finger on as we pedal along the gravel trail; there's a carpet of jade green as far as you can see. "What is this?" I ask, on a short stop to sip from a ground spring. "Blueberries," our guide informs me. Of course. It's the ubiquitous fruit of this part of the world, accounting for the complimentary refreshment on the plane, and countless dishes in the restaurants. It gives the forest a fairy tale, otherworldly air. Little wonder Father Christmas might live here. I bet it's just as magical in the winter.
While blueberries might be what Finland is known for, you'd be stretched to think of its association with semi-precious stones but, here in this one spot, a result of millennia of tectonic shifts and erosion of what were once lofty mountains (that explains the current modesty), is a proliferation of amethyst. So much so, that guided tours through an open cast mine culminate in being able to have go and mine ones own gem.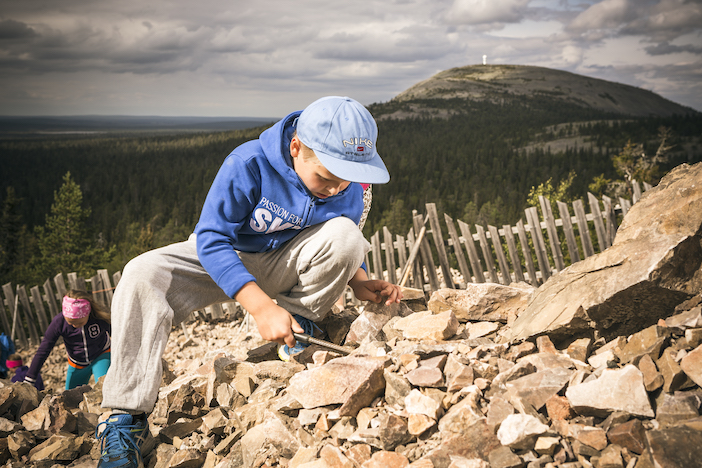 "What are the chances of me finding one?" I ask, somewhat dismissively. "100%" comes the reply. They weren't joking. Within minutes, our party is pulling purple stones from the rubble to give South Africa a run for its money. It's so prevalent there isn't even a need for the token hammer and sieve we're given, we're plucking them out with our fingers. Alas, my own haul is nothing but a few modest shards, and we're only able to take home one that can fit in the palm of a hand, but it's a thrill nevertheless, particularly when admiring how they're shaped into exquisite ornaments and jewellery on display in the gift shop.
If you're thinking wilderness means 'lack of comforts' or 'eating off the land', then you'd be as surprised as I was. Sure, Pyha-Luosto may lack choice when it comes to restaurants but what there is will give any city bistro or high-end restaurant a run for their money. Dinner at Lapland hotels' restaurant could have rivalled anything I'd paid good money for in London, and with several surprises – it's not often one is offered the 'reindeer specials' when dining out, particularly as a family of them pass the window as the carpaccio starter is served – trying perch, pike, moose burger and tangy 'cloudberries', not to mention finding spruce and birch adding a new array of flavours. But perhaps the meal that summed up this trip was not at a restaurant at all.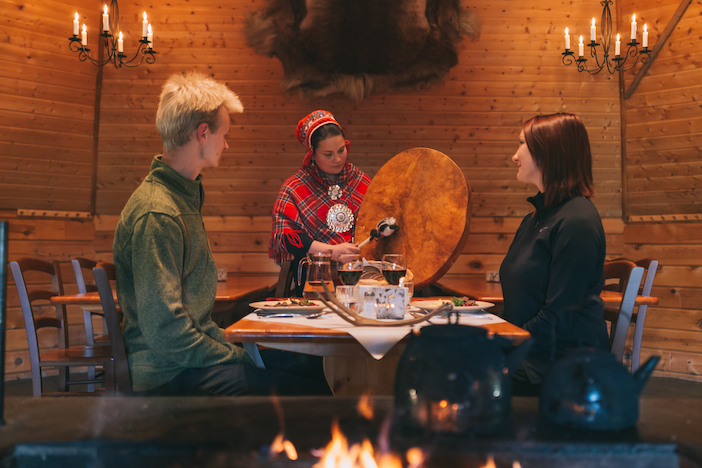 Lapland is, of course, home of the Sami, the reindeer herders. Jaakola Reindeer Farm is, however, a bit of a misnomer since reindeer aren't farmed; they're all owned, sure, but they roam wild. Here, during an evening of Sami culture, we were treated to reindeer steak, naturally, and a foraged 'brain' mushroom soup. Toxic unless treated properly, you can see why you might go to the effort to make it; this was the most subtle, creamy, earthy blanket in a bowl. I enquired as to the recipe and while I am sworn to secrecy, I will say that there was one curious addition that brought me instantly back down to earth: instant coffee.
It was as the evening concluded, with an enlightening, even moving, rendition of Sami 'yoiking', or chanting, to the rhythm of a hide drum, it dawned on me the parallels with Native American cultures; the nomadic way of life, the reliance on the wild herds, the 'kota' or teepees we were dining in, and then this beautiful, haunting song. Life in the wilderness was starting to take hold.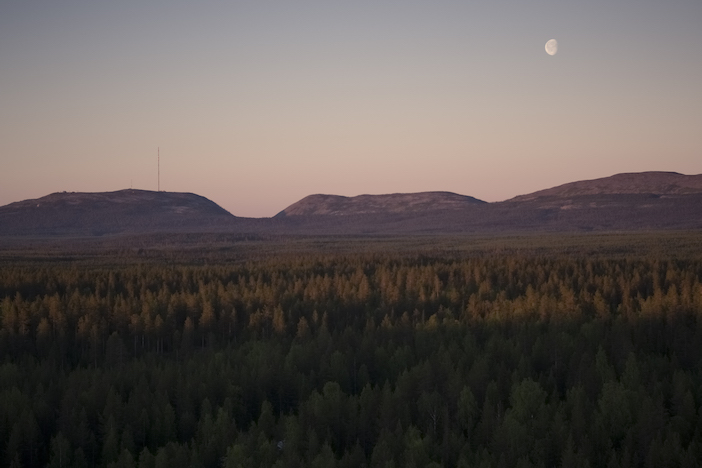 Finnish Lapland may be known more as a winter destination, and for obvious reasons, not least being the 'official' home of Father Christmas, but there's potentially more magic there during the summer months. It's fuelled by something I barely noticed were it not for glancing at my watch on a walk round one of the lakes after dinner on my last night. At half past eleven the sun still blazed just above the treeline, casting the lake and surrounding woods in a warm, amber glow. It would never dip below the horizon at this time of year, and in this 'land of the midnight sun', far from thinking there are never enough hours in the day, here it's as if it stands still, giving this part of the world, quite literally, a timeless appeal.
Larry travelled to Lapland with Finnair, flying direct to Helsinki from London Heathrow, and on to Rovaniemi. For more information about Pyha-Luosto, visit the official tourism websites at Luosto.fi and pyha.fi.
The starting rate for a standard double room in Lapland Hotels Luostotunturi is 99€ /£85 per night including the use of the Amethyst spa and breakfast. For more information, visit www.laplandhotels.com.
For more information about Finland, and to plan your trip, please visit the official site at www.visitfinland.com.