The second part of our Swiss double-bill, in which Larry goes beyond Geneva, and discovers its lesser-known nooks in the Valais canton…
For those that revel in the Alpine winter, many have their favourite destinations. Some, even, are returned to by force of habit, or the risk averse, particularly given the cost of skiing holidays. But there are places that are off the well-skied slope, away from the madding crowd, that offer a pleasant departure from the industrial scale resorts burdened with tacky bars and runs that resemble the M1. Somewhere, in fact, the Swiss know well: the Valais.
My wintry escape this year begins in Brig, a far cry from the frenetic resorts synonymous with skiing trips. As with most destinations we crave for some RnR, those lesser-known can be a bit of journey, but this end of the Valais canton is surprisingly effortless to get to. A scenic trot across the top of lake Geneva, through snow-dusted vineyards, mountains like a matte painting across the water, we're then rolling through the Rhone valley (not that one, the other Rhone valley, upstream, near its source), following the river to Brig, tucked between the imposing Glishorn and Belle Alp mountains, where concrete apartments are soon superseded by traditional onion-domed towers and Jacobean buildings that make up the old town centre.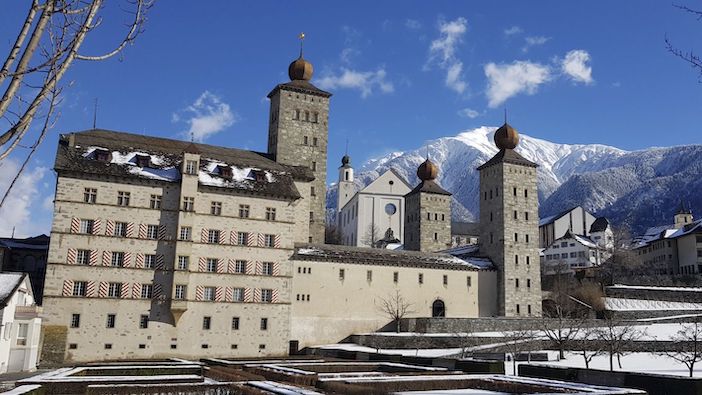 Chief among those onion-domed towers are those of the imposing Baroque Stockalperschloss. The vanity project of 17th century merchant Kaspar Stockalper, who made his name trading everything from salt to snails, it's (rightly) one of Switzerland's finest landmarks – at least of those that are man-made. The fortified granite towers aside, it has its own 'bridge of sighs', a postage stamp Renaissance garden and an arcaded courtyard that makes you feel as if you've stepped into Medici Bologna rather than the sleepier end of Switzerland. It's now an administrative building, housing the civil court and various beautifully-muralled halls under vaulted ceilings that make for enviable function rooms, and reflect much of the 17th century original.
Stockalper had something of a monopoly in the town it seems, and indeed beyond, namely the Simplon Pass, the trading route to Italy. And that's my destination for the first activity on this visit. Following a 2000m ascent, watching Brig falling away below us as the bus climbed, the summit is principally flat; a perfect canvas for an introduction to snowshoeing.
Disconcertingly, that ascent showed a noticeable lack of snow but, to much relief, became whiter the higher we climbed. We decamp at the top of the Simplon Pass, spartan amid the monochromatic tundra, save for an empty restaurant and a hostel straight out of The Shining. We shoe-up and set off, our guide leading us away in single file, stepping off the dirty slush on the side of the road and into virgin snow.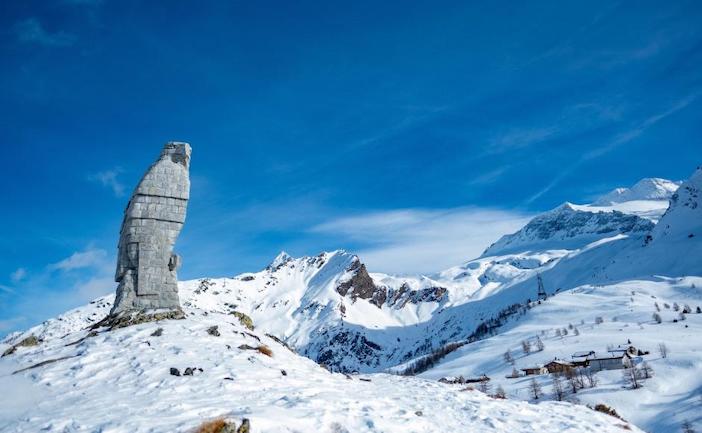 Among winter pastimes, it's a much underrated activity. It's a distinctly calming exercise, with the deadened silence of the landscape, in contrast to the pace of downhill, and gives a chance to take in surroundings. The section we trek takes us from the head of the pass, starting outside the restaurant Monte Leone, overlooked by a towering monolith of a stone eagle, a monument to the Swiss army in WW2, padding our way to the Stockalperweg, the summer house (read 'small castle') of our familiar Brig patron, Stockalper.
The route descends to run alongside a Rhone tributary, tumbling over rocks, the crown of the Fletschorn bathed in sunshine overhead. It's a solid 60-minute trek there and back, rewarded by the sight of the castello and an opportunity to re-carb with rosti at the restaurant post-hike.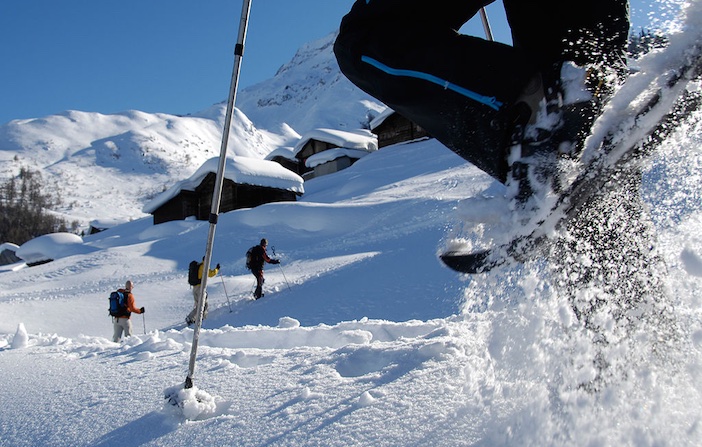 It's a surprisingly thigh-burning work-out, like walking with weights on your ankles, so it's more than a welcome respite to take in the Brigerbad, the town's public spa, of various pools and steam rooms filled with the therapeutic waters of Valais' hot springs. I can see the appeal of ski-spa, it's a far more apposite wind-down to the traditions of apres-ski, particularly when you're comfortably wallowing in bath-temperature waters, enveloped by steam with the mountains rising all around you.
That said, to qualify for apres-ski, one needs the ski part, and that comes from nearby Saas-Fee, a short hop, by bus again, from the valley floor.
The beauty of Saas-Fee is that you can't call it a resort at all. It's kept its alpine village credentials, compact and bursting with chalet character, and aided by being entirely pedestrianised, save the golf buggies and train-themed trolleys ferrying people to and from the park-and-ride to their lodgings. Ringed by the fantastic 'four-thousanders' of the Mischebild, with its tumbling glacier, it also benefits from having the highest slopes in the Swiss Alps, something very noticeable this year with the absence of snow making headlines in these troubling times.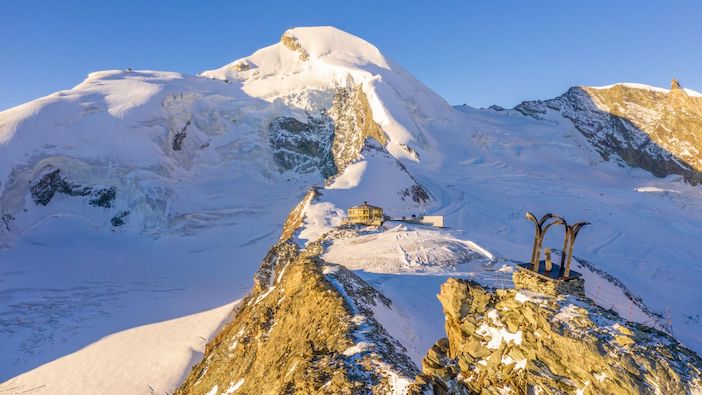 While it's small and perfectly formed, Saas-Fee has just the right set-up to enjoy the ski experience. The pistes congregate conveniently near the hire shops and a selection of bars, while the other, quieter end of town caters for those less inclined to down bottles of Helles to bouncing soul classics. It's the sort of place that suits my sensibilities. You want your apres-ski apres ski, then back to the hotel to relax, bathe, before a civilised dinner. And do it again the next day.
Typically, hiring kit, resorts' hire shops are packed production lines, it's far more bespoke here, Intersport have a more personalised service. I'm measured, fitted, suited and booted as if I were at a tailor. From there, several low-lying blues allow you to get your ski legs but to get the best of the runs, it's a bit of a schlep (via bus to the cable station), two standing cars and a funicular to the top of the resort, Allalin. You'd expect that, however, for what is the highest piste in the country. And while the runs aren't that plentiful, they're varied, often spectacularly long, and you have the benefit of the other villages across the valley for a comprehensive and diverting piste map.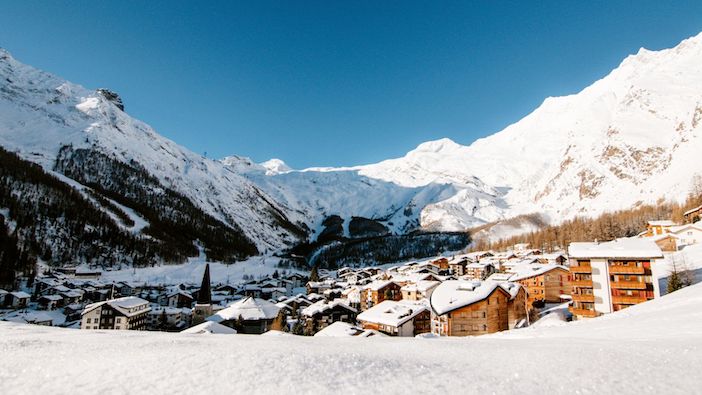 Of all the activities one can think of during an alpine winter, perhaps the most untapped, and most edifying, is to experience a Via Ferrata; that of an 'aided' climb (and much else) over rocky terrain. Saas-Fee is known for several courses, of varying abilities, but principally it's about their setting. Here, taking what we're told is the 'old road' into the village – 'path' would be more fitting – we wend our way down to the valley bottom, a family of ibex breaking cover across the stream below us, to the starting point of our course, through the Fee Schlucht, or Fee 'gorge'.
Harnessed and helmeted, our guide Mikael make short work of lowering us individually by steep zip line across to the starting point, where we then climb, clamber and fumble our way through the gorge. Frozen waterfalls and cascading meltwater provide a dramatic backdrop as we negotiate footholds, ladders, rope bridges and even a swing across the canyon – much to Mikael's annoyance, barking "concentrate!" while I pursue social media fame in favour of catching the landing net. Through the last zip into a darkened cave, before a last dicey bridge for a vertical abseil, we make the final leg untethered and on foot through the forest and across virgin snow into Saas-Grund, where we're collected and delivered back to the village, bouncing on adrenalin.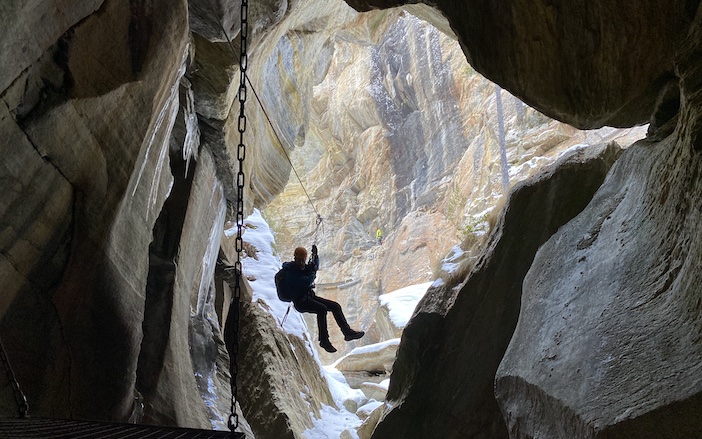 What's most evident this winter is, ironically, the lack of winter. Where many resorts are reporting record no/low snowfall, there are clear advantages to venturing slightly further, to go slightly higher. And the Valais benefits from its position in more ways than one; the proliferation of snow notwithstanding, there are many more advantages to finding these hitherto untapped corners; from the absence of crowds and familiar accents, to a new range of activities and opportunities. It truly does offer a different perspective.
For more information on Valais, and to start planning your trip, including details of accommodation and activities, please visit visitvalais.ch. For more information on Switzerland, visit the official tourism website at MySwitzerland.com.
SWISS connects Switzerland with more than 160 weekly flights from London Heathrow, London City, Manchester, Birmingham, Edinburgh and London Gatwick (seasonal) to Zurich or Geneva.  One-way fares start from £76 to Zurich and from £54 to Geneva, and include all taxes, fees and surcharges. For more information, visit swiss.com.
For comfortable travel throughout Switzerland, Swiss Travel System (STS) offers a unique all-in-one 1st class Swiss Travel Pass for unlimited travel by train, bus and boat as well as Free admission to more than 500 museums throughout Switzerland. For more information, visit mystsnet.com.
Via Ferrata photo by Alex Messenger