In this weekend's travel special, Angelina Villa takes a journey through Swedish Lapland, and a place where avant-garde architecture meets the Arctic wilderness…
With its string of tiny shops and scattering of wooden houses adorned with fairy lights, you'd be forgiven for thinking that the tiny town of Harads, found an hour away from the airport of Luleå, was just another rural outpost in northern Sweden. But looks can be deceptive, for this village, which has a population of just 600, is the unlikely destination for a cluster of design hotels.
Inspired by African bush-camps, and offering luxury glamping, is the nearby Aurora Safari Camp, found in Råne River Valley. While another venture – the remote Arctic Retreat – offers beautifully curated log cabins to soak up the Northern Lights. Most famous of all, perhaps, is the Treehotel, known for its architecturally-imaginative rooms perched high in the pine trees, and which is celebrating its 10-year-anniversary this year.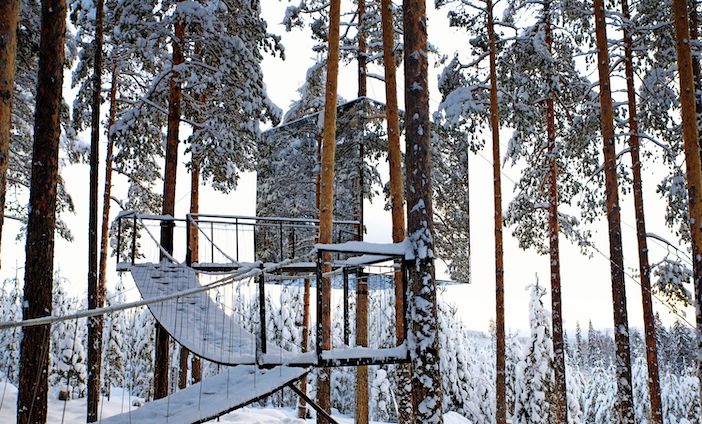 Located just south of the Arctic Circle, the countryside around Harads is an ice-sprinkled wonderland – endless towering forests, frozen lakes and wandering reindeer making for a fairy-tale like landscape and perhaps the reason why many want to decamp here for a few days. With its unpolluted skies, it's also perfect for watching the magical aurora borealis. On first sight, Treehotel's quirky treehouse rooms – there are seven individually-designed projects and a main guesthouse, housing more bedrooms and a restaurant – make for an odd juxtaposition to the idyllic snow-covered scenes.
Run by Kent and Britta Lindvall, each room has been designed by leading Swedish architects, many of which are friends of the maverick couple. One is a mirrored cube, conceived by Bolle Tham and Martin Videgård, which reflects the sunlight and tree branches – magically disappearing as the day progresses. There's a wacky UFO – a grey anomaly in the trees – as if it has just landed from out of space. A large metal structure – dubbed the Dragonfly – looks precarious in the branches, while the Blue Cone – surreally painted red – looks like something from a picture book. The most recent opening, the 7th Room, by Norwegian architects, Snøhetta, is the most luxurious. With two bedrooms and its own bathroom, it is perched 33ft above the ground, with guests having far-reaching views over the treetops.
Inside each room, it's all cosy features – the essence of the Swedish concept of lagom – not too much, just right. Sheepskin rugs, soft knitted throws and minimalist lighting are wonderfully inviting, while most also have oversized picture windows to offer the best of your bird's eye perspective over the forest.
The Lindvall couple are hands-on hosts, showing you the way up the trail into the forest to your room, perhaps taking fikawith you in the guesthouse, or accompanying you on activities such as ice-fishing, moose safaris or serving up a traditional Sámi lunch of reindeer, vegetables and Gáhkko bread. Cooked over an open fire on a vast iced lake, and eaten in a traditional Lavvu tepee, food has never tasted this good.
Attracting design-aficionados and travellers alike, wanting to tick it off their bucket list, the hotel's most photographed room is perhaps the Bird's Nest. Covered in a clashing mass of birch branches, just like a real nest, it has been built to be camouflaged among the forest – with many guests walking by underneath it without even realising it is there.
Its architect Bertil Harström is also the brains behind the area's newest and much-talked-about opening Arctic Bath, a spa hotel found just a short drive away along the Lule River. The idea came about when a guest suggested Treehouse open a floating sauna, and the notion took hold.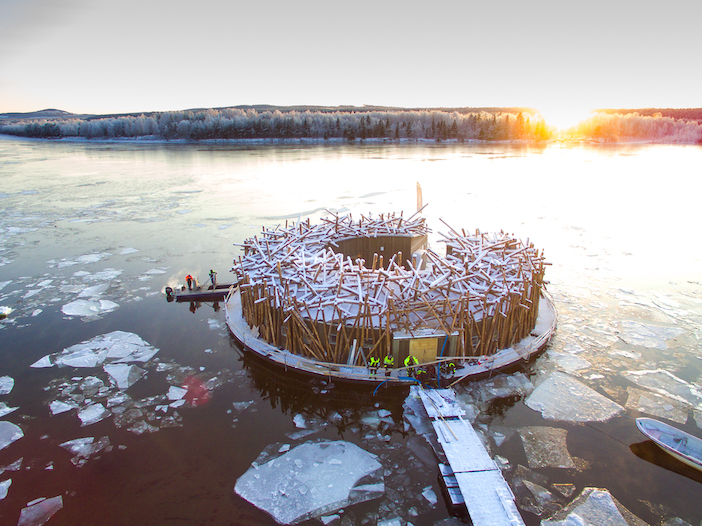 You can spot his design signature the minute you arrive. Dominating the flat, iced-over river is the strange branch-covered central building. Covered in a mass of giant tree trunks, it was inspired by the log jams that once occurred along the river, when the waterway was used to transport timber for the logging industry. Designed to be 'set' into the ice in the winter and to float come summer, the doughnut-shaped structure has a deep, and scary-looking plunge pool at its centre – allowing daring guests to directly enter the river's icy water via a steel ladder. Facing the river, there are also saunas, steam rooms, open-air whirl-pools, and treatment rooms.
Clad in your Arctic Bath designed swimwear – each guest is given their own bathers to promote 'mindfulness' and 'equality' – you hop from sauna to icy water, steam to bubbling bath. You are frozen one minute by the air temperature – which can drop to -35°C – and next you are sweating from the dry heat of the eco sauna – heart-warming and terrifying in equal measure.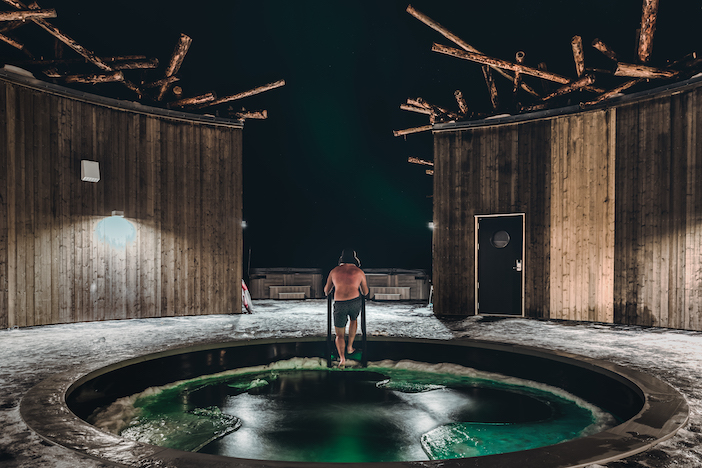 A SaunaGus master is sometimes on hand to elevate the experience by splashing essential oils on the hot coals, whipping the air in front of you to make you gasp and gearing you up to hold your nerve in the water. Otherwise, you can take your time and pad from one spot to the other, creating your own little routine. It's hypnotically addictive. Each guest is also given a DIY sauna pack filled with Kerstin Florian masks, scrubs and creams, to add a touch of pampering to proceedings.
Treatments are also thoughtfully conceived. The 'Tall' therapy, for instance, translates as 'pine' in Swedish, but it is also a fitting description of how you feel after the special massage finishes – it focuses on feet and legs, so you depart as if you are walking on air.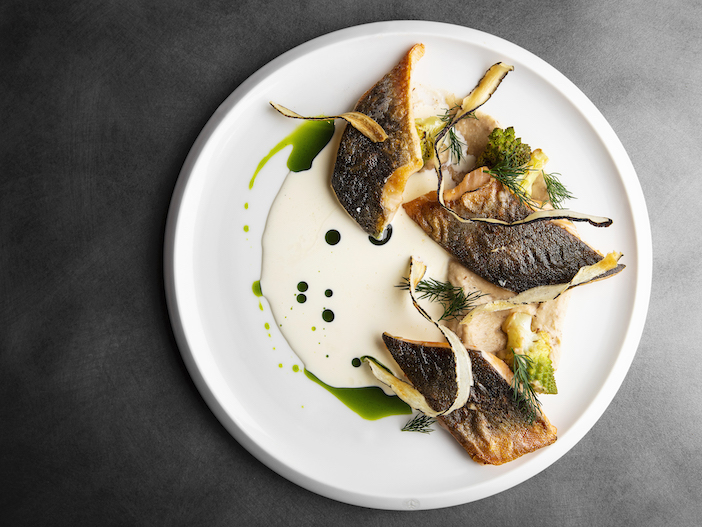 Much of the hotel's ethos aims to celebrate the indigenous Sámi culture. The restaurant, which resides in the other half of the central building, is run by Kristoffer Åström, known as the 'Sámi Chef'. He conjures up a daily-changing five-course menu of dishes which use local produce and age-old recipes – so you might find pan-fried Arctic Char or slow-cooked moose drizzled with berry-infused sauces, pickled vegetables and cloudberry sorbets.
Activities also capture the Sámi way of life and include snow-walking in the Taiga Forest, looking for moose tracks, or being whisked through the forest on a sled pulled by husky dogs – stopping to have fire-toasted cinnamon buns, your breath steaming the air in front of you.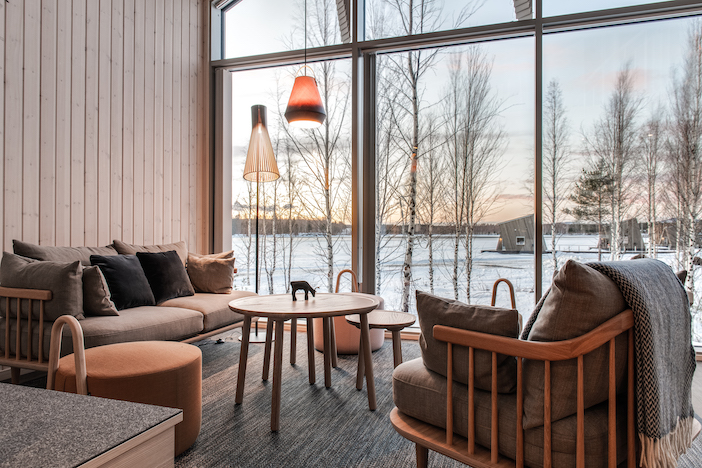 At the end of the day, however, it's a joy to return to the hotel. There are only 12 rooms in total – some are tiny, one-room cabins, found on the banks of river, and offer a cosseting feel. The others, conceived by designer Annkathrin Lundqvist, are found further back, and are built on stilts to minimise the impact on the environment.
Inside, the split -evel rooms have a Scandi-cool vibe with a muted palette of pink, grey and black, pendant lighting and stone-clad bathroom. Soft textiles – rugs, throws and cushions – in velvet and wool soften the space. When it's time for bed, you climb the spiral staircase and sink into soft sheets, the room warmed by a wood-burner chugging away. Floor-to-ceiling windows afford magnificent views of the skies above and the silent, crystal-tipped land below. Soon, you're slumbering like a baby – unplugged from the world you've escaped from. It's clear why they keep on coming back here.
Rates at the Treehotel start from 4,700 SEK per night (£374). For more information, including details of all rooms, visit treehotel.se.
Rates at Arctic Bath start from 9,600 SEK (£764) per night based on two sharing water accommodation on a half board basis including spa access, Arctic Bath spa robe and spa bathing suit or shorts, slippers and a spa ritual kit. Guests can choose to stay on either full board or half board basis. For more information, visit Arcticbath.se.