I'm having a moment of introspection. Leaning against the side of the pool, overlooking the Taf estuary and the fields on the headland opposite, watching the tide come in and the sea birds breeze by. It's a glorious afternoon, the first we've had in weeks this particular summer; whisps of cloud like brushstrokes wash an otherwise clear blue sky. My reverie is that this is a view Dylan Thomas must have shared, albeit unlikely in board shorts from a spa pool. Though the mild hangover I'm nursing is probably something he would have been familiar with.
Suddenly, a 'Hi-ya!' rents the air and I'm clouted over the head with a foam noodle. My little nest of vipers has commandeered a giant float and fashioned a pirate ship to attack me. Reality comes back in a moment, and I join her in playing high jinx on the high seas.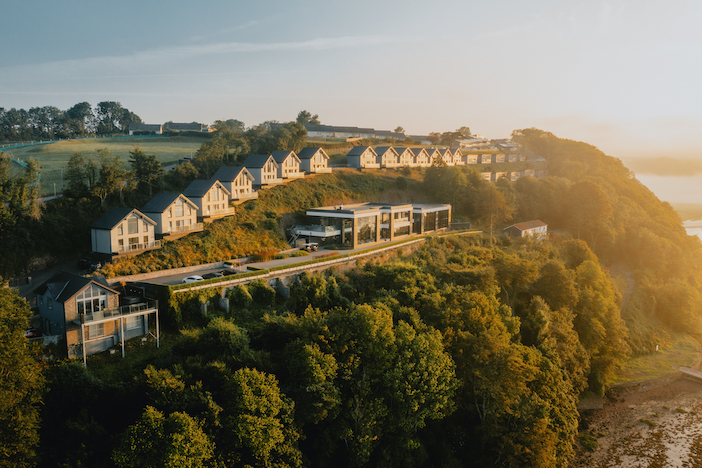 We're staying in the Dylan Coastal Resort, a collection of five-star self-catering lodges on a hillside overlooking the sea in South Wales, and it's a name that didn't register until I checked the map to the plot the route – and spotted a couple of notable landmarks nearby. We're in Dylan Thomas country, having followed the Taf through criss-crossing hills dotted with sheep, down to Laugharne, the town where Thomas settled.
Off and on, up and down, high and dry, man and boy, I've been living in this timeless, beautiful, barmy (both spellings) town…
It's a pretty, pocket-sized place of narrow stone terraced cottages but, as we arrive, what's striking is that nowhere is our destination obvious, and I miss the turning. It is, quite literally, tucked away. Off the high street a short single-track road leads to the entrance. 'Dylan Coastal Resort' emblazoned in italics on the entrance, it sits just above Thomas's boathouse and writing shed, where the poet penned some of his most significant works.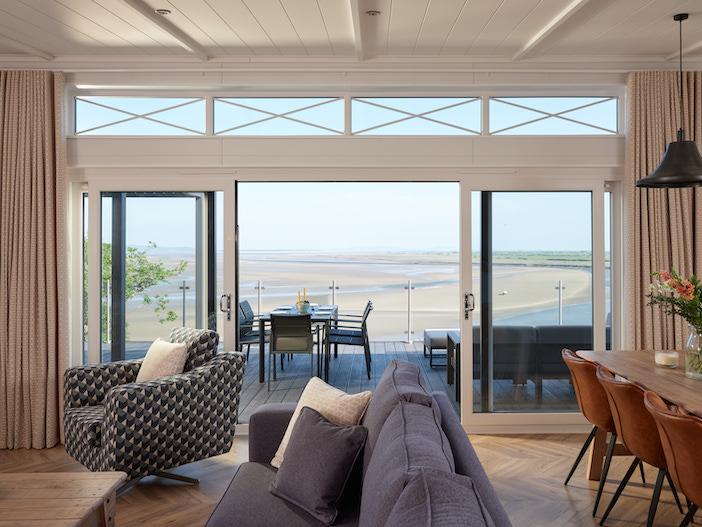 There's no check-in; a texted key code and a resort map takes us up the steep hillside of lodges amid clipped lawns and tended gardens to our family abode for the next few days. It may feel like a holiday park, but villa spacing is tastefully done, and suitably positioned to give them all views. Significantly, they come in different designs, too, removing the standardisation so off-putting of conventional holiday parks. Roof terraces provide wraparound vistas. Some even have hot tubs; a winner in many books, albeit a bit of a gimmick in mine. Inside, whitewashed clapboard interiors with abundant windows and patio doors make for an airy, fresh cosiness, and the soft furnishings are polished and inviting. Between the lodges and the setting, it's the sort of place you immediately feel settled as you arrive.
In this far, forgetful, important place of herons, cormorants, castle, churchyard, gulls, ghosts, geese…pubs, mud, cockles, flatfish, curlews, rain, and human, often all too human, beings'.
For such a strong cultural connection, Laugharne is mercifully short on 'themed' features, given its noted alumnus. There are no Excaliburgers or Thomas Tea Rooms here. Brown's Hotel features the man on their sign and the bar bears his name, rightfully, since he drank by the bay window (something I had to replicate during a moment to myself). Rather, there are genuine locations of the poet's life; his aforementioned 'boathouse' and writing shed, his grave, and some very unadorned signage. So, with Brown's oversubscribed of an evening, we venture to another watering hole of the man, The Three Mariners, for some '80s-style pub food and a raucous atmosphere.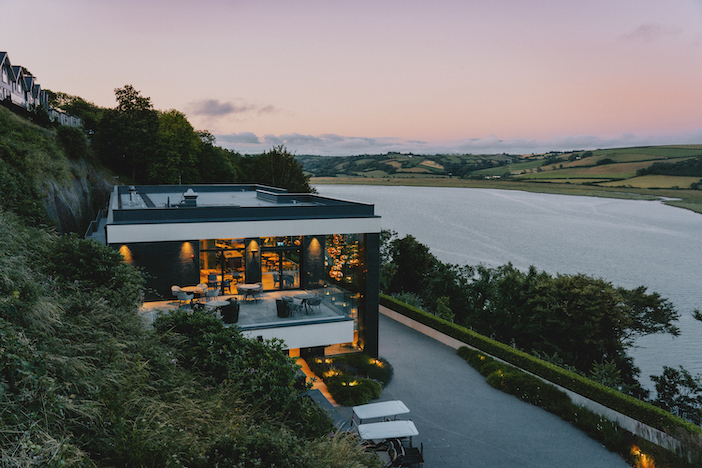 Thankfully, when it comes to dining, we're more than made up for at the resort. The focal point is Milk Wood (of course) House, which features both the spa facilities and, above, the Kitchen & Bar, where those inescapable views are omnipresent, most notably from the terrace as we sip a sundowner. You won't expect fine dining here, nor an atmosphere conducive to it, but this is no slight; the menu – and the vibe – is very family friendly, in a bright, airy bistro-style setting.
The team bounce effortlessly and cheerfully between tables and as we tuck into our crab cake and crayfish cocktail starters, there is a distinct holiday air to proceedings, most notably when the mains arrive (I can't not order the Welsh lamb burger), and the entertainment starts, from an engaging chanteuse, a little over-dressed in floor-length sequined gown. It's all a bit 'cruise ship', but it's humoured in good spirits, and completes the holiday vibe.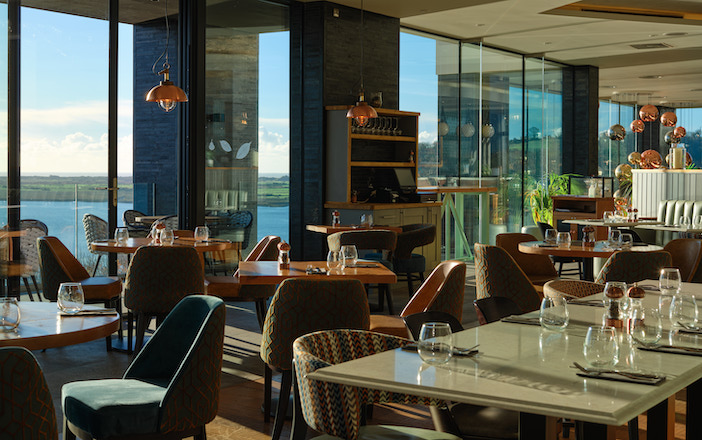 After a suitably cultural morning; a visit to the boathouse, the castle (a landmark in its own right), and following Thomas's 'birthday walk' out round Sir John's Hill, we're just considering our options for lunch when a message appears in my inbox. It's the concierge, "The sun is shining again today, so we will be having a BBQ on the beach from 12pm. Let us know if you would like to attend." Genius. Not simply for solving the issue of where to eat, but because it's indicative of a well-measured approach to that irksome tendency many resorts have when they feel the need to bombard guests with activities.
The word 'resort' in the name may, fortunately, be a misnomer. Save a couple of tennis courts in need of resurfacing and a token children's playground, there's little here that feels resort-y. In keeping with its setting, if anything it's more about the spa, launched earlier this year. The indoor pool is the focal point, bathed in light from the vast estuary-facing glass wall, a vantage point shared by its herbal steam room, tepidarium and a mezzanine relaxation zone.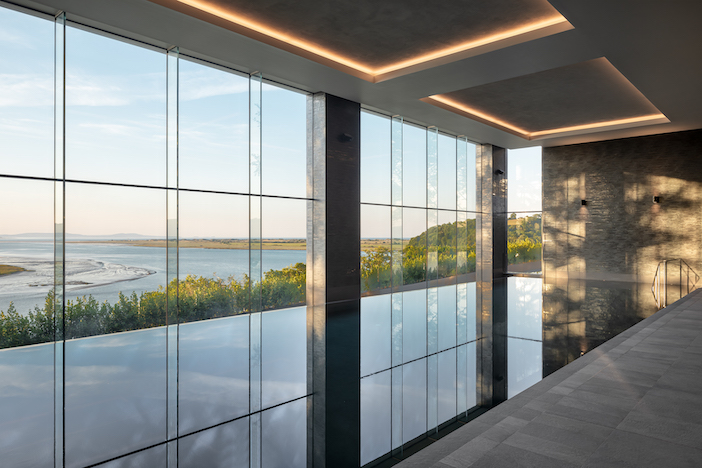 Children may abound in the main pool (though it never feels crowded), but there are many ways to avoid the little ankle-biters, not least the yoga and meditation classes on offer – and, indeed, one of the sea-inpired isgha treatments. What perhaps best captures the essence of it, however, is the outdoor hydrotherapy pool. Cradled in the warmth of lapping bubbles, it was a moment before dinner that the three of us – yes, even the nine-year-old – felt awash with calm, lost in the view and the setting sun.
'It's peaceful, isn't it?' Mrs L remarks as we walk back to our lodge. It really is. There's nothing to disturb the early evening save an occasional seagull squawk and the hum of a passing electric car, suitably adhering to the 'slow down, this is holiday pace' 10mph marker.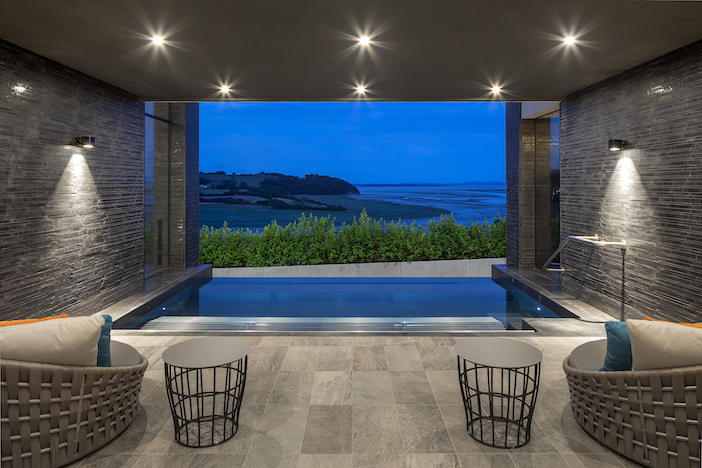 As if blessed by good fortune for our visit, the morning of our final day we woke to a turn in the weather. Cloud hung low in the sky, masking the distant view, wind howled around the corners of our lodge. The tide was high, rippling waves replacing the serenity of the sand flats over the estuary. It gave the views a different, altogether more dramatic perspective, allowing us to see the place in different circumstances, and making us appreciate it not just for its dramatic beauty, but for the fortune of fine weather we'd had during our stay.
As we pack up to leave, I take a moment to look up some of Dylan Thomas's works from this period, and come across some very fitting words. "Now, some people live in Laugharne because they were born in Laugharne and saw no good reason to move… and some, like myself, got off the bus, and forgot to get on again. Whatever the reason, in this timeless, mild, beguiling island of a town…here we just are, and there is nowhere like it anywhere at all.'
And as we load the car, I think we might just forget to get back in the car, too…
Dylan Coastal Resort is part of the Luxury Lodges group. Stays at Dylan Coastal Resort start from £389. For more information or to book, please visit www.luxurylodges.com.
Quotes from Dylan Thomas on Laugharne