David's odyssey into The Gambia concludes this Bank Holiday weekend as he journeys upriver and into the country's history…
By the fifth day it was clear I was going to need longer in The Gambia.
It pulls you in and places you in the centre of a collage of confusion. The lashings of colour, art, religion, family, and the ferociousness of its markets, are all strikingly new to me, yet there was still more to discover.
I'd been on the beaches and seen the Senegambia Strip at night, and I'd walked through colourful mazes of the Albert and Senegambia markets; bought fresh fish at sunrise from Tanji, and entered the family compound of my guide Ebrima to cook dried oysters. I'd visited the national museum in Banjul, walked through cultural forestry and nature reserves, witnessed a new-born monkey feed from its mother while family around him sucked the sweet pulp from aptly-named monkey fruits; I'd even stroked a crocodile.
Eager to further my exploration, I took to the river and travelled along the dark, snaking waters that flow inland. It didn't start well.
At the mouth of the river is Banjul and the country's primary port, where cargo ships and fishing boats gather in a floating garage marina. Except two.
Two great ships, alarmingly close to departure point, were sinking over time in the ocean, sided and sunken on their starboard. Half-boats, more under the water than above. This isn't the sort of welcome you want just as you're about to set-foot on a similar vessel and face the waves. These were hefty ships too, left to submerge entirely or become model wreckages in the great aquarium of the sea.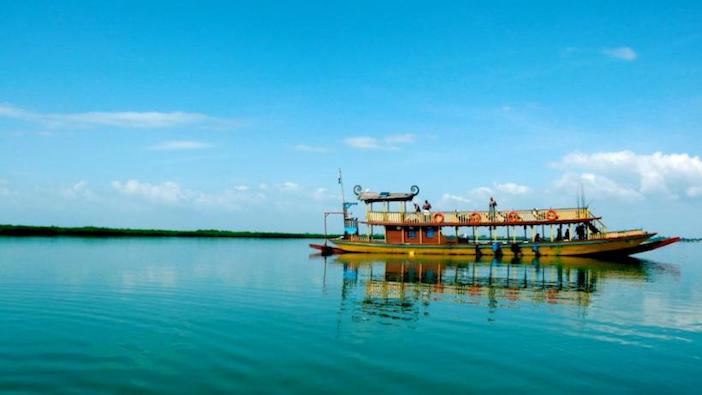 My boat was made of sturdier stuff and I travelled and returned safely, so that I can now sit down and write this reflection. It departed, finally, later than scheduled. Apparently this is common for any departure, meeting or engagement in The Gambia. Time is measured by GMT (Gambia Maybe Time) rather than by any watch or clock.
The captain was British – the boat registered in Ramsgate and displaying the town's name in painted white lettering along the side of the rescue dingy – and had been operating boat tours in Africa for over three-decades. Tea was served and things became quaintly English.
The sun beat heavy and bounced off the water as sightings of dolphins bored the crew but excited me, so that I'd point and nudge the deck cadets next to me. We reached Jufureh in around three-hours.
There's a prodding guilt about knowing the dark history of a place like this; a pain and intensity you cannot rid as you walk around the small town and visit the slavery museum, peek into the classrooms of schools and speak to the locals. It's the inescapable burden of being British; travelling to lands that were once suppressed by your royal realm. And although history is just that, uninfluenced by you, them and now, it nevertheless happened and is remembered and passed-down through the generations by those it afflicted.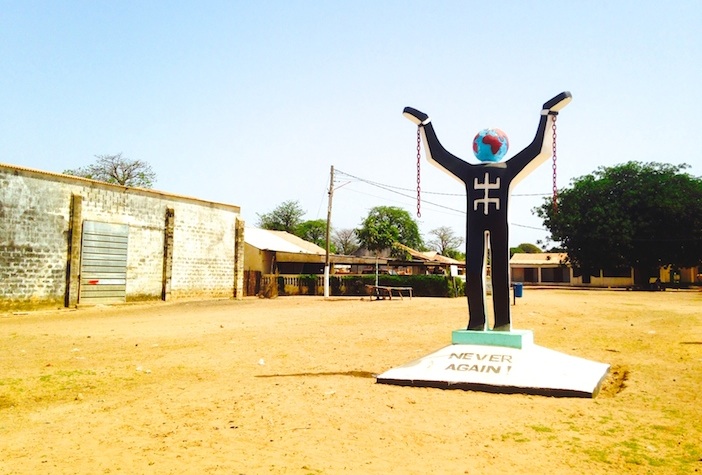 Here the history of slavery is one big crowd puller, thanks to American author Alex Haley, who traced his origins back to Jufureh in his research for the 1976 novel, Roots: The Saga of an American Family.
There's an uncomfortable spectator-like feeling as I walked past the 'welcoming' statue in the small port; the large black figure made from stone stands tall, his arms raised up and the chains that once bound his wrists and tied his hands together are split: "NEVER AGAIN" reads the text underneath. It's as much a celebratory sculpture as it is an aggressive warning to visitors.
Children who should be at school sold strange comic books and packets of sweets to visitors, and those who are in school sit clumped in rows and copy verbatim from dated university text books.
Across from the mainland is James Island. Formerly St. Andrew's Island it was renamed by the British in after King James II. It became an important British colonial trading post and throughout history has been held by the Portuguese, Dutch, French, even by privateers.
Abandoned in 1829, the small island is now only a few metres wide after rising waters have submerged much of the earth and the prison walls of Fort James have long since crumbled away into the sea. Now it's just another floating reminder and something for tourists to photograph.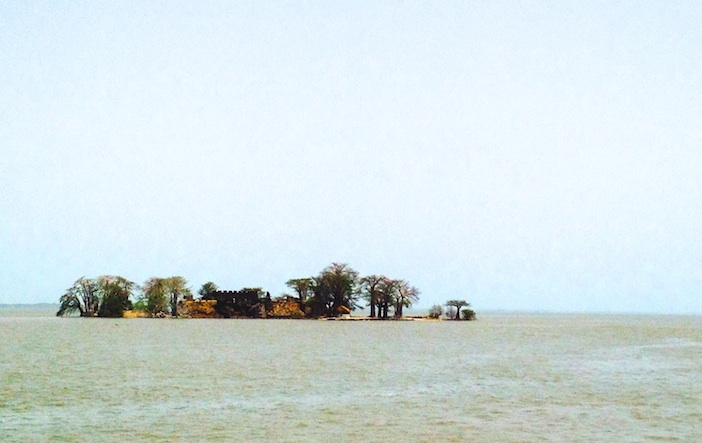 Returning to the shore I can feel the sore, sun-scortched patches on my forehead and shoulders from a full-day on the river. Internally I'm still racked with the embarrassment and guilt of being white.
At Ngala Lodge in Fajara, which neighbours the British High Commission on a long, dusty stretch of road called Atlantic Boulevard, I'm shown around the (child-free) enclosure. It's a forest-like patch of land, secretly guarded and sloping along the coastline. A treacherous wooden staircase leads from the garden down to a wooden deck precariously perched over the ocean, where couples bath in the slippery heat.
The food is exemplary and some of the best in the country. Ingredients are locally sourced by Jonathan Groves and remain rooted in the tradition of the region, pulling in fish, chicken and a multitude of spices and fruits. Homemade caramel and baobab ice-cream is a standout.
I consumed the melting plump balls with gusto before heading to my room, which is Rolling Stones themed. A large picture of Keith Richards in front of the bed, his wrinkly cheeks hanging like a pensioner's scrotum in front of me as I close my eyes. Now I've seen too much.
David travelled from London Gatwick to Banjul International Airport, via Freetown, Sierra Leone. Gambia Bird fly two-flights a day, four-days a week from London (Tue, Wed, Fri, Sat). For more information visit their website.
For more information on Ngala Lodge, including details on suites, facilities and rates, visit the website.
For more information on The Gambia, including when to travel, what to see and where to stay, visit the Gambia Tourism Board website.