How to do the Hamptons on the cheap? Don't go there. The alternative? Shelter Island and the North Fork of Long Island.  Admittedly neither of these areas could hardly be described as bargain destinations – but if that's the only reason you're going to Shelter Island and co, you're really missing the point: quieter beaches, cheaper accommodation and restaurants and bars where the dress code doesn't resemble Elton John's Oscars party.
In the compact 12.5 square miles of Shelter Island, visitors will find wetlands, beaches, golf courses and real estate right out of Jay Gatsby's backyard.  Much of the island's appeal stems from its slow pace of live: it's less about what you will see and more about what you won't see (traffic, crowds of people, Hampton-esque partying excess). There are approximately 2,000 full time residents, based on the last census (admittedly with the number rising to as much as 12,000 over the summer months). The island is only accessible by seaplane and ferry – a five-minute journey from Greenport on the North Fork and eight minutes from South Haven on the South Fork – so even in peak season Shelter island maintains a sense of calm completely alien to the hype and M.O.N.E.Y of the Hamptons.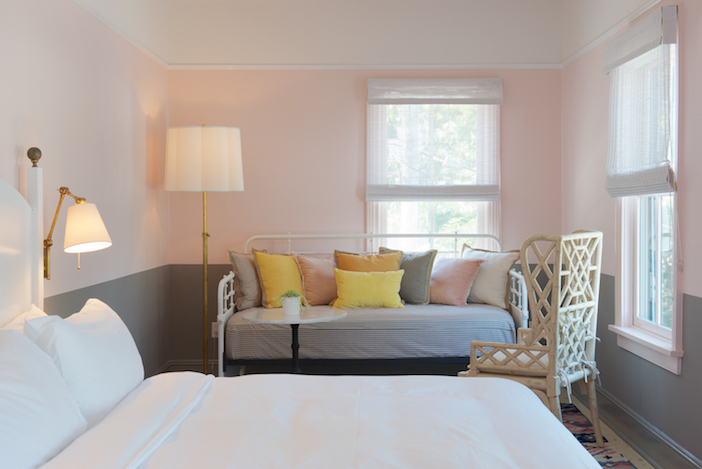 Just five minutes walk from Shelter Island's Dering harbour is the Chequit (pronounced chee-quit) Hotel. The hotel dates back to 1872, when it hosted Methodist retreats, through to its 1940s glitzy heyday when guests rumoured to have stayed including Marilyn Monroe, Arthur Miller and members of the Kennedy family. More recently The Chequit has undergone a pleasing renovation as part of the boutique brand Salt Hotels.
The white and bottle-green 19th century clapboard exterior remains but the interiors have been given a significant spruce up. Pastel pink and grey painted bedrooms contain the most deliciously crisp white bedding, with Turkish towels slung over driftwood ladders, and Native American rugs on the floors. The lobby doubles up as an informal dining area where afternoon gin and tonics, pushed out on a drinks trolley, are served.  A delightful breakfast buffet is also spread out in the lobby each morning. We help ourselves to chia seed pudding, frittata, pastries, yogourt, granola, fruit and fresh juice before heading out to the porch, for a lazy al fresco breakfast.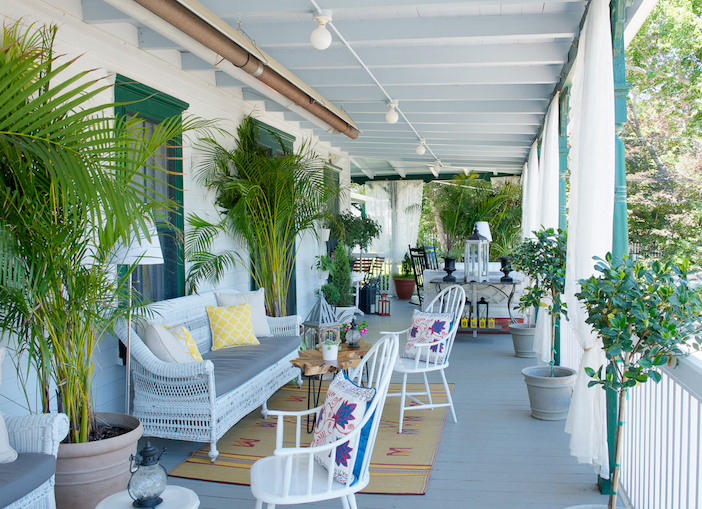 With its collection of Colonial Revival and Queen Anne cottages, Shelter Island Heights, where the Chequit is situated, is as busy as it gets on the island: a pilates studio, the Marie Eiffel food store, (pick up deli snacks for picnics at the beach); Piccozzi bike hire (warning there are a lot of hills), the carefully curated Finley's Fiction Book shop, Shelter Island Heights Pharmacy and Stars cafe are all close by.
Popular with locals and visitors alike for smoothies and brunch, Stars' kitchen bakes fresh muffins each morning. Do try the Orange Blossom and Cornbread muffins; avoid the neon-green 'pistachio' flavour. There's also a cafe in the drugstore serving up Philly steak sandwiches, clubs and similar carb and fat saturated combos. A delicious-smelling batch of onions have just been fried for the following morning's service when we stop by for iced teas. Sat at the counter in a purple tie dye tee, baseball cap and ponytail, Bennie tells us to come back tomorrow for a sandwich then talks 'soccer' with the Brits.
For such a small island, there are plenty of beaches to choose from: Wades beach is the most family-friendly thanks to its easy car parking, toilets, lifeguards and a shaded pavilion right at the edge of the sand. Hay Beach, with a backdrop of trees and bushes, is one of the island's most beautiful and surprisingly least crowded. But it's a beach with not one but three names, Sunset beach (also Crescent or Louis' beach), that pulls in the biggest crowds.  Be sure to finish a day of swimming and sunbathing with sundowners at Sunset Beach Hotel's beach bar. Bringing a touch of Hamptons pzazz to Shelter island, visitors come in on speedboat just to spend an evening at the hotel's bar and restaurant (fire pit included natch).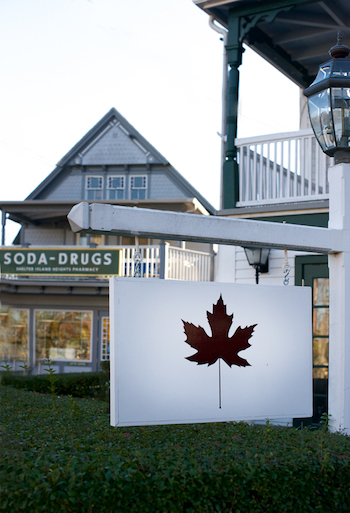 Opting for a more low-key eve, we eat at the Chequit's Red Maple restaurant. Sat out front of the hotel, crickets hum and fireflies glow alternating orange and green-tinged lights. Cigar smoke wafts in the still air and Etta James croons through the hidden speakers. We feast on ceviche and overloaded (in a good way) flatbreads and order a salted caramel brownie dessert that should keep us going for the rest of our trip.
For a cheaper takeout option head to Maria's kitchen a 7/11-cum-Mexican takeout that makes wraps, salads, tacos and quesadillas. The Dory, almost next to the town dock, is a typical american seafood restaurant with red checked tablecloths and a pool table. My friend and I devour lobster, corn on the cob and fries before hopping back on the ferry to Greenport.
Situated along the top half of Long Island, the North Fork has long been the quieter, less fancy prong compared to the platinum-pronged South Fork (aka The Hamptons). We stay in Cutchogue; this Suffolk county hamlet  has approximately 3,300 residents and it's main stretch of road boasts a small museum, diner (definitely order the pancakes and syrup), a couple of farm shops and a fruit farm. We go to the local beach, read and swim all day then order takeaway seafood salad from Brauns, popular with locals.
The real draw of this area though is the wineries. Our airbnb is within walking distance of two but there are 42 in total to explore. The two must-see vineyards are Bedells and Macari. Saturdays and Sundays are when the crowds come and at Bedells cathedral-roofed pavilion, we really don't mind that it's been raining solid all morning. The 4,000 square foot mahogany decked area is full of noise from the chattering drinkers and music from the visiting Brooklyn musicians. At the outside pizza truck, while waiting for a frankfurter wrapped in pesto dough (as perfect drinking food as it sounds) the duo admit they are crashing in a silver campervan with no running water this weekend.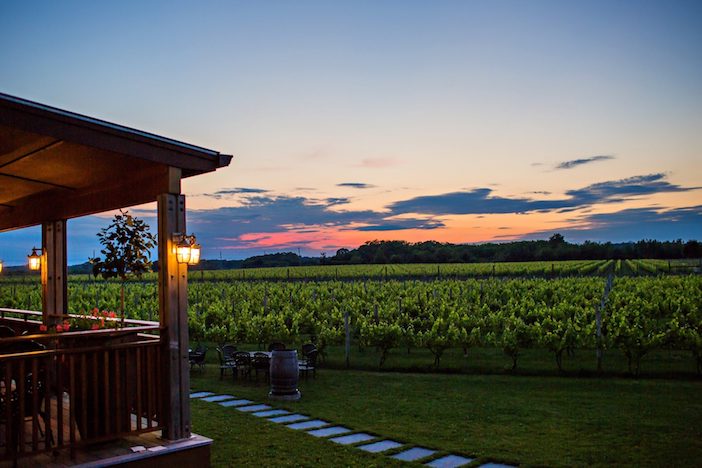 Macari has two vineyards, the busier and bigger Mattituck location and it's smaller offshoot in Cutchogue. After the heavy afternoon rain, the sun breaks out and we sit outside looking out on the Cutchogue vineyards, snacking on a picnic of cheese and crisps alongside our wines: highlights include a sparkling rose, 2016 Horses Sparkling Cabernet Franc and a 2017 Rose petit merlot blend that should be on any self-respecting Hamptonites wine list.
Of course the worry is that any and every self-respecting Hamptonite might catch on to the North Fork, and by extension Shelter Island's more understated charms. Writing a review on the area is hardly going to help limit their appeal either but you can't go to North Fork and Shelter Island and not talk about it.
Rooms at the Chequit start from $195. For more information, visit www.thechequit.com.
Macari wines offer a variety of tasting flights info@macariwines.com or call (631) 298-0100. For more information, visit www.macariwines.com.