When you think of seaside destinations, what's the first thing you think of? The beach, right? But think out of the proverbial box and it's the beachless coastal hotels that are the most desirable…consider Jade Mountain built into the forest hillside in St Lucia, those gleaming white villas perched atop the caldera in Santorini, or the Monastero Santa Rosa overhanging the cobalt Amalfi coast. Yep, when it comes to enviable locations, you can't beat a sea view from a mountain top.
Jumeirah Port Soller (that's Sawyer in Spanish) is just such a property. It sits on top of the hillside of Puerto Soller, a picture postcard cove on the mountainous Serra de Tramuntana on northern coast of Mallorca. It is, quite literally, perched on the clifftop, climbing the escarpment in tiers, "like a skyscraper on its side," the GM tells me as I check in.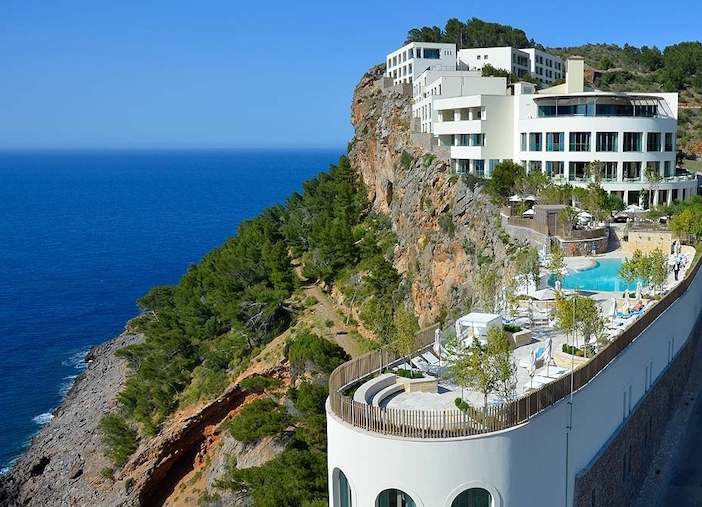 Two things immediately spring to mind as I consult the map to my room. This is no conventional resort, nor even a hotel; it's spread out, more like a little village. Added to that, it creates 'zones' which allows the property to cater for a varied guest range; I can see families near the kids' pool, while couples gravitate towards the top tiers, near the adult-only infinity pool. Guests can, and do, request specific buildings to stay in, I'm told.
Each of these have their own vantage points – countless photo opportunities of the views are a given – and in-room characteristics. I'm halfway up, walking up through a beautiful, stepped walkway of olive and eucalyptus trees, the colonnaded residences rising either side. My particular guest room carries all the hallmarks of the superlative Jumeirah brand; beautifully appointed, generous accommodation and, of course, there are all the touches that set it apart; the curtain controls by the bedside, the Natura Bisse toiletries, the walk-in wardrobe, the luxurious soft furnishings, but – and here's the clincher – have you ever showered with a view of the sunset over the Med? Yep, it's the shower that's the Instagram moment, a waterfall with a floor-to-ceiling window looking right over the ocean. Never mind baths with a view; taking a shower with a window on a lightning storm out to sea is a sight to behold.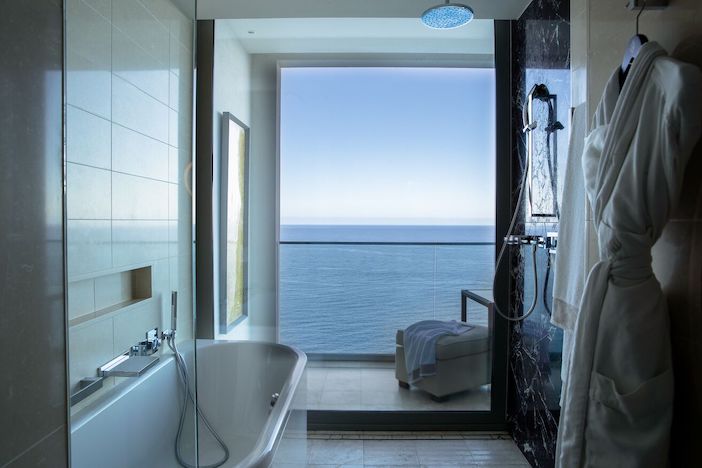 Of course, one shortcoming of a (relatively) complex set-up is that it does take a moment to get your bearings. There are 26 lifts between the buildings (a record in Europe) making for a few wrong turns on the way to dinner, but exploring anywhere new is all part of the thrill of discovery, particularly when the destination is Es Fanals, Jumeirah's fine dining restaurant.
Known for beautifully executed Spanish classics, often given a playful twist, the tasting menu reads like a cryptic shopping list, all ingredients and no prepositions; free range egg, low temperature, potato from Sa Pobla, smoke, but it all adds to the theatre, and the pleasure of dinner.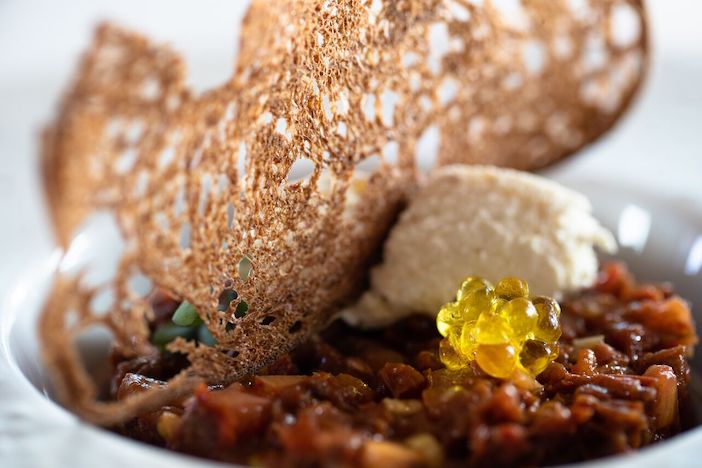 A lovely thick vinegary gazpacho is topped with an extraordinary addition of a lemon mist captured in a bubble machine. It pops, the sharp citrus wafting to my nose as I take the first spoonful. Similarly, a cut of Iberico pork is presented on individual grills, which you turn to cook to taste, served with an apricot sauce and a foam of Minorcan cheese. Little surprise guests make distant journeys to come here and savour the occasion.
For more relaxed, rustic fare, you can't beat the sea view (again) on the terrace at Cap Roig, that first mouthful of paella, delivered with ceremony, ringing memories of my last trip to Spain; but the highlight is the 'fish market', the daily catch is out on display to select, and then with the choice of how it's cooked; on the josper, salted crust or charcoal grilled.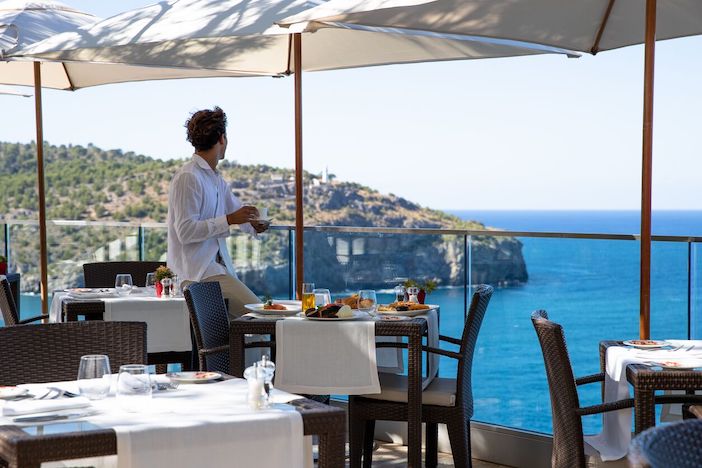 I've always poo-poo'd Mallorca, the horrors of 'Shagaluf' casting a long shadow over the whole island in my mind but, as with many Mediterranean resort spots, they tend to ring-fence the party to a small, sordid enclave, fortunately. Escape the bacchanalian excesses, particularly out to the mountains where Port Soller is located, and you're into a vista of watercolours of hillside stone and terracotta villages, such as Deia, popping into view along winding mountainside roads, through charming, unspoilt countryside.
Getting out and about is something the hotel encourages, too, because they know what it offers, and several excursions feature in their Signature experiences, adding colour to your visit. The food market tour is a worthy contender, but perhaps the real highlight is the Finca son Moragues. A UNESCO site, it's a restored ancient olive grove. Though to call it a 'grove' is an understatement; it's a 180 hectare site, set against a pine-covered mountain topped by a 12th century hill fort.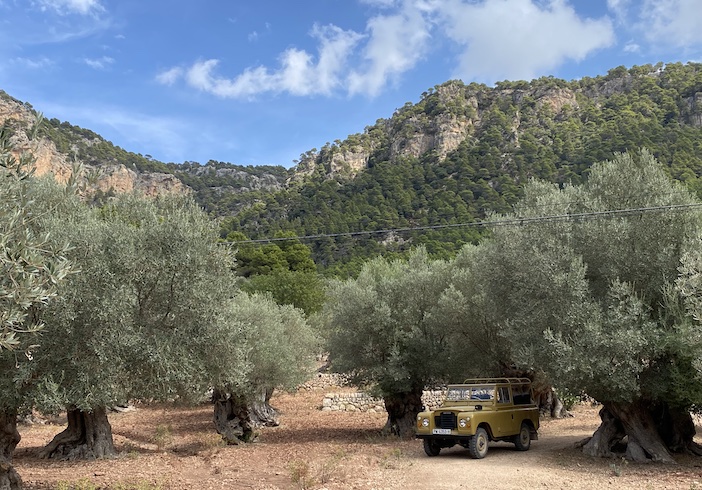 The brainchild of a philanthropic Madrid businessman, it brings to life Mallorca's rich history as the kernel of the world's original light source – not to mention culinary essential. And the way to visit is by tour in a 1960s open-top Land Rover, through the restored ancient terraces and farm buildings. It's an eye-opener, courtesy of our enthusiastic guide, Barbara, and concludes with a throat-catching tasting – to call unfiltered virgin oil 'peppery' is an understatement – and a 'merienda' of coccarois pasties, Mallorcan panadas, sobrasada sausage and cheeses, all locally made.
The views, too, while offering myriad opportunities to use up your smartphone's memory, can be captured in an alternative way, and one as much for the mind as a spa treatment might be for the body; a painting class. Curiosity overcame my restraint at the prospect of missing another moment in the spa's outdoor, jaw-dropping jacuzzi, but it proved a thoroughly rewarding, device-free couple of hours of catharsis.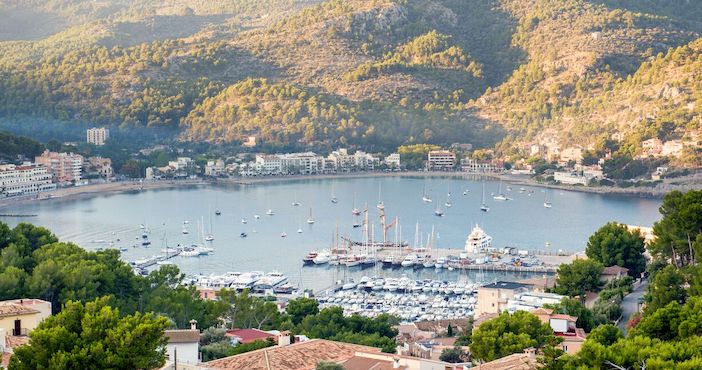 The time slipped away in a heartbeat from the terrace of the sunset lounge as I fought to capture the bay below and the mountains beyond, my instructor knocking out a Cezanne next to me as she offered guidance over what to focus on and how to get the best out of the acrylic.
Sat on the balcony on my final evening, sipping tea and watching the sun slip slowly towards the horizon, I recalled the two petit fours cookies I had purloined from lunch earlier. Opening the napkin I'd wrapped them in, I spotted some short text on the underside; a little epithet from American Football coach, Jimmy Johnson. A bit random, admittedly, but as odd an association it might be, the words rang true; "The difference between ordinary and extraordinary is that little bit extra."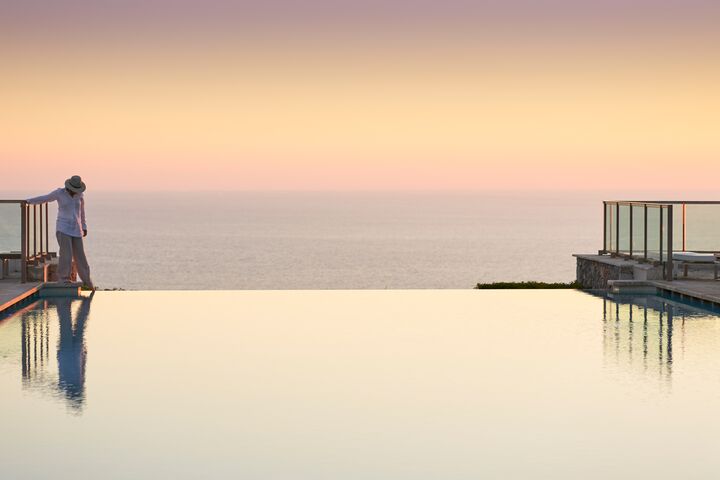 Clutching my canvas beach bag and sugar-dusted ensaimada purchases from the airport as I waited in line at security, something occurred to me only at this point on the way home; this was a seaside holiday – but I didn't once go in the sea. And I didn't even notice. Jumeirah evidently has that 'little bit extra' in spades.
Jumeirah Port Soller opens for the 2023 season on 28th March. Prices start from €450 per night for a Superior room during low season and €940 in peak season, with suite guests receiving tailored transfers, check-in /check-out and in-room breakfast. Jumeriah Port Soller will be open until 31 October 2023.  For more information, including details of spa treatments, signature experiences and dining options, please visit www.jumeirah.com.