Everyone knows just how achingly chichi is it to winter in St Moritz. The Swiss town has long been one of the most fashionable destinations for skiers and general snow-lovers, but there is more to the Brits' relationship with it than mere fad; so legend tells, it is where our very passion for winter pursuits, and holidays, was born. And now, 150 years after the first British travellers discovered the thrill of this snowy wonderland, the town is celebrating the uproarious success of a bet made by one implacable hotel owner.
Back in 1864, venturing into colder climes during wintertime seemed utterly ludicrous to British tourists (bar any intrepid adventurers, of course). With their experience of grey and miserable winters at home, there seemed little point in spending precious time and money on a holiday doomed to be cold, soggy and agonizingly dismal; better to stay at home, in the warm. Though they made the utmost of the sweeping mountain scenery that billows over the great lake in St Moritz during the summer, they were yet to experience it once the temperature had dropped, and that seemed out of the question – perilous, even. But winter in St Moritz is just not the same as winter in London – not by any stretch of the imagination – and that is what the owner of the famous Kulm Hotel wanted to impart. So Johannes Badrutt made a wager with a group of his British guests that they would delight in what St Moritz had to offer come wintertime if they would but give it a go. If they hated every minute of it, he would pay all of their travel costs to make up for the ordeal; if they enjoyed themselves, they could stay as long as they liked at his fine establishment.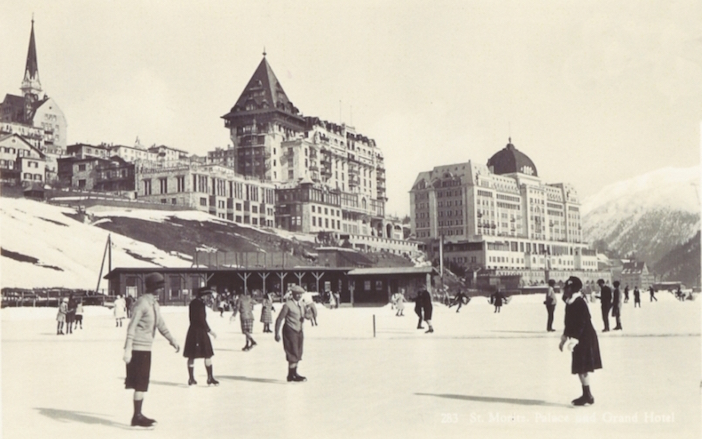 And what do you think happened? They stayed the whole bloody season, of course. Because, aside from the now rather obvious skiing, there is a plethora of wintery activities to entertain in St. Moritz. And, to this day, if you don't happen to be the active sort, it remains quite simply the place to be seen. That means that you can bask in the food, the drink and the fancy shops on show until your chums have worn themselves out, if you like. Alas, if you're on a budget, then the latter won't be for you – there is every designer label you can name (bar Chanel, for some reason) crammed into this tiny town, and exclusively so, with jewels beaming out of the windows at each step. Indeed, the Louis Vuitton store is conveniently placed at the bottom of the hill on the way to the station, just in case you need to pick up a trunk or two for your new acquisitions as you leave. This is most definitely a #firstworldproblems kind of place, but an extremely affable one at that. Luxurious, yes, but with quite the sense of humour (and, anyway, once you're up a mountain, ski gear is just ski gear – you all look a bit ridiculous when it comes to it, regardless of the make).
If skiing does take your fancy, the pistes reach a lofty 3,300 metres and stretch out over a total of 350km in three distinct zones over the Engadin area. They are brilliant for both skiing and snowboarding, particularly at intermediate level since there is nothing too mind-blowingly challenging. Apart from the Free Fall, that is, which is reserved for the big wigs that take part in the men's Alpine World Ski Championships, which have occasionally graced these slopes; the starting platform is the steepest in the world at a vertiginous 45 degrees, which amounts to a 100% gradient. You might want to sneak a look, but that will probably be it. Further down nearer the lake, there is a good dose of cross-country to be attempted as well.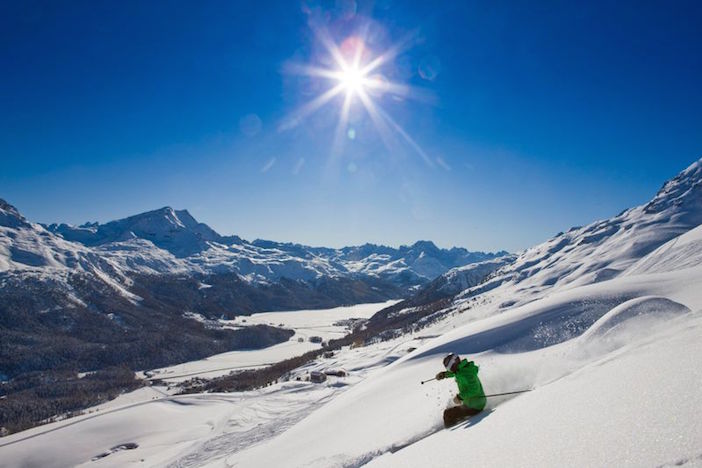 Now, all this exercise requires some sustenance mid-way. And you will find it – and then some – at St Moritz's star in the crown, La Marmite at Mathis Food Affairs. Local man Reto Mathis is a Swiss celebrity chef, but it was his father who first owned this eatery, which is located at the top of the gondola and the base of the cable car at Piz Nair (where the beginners trundle about). You won't find the usual clear soup and bread you usually do up mountains so I really can't guarantee that you'll be able to ski after a lunch here; food coma is a genuine possibility and you may just have to roll yourself onto the gondola and waddle back down to dry land afterwards, but it's worth it. The show dish is the truffle pizza. Served atop stein glasses on large wooden boards, shavings of truffle are liberally doused over a Bianca pizza base. It is extravagance on a plate – nothing else for it – but devilishly tasty. You will even see Mr Mathis himself, skinny-jeans beneath his chef whites and the electrified locks of a nutty professor, bustling about to ensure the truffles are properly taken care of. Another in-house speciality is the Carousel, which is a pick'n'mix platter of foie gras, lobster, gravlax and lord knows what, served with toasted brioche.
Again, this is not for those with austerity in mind (in either calories or price), but will practically make you giggle with glee. And that is rather a theme of this restaurant, which also has its own oyster bar, mounds of caviar and an encyclopedic wine list. Once upon a time, Reto's father was known for his grand desert buffets, lavishly laid out to pick from, but that part has been reigned in a fraction, and the signature sweet is now the Chocolate Trio (if you can manage it) that exhibits dark, milk and white chocolate of bona fide Swiss excellence. The entrance to the restaurant is markedly unassuming, lurking down a flight of stairs from what appears to be a Whimpy's, but this is the best St Moritz tip that I can offer. Pricey it may be, but enjoying such fine food whilst staring out over the mountains, the clouds gathering up around your feet, amounts to a sort of out-of-body experience.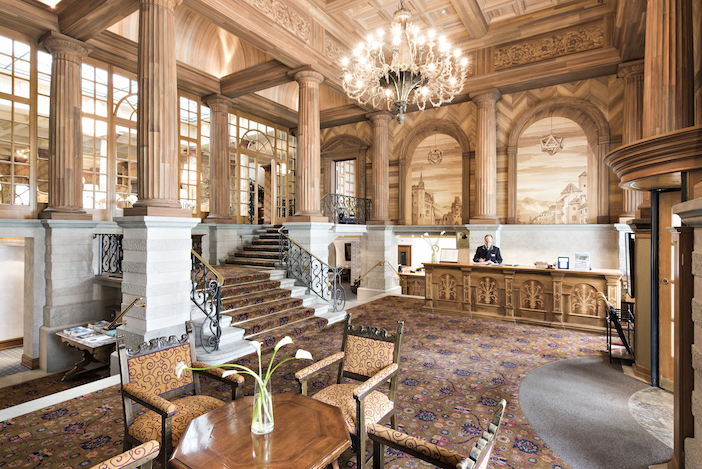 Back in the warmth of the Kulm – the oldest hotel in St Moritz, site of the celebrated bet and a cultural core of the town – your sore muscles will be engulfed in grandeur and the very finest service. Despite its history, the hotel is always keen to keep up with modern advancements, from switching on the first electric light bulb in Switzerland back in 1878 to, these days, offering a state-the-art spa. I would recommend a lengthy spell in the sauna and steam rooms, which comprise a gaggle of grottos that will give your body some incredibly scientific TLC. A real treat is the open-air infinity pool that looks out over the lake. Splashing around in that whilst snowflakes fall on your head takes you one sizeable step closer to heaven (goodness knows you're high enough up for it). The rooms themselves contain pillow menus to aid your sleep, and all bear the soft sent of pine to relax you further, without you even realizing it – nigh on everything has been thought of here but, endearingly, the hotel still looks homely and warm, and not in the least bit minimalist or, god forbid, 'edgy.' The Kulm offers opulence without a hint of tackiness.
For that something flashier, you would head to Badrutt's Palace, whose Christmas tree's lights are annually the talk of the town and where guests are transferred in the hotel's very own Roll's Royce. As the name suggests, it was originally set up by that same owner as the Kulm, and it has prime position overlooking the lake. This view of the lake is especially important for both ice-skating and the spectacle that is Snow Polo. Yes, I do mean horses on ice. The World Cup tournament happens from the end of January each year, once the water has frozen over, not to mention horse races and all that sort of thing.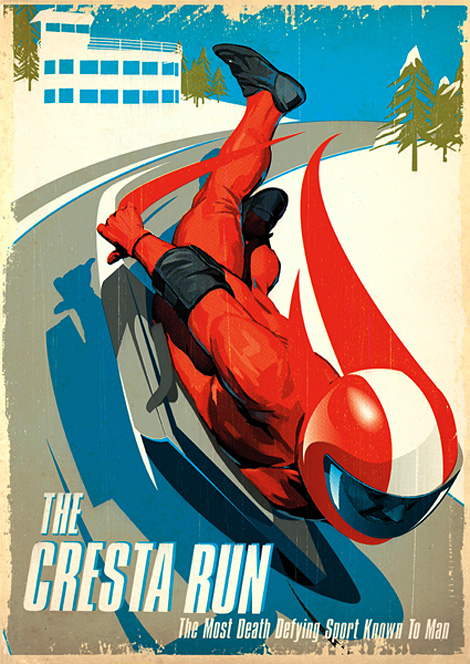 As if that wasn't enough, also world-famous is the Cresta Run, a natural Skeleton track that has been enticing the brave (and perhaps foolhardy) since the 1870s. It has caused four deaths and countless injuries over the years, including taking the foot of one British Army captain, who did not realise his loss until he had reached the end of the run. That's adrenalin for you. Sadly, women have not been allowed to partake since 1929 (rumour has it, they were showing the men up) except on one special day a year. The club is, however, a huge part of the town and has its boozy haunt at, you've guessed it, the Kulm Hotel. Known as the Sunny Bar, photos adorn the walls of members' wild exploits both on and off the ice, and they look like a right old laugh.
A little more sedate is the horse-drawn omnibus that takes you deep into the valleys whilst you curl up on fur-lined seats under blankets. One for your day off, perhaps. Leading your troupe is the Engadin district's very own horse whisperer, Werner Wohlwend. As he talks carefully to his horses, they seamlessly whisk you through the most spectacular scenery. I've no doubt of the beauty of this part of the world all year round, but it is particularly magical to drive through during winter, when you're privy to the dazzling sight of the snow. And more so than anywhere else, since the lack of direct sunlight to the Val Roseg creates particularly large snow crystals, and this gives the appearance of scattered diamonds over the snow's surface. You will need to look twice to realise otherwise. Your journey can be punctured with lunch at a cosy hunting lodge-style hotel, if you so wish, nestled in the great swathes of whiteness that engulf you from every angle. Desert at the Hotel Roseg Gletscher takes its inspiration from Reto Mathis' father and the selection spans nearly the length of the dining room. To recover, I would recommend some of their homemade Grappa (if you dare).
St. Moritz also boasts the oldest golf course in the Alps, and a bar with the largest selection of whiskies in the entire world (2,500 of them, to be precise); I defy you to get bored, whatever your tastes. Though it may take a fair trek via train to get to (even in this day and age), it is certainly worth the hike, and if ever there was a real winter wonderland, then St. Moritz should have the trademark.
For more information about the Kulm, including rates, availability and events and activities, visit the website.
For more information about the 150th anniversary of winter tourism in Switzerland, including details of winter offers and nostalgic events visit www.myswitzerland.com.