It began as a surprise to Mrs L, though I forget the occasion. Valentine's, I think. Or possibly our anniversary. But that morning as I carried mugs of tea through to the bedroom, I popped a card onto the pillow next to her.
"Ooh, what's this? Don't tell me you've remembered." I wasn't sure whether to be dismayed or delighted at her tone of surprise. As if I'd forget. She opened it.
Pack an overnight bag and meet me at Marylebone station at 7pm.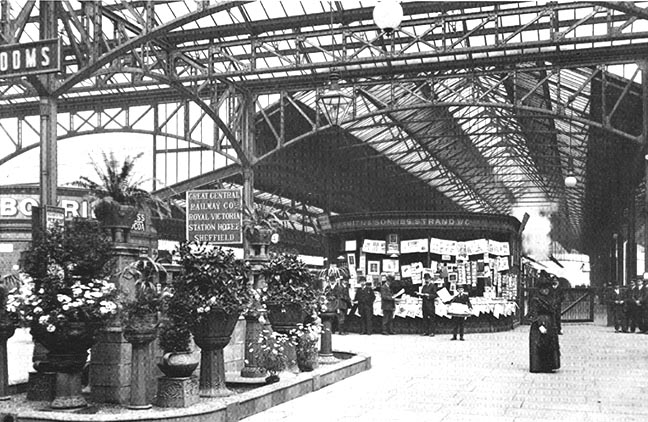 "Intriguing…" she said, "Why Marylebone? Are we going somewhere? To the country? Where? Ooh, is it Yorkshire for the weekend? No, the Lake District! Fantastic, we're going to the Lake District! I've never been to the Lake District."
"We're not going to the Lake District," I replied, tempering the fire.
"It is exciting though," she said, and sprang out of bed, "I wonder what to pack…" and she darted into the bathroom.
That evening, at ten to the hour, the usually incontrovertibly late Mrs L was already at Marylebone, ahead even of my attempt to be there early to greet her.
"I was looking at the train destinations to see where we're going…" she said as she met me, the grin from this morning still evident, "one of the girls at work thought it might be Edinburgh."
"I hate to disappoint you," I replied, "but we're not going far…" I grabbed her bag and began walking away from the train platforms and out of the station concourse. Thirty seconds and as many yards later, I laid her bag down. "We're here!" I announced and held my arms aloft. "Oh," she said, "this really is intriguing." We were looking up at the Landmark London.
And Landmark by name, landmark by nature, it is. Originally conceived as a hotel to serve the railway network during the golden age of steam, it was erected as one of the last of the great Gothic revival railway hotels in 1899. While its decline as such was inevitable it has been experiencing something of a resurgence of its original form of late and its location, where once its bete noire, is once again its asset. Railway hotels, especially those so architecturally magnificent as The Landmark, carry with them a degree of romanticism and with its restoration in the early 1990s – from its homogenised pasting as offices of the British Railways Board during the bulk of the 20th century, earning it the nickname 'The Kremlin' – it's no wonder that all it required was a dash of opulence to bring it into the elysium of being classified as one of London's top luxury hotels. As we crossed the threshold Mrs L was certainly not disappointed.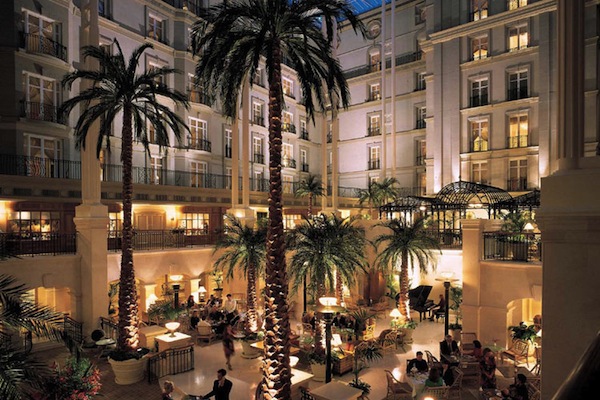 The grandeur of the lobby aside, the hotel's signature distinction is, without doubt, the Winter Garden. As we walked through towards the concierge we elicited a collective 'Wow' as the atrium opened up before us. Eight stories of double-height windows and juliet balconies rose beyond towering palm trees framing the terraced dining area to the soaring glass ceiling;  to the rear an iron-framed gazebo offered a lounge area and a pianist was already at work on a raised dais. With diners in evidence it prompted us to accelerate to get to the room and get back down there as soon as we could.
A huge room, classically and tastefully appointed in a Victorian tradition, was admired at a glance and saved for later but not before I made a note of the White Company toiletries in the bathroom. "This is going to be good," I commented to Mrs L as we closed the door behind us again and went back downstairs.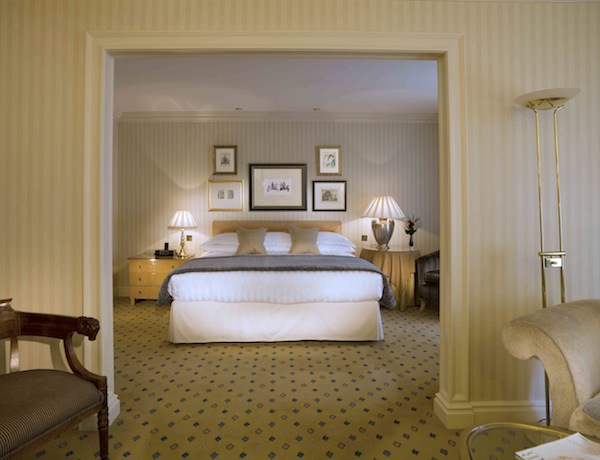 We chanced upon an aperitif in the Mirror Bar, but didn't stay long, put off by a business foursome featuring an orange woman with a frock two sizes too tight and an odious and penetrating cackle. By contrast, dinner seemed a rather sombre affair, particularly for the occasion. Not by us, I might add – we were still riding high on the joys of being in a hotel in central London on a school night – but from our dinner compatriots. It was Valentine's, now I remember, and the other couples spread throughout the restaurant clearly weren't as enamoured by the sense of occasion as we were. Everybody seemed so subdued. It must have been more about wistful gazes into each others' eyes since any buzz of conversation was simply drifting into the ether. Still, it didn't stop us enjoying the meal and we accepted a glass of champagne with glee.
An amuse bouche of foie gras didn't seem particularly inventive, as if by its very presence it would elevate the status of the meal. It made me question why it appeared as a starter, too, as if a double reminder of the fine dining on offer.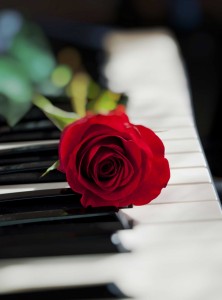 As we progressed, however, we sought comfort in the simpler pleasures. For our next course, it was steak and chips, and a delicious Malbec. Romance, in many ways, doesn't require a sense of occasion, more that it should be stripped down to its simplicity; two people, a bottle of wine, a bite to eat…and a massive and grandiose room in which to enjoy them. As we gazed up in wonderment I suggested that it was a shame we didn't have one of those rooms with a balcony to the atrium. "As nice as that sounds," a waiter overheard me, "you can't open those windows – health and safety."
That seemed to sum up our experience somewhat. Everything the Landmark seemed to offer appeared somehow to be ever so slightly untenable, constrained by order and process.  Never more so than over breakfast where we encountered possibly the most efficient service staff I've ever experienced. Scrambled eggs on toast came quickly, without the need for toast, evidently, and the buffet selection looked like they were rationing the guests. Such was their attentiveness, in fact, that at one point Mrs L took a sip of her coffee and replaced the cup only to find her saucer had been cleared. There seemed a reason for this stream-lined operation, however. The gentle guests the evening before appeared to have been replaced by businessmen bent on bullet-point meetings. It was as if there was a shift in emphasis to how the hotel appeared to conduct itself which, I suppose, suggests its revival as a gateway where transport and tourism converge seems complete. I'm sure when it was originally conceived, it was designed as a stopping point for visitors to London for both business and pleasure alike.
It had impacted us, too, reminding us that we may have retired the evening before in a state of romantic nonchalance but it had given way to what was, after all, a mid-week morning. Mrs L and I checked out and stepped outside. "That was fun," she said, and pecked me on the cheek, "right, off to work. See you tonight." And with that we parted company. The office beckoned.