"If you look the right way," wrote Francis Hodgson Burnett in The Secret Garden, "you can see that the whole world is a garden."
As headlines continue to stagger the re-opening of society, there are still other ways you can get out and about this summer. From June, The Newt in Somerset begins its Great Garden Escape – a one-day passport to experiences both the well-curated and 'holistically' wild, for a day out of the city that will transport you to the very best of the West Country, and beyond.
One Sunday a few weekends ago, a group of London-dwellers boarded a first-class train from Paddington. The day began in the svelte company of croissants baked at 2am that morning on site at The Newt by resident baker Kim Schmassmann, sped up to London to greet us in their pretty breakfast boxes, assembled by Estate Head Chef Alan Stewart. A swift hour and a half later, under skies pregnant with dark rainclouds, and a landscape washed with an early morning mist, we arrive at Castle Cary. And within minutes, our private transfer spits us out into the lush green countryside. For it's sizeable footprint, The Newt's estate is brilliantly hidden away – including the entrance to the grounds, reached by newly laid boardwalks that already leave you wondering where exactly you have arrived, and why you never knew about the elegant largesse of this place until now.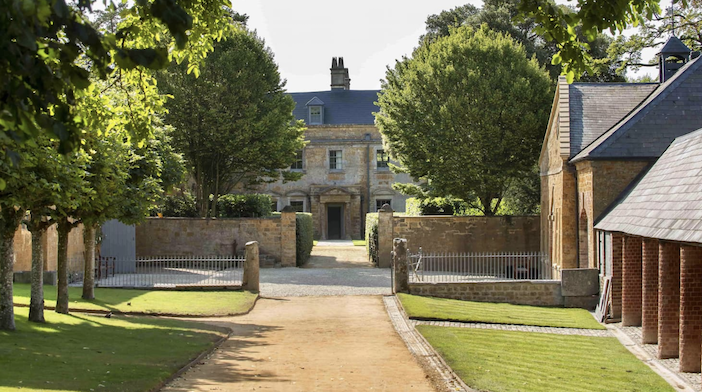 We trundle up to the Threshing Barn, where wooden beams bow with hand-crafted, apple garden art, and two tractors flank the entrance, serving as reminders of Somerset's Agricultural heritage as cider producers, as well as the still much-lived industry that sits behind the county lines today.
We are treated to a surprise 'extra' upon arrival – a celebration and launch of The Winston – The Newt's quality dry cyder, made using the 'traditional method' in the way Champagne also enjoys its production. The launch coincides with D-day, and so with quite the 1940s cocktail party in full swing, a duo of suitably dressed singers provide sweet melodies as a backdrop to fine flutes of The Winston being poured to celebrate its official release. Oysters accompany this fine cyder – indicative of its aspirations to be paired alongside dishes being offered on the hotel's Botanical Rooms' tasting menu. This new cyder is made only in very small volumes (2,000 bottles), grown, fermented and bottled, right here on the Estate. Cellarmaster Greg Carnell introduces us to the concept by discussing Winston Churchill's penchant for Champagne and love of this particular bottle size – referencing the imperial pint, one that Churchill described as 'enough for two at lunch, and one at dinner'.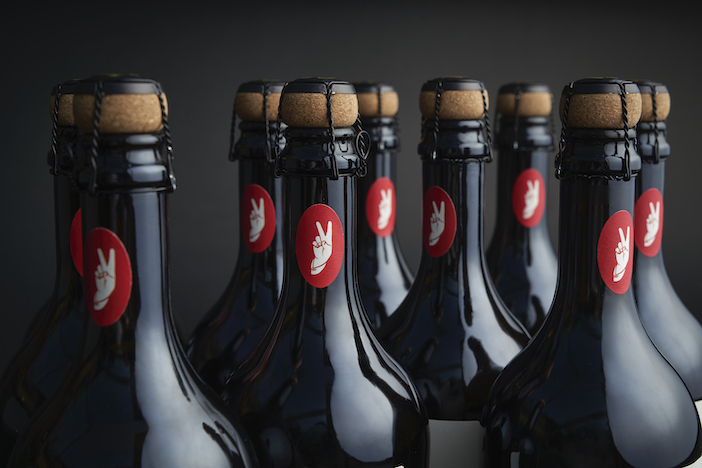 Cyder, spelt with a 'y' denotes this drink's more serious credentials, once popular amongst gentlemen of the 1700s. In the golden age of cyder, something of this style would cost you a shilling to purchase (one whole day's wage), so Greg tells us later on, as we tour the orchards on the back of a tractor. This is a dry, sparkling cyder, rather than its juicer stable mate 'cider' – billed perhaps as more of a long refresher. The Winston is made from Katie and Kingston Black apples, with a resulting flavour 'like tarte tatin'.
Continuing our morning after this brief interlude, we begin to tour the Estate's grounds and gardens with Head Gardener, Stephen Herrington, whose career prior to The Newt has seen him working for the National Trust and Glasgow National Gardens. Here, he looks after a team of 42 people who make these brilliant beds come to colourful life, year-round. He tells us that the original house on the estate is recorded as having been built in 1690. This was then rebuilt by the Hobhouse family from whom The Newt was purchased in 2013. The land was originally used as allotments, and has since been replanted (today) with the original plants that would have been here on the very same soil.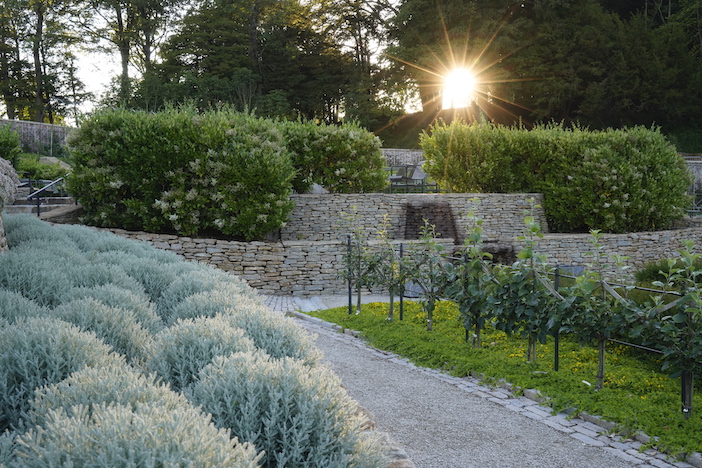 The impressive array of gardens here have been shaped by the famous garden designer Penelope Hobhouse, and Nori and Sandra Pope, who wrote the Colour Wheel for Gardens book, upon which so many modern gardens have been sewn, and grown. The latest incarnations of The Newt's gardens have been imagined by Patrice Taravella, whose mixing of ornamental and productive elements ensure the gardens here area a feast for the stomach as much as the eyes.
We wind our way through the egg-shaped Parabola and down to the Caterpillar – a construction not dissimilar in style or structure to one that inhabits the grounds at sister property Babylonstoren in South Africa – a magnificent wine estate and succession of magnificent, interlinking, gardens. In Somerset, gourds have just been planted either side of the Caterpillar, meaning that when we next (longingly agree to) return, colourful tromboncino marrows will hang down on our shoulders as we walk beneath their leaves.
Here in the Kitchen Garden, we are introduced to one of the newt ponds – an important marker of the eponymously named estate, where three types of newt now live, the Great Crested being the hotels 'face' – notable and protected, behind the Smooth and Palmate varieties. Beyond the 'Old Bobbly' cloud hedge from Belgium, and the original 19th Century Gardener's Cottage (who, we are told, lived there with his nine children – meaning 11 in one bed!), we reach the Mushroom House – a sleekly designed room where mushrooms grow for estate kitchen consumption, etched into hay bales and kept under specific temperate conditions. The pink oysters that we can see growing creep confidently from out of their black plastic, bringing more colour and natural design to each Estate scene.
We continue out on the marked paths, over more ponds, and areas sewn with British native, naturalized wild flowers in an area named Avalon. Meaning Island of apples, so coined by King Arthur, who is buried nearby in Glastonbury Abbey. Red and fallow deer spring out from the horizon that carries bucolic vistas further into the West Country. From our viewpoint we can also see Alfred's Tower just visible on the hill in front of us.
Beyond the treetop walk, we reach 'The Story of Gardening,' a fantastic museum and exhibition, engineered by Kossmanndejong from the Netherlands. A full sensory experience prevails, with such attention to detail that means, as you are walking and reading or listening to the audio guide that takes you through over a thousand years of gardening, from all over the world, the floor has been sensory treated so it feels like you are walking on grass, stones and even traditional Japanese tatami mats beneath your shoeless feet. It is an absolutely, world-class show.
Time is tight to visit this exhibition, and so I am dragged away unwillingly from navigating my way virtually through Rome's Tivoli gardens (you can also visit Babylonstoren and Monet's gardens in Giverny in similar fashion), and out towards The Garden Café – which rather better deserves the moniker of restaurant. Here we enjoy a feast of Pablo red beetroot, roasted spiced cauliflower, chargrilled spring lamb, and black pearl plum with buffalo cream. Lunch is paired with wines served from the Babylonstoen Estate in South Africa – bringing an altogether complementary feeling of 'sense of place'.
The grand finale of the day is visiting the cider cellar – a brand spanking new, super shiny room where the magic of fermentation under the watchful eye of the cyder and cider makers are realised using the very best kit that money can buy. Greg describes it as 'a winery making cider' – and tells us about their unique approach that uses cold fermentation, as well as the use of French oak, and old Bordeaux barrels of different toasts to round off tannins. The bottles are then laid down for a year. "We control our sweetness with time and temperature," says Greg, adding further context to the cider-making style – one that is overseen by Paul Ross, who is also is assisted by Dominic Gover – winemaker by trade, trained at Sussex oenology institution – Plumpton, and Cristian Lowe, in the cellar.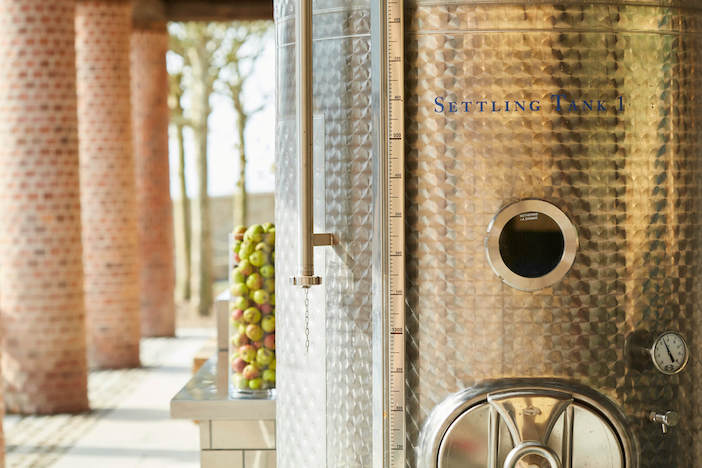 This part of the day is very much a theatre of experience for cider and apple lovers. Heightened when we watch the still youthful trees that are beginning to spring up further alongside the Farmyard – a collection of luxury barns – and the Newt's newest additional offering in accommodation (golf buggys included). The Estate counts 269 varieties of apple trees planted – with two trees per variety, representing 35 countries, and the legacy orchard is planted with trees that are no longer available to buy.
Fortunately for us, money can now buy us this whole experience. A highly recommended day out – replete with lots to ponder over on our return carriage back to London, over a high tea – consistently luxurious in its delivery. I already can't wait to return.
The Great Garden Escape runs from 12 June – 26 September 2021, running Saturday, Sunday and Bank Holiday Mondays. Prices from £295pp. For more information, please visit www.thenewtinsomerset.com. The Winston Cyder is priced at RRP £35 / 568ml. In limited supply with only 9,000 bottles of 2018 Vintage, the 2020 vintage will not be out for release until 2023.