The far north has always been a place of myth and legend: distant, wintry and silent. It's a land that captures the imagination – think of the long winters of Game of Thrones' Westeros, the snowy sinister forests of fairy tales, Philip Pullman's His Dark Materials, or, for a touch of bathos, Disney's Frozen. To sail north is, by definition, to head for adventure.
Magical and mysterious then, but not exactly the first place most people think of when it comes to a winter break. That, though, might be changing. Maybe it's because so many people have included the Northern Lights high on their bucket list. And if you want to see the aurora borealis you have to head north, far north. In fact, the further north you go, the better your chances though there is a curious halo effect around the north pole itself, meaning that this is one place you won't see them.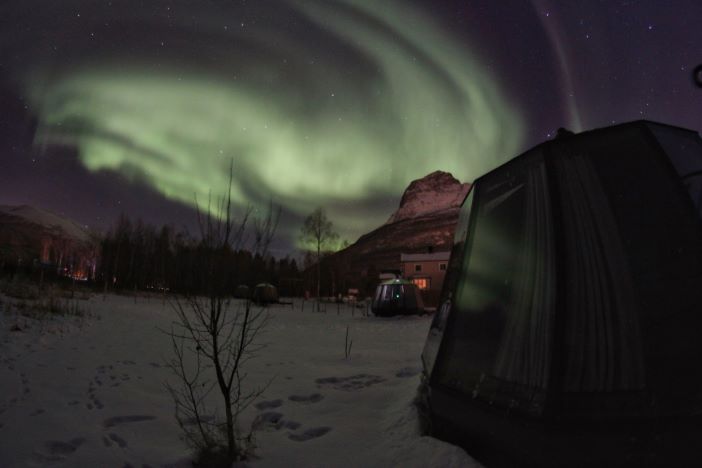 It's not only geography you have to consider if you're on the trail of those elusive heavenly lights. Principally, you need dark, clear skies. This means summer is out of the question – you're in the land of the midnight sun and it never gets dark enough. But in winter, you can, hardly surprisingly, get quite a lot of heavy weather in the Arctic Circle and cloud cover means no sightings. So what you need is patience and quite a bit of luck.
I had been on board Fred Olsen's new ship Bolette on a cruise entitled "In Search of the Northern Lights" and, except for one brief early sighting, there hadn't been much luck at all in the first few days. Tonight, though, I was hoping for better. After a couple of days in Alta at the very top of Norway with blizzards and temperatures (if you factor in the wind chill) of -22C, we had arrived a short way down the coast in Tromso and the skies were blue.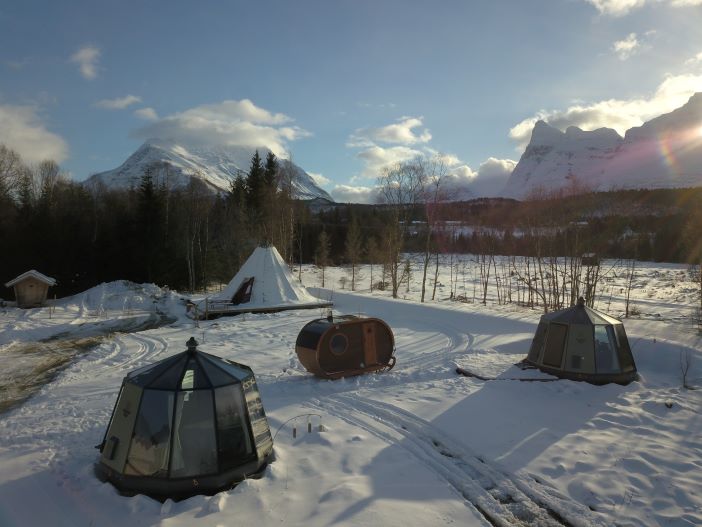 I was going to be spending a night off the ship in one of just four "aurora huts". And so a handful of us set off through a silent landscape of frozen lakes, fjords and mountains, frostbitten rocks trailing icicles a couple of metres long, and everywhere deep untrodden snow. The few houses were wooden, isolated and all with a lamp in the centre of every window to welcome home the weary traveller. There would not be many of those in these parts, though – reindeer here outnumber people 10:1.
The Aurora Huts turned out to be not quite as I'd expected. They are part of a brand new concept – North Experience ("we know wilderness") – created by Thomas Seppola out in the furthest wilds of north Norway. Thomas's own traditional wooden house is here and nearby is his "Base Camp". From here, he'll take you on a range of snowy adventures: snowmobiling, husky mushing, ice fishing, snowshoeing or, for the less energetic, meeting up with the reindeer on a neighbour's farm.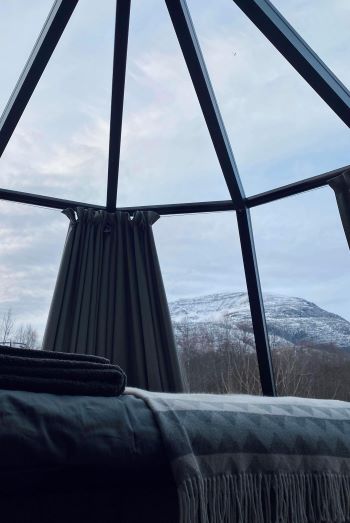 His USP, though, is a set of four unique little houses that most closely resemble a cross between an igloo and an oversized Dalek. Thomas lives in an ideal spot (no light pollution and way, way north) for the Northern Lights. And while you might see them even in the early evening, he's come up with a way of watching them all night long. His brand new "aurora huts" (they opened just two months ago) are mostly glass with a domed roof and floor to ceiling windows. They aren't exactly spacious but that didn't put off their most recent visitor before me. F1 racing driver Valtteri Bottas stayed for a week, no doubt finding the peace, quiet and natural beauty of the place solace for the soul.
We, sadly, only had one night and our small group split up to explore. A couple tried snow-shoeing in the forest, someone got on the "fat bike" (I think this referred to its wheels being good on snow) and there was a big hot tub and a barrel sauna to use though you did have to come out into the snow and sub-zero temperatures afterwards. Norwegians can't spot any problem with this and their children spend their kindergarten years outside in the snow all winter. There's no bad weather, as they say, only the wrong clothing. There was also a rather magnificent lavvu (traditional Sami tepee) with a blazing fire in the centre and a perfectly delicious reindeer stew for supper.
We were just finishing this when Thomas rushed in – "They're here. Come now!"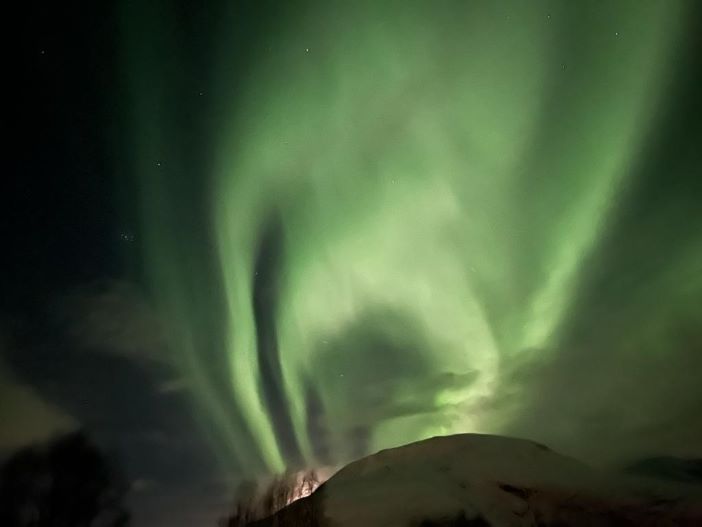 In fact, there was no need to rush. For around an hour and a half, the lights danced across the entire sky, seeming to leap from the tops of the encircling mountains, greens, blues and even reds forming the strange shapes that traditionally made the Sami people believe them to be omens of disaster. Not for us, though. Surpassing all expectations, it was the high point of our trip. Absolutely thrilling.
Anna was a guest on Fred Olsen's Bolette. A similar cruise is Borealis' 11-night S2228A 'Northern Lights' cruise, departing from Liverpool on 13th November 2022. Prices start from £1,499 per person. For more details, visit www.fredolsencruises.com. 
For more information on North Experience, visit www.northexperience.no.