Puglia's popularity in recent years is hardly surprising: if Tuscany is gentle rolling hills and chic cypress trees, Puglia is craggy shorelines and electric-blue seas. Closer in geography to Greece and Albania than Italy's Mediterranean coastline, its towns full of white and golden-hued stone buildings and cobbled alleyways are more reminiscent of North Africa.
Whatever Italy's current 'undiscovered' region is, it doesn't take long for the crowds to follow; Positano was the new Cinque Terre was the new Amalfi and so on. Puglia may have had my heart years ago but by the time I finally got to visit the region, it had also won the hearts of plane loads of tourists, too.
Tourists visiting Italy in summer accept that the pay off for visiting in peak season is doing so alongside A LOT of other people. The solution to an overpopulated Puglia? ( it's become the most popular region for Italians to spend their summer holidays according to the tourist office  …for Puglia.) Visit in mid-October.
We are staying at Masseria Trapana. Forget the Trulli of Alberobello, which thanks to their cone-shaped roofs are perfect for children and anyone under 5ft, Masserias are large square stone farmhouses, typically built in the 16th century. As the region's popularity explodes, old crumbling ruins are being snapped up by savvy investors and interior design devotees to convert into boutique hotels.
Trapana's restoration is exquisite. The underground olive press is now a hydro massage pool while the small chapel next to it dates back to the late 16th century with original frescoes of Santa Barbara. Most rooms have their own outdoor space. Our courtyard has an olive tree and outdoor bath in it. Aesop toiletries and thick white towels remind me this is a hotel and not my imaginary rich best friend's estate.
An exceptionally narrow stone staircase leads guests to a sun terrace above the main L-shaped reception area. On the cooler evenings (spoiler alert: mid-October's weather isn't consistent) I sip Chamomile tea curled up in one of the sofas while helping myself to the almond biscuits the kitchen regularly bakes. Across from me the fireplace is filled with large pillar candles and a vase of fragrant lilies sits on the mantelpiece.  Large embroidered cushions for the outdoor fire pit are piled up along the walls – though we do make it for outdoor drinks our first night.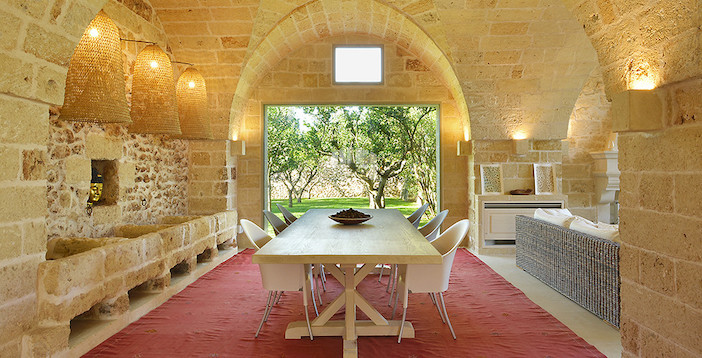 There we meet owner Rob. From Australia but splitting his time between Rome and Puglia, Rob introduces us to the estate's cats: Olive, a slinky feline with white patches, is his favourite: 'We found her when she was a four-week kitten on the building site. She was nearly dead.' Fedora is a charming all-grey cat I also see ambling past our room, while Basil the big brother is 'so dumb,' according to Rob.
My friend and I each sip one of Trapana's signature spritzes: Limoncello spritz  and a Mandarin nectar cocktail, which is my favourite drink of the holiday and prevents me from ordering a single Aperol spritz. Rob is drinking a vodka lime soda with cordal he asks guests from Australia to bring him. There's also Vegemite on the large breakfast buffet table in the morning.)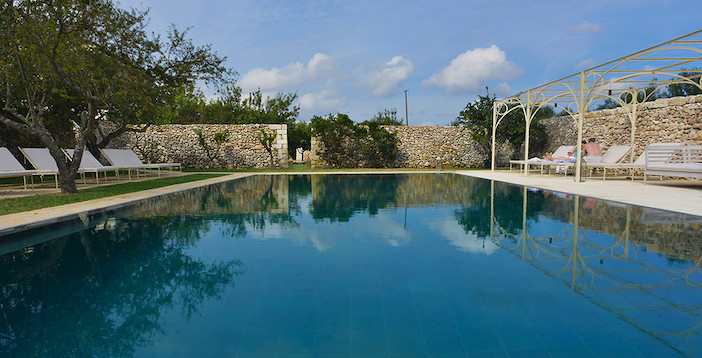 So beautiful and peaceful is Trapana it would be easy to leave the grounds the whole holiday. And when the weather is good that's what we do. Lounging by the salt water swimming pool, my friend Lauren and I, have a row of loungers to the pool each. The smell of jasmine that grows nearby fills the air. We use the pool telephone to call for crisp glasses of rose, iced lattes, delicious salads and vivid yellow pastas. A selection of straw hats hang off pomegranate tree branches and Turkish towels and sun tan lotion are stored in a wicker basket. If we want we can walk through to separate garden areas to play croquet or roll out our yoga mats alongside the lemon trees. But we just read, snooze and snack.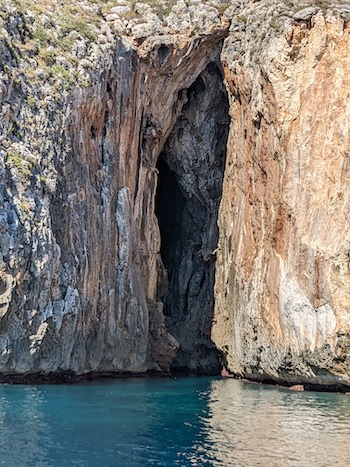 We take a boat trip one day before the forecast's predicted rain comes, and don't regret it. The small boat departs from Santa Maria de Leuca, the furthermost tip of the boot's heel. The boat zips along stretches of the Ionian and Adriatic coast. As we get closer to the Ionian Sea caves, the sea turns dark navy where the rock meets the water. Some caves are little more than tiny fissures in the rock that suck up the water then spit it out, a rainbow-reflected shower of spray, while others are deep enough to swim right into.
Back on shore the few cafes and bars that are open can serve us coffees or cokes but not the seafood platters Rob recommended we try. What we gained with easy parking and a quiet boat we lost out on with off-season reduced opening hours.
Lecce, the nearest town to Masseria Trapana, is a beauty, and busy enough with tourists and families still sitting outside in the evenings. We sip cocktails from Patria Palace hotel's rooftop one night, escaping the city's theme-park esque Aperol festival below. Le Zie Trattoria by contrast seems to pay no attention to the town's tourist status. Lauren and I are the only non-Italians in the restaurant, which looks to be run by two unsmiling sisters who then surprise us by proffering us with glasses of amaro, the piney digestif coating our throats like cough syrup.
We stay a week before Trapana will close for the season and after starting our holiday sunbathing and swimming the weather turns abruptly. 'You get those howling winds from Albania the cold that gets to your bones' Rob warns us. The daytimes are still warm enough to wear shorts and the winds are more of a whisper at this stage but there is heavy rain and thunder and lightning. And by evening I want to be in jeans and a jumper.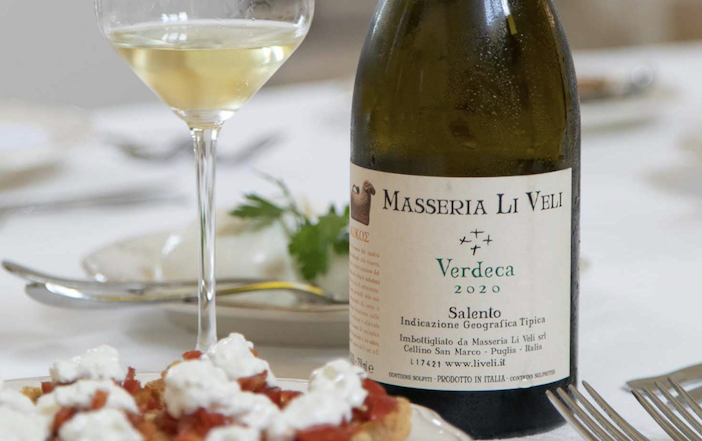 The windscreen wipers beat back the heavy splodges of rain as we drive to Li Veli winery. We drive through Trapana's fields of olive trees and by the time we get to Leveli's impressive white-painted Masseria the sun is out once again. We try the winery's white wine Fano, Susumaniello, a red wine from the region that is seeing a resurgence in popularity and the winery's Negroamaro, its earthy spiciness a rich reward.
On another day we make the 50-minute drive to Grottaglie or the 'city of ceramics'. The tradition of ceramics was introduced by the Greeks in the second century BC and thanks to large clay deposits in the area, is still going strong today. If it had been hotter I would have undoubtedly swapped the sea for ceramics. I'm so glad then, that the weather was grey that day. It's impossible to visit every single shop and studio but we make a decent effort of it.
Our highlight is the ceramics of Nicola Fasano, where top potter Nimo shows us how to use the wheel. He's worked there for 46 years and there's a black and white photo of boy-aged Nimo sat at the same wheel, tacked to the wall behind him. Head proprietor and designer Franco, bespectacled and waistcoat looking like an Italian version of Santa Claus in his workshop, makes short work of decorating his ceramics. Fluid and fast brush strokes transform plates and bowls into abstract faces. Their smiles, the same as our's after a magical week in Puglia.
For more information about Masseria Trapana, including details of rooms and suites, and the private villa, please visit www.trapana.com. For more information about Puglia, and to start planning your trip, please visit the official Italy Tourism website at www.italia.it.