Guilty pleasures. They come in multiple guises. For some they might resemble a cheeky takeaway when faced with zero inclination to cook, a cold Vesper Martini on one's birthday, or perhaps a long, hot, soak in the bath, locked away, to read every inch and glossy bit of finish that populate the pages of Vogue.
For me, a guilty pleasure is a long-haul flight. Granted, recycled air for hours on end will never beat that of being up a mountain, and there's surely no airline in the world that can ever truly conjure a gourmet dish, but, like the days between Christmas and New Year, seven hours or longer of solid me time is a rare and infrequent gift. For this, I thank Newton, almost every day.
So, I was delighted when faced with the prospect of 12 hours in the sky. 12 hours on Air Mauritius, leaving a snow-swept Britain plunging into below-freezing temperatures on a bleak January day. First impressions of this Republic summon thoughts of Tracy Island, for the colour of the Ocean that laps the coral-fringed shores of this 65×45 mile country (reader, to give an idea, this is 10% bigger than the county of Surrey), while rugged mountains rise above farm land and over divergent dwellings, grazing bright blue skies, and framing our picture-postcard welcome.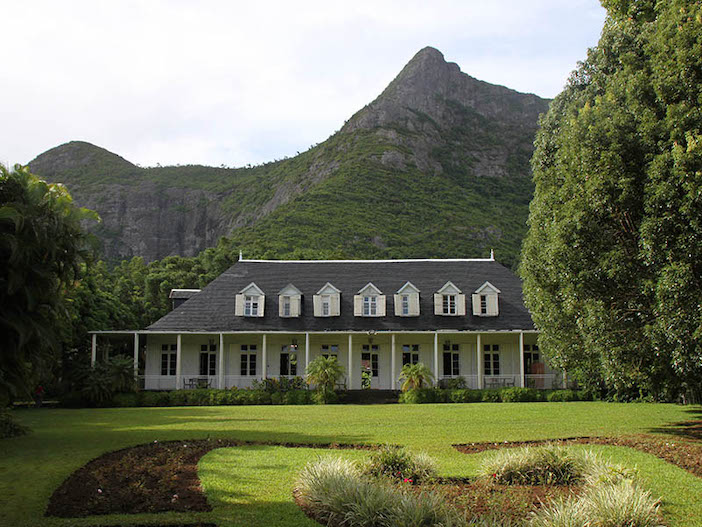 My destination is two-fold, with stays at Sands Suites and Maradiva Villas, two luxury spa hotels set on Mauritius' south west coast. The first engagement, however, is at Eureka House, a brilliantly preserved Creole mansion now in the hands of Jacky de Maroussem. Shrugging off subtle signs of jet lag, I'm shown through the house still decorated in original splendour – a gramophone and grand piano dress one of the drawing rooms as if wanting to crackle into musical action with accompanying glamorous guests.
Over lunch on the verandah, overlooking gardens flushed with appropriately named, flame-red 'flamboyant' trees – otherwise known as Royal Pionciana, Jacky talks to the background of his house, previously owned by his ex wife's family, with whom, once upon a time, and still to this day, he would give parties, hosting dignitaries of gravitas and grandeur including the Princess Royal, Andrew and Sarah Duke and Duchess of York, and Prince and Princess of Wales, George and Mary, in the period before George V took the throne.
As bright red cardinal birds jump in front of our view, these ongoing stately nods lead us to visit Mauritus' capital of Port Louis, so named after King Louis XV during this period of French colonization. Here, we arrive at Aapravasi Ghat, a UNESCO recognised museum dedicated to honouring the 'indentured immigrants' who arrived from India and beyond in the late 19th and early 20th centuries – an 'experiment' introduced by the British to 'replace' slavery, and what would then become the cornerstone of building a much prosperous nation.
Today, this continued melting pot of a population – Hindu Mauritians, Creole Africans, Chinese and those of Anglo or Franco origins, brought about by such beginnings, can be tasted in the wide variety of cuisine available. A stroll down 'Royal Street' in China Town, and the bustling Central market on Queen Street reveal flavours of international renown, mirrored, and also taught back at Maradiva, under chef's local prowess and over the stove at 'Karo du Chef' – a building otherwise home to Japanese counter restaurant Teppan.
Mangoes, pineapples, fresh marlin fish and coconut and chili paste feature heavily and readily on all menus we come across. Island cuisine is also heavily heroed with region-specific ingredients including salt, black lentils and curry leaf Rhum des agrumes at restaurants like Karay Mario, near the fishing village of Mahebourg on the southeast coast. This family-run place, complete with original red shutters, is housed in a building that was once a sugar plantation's Infirmary.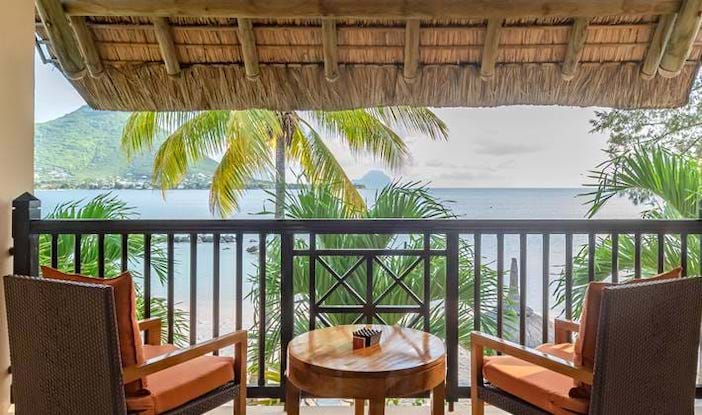 Back at the hotels, current day opulence makes itself known from sea-view suites, and a swathe of private beach over which we walk to dinner under pinky-blue skies. Sands boasts infinity pool views and watersports (although Mauritius is subject to an island-wide jet-ski ban) and live music at the Dolphin Bar that sates entertainment thirsts after candlelit dinners on the beach. At Maradiva, in turn, favoured with actor friends of owner Sanjiv Ramdanee whose souvenir trees are planted in the grounds, guests can enjoy the more exclusive, individual properties of this resort, each with their own plunge pool, outdoor sitting rooms and Bvlgari toiletries. Each of these villas is currently getting ready to receive a multi-million pound refurb in the coming months.
Both resorts offer sumptuous spa services – with Maradiva specialising in Ayurvedic treatments carried out post-consultation with Spa Manager and Ayurveda Doctor Praveen Nair who, having grown up on the Southern coast of India, in Kerala, says he got into the practice himself after becoming allergic to grass on the pitches of where he used to enjoy playing cricket. Since age 12 he has followed herbal remedies, now imparting his own long experience of these, as well as discussing the more extreme Ayurvedic practices of Panchakarma, which could be part of a more intense series of treatments to be offered at Maradiva within its future ambition. Guests who prefer a more luxurious but no less holistic version of such treatments can enjoy being drenched in oil, prescribed to match your character's dosha, alongside heavenly head and body massage in this hotel haven of serenity. Never has being beaten over the head felt so good!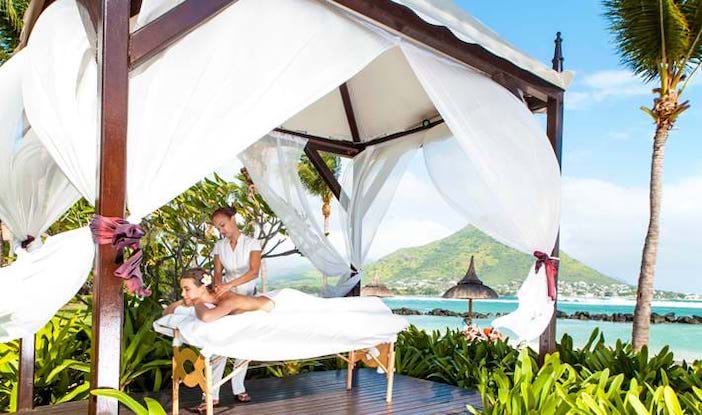 Exploring the boons of this natural world further, you can choose to visit nearby Casela Nature Park for unique experiences such as breakfast with giraffes – starring in your very own Disney movie, and those with climbing experience can opt to take a hike up UNESCO World Heritage site Le Morne, a 556m high mountain that catches the breeze floating over the giant lagoon on Mauritius' south west coast. The mountain commemorates many of the slaves who lost their lives here but now stands as a reminder, says our guide, of 'darkness turning to light'.
It's a steep climb, so while not recommended for vertigo sufferers, nonetheless arriving crab-like at the top will fulfil any desire to step outside of your comfort zone. Guide Allan Ramalingum, who runs his own adventure company Local Spirit, points out flora and fauna – red whiskered bull bulls and paille enquille. He also explains the medicinal properties of the plants we find along the way ('neem' is good for chickenpox and insomnia he says) while talking about his own spiritual journey – his great grandfather was a shamanic healer. 'You need to believe in something' he says as we reach the summit.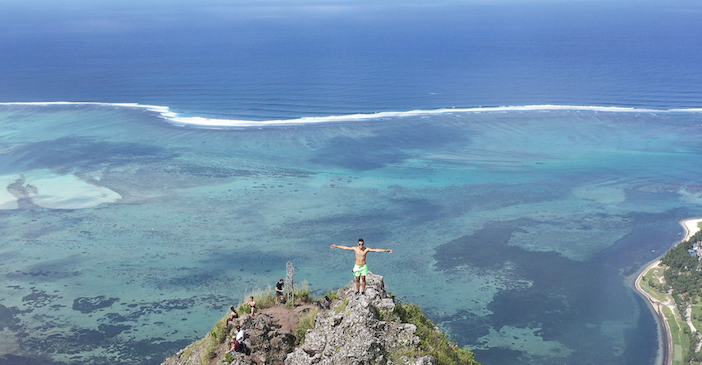 On one last afternoon watching the waves from the beach, the mountain now looms large on the horizon and we are permitted a moment of reflection on our brief Indian Ocean sojourn. Beyond the Ayurvedic treatments and the luxury of our lodgings, simply 'being', and 'being present' here in Mauritius – and having the opportunity to do so, is a reminder of how travel in its own right, to somewhere completely 'other', the people you meet, and experiences gained beyond your own routine, can often be the most restorative therapy, and greatest guilty pleasure of all.
Villas at Maradiva Villas Resort & Spa start from £425 per villa per night. For more information, including details of spa and culinary experiences, please visit  www.maradiva.com. Rooms at Sands Suites Resort & Spa start from £230 per suite per night. For more information, including details of offers and amenities, please visit www.sands.mu.
For more information on Mauritius, and to start planning your trip, please visit www.mauritiusnow.com.
Header photo by Kasturi Laxmi Mohit on Unsplash