Salalah has a secret. In July and August, when the rest of the Oman cooks, Salalah, in the west, is more temperate. The mountains give it a monsoon season, called khareef, but rather than a series of downpours, the region is swathed in a mist of sorts. It becomes cooler, the air thick with moisture, the desert dust giving way to lush verdant plains and shallow lagoons. Omanis, not to mention much of the Gulf, know it and it becomes a popular spot, where international tourists avoid those months believing it's too hot.
It's the first thing I'm told, driving from the airport. I can't imagine it. I'm here in May and thundering for thirty minutes through flat desert, flanked by the coast on one side and the distant mountains on the other. Extraordinarily, across this tundra, are houses in various states of construction, seemingly dropped into the landscape, with no interconnecting roads, and no other features, save a camel ambling along the roadside.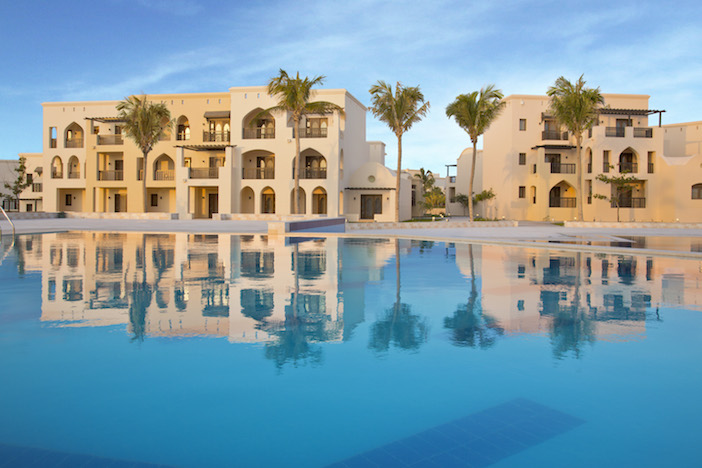 In the distance, towards the coast, something like an oasis seems to be appearing on the horizon. In a few minutes, we're turning off the road, over a bridge into a garden of clipped lawns and date palms. The car pulls up to an expansive, Moorish monolith, all right angles and towering pointed arches. Mirror pools and more arches give an alluring forced perspective before the cooling palatial lobby takes the edge off the desert heat and I settle into a sofa for a minted lemonade and a view across the resort: it looks just like a residential complex you'd build if you could build your own residential complex on the Arabian coast. This is Salalah Rotana.
In a moment, I'm away in a golf buggy to my suite; over a canal, past blocks of apartments, neat lawns and gardens, a massive multi-level pool, a glimpse of the sea, into the courtyard to my residence. Two floors up, inside I have to throw open the shutters to let light in, but what greets me is something I've only seen in sultan's palaces. Mosaic detailing on the floor, lots of dark wood and Arabian motifs, crisp white linen and a huge glass window onto the bathroom to open the whole room up. It's a good welcome.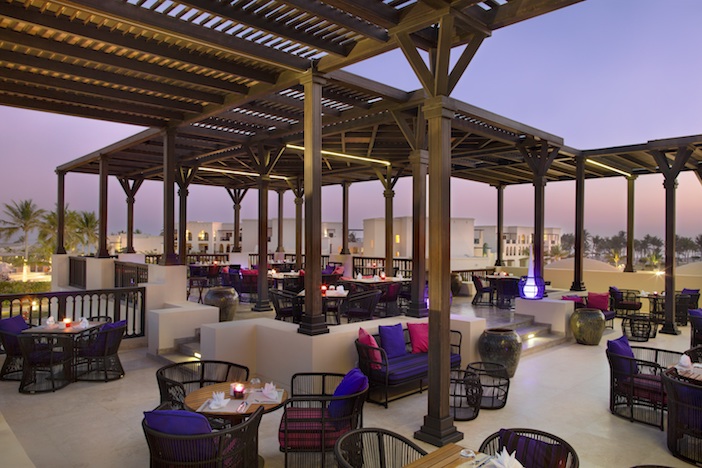 Rotana's strengths are food and service, and it's evident. If we thought Omanis were friendly and welcoming at the best of times, Rotana would be the paragon of hospitality.Dinner at Silk Road, in particular, is a delight. An East-meets-West offering (as if a specialism would be too limiting) the quality of each is not compromised, such that I returned twice for what was a spectacular sushi board, rendering me replete before my steak had arrived and dessert would become just a visual feast.
Among the amenities, one major perk is Club Rotana; a VIP service for guests that just raises the bar a little to make it special. There's breakfast on the covered terrace, a relaxed affair to the sound of the sea, a grove of palm trees breaking up the sight line of the resort buildings. And while it might not seem necessary given the expanse of the beach, Club guests have their own private section; complete with sun lounger service and covered cabanas. There are few more decadent pleasures in life than having taken a battering from the waves roaring to the shore, as pressing a button on your cabana for a waiter to bring you a fresh coconut.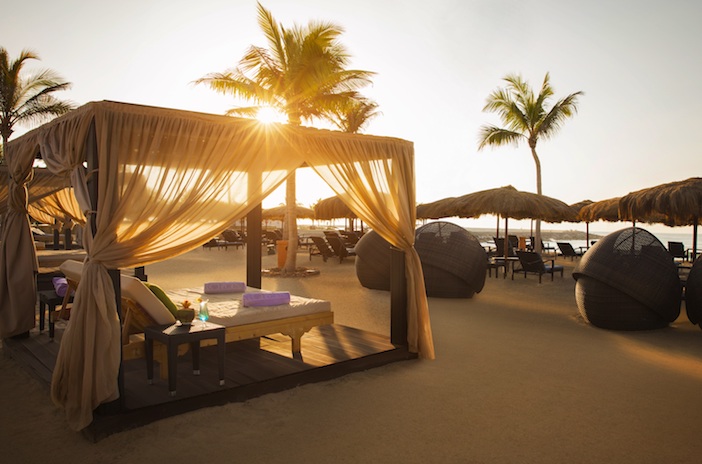 If you're one ill-inclined to 'fly and flop', Salalah itself has plenty around it to keep the most avid culturist occupied, and I have quite an itinerary, fuelled by one ingredient that would make me fall in love with the country.
Ali, my guide, is quite possibly one of the most ebullient people I have ever met. Armed with a perma-smile and a catalogue of adjectives that would make the most gushing millennial wither, as we criss-crossed the region his enthusiasm for half the sites we saw made me wonder if he wasn't seeing them for the first time himself. He would refer to himself in the third person – 'You can ask Ali any question' – and converse with the camels as we slowed to let them pass on the road. If you wanted a touring companion around Oman, you couldn't do better.
Oman is known for frankincense, and Salalah (meaning Garden City – ah, think khareef, eh?) is the centre of its trade. Wandering the souks – unhindered, I should add, a rarity in the Middle East – the scent is all purveying, each stall offering bags and bags of the little dust-coloured nuggets. Omanis recognise many of its benefits, from purifying air, aiding asthma; it's even believed to enhance memory. As if to demonstrate its myriad properties, Ali pops a gobbet into my water bottle. "Sip, sip," he urges me. It turns cloudy and I consider it circumspectly, taking a tentative sip. It's tannic and practically glues my teeth together. "I'll take your word for it," I tell him.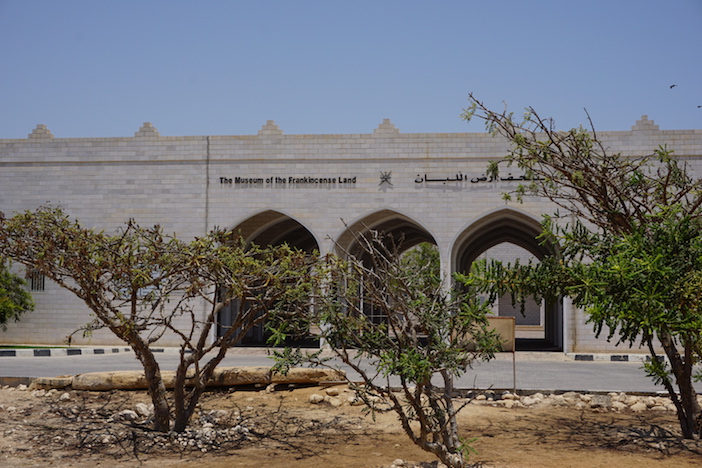 There's even a museum dedicated to Frankincense, though in fairness the Al Baleed museum, as it is called, features a lot more; going into maritime history (a rich one, given the 3165km of coastline), its significance as a trading culture for centuries, featuring many archaeological artefacts, and, particular, a section for the country's renaissance from 1970 under the revered sultan, Qaboos. Al-Baleed is also the site of a 4000-year-old archaeological site, a trading post, still being excavated, where each house featured its own mosque.
We conclude the day heading west to Mugsail, an unspoilt beach (it means 'clean') on the road to the Yemeni border. It's the start of a 100km of undeveloped coastline running to Rotana and beyond. As we get out of the car, Ali welcomes us to "paradise". I'm still surprised places like this exist on the planet. The beach is pristine, flanked by mountains, making a dramatic backdrop. It's eerily quiet, though, and we don't stay long, and I find I'm craving company back at Rotana.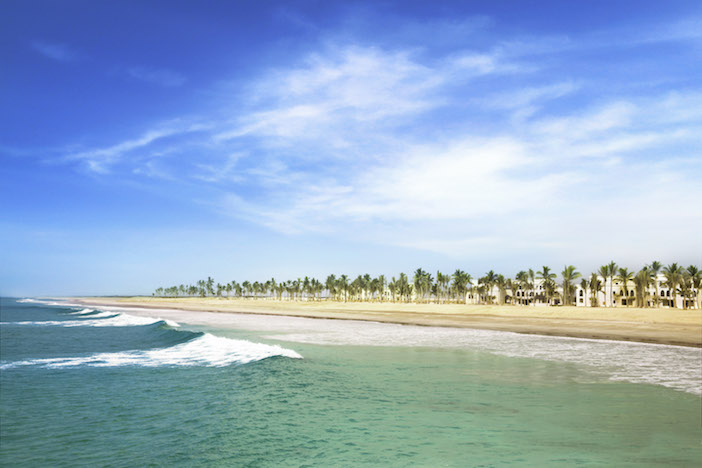 The next day, we take to the shore again, in a dhow this time, for some dolphin watching up the coast, tracing the huge strip of white sand running to the distant horizon, turquoise water so clear I can see the bottom. It's not long before we spot a pod, and we bob about, occasionally feeling like we'll tip over, watching them body surf to the shore. My camera snapping, I look at one of the photos and spot something curious; there are camels on the shoreline. I doubt there are many images around with dolphins and camels in the same shot.
Ali is back when I return to the resort. He greets me like an old friend, "Today we have a wonderful day," he tells me. We visit Taqah, a sleepy coastal town known for its 150 year old 'castle' but now dominated by a new palace for the sultan's uncle, built on the cliff overlooking the town.
More intriguing is the UNESCO heritage site of Sumharam, the end point of the Frankincense Trail. It's the port from which it was shipped, round the coast to Egypt and out to China. It's now an archaeological site, being principally ruins, but a small visitor centre furnishes us with details on how the port once looked and its significance in world trade.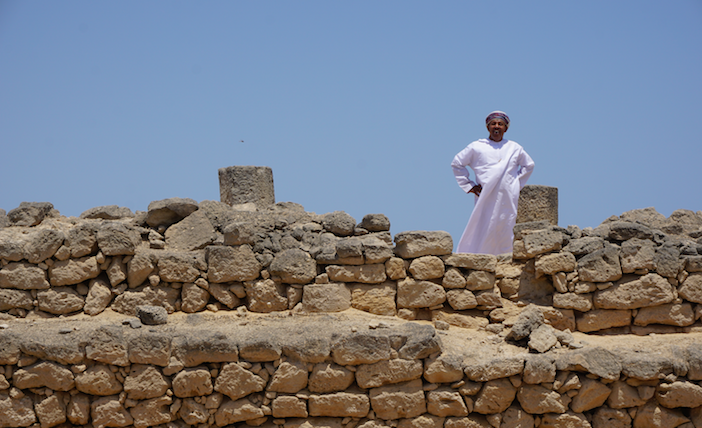 Behind Sumharam, at the face of the mountains, a plateau sits between two peaks just outside Taqah. As we get nearer, Ali points out a waterfall, incredibly, toppling from it, and at the top, I see it is carpeted by greenery. This is Wadi Derbat. It's an almost biblical oasis, of lush greenery framing tumbling and eddying water. "You should see this during khareef," Ali says. I can well imagine.
Further into the mountain range, we come to the region's highest peak, Jebel Samhan, home to a national park and the last refuge of Arabia's wild leopards. At 1200m, it affords spectacular views of the floor below, sweeping down to Mirbat on the coast. When we get back to the car, Ali caps off the tour with a little surprise. From a coolbox in the boot, he removes a foil tray and takes off the lid. Inside is a cluster of what looks like chewing tobacco, covered in gelatinous creamy fat. "Try some," he urges, "it's camel." I take a piece and, sure enough, it has the consistency of leather and an overwhelming gamey flavour.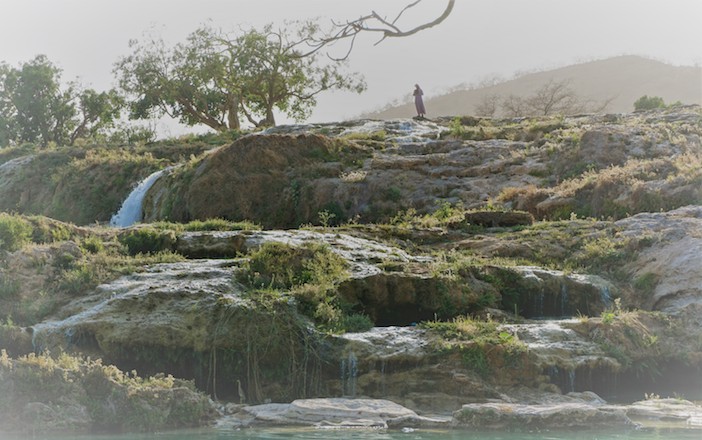 I can barely get the film of oil from the camel meat from my mouth by the time I board the plane back to Muscat, but where the prospect of a return flight can always be a dampner on a trip, I have a reason to look forward to this.
They say that half the joy of travel is the journey, and if Business on Oman Air is anything to go by, they're not wrong. Shoulders visibly relax when you see the capacious cabins, abundant amenities (including the finest washbag I've seen on a plane – I'm still using mine), and not just the ubiquitous champagne on arrival, but a cocktail list, shots of Omani coffee, dates and other confections, all showcasing Omanis' famed hospitality.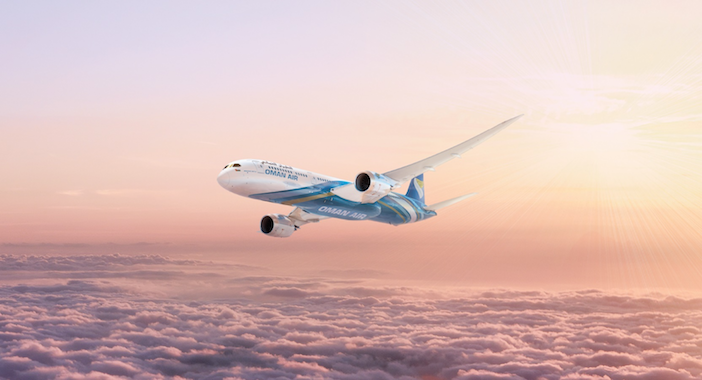 On an 8-hour flight, one is normally willing the hours to go by, squeezed into a chair designed for a child, watching Marvel films on tinny headphones and struggling to get a modicum of sleep to flee away the hours. Here, while you could sleep in comfort, you wouldn't want to for the pleasure of a four-course meal in cinema surroundings. I even watch the safety video, again, set amid fabulous locations around the county; it's a nice creative touch and gives a delectable hint at what's on offer.
In my case, reminiscing on the trip, it's a happy reminder of everything I've just seen. Salalah may feel just out of reach, having to fly via Muscat to get there, but it's only a matter of time before it catches on.
Ali was effusive in espousing the virtues of the region's development in the last ten years and, as we drove back to the resort on my last day, I asked him if there will ever be a direct flight from the UK.
'Insha'allah,' he replies, emphatically.
Stay at the five-star Salalah Rotana Resort in Omanfrom 49 OMR (approx. £103) per night inclusive of breakfast based on two adults sharing a Classic Room.To book or for further information, please visit www.rotana.com.
Oman Air flies to Muscat, Oman twice a day from Heathrow and daily from Manchester. Economy class fares from £459 and Business class fares start from £2,498 per person return from London to Muscat. To book, visit  www.omanair.com.
Ali offers a variety of tours throughout the Dhofar region. For more information, visit www.salalahsafaritourism.com.