In a dark music hall in Toronto, thuds come pumping, fist-strong through the surrounding walls of this otherwise non-descript building that doubles as a bustling enclave of sound. Sound that marks out a generation and a city – perhaps tonight even a nation. I'm at the Canadian Radio Music Awards at the Phoenix Concert Theater and the band on stage is Walk off The Earth – a five-piece group formed in 2006 from Burlington, Ontario – a town just outside of our host city.
The only female appears to model herself in an Ellie Goulding style and the other four are just as beautiful and hipster as the rest of the excitable crowd in front of them. The music channels an indie-rock vibe, crammed with acapella voices, eclectic percussion and unmistakable Canadian ukulele. As they hold the crowd's attention, what you can't fail to notice is the chemistry, creativity and enviable cool that pulsates from their lips and fingers when they play. Tonight they are the winners of four awards, including Best New Group or Solo Artist (Hot AC), Song of the Year, and Fan's Choice.
With festival wristbands still attached, and tired but no less sparkling eyes we head out into the city the next morning on the wings of last night's emotion. This introduction to Toronto has set the precedent for our coming days; sky-high is a feeling we will encounter another dozen times at least while we are here; both in equal figurative and literal measure. As my first visit, I have all the curiosity of a child. Each sound, sight and smell is noted, not-casually, and every view inhaled with curious, open lungs.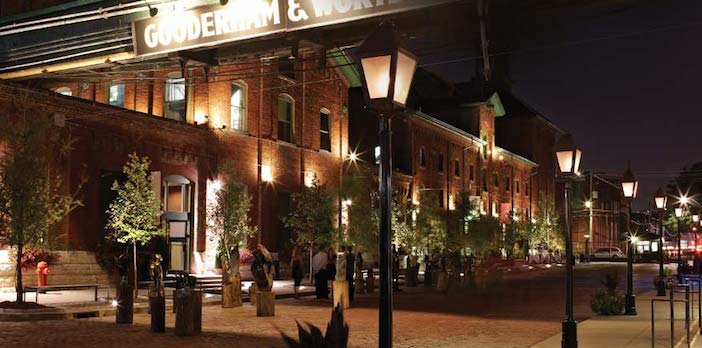 Toronto, we are told, means 'meeting place' – somewhere where you'll encounter rich diversity in all its residents. It is described this morning by city-dweller Alwyn as more of a 'tossed salad' in conjunction with the US's similarly known 'melting pot'. We glance this northern American metropolis first through the red bricks of the Distillery District, known now for its trendy bars and quirky boutiques that proffer chilli-flavoured artisan chocolate and rescued antiques rather than the whisky it was once best known for. Other industry, just as historic, frames this part of the city not far away – the tall chimney from the Redpath Sugar Refinery and large container ships marked 'Nassau' that sit on the edge of vast Lake Ontario highlight Toronto's importance as a centre for sugar production – and by natural extension, its iconic maple syrup. This refinery is the largest of it's kind in the country, and has held fort here since 1854.
Our next moment of altitude-infused enjoyment continues the culinary theme as we tuck into some of what Toronto does best on a plate in addition to its sweeter east-side. Restaurant 360 hosts views over the province that rotate as much in flavour as panorama from the top of the unmistakable CN Tower. At 1815 feet up (533.33m), this tall, slender, unmistakable structure built in 1976 was the world's tallest freestanding structure until very recently (when only Dubai could trump its jaw-dropping height). Ontario Pickerel, Prince Edward Island mussels and clams and locally reared beef and lamb are just some of the items on offer here, coupled with glasses of home-grown Chardonnay and Riesling from cool-climate Niagara – our waiter points out Cave Spring winery, producers of the latter through the floor to ceiling windows, using the top of the bottle as a guideline.
Within twenty-four hours we are sky-high again, closer to the vineyards still, but this time in a Bell 407 – a single engine, seven-seat helicopter that carries us loftily over a view much less urban than the day before. Magnificent sights swiftly unfurl beneath us as we ascend into Canada's cloud-dotted sky. Mouths unhinge and eyes glow brighter. We are hovering gently over the whirlpool of the incredible Niagara Falls, our headphones dulling all excitable squeals. Further up river, with noses pressed firmly to windows we watch the water cascade powerfully and dramatically from the 'horseshoe' over into the plunge pool below. It is quite the site to behold. Quite the reminder of nature and her unmitigated power; quite the magical moment of first-time discovery. The surrounding mist that envelops the falls rises slowly up to reach our smiles, silenced by the noise of the water beneath.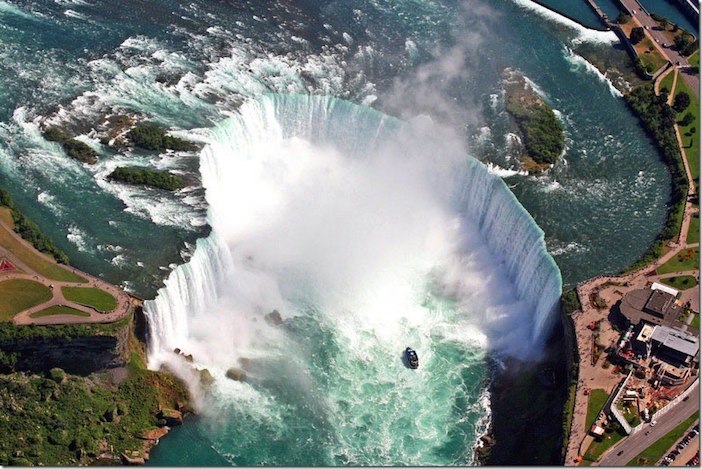 Back en-route to the city, the skyline is dominated by cranes and construction – a sign of foreign investment that is increasing year on year. We note the RBC building – the Royal Bank of Canada, a magnificent, shiny copper-coloured skyscraper whose every inch is encrusted with genuine gold dust. It is a reminder of Toronto's flourishing common wealth, and indeed the heritage and history of her development with our own Queen as head of state.
The following day we meet Jason, a stereotypically friendly guy who gives us nuggets of local disclosure on the thriving graffiti art scene, as well as local foodie haunts and music venues. It's a thrill to talk to him and hear his own heightened emotion on jobs he has worked, taking him all over the world, and at one point to Afghanistan to work with the Canadian troops. We begin at Macamba at one end of trendy Spadina Avenue – a well-heeled music club identified by it's large external fluorescent-lit palm tree that's played secret host to the Rolling Stones in 1977, as well as today's more up-and-coming musical talent. We drink coffee at Jimmy's, visit vintage clothes shops and stare longingly at Hooked's sustainably sourced fresh fish in Kensington Market before finishing up with an Amsterdam Brewhouse beer at Cameron House, another great haunt on Queen Street for first-hand local musical character.
On our last day we head back towards the CN tower, this time for different reasons. In what seems like only minutes later we are hanging over the edge of a metal grille that fans out on top of the restaurant we dined at only a few days previously.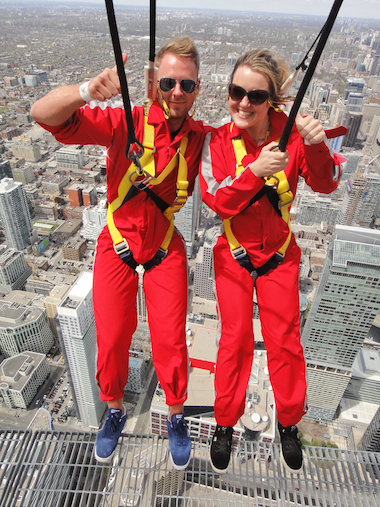 This, the Edge Walk, is a must-do for any visiting thrill-seeker. We are attached, safely but somewhat strangely, by a plastic-cased metal rope, hitched up to a loop over our heads as if we are being swivelled around a giant-sized clothes rack at the dry-cleaners. Our feet walk closer to the edge where our eyes meet the drop – legs, in turn, quivering. People below us look like ants, the tall towers of the skyline now dwarfed in comparison with our own cloud-grazing height. From here we're offered views onto the lake that reveal small islands circled by yachts, and flecks of colour from the Rogers Centre stadium to our right as a Blue Jays baseball game continues play. It is quite breathtaking. We stop a moment to let the views sink in and spend a moment further still to place ourselves in the context of this city once again. It's not hard to see why the band on our first night call themselves Walk off the Earth – an apt beginning and underscore to our out-of-this-world experiences here. In this friendly city, with so many life-invigorating activities on your doorstep it's possible to do exactly that.
Time to See Toronto. Now.
Plan your activities with www.SeeTorontoNow.com.  Tour the city with Jason, contact him via Twitter @Toronto_tourguy or through the Tour Guys website. Fly over Niagara with www.niagarahelicopters.com, sample fine wine from Inniskillin and climb and eat at the CN Tower. And, of course, visit during Canadian Music Week, which runs from 1-10th May 2015.