I once asked a top chef what for him separated a good restaurant from a great one, and the answer surprised me. It wasn't better ingredients or more innovation, he didn't mention fancy sauces or unexpected combinations. The answer came in the form of a singular word: 'consistency.'
Perhaps you are someone for whom part of the joy of life is the vagaries, but if that consistency speaks to you, if you want to know what to expect, and if that carries through from food to weather to service, the UAE is well worth having on your radar. And, more specifically, the two Jumeirah hotels I visited (one in Dubai, one in Abu Dhabi) are worth knowing about.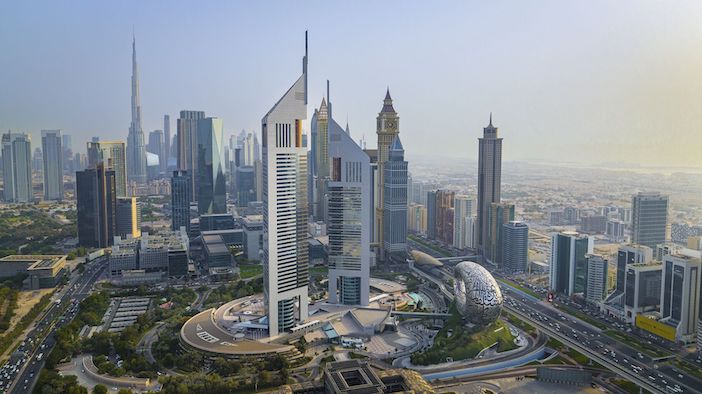 Before I enter into their charms, a confession: the UAE has never been on my list of places to visit. I think this is primarily because many of the ideas of it which lived large in my mind were derived from instagram, where women with pneumatic breasts lived their best lives to a backdrop of the sunset and the pulse of music pumping from a beach bar, obligatory cocktail in hand. They looked very happy indeed, but my idea of a good holiday involves burrowing into a book while slathered in suncream, then going to bed early, so these preconceptions lay at odds with what I want from a break.
But then I read about the exponential growth in visitation (Dubai welcomed 1.04 million international visitors from the UK in 2022, with a 97% year-on-year increase in visitation overall), and thought I should probably go and see what draws people from all over the world to this federation of seven emirates.
Off I went to check out two Jumeirah hotels, the Jumeirah Dar Al Masyaf in Dubai first, and then the Jumeirah at Saadiyat Island.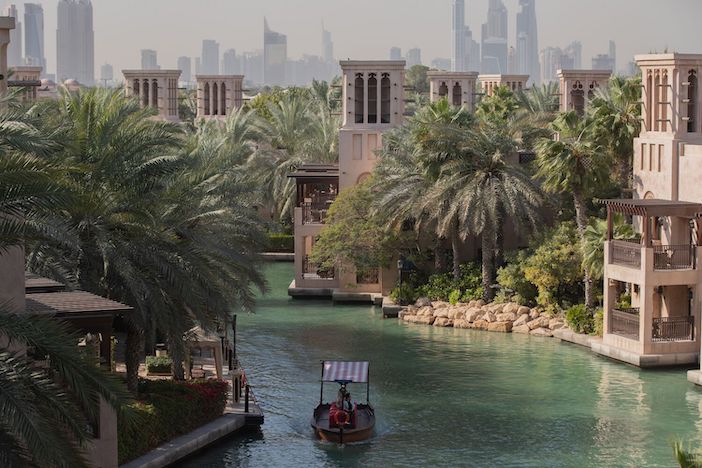 My first observation comes not from the hotels but from the airport itself. It is a triumph of cleanliness, the likes of which I've never seen in all my travels. The mirrored posts: unsmeared. The tiled floors (complete with the odd gold tile thrown in): gleaming. It felt futuristic and, yes, moneyed. And while on the subject of being moneyed, the people pouring in clearly have a fair bit of it.
I see a little boy in a cashmere poncho, Uggs hugging his tiny feet, a man dressed head to toe in Louis Vuitton print with an array of diamonds studding his ears, and a woman wearing a Rolex on each wrist. They don't look at all nervous about such displays of wealth, and perhaps they're right not to be; I am reliably informed that muggings are rare, with one security guard going so far as to tell me that you could 'leave your designer handbag on the bench in a mall, and guaranteed nobody will steal it! That is the UAE!'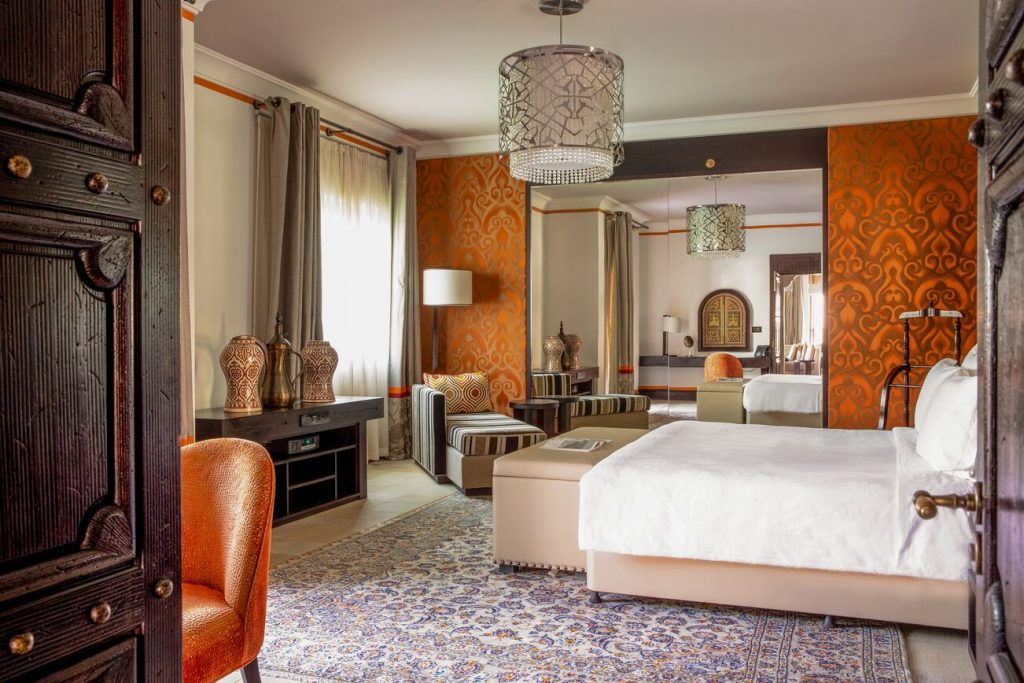 An hour later, and I'm ensconced in a villa in the Jumeirah Dar Al Masyaf. This particular villa is in a knot of residences called the 'summerhouse', where Arabian-style villas share a picturesque courtyard, which come with a butler, swimming pool, and, complimentary sundowners. The choices of room – though room feels too limited a word to describe the array of accommodation I was shown – are quite something. There are 1310 rooms across the whole resort, dotted alongside beaches, waterways, and over 50 restaurants and bars.
It doesn't feel like a hotel, but rather a village strewn across a particularly perfect and extremely well thought-out landscape. I take my book and suncream to sit on a bed overlooking an infinity pool stretching alongside the ocean, and am immediately approached and asked if I'd like a drink, or some melon, or some suncream, or, indeed, my sunglasses cleaning.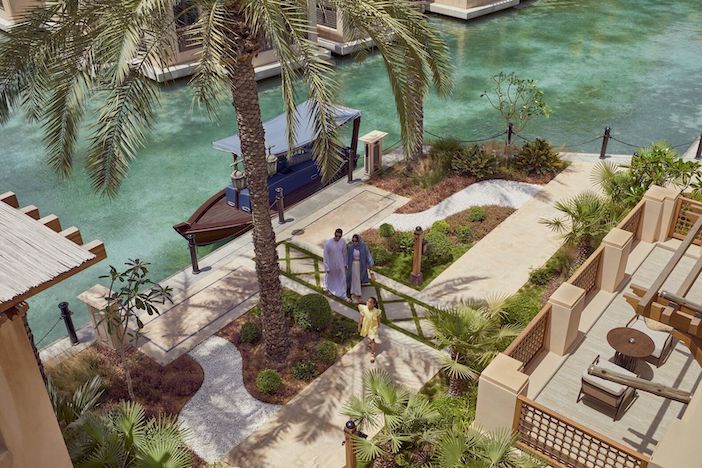 Three things especially captured my attention. The first were the traditional Abra boats, which can take you around the property, winding their way alongside the firelight-strewn canopies of restaurants, and deliver you to your villa/the spa/the shopping area. The second was the turtle lagoon, which is home to a number of turtles which have been found injured by members of public. They are nursed back to health, and then released if ready back into the natural habitat on the 16th of June, World Sea Turtle Day, with trackers on them to see where they wander to in order to provide valuable information to conservationists.
Finally, the food. Delectable. Most memorable of those I tried were Rockfish, a Mediterranean-inspired restaurant overlooking the beach where I are soft burrata nestled in plump tomatoes, and an outrageously tasty mushroom risotto topped with truffle shavings, and Pierchic, an Italian restaurant on the hotel's private pier which, by night, shimmers on the horizon and serves up a melanzane that rivalled those I've eaten in Southern Italy.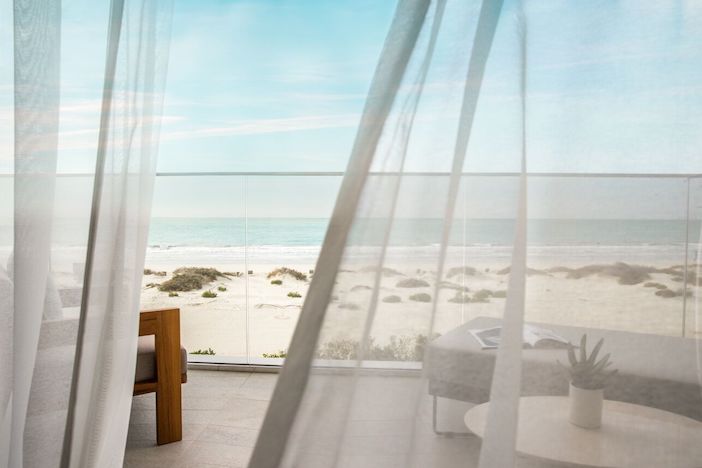 Onto Saadiyat Island, a resort located an hour's drive up the Arabian Gulf. This is smaller, feels more like an impressive hotel than an entire village, but with that same thread of consistency running through it – great food with plenty of choice, considered rooms all of which are designed to complement the white sand beach running alongside (flanked by 400 metres of protected sand dunes), and staff who unfailingly notice and cater to every whim (yes, even the sunglasses cleaning).
This is somewhere I'd recommend going for seclusion, to rest and recuperate away from noise and bother, and perhaps, if you're lucky, to recline to a view of dolphins leaping and playing mere metres away. Sustainability credentials are strong here too – wildlife-rich dunes aside, little touches to reduce human impact are everywhere from ample recycling stations to sensor lights to reduce power usage. I was unsurprised to hear that this is a preferred spot for A-Listers like Tom Cruise to visit while in the UAE, and equally as unsurprised that the restaurant Tean, where the oven-baked feta and selection of pides impressed, was included in the Abu Dhabi Michelin Guide.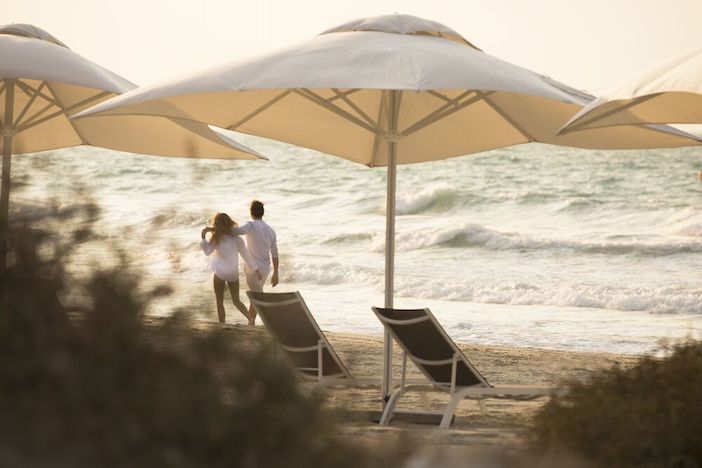 While different in vibe and aim for guests, on a broad scale, it's consistency that makes these two hotels stand out; you know what you'll get, and I'm confident that if I find myself in the UAE next year, that I won't be in for any surprises – it'll be a relaxing holiday, with all the trimmings.
And, if you're inclined to agree with the chef who first inserted the idea of consistency equaling rather special into my mind, you'll find yourself raving to those at home about your time there and perhaps upping that impressive number of visitors from the UK in so doing.
Low Season rates at Jumeirah Dar Al Masyaf start from AED1,350 for an Arabian Summerhouse Deluxe.  Low Season rates at Jumeirah Saadiyat Island Resort start from AED1,120++ for a Resort Deluxe Room. For more information, including details of dining and wellness options, and for inspiration for your trip from the 'Jumeirah Journal', please visit www.jumeirah.com.