IF you've rowed the Yukon, I guess a pootle up the Ouse at Bedford may, daresay, seem a little tame.
I – much to my chagrin – haven't, and while we weren't treated to breaching whales or salmon fishing grizzlies, we still had a remarkably fun time despite it being windy and rainy with the sharp end of a latest hurricane on the way, thanks to Canoe Trail.
It's an affair run by Richard Harpham – who has canoed the Yukon, incidentally – and his wife, Ashley, and is an admirable affair which gives families the chance to jump aboard a kayak or canoe and head off up river. And that's not just the end – you can camp a few miles further on, light a bonfire, cook a meal, take a 'wild swim' as they're so bemusingly called these days, and stargaze with marshmallows too, should you wish. And so it was that three of the four intrepid members of family Hammond – the fourth stayed in bed – found themselves packing a load of dubious clothing and too much paraphernalia and setting out to meet Rich and his team on Bedford Embankment.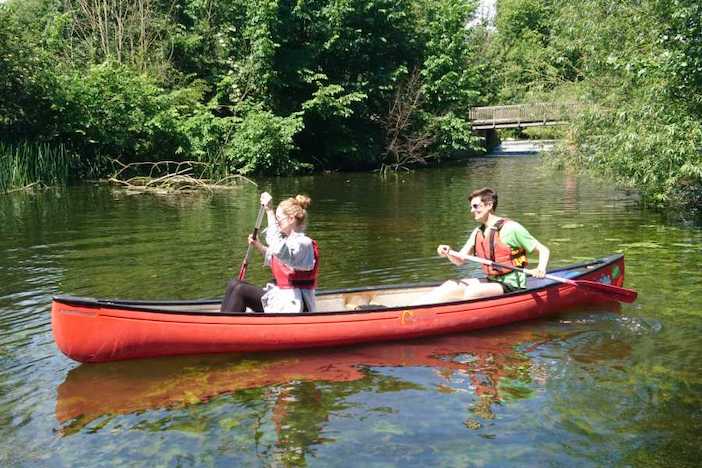 We waddled more than the ambling ducks, laden down as we were with kit, and even Richard raised a smile when he saw what we'd lugged along. But with good cheer he helped us load up and into a big old kayak and with some general instructions and a life belt each, we were away. Getting three novices to row simultaneously while avoiding aggressive swans, weirs, banks, logs and  capsizing is considerably harder than it looks. It quickly became obvious that my superlative steering skills – a dalliance with canoes as a Scout proving more than useful – and I took up my position at the helm, we began our voyage.
The river here is surprisingly quiet. I was expecting speeding pleasure boats and irate anglers and while the odd fisherman glowered from the bank, we were pretty much left to our own devices. Soon it was just the occasional splash of paddle on water, the birdsong and the swearing as yet another catastrophe was narrowly avoided and we continued our trek up river.
A kingfisher was spotted tout de suite, always a treat, and aside from a few yobbish urban crows, the countryside was with us while still in town limits. It's a lovely peaceful way to travel; a forgotten byway and an ancient waterway with its weeping willows, submerged fish-hook-snagging branches and associated flora and fauna. It's also a damn good workout because without effort you ain't going nowhere. Fortunately, daughter No.2 is a hardy soul and a tryer and we made progress. Rat and Mole like, we stole ashore for a picnic, lying back in the grass and watching the clouds darken. Because yes, of course, it rained. And rained. And rained some more.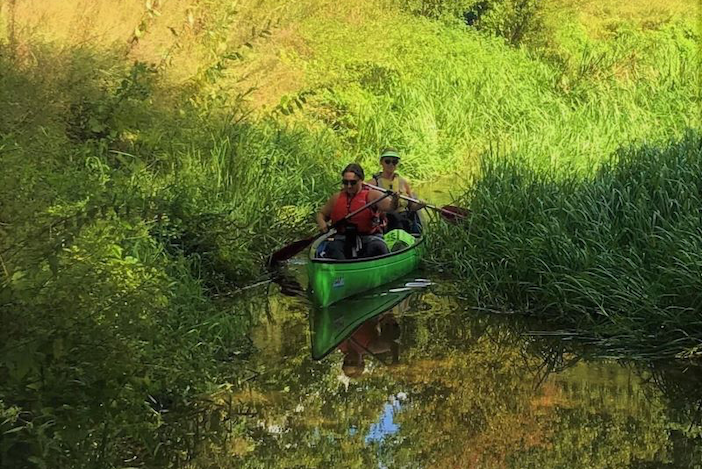 We had some waterproofs on and so were surprisingly chipper as we neared our campsite after a couple of hours of vigorous exertion which included climbing out of the boat and lugging it (surprisingly heavy) to navigate weirs and locks. Our rudimentary map steered us towards Matchstick Wood, and to reach it we pretty much grounded our little vessel, heading up a choked creek which grew shallower and narrower until the gravel scoured the bottom of the boat and we were forced to hurl the youngest overboard to wade ahead and find our way.
Finally, we reached a mudslip which led onto our resting place for the night – a tepee in the woods. We hefted the craft dryside and explored. From past experience, I know that a cheeful fire and a boiling kettle are two of the most important elements in a camping adventure, and thankfully, due to a surplus of huge trunks and smaller gathered brush, we had both. The tent was large enough and weatherproof enough to suffice and once homebase was established, I was convinced of the wisdom of a 'wild swim'.
Plunging oneself into a river isn't my idea of a great time generally speaking, but after a little courage plucking I joined the intrepid females in a quiet band of the river and enjoyed the freedom of open water (and the ghostly grasp of passing reeds and vegetation which caressed one's ankle's lovingly like a grasping wraith from the depths. We were the only ones in the camp site – there were about half a dozen different tents, well spaced out – who swam, so, dry and quietly pleased with ourselves, we retired as the rain abated and prepared something hot over the coals.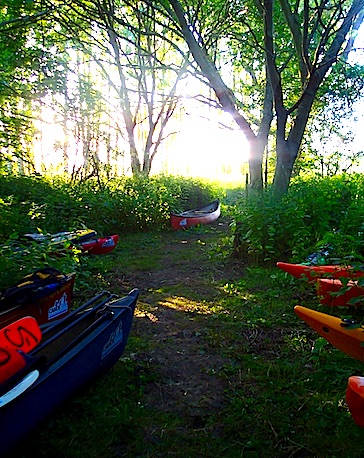 This basically involved a lot of tea and biscuits and a dodgy looking noodle soup. Eveyrthing takes time and that's kind of the point. If you want a cup of tea, it's going to take you an hour to get it from lighting the fire. More if it is lashing it down.
Which, of course, it did, all night long, but thankfully not before we toasted marshmallows, had a swig of Scotch and watched the stars until the fresh air brought jaw-cracking yawns and an early night. The canvas was assaulted with ferocity during the dark owls amid the hoots of owls, but we were warm and snug and slept soundly in our bags. Waking up to pee is just one of those occupational hazards, I'm afraid.
The girls were worried I would lose my sense of humour in the morning when the rain poured down relentlessly, but miraculously, I got the fire going somehow in the deluge (most proud of that, actually) and fired by yet more tea, we pledged the sooner we headed back, the better.
The return journey was not as pleasant, but was still oddly enjoyable. A good physical workout against a blustering head wine – the arrival of the latest hurricane, apparently – kept us out longer than anticipated, but determination won through. We decamped, met the team, grabbed our gear and walked 30 yards to the little café by the lake where strong coffee and a bacon butty put everything right with the world in an instant. Never overlook those little luxuries that come so easily with light, power and someone else to do the work.
A wonderful taster of life on the open river, then, and highly recommended to bring one back down to a decent sense of place and entitlement. A trip up the Yukon? I'd love it. Just not sure it would love me.
Prices start at £29.99 for a 90-minute Bedford Bimble or £129 for an overnight camping adventure. For more details about the activities offered by Canoe Trail, including paddling adventures further afield, please visit www.canoetrail.co.uk.