In spite of Venice recently banning cruise liners from steaming into its lagoon and docking up alongside its dainty canals, no-one, surely, must be under the illusion that this fairy tale city is anything other than selfie central, a carnival of touristic horror during the summer months. But what about later in the year? Late November? Even January? Is there room to breathe? To sup a beautiful blood red negroni in peace? To lose oneself along twirls of mist in lapping canals? My girlfriend, Britta, and I decided to find out. 
Our initial hopes that Venice would brood and sulk with autumnal solace were dashed by a passing heatwave which made the place, quite simply, hot. In addition, poor planning meant that we visited during the last week of the Biennale, one of the art world's best known and most enduring art exhibitions. And who knew that on 21st November, Venice celebrates the Feast of Our Lady of Health – wherein its inhabitants cross the Grand Canal from Piazza San Marco to the Church Santa Maria della Salute on a floating bridge? Not us, evidently.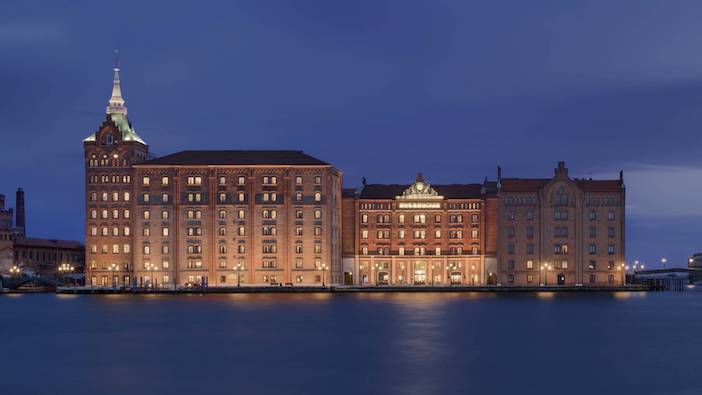 We were staying on Giudecca, an island opposite Venice, in the majestic Hilton Molino Stucky, and it was only after a 15 minute shuttle ride from our hotel across the bumpy but beautiful blueish green lagoon that it became obvious we wouldn't be claiming Venice as our own. Throngs. Crowds. School trips. Families. Lovers. Friends. Even a few pets. You name it, they were there. As soon as we step off the San Marco-San Zaccaria ferry terminal, everyone looks confused by the glorious sun. Some wear their winter jackets obstinately but sweat and glow tomato, others bask in their t-shirts.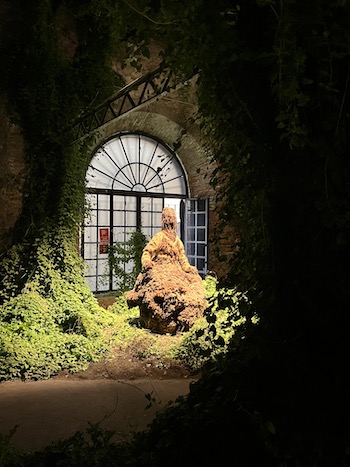 In spite of having a square within St Mark's Square covered in scaffolding, the space retains a majesty and everyone understands everyone else is there for the same reason; to take that all important photo. A string quartet plays stoically as if about to go down on the Titanic and only the cafés in the sun are close to full. We meander past the Bridge of Sighs (brides, grooms, photos galore) up to the Giardini where the Biennale Pavilions house everything from the gothic to the sublime to the dull to the moving, all based around 'The Milk of Dreams' – a quote from the British surrealist Leonora Carrington. It's about a magical world where life is constantly re-envisioned through the prism of the imagination. If it was sometimes hard to extract this from some of the art, it didn't make the art any the less engaging for it.
As soon as the sun dips, a chill sets in and we take a Hilton shuttle back to the hotel. It's already late, so we look for a back alley restaurant and it's here, in search of authentic Italian cuisine, that we get closest to our initial idea of what Venice might be like in the autumn. Intriguing. Encouraging. Creepy. Dangerous. Romantic. Enthralling. Full of twisting and turning narrow streets, each corner blinding you to what, who, will come next, every step is an exercise in mild paranoia and fear. No longer than a couple of kilometres, Giudecca became an industrial area in the early 20th Century and retains its factories and warehouses and boatyards. Some are operational, some not.
We stumble across a functioning if run-down boatyard. Cleats clatter against masts, old gondoliers hover in mid-air, waiting to be repaired, water pummels anything it can. A young man all in black, a hood shrouding his face, appears from nowhere. He's the only person we've seen in 10 minutes. He wanders around, neither quite towards us nor away from us, but gives us a wide enough berth. In the end he approaches us and tells us we shouldn't be there. We don't see why not but don't push the point. He looks like he's waiting for someone to arrive, to conduct a shady deal. We leave, navigate a few more blind alleys, and have a forgettable meal in a pizza restaurant which doesn't smell of pizza, and are happy to return to the sanctity of our hotel. 
The Hilton Stucky Molino is a bold, masculine building, angular, large, confident. A former flour mill, it was commissioned as such by local entrepreneur, Giovanni Stucky, back in the late 1800s. Falling into decay and abandonment soon after the Second World War, the Hilton acquired it early this century and carried out a large and impressive renovation, opening its doors in 2007 to the general public. With marble floors on its ground level, and a friendly, welcoming staff, it has a confidence that suggests it knows its own worth.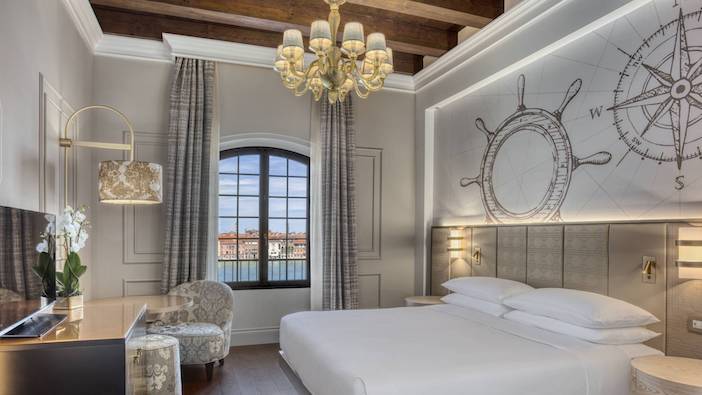 Ours was a Deluxe King Suite with a mesmerising view of Venice across the water which, relatively unusual for hotels, had windows which opened wide; a room with a view EM Forster would be jealous of. With a gently cradling bed in which one sinks and luxuriates, it would be very easy to watch the passing traffic on the lagoon, both day and night, and not bother with another trip onto the mainland. Car ferries, police boats, water buses, private motorboats all flow back and forth and offer a modern perspective on a Canaletto theme. 
One of the hotel's 'wow-factors' is its 'Skyline' rooftop bar which offers a beguiling view of St Mark's Basilica and, unusual in this day and age, is also open to those not staying in the hotel. From one of the highest buildings in Venice, it's no surprise that, actually, the Skyline is the highest rooftop bar in town. Best experienced at sunset, as the sun flickers its last and the lagoon shimmers and the lights across the water illuminate the landscape, the deck is softly lit at night and allows the views to shine, to offer up their unique magic.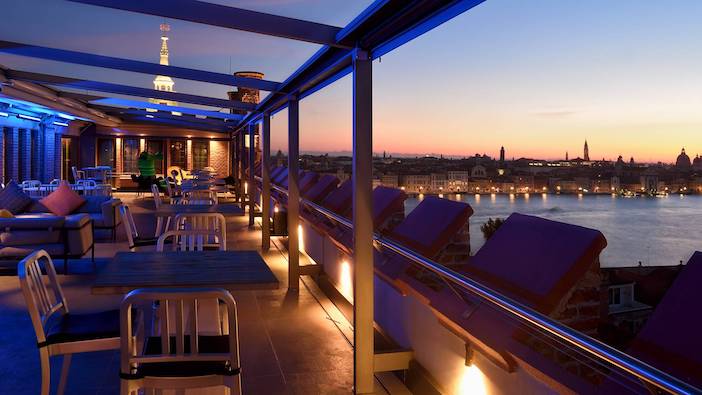 Long and narrow, the Skyline offers 21 signature cocktails with slick service, including more traditional Italian aperitifs such as Bellinis and Aperol Spritz to more exotic libations like the Carrot Parrot (vodka, Elyx St Germain, carrot juice and ginger beer) or the Smokerita (whiskey, tequila, lime and agave). Britta has a straightforward Bellini and I have a Lily Rose which is a refreshingly unusual and unusually refreshing, a mix of gin, Strega liquor, lavender and rosemary syrup. It's sweet, packs a good punch but in no way helps us navigate the journey through the hotel's floors and labyrinthine corridors to the its flagship Bacaromi restaurant.
It gets a bit Spinal Tap as we follow the directions, take lifts up and down, walk through corridors on different floors, get a little lost, end up in reception and are surprised to find ourselves almost outside the building before we discover our destination. Inspired by local flavours and produce, the restaurant is well lit but small and cosy with a terracotta tiled floor and an energetic staff run by the irrepressible Maître D – Rocco. We share fresh and perfectly succulent mussels for starters. I follow with fleshy king prawns which are more like Olympic langoustines and all the better for it. Britta has squid on black ink linguine. Neither of us want to share but both are keen to taste the other's so we swap a few forkfuls and agree both dishes work perfectly.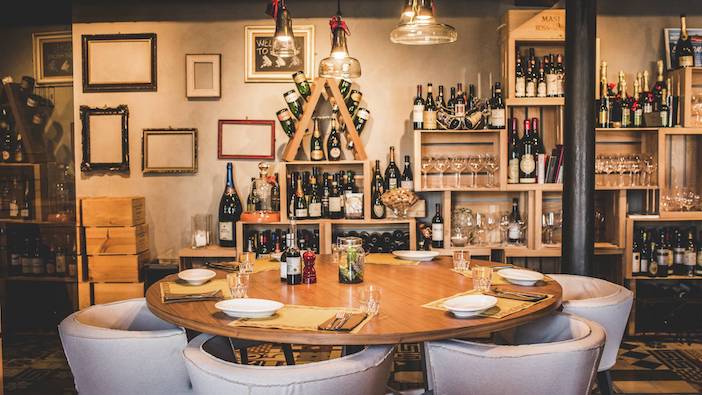 Likewise, we have the only desert you're legally allowed to have in Venice; a tiramisu (actually 'invented' in the nearby town of Treviso). An interesting game is to have a tiramisu after every meal and compare the differences. Some are sloppy, others more structured, some have more alcohol, others more mascarpone. This one is firm and creamy and lasts a little over 30 seconds. A massive grappa finishes the meal off perfectly and knocks us both out for the rest of the evening. 
The next day, the weather does an about turn. A u-turn no less, with umbrella-wrenching gale forces winds and a proper torrential downpour of stabbing rain. White horses prance across the lagoon and most tourists seem to have properly vanished.The few people who are outside look like drowned rats. Lord knows that the rats look like. St Mark's square is close to empty and there's only 10 metres of diehards queuing up to the Basilica. Intriguingly, a ramp has appeared overnight. Everyone stands on it to avoid the puddles and pools which are forming and conjoining everywhere.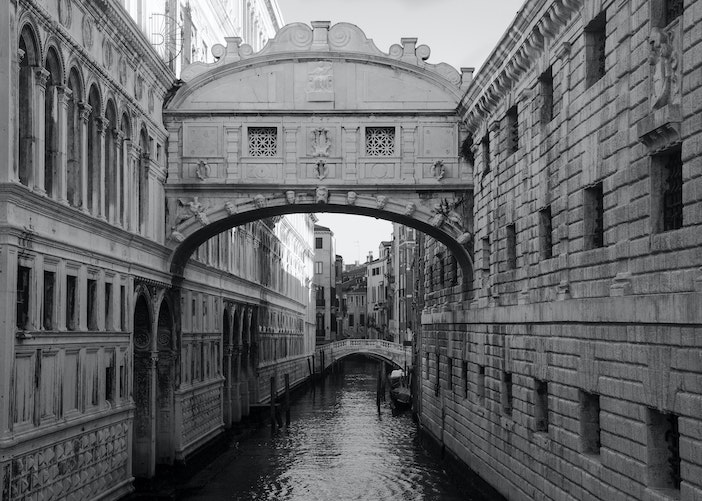 We wander aimlessly, take photos at the Bridge of Sighs – literally, empty – try to get lost, feel sorry for the Gondoliers who are nowhere to be seen on the canals, losing a day's wage. We circle back to the waterfront and marvel at the Lido, another island across from Venice. It looks like a death island, where the ferry man might take you, a one-way ticket, ringed with fog. This is perhaps the day we were secretly wishing for. Kind of. But eventually, enough is enough and we succumb to more art, this time the Arsenale part of the Biennale and discover where all the other tourists have decamped to; it's more akin to Piccadilly Circus than anything else we've experienced so far but, as always, some art shines through, especially, here, a kind of secret garden within a factory space, an immersive adventure by Precious Okoyomon called 'To See the Earth Before The End of The World'.
The storm makes national and even international news, is the worst for a decade or so and is, apparently, the first true test of the MOSE flood barrier erected around Venice to counteract the rising tides and combat situations such as this. The general consensus is that it works very well. If it hadn't been erected, parts of Venice and Giudecca would have been between 5 and 6 foot underwater. We might have drowned but Venice didn't and, for that, we should all be thankful. 
For more information about Hilton Molino Stucky, including details of rooms & suites, amenities, and things to do such as private gondola and shopping tours, please visit www.hilton.com. For details of the Venice Biennale 2023, please visit www.labiennale.org. and for more details about visiting Venice, visit the official tourism website at www.visitvenezia.eu.
Bridge of Sighs photo by Charl Durand (Courtesy of Unsplash)