"Harry?"
"Jim… Jim?… Jim! Just give me a moment – let me go indoors so I can hear you properly. Of all the times to get a call – I'm actually on the deck of a ferry…"
"I know."
"You know? What do you mean you know?" (To give some picture – Jim, although a good and old friend, was not someone I saw with any sort of frequency. The last time had been at my wedding two years before, and before this, probably at his wedding seven years before that. Last thing I knew he was buried in deepest darkest Berkshire teaching the sons of First World pop stars, Second World plutocrats and Third World dictators at a little public school called Eton. Had he added the talent of clairvoyance to that of linguist?)
"Seriously Jim, what are you talking about? I'm on a ferry, travelling to –"
"The Isle of Wight."
(Confound the man! What trickery was this?) "Yes damnit! The Isle of Wight… Now do you mind telling me how…"
"I know?"
"Yes!"
"I can see things. I'm… gifted."
Silence. The great fused plates of the deck creaked. Overhead I could hear the distant cries of gulls as they wheeled in the hot air.
"Actually we bought a house on the Isle of Wight a couple of years ago. In Ventnor as it happens. I spotted your name in the programme for the film festival. Had a hunch you might be coming."
This may have explained away Jim's seeming preternaturalness but it was one of several coincidences and pleasing serendipities which peppered our trip to Ventnor and which were to lend our adventure an air of school-day magic.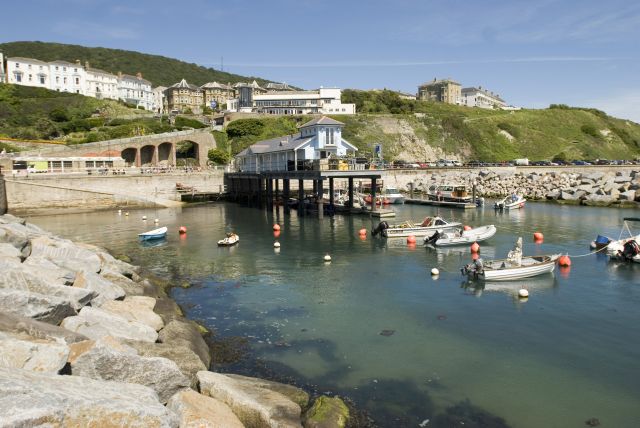 This was not my first visit to the Isle of Wight but the first and last had not been auspicious. It was more than fifteen years ago and fresh out of film school I had accompanied a friend to Cowes Week. He was a keen yachtsman. I was not. He would be racing. I, having not stepped into a boat with any serious intent for more than a decade, would not be.
"What will I do?" I asked, I thought, reasonably enough.
"It will be fun!" He replied, dodging the question. (How those four cajoling words have filled me with dread each time I have heard them uttered in the years since). What I did do was to sit on the beach with a large blue cloth bound edition of Conrad's "Tales of Unrest" (one fat crew member inquired waggishly if it was the Bible). I say the beach but it was South Coast pebble dashed with rocks the size and texture of cowpats and the water bristled with yacht masts. Venturing in required one to dodge evisceration by outboards while sucking back lung-fulls of gasoline-streaked water. In the evenings I would watch curly headed sailors with noses flayed by the Sun, talk loudly into each other's faces, drink a lot, and fall over. But Cowes, as charming as it may have been off-season, was not Ventnor, and as I was to discover, Ventnor was quite unlike any other place I had been to in the UK.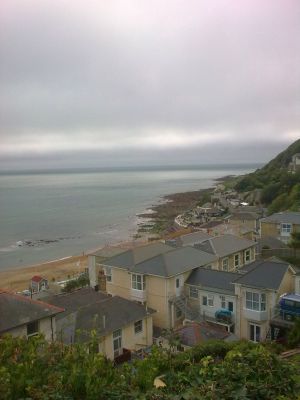 It was a hot weekend in August when we rolled off the ferry in our hire car. It was the sort of weather that made the metropolis somewhat unbearable but transformed the usually dour English coast into a languid rolled up memory of teenage summers, illicit cider drinking, bonfires on the beach and long warm nights when anything could happen (and usually nothing did). Traffic was tight as we slid along the single carriageway. A dry wind blew in from the west and the rolling hills were flanked with cut stubble pasture coloured that rich corn gold of late summer. So far though this was England as I knew it.
When finally we reached the far south east corner of the island where Ventnor was situated, the embrace of the familiar dropped away as suddenly as the cliffs that balanced the town plunged down to the water's edge. For Ventnor is a vertiginous town, balanced precariously and implausibly on escarpments and terraces shelved into the dizzying descent. The houses threaten to hurl themselves headlong into the bay below and indeed, frequently do. The town, much of it built on unstable clay, also sits below a geological fault known as "The Graben" and there is a long history of landslips in the area – some serious – that have resulted in the demolition of buildings and disruption to the town's utilities. This has lead to the laconic local expression: "We live by the sea and are getting nearer every day."
Yet it wasn't just the steepness of the place that was remarkable. As soon as we sheered across from St Boniface Down and entered into the demesne proper of the town, it felt like we were crossing into a quite different environment. The wind dropped, the temperature climbed by a couple of degrees and a hush seemed to rise up to greet us. The country road we were on narrowed further, squeezing between two low stone walls overhung with the fleshy leaves of succulents. As we switch-backed down the decline, the sea loomed closer, iridescent here, translucent there, as still and alluring as the Mediterranean.
With its sheltered location at the base of the cliffs, protected from the prevailing westerly breeze by the squat rump of the island, and its south facing outlook, Ventnor experiences a microclimate unique on the British Isles. It has more sunny days and fewer frosts than anywhere else in the country, which has lead to the flourishing of many varieties of subtropical plant (seen in particular profusion in the Ventnor Botanic Garden). In fact its climate has had a big impact on its history. Once a sleepy hamlet without even a parish of its own, the Victorians, with their penchant for seaside holidaymaking, rapidly discovered its charms. Soon stucco-ed villas with wrought iron balustrades were springing up amongst the shacks and fishermen's cottages as the well-to-do sought to take the fresh Channel air with the warmth of Biarritz. It was with the coming of the railway in 1866 though that the fortune and character of the place was to change most markedly and almost overnight. Along with the droves of tourists came scores of consumptives (suffering from that most Victorian of conditions) hoping to revive their failing lungs with miracle doses of salt air and sun. Alongside the hotels, sanatoriums were set up and a hospital – the Royal National Hospital for Diseases of the Chest (now long gone; it used to stand on the site of the Botanic Garden). Such was Ventnor's reputation for treating the tubercular that the train that ran between Ryde and the town was nicknamed "The Invalid Express".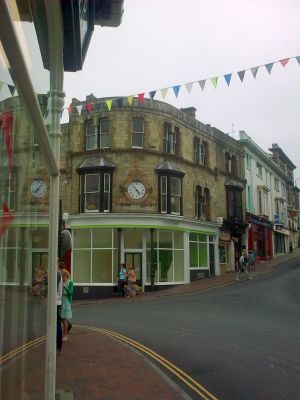 Yet it wasn't all ruined lungs and bath-chairs. In the second half of the 19th century Ventnor and the nearby village of Bonchurch became fashionable retreats for artists and writers. Dickens was known to have taken a house there, as did Thomas Carlyle, Lord Macauley, Elgar and, oddly enough, Marx (a strange gathering and one unlikely to have met over the supper table). Alas though, we had neither the funds nor the face of these Victorian worthies. There would be no leafy villas for us. Added to this was the fact that the arrangement of the expedition had been a trifle last minute. This was peak season. A hot weekend in August (one of the few in that most abominable of summers). Cowes Week was in full swing. Ventnor itself was hosting two festivals – the Fringe Festival and the Isle of Wight Film Festival (the latter which I was taking part in). Then there was the nearby Asparagus Festival (although to be fair I can't imagine this had a huge impact on local services. But I may be wrong). The outlook for accommodation was looking bleak. The reality was that we were obliged to consider that most venerable and maligned of institutions – the English B and B.
From the outside the "St Augustine's Hotel" was as imposing and grandly austere as its title. Built of attractive yellow sandstone, it rose a hefty four storeys to its gabled roof. Inside though, it was a screaming desecration of good taste. The carpet, which seemed to have forced its way into every room like some alien floor-hugging mollusc, was a miasma of floral swirls and patterns liable to induce hallucinations in the delicate. As we trod grimly up the stairs, we passed bricked up archways, lowered ceilings and a whole series of other bodges going back decades, which made one wonder at how many corpses had been walled up in the 'hotel's' esteemed history. The fine four panelled Victorian doors had all been covered in single sheets of flimsy ply to achieve a final coups de grâce of ghastliness. Although I didn't much care at this point, due to a mix up, our sea view room, which had been switched to roadside, had once more been swapped to seaside. With its pine bunk beds and ply fascia wardrobes with a profusion of confusing drawers, it was perfect – if you happened to be a nine year old boy living in 1977.
Our host (let's call him Alastair) seemed pleased that he had been able to offer us this 'suite'. He was a solid man with skin the colour and texture of damp plaster. He had that singular hairstyle I have heard described as "the Dandelion" – white and wispy locks clinging to the base of his skull like clouds around a bare mountain summit, liable to be blown away by a gentle gust of wind.
"Would you mind filling this in? Before 5pm."
He handed us two small white cards. It was the breakfast menu with each item (including the full smorgasbord of a cooked breakfast – sausage, bacon, tomato, etc., etc.) listed separately with an adjacent box requiring either a tick or a cross. After this we wandered the five minutes it took into town, for me to get my accreditation and goodies bag from the film festival offices, and to grab a spot of late lunch. And so happened the second happy coincidence of the trip. Smiling at us over the counter of the pop-up coffee bar in the box office was Jeremy Challender, a pianist friend of my wife's from Hackney, now apparently heading up Prufrock Coffee in Leather Lane and a barista of some repute. He too was there with his wife and daughter, combining work with vacationing, and he didn't seem in the least astonished to see us there. "It's Ventnor," he exclaimed by way of explanation. A hundred odd miles from home and already we had bumped into or made contact with two sets of friends (and a third I had ran into randomly on the street in London was attending Cowes Week and said she would come to my screening the next day). Like a diminutive Rome, all roads, in this case steep, winding and scenic, seemed to be leading to Ventnor.
It was nudging towards late afternoon by the time we sat down for lunch. We had decided on some 'tea rooms' on Pier Street. I use the term deliberately and without Big Smoke knowingness, for these weren't 'tea rooms' in the retro ironic post modern Shoreditch mould, but the real article. The gingham tablecloths, Formica-topped bar and fold away wooden seats I suspect had been propping up food and customers in more or less the same positions since the 1950s. And this, I was to gently discover, was part of the rather wonderful charm of Ventnor, that it had places unfazed by changes in style and fashion, resolutely themselves, rubbing along quite happily with chicer enterprises with some metropolitan flair. The irony was, of course, that the newer enterprises were working hard to attain what the older establishments possessed by dint of longevity and a certain lack of affectation. Fashion, as we know, runs in cycles. Stay in the same clothes long enough and you will be heralded a trail blazer. Ditto with tea rooms.
After wolfing down crab sandwiches, generously filled with the crustacean of which the area is justly proud, I returned my two girls to the boarding house for a nap and directed my feet to the beach. For me, no holiday is complete without a cove, beach, lake, river (or at worst) a pool, to 'lap' away the toils of the day, pique the appetite and give one an excuse for three courses including pudding. I had already noticed the enticing hue of the waters on the drive down. The beach was also relatively short – no more than a few hundred yards – and held between two low rocky headlands. Provided you swam parallel to the shore, I always thought that this was a set up that made for the best swimming. On top of it all, and unlike the north of the island, there was sand – fine yellow stuff mixed with salt and pepper. For a South East coaster like myself, schooled at the turned ankle hobble of the pebble beach, this was luxury.
But the day was ending. Long shadows from the cliffs and stepped houses were flung across the water which had lost its Mediterranean lustre and now appeared nicotine-stained and intemperately sluggish. The tide was drawing away too, leaving long stretches of wet sand pockmarked with the black bodies of hard, jagged rock. There can be few things more forbidding than the prospect of a dip in English waters when the sun has dropped below the horizon. Even if it was August. I remembered our host Alastair's words, "I haven't been in the water here since 1984. Once you've swum in the tropics, there's no going back."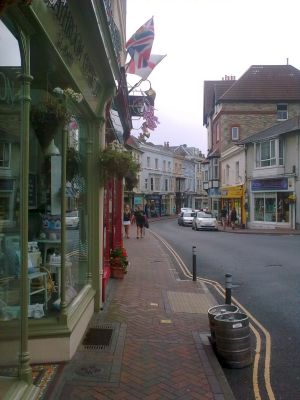 There was no going back for me either – until I'd had my swim. I flung down my towel, adjusted my goggles and strode out past the shattered sea defences of sand castles, the stray lolloping dog and the few remaining children determined to hang onto their freedom until the bitter end. The water ran towards my feet as they imprinted the sand like dimples on a giant marshmallow. It was warm, surprisingly warm, but it was the shallows, the great frying pan that had had the sun on it for the last few hours. When the water got up to my thighs I threw myself in without ceremony. It was cold, or rather, it was cold, but not cold. I had had enough experience of English waters to know that in a few minutes it would feel quite pleasant. And it did. In fact it was one of the most temperate swims I had had in and around these Sceptered Isles. I swam for 45 minutes until the yellow sky had turned mauve and the few figures still lingering by the shore had long since given up watching me as a thing of interest. Emerging, I ran back up the hill, dripping and half naked. No one batted an eye. This was Ventnor after all.
Supper, provided you are not in the Barbarian Wastes, is normally a thing of pleasure on holidays. You have accepted the fact that money will flutter from your wallet, possibly a great deal of it. You will be waited upon. There will be no washing up to squabble over and there is every chance that the meal might be something. At the very least, some aspect of it – starter, main or sweet, or even the humble bread, which increasingly in these artisanal days is not so humble – will rally the taste buds. If nothing else there will be a few hours of chatting, drinking, watching the come and go of other diners, staring into the glow and snuff of candles, relaxed at the prospect that all this will be followed by a tumble into bed and an uninterrupted sleep piqued only by the smell of coffee and frying bacon at nine o'clock in the morning.
Not so with a child or, heaven forbid, a plurality of them. Dinner is then telescoped to an ungodly hour and, for someone with continental inclinations such as myself, even six thirty or seven is positively indecent. To be fair we did our best. We soldiered on amidst the dropped cutlery, banged lips and bawling. Although we were at a restaurant on the Esplanade – a mere stone's underarm lob from the sea – my eyes feasted not on the seascape but flicked warily from our little bundle of joy to the other diners whose looks of daggers I keenly anticipated. We were resolute as only parents with a very tired one-year-old and a foolhardy determination to dine out can be, but finally, with macaroni forming a squishy shag-pile carpet under my daughter's high chair and pepperoni adorning the front of my wife's second best frock, we admitted defeat and solemnly withdrew. It was seven forty five.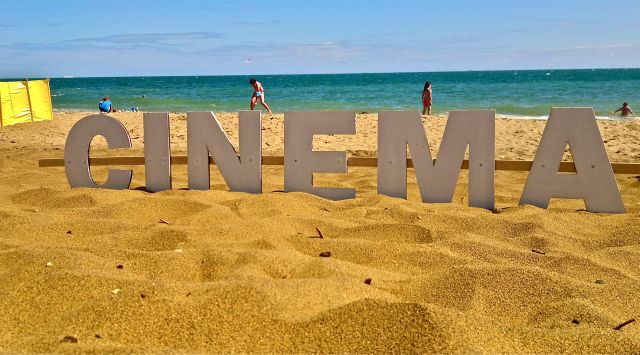 I say solemnly and indeed part of me was quietly glum that our first evening had been so rudely truncated. But another part – hidden from view – skipped gaily and champed at the bit. I wouldn't go so far as to say that my solemnity was a ruse – I was in genuine rueful solidarity with my wife. But the truth was – I was off the leash that night! As soon as I had seen my bambinos back to the hotel, I was to depart! It is one of the many advantages of combining holidays with work – in this particular case, attending a film festival (and I confess at my peril that only in the very loosest sense could it be considered as such) – that one can with impunity and impertinence do the things one normally has to store up credits for; socialising in bars, watching films, going to after parties, stumbling back late a little worse for wear…
I had arranged to meet Jim, who was likewise off the hook, at the 'Sacred Cinema' on Victoria Street which was housed in a converted church and formed the focal point for screenings and events at the film festival. We had planned on seeing the low budget indie feature "Like Crazy" directed by the improbably named Drake Doremus. However, we were sheepishly informed that the projector was on the blink. They were doing their best but it might be another hour if it was to happen at all… Somehow it didn't matter. There was something in the air and nature of Ventnor and the festival that made one curiously tolerant of such blips – a sense of "we're all in it together." It was a relief in some ways, another of those serendipities perhaps. Now we had the chance to catch up and cut loose, to trade tales and take in how our lives had taken these very different turns.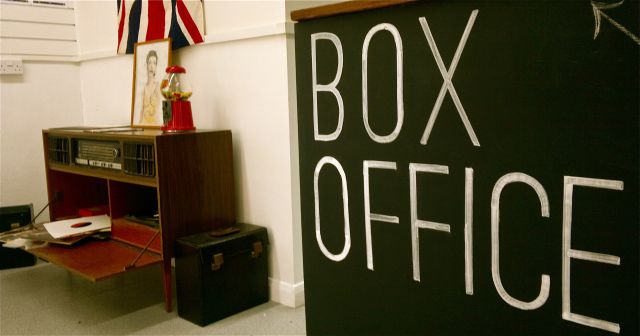 We sauntered down to the Esplanade. It was a warm night, a night to be definitely out rather than in, a night where a shirt would suffice, where cares could be cast aside, where fun and mischief brewed. We walked to the pub at the very end which sat on its own on the rocky promontory like a giant gnarled but homely barnacle. Lights twinkled from the windows and inside it was crammed with nautical paraphernalia. We took our drinks outside and sat on a bench behind the low sea wall. Above us a net of stars glittered and the moon hid half her face shyly behind a bronze cloud. Below us the sea pulsed with short white foamed breakers and the water's back shone like the scales of a twisting mullet. We talked until there was nothing left to tell, until the tide had rolled right in and was smacking gently against the base of the cliff which rose to form the wall. Then we wandered back and climbed the steep path in the Cascade Gardens which picturesquely links the beach to the town. At the top we parted company and headed in opposite directions, for home, and for our respective sleeping families.
The Isle of Wight Film Festival began its life in 2007 as the Isle of Wight Short Film Festival, originally as a platform for Island filmmakers to compete and show their work. Since then, under the stewardship of the agreeably hirsute Bruce Webb – a local filmmaker himself – it has grown to welcome filmmakers from abroad and has moved locations, first to Newport in the centre of the island. Here there was a brief companionship with the Minghella family who also hail from the island and who wanted to do something to honour the memory of Anthony Minghella, a filmmaker of some eminence, who had died prematurely in 2008 as a result of complications following an operation. The collaboration, however, did not last. The Minghella family remained to set up what became the "Minghella Film Festival" which screened blockbusters such as Kevin Macdonald's "The Eagle" and attracted names such as Ralph Fiennes and Hugh Bonneville. The Isle of Wight Film Festival, always a more homegrown, down-to-earth affair, moved south to Ventnor and in 2012 screened its films under the broader banner of the Ventnor Fringe Festival. Although this was the first year of this particular arrangement, it seems as though the festival has found its spiritual home and partner.
The Ventnor Fringe, big brother and host to the film festival, seems to have sprung fully formed from the creative DNA of the town. That, for such a varied and well organised festival, it was established as recently as 2010 is remarkable enough. That the founders, a group of friends who were only teenagers at the time, makes the whole thing fairly astonishing. Or perhaps not. This was Ventnor after all.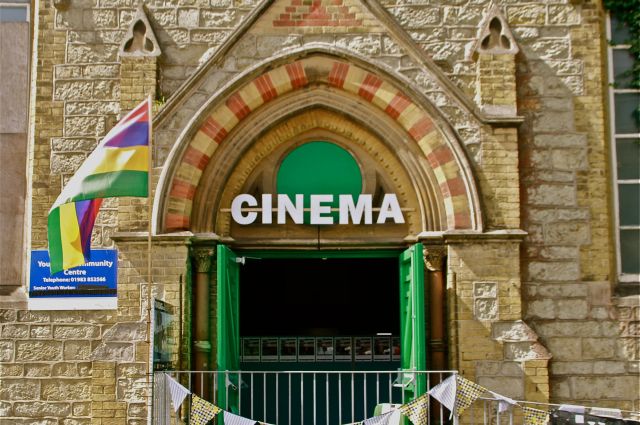 The Fringe is now spread across more than a dozen locations throughout the town, from Saxon churches, to observatories, studios, bars, laundrettes and a Routemaster bus, hosting a bewildering mix of music, theatre, performance art and activities. Many of the events were free and the rest were eminently affordable. There were no dubious 'celebrity' acts designed to get bums on seats. I felt that this was a very genuine celebration of creativity that the public was invited to participate in. The result was that the whole town exuded a cheerful carnival atmosphere; one was never quite certain through which doorway and around which corner lurked some new and fabulous enterprise.
The day starts early in the Chapman household. When I say "household" I am generally excluding my wife. Being the gallant and selfless husband that I am I usually allow her to slumber on for some extra shut-eye while I withdraw to the sitting room with our bright-eyed and bushy-tailed one where I attempt to write and she attempts to stop me, either by climbing on me, dropping toys on my toes, or more directly, by simply taking the pen out of my hand. Alas we are on the second floor so there is no garden to push her out into. What about the roof I hear you ask? Unfortunately it is sloping and I fear would overtax even her simian proclivities.
Here though, in the amenity-rich St Augustine's Hotel, there is a garden, and as I discover, a very fine one at that. Tramping through the breakfast room, which at that hour (a quarter to seven) was deserted, we let ourselves out with the latch key. Sun blazed down even at that early hour. The garden, cut in a series of diminishing terraces, dropped away steeply down a precipitous slope. It was knotted and intersected by runaway beds and shrubbery, veiled everywhere by the broad nets of garden spiders which caught the sun on lines of silvery thread. Lizards crept out to sun themselves on the border stones and rockery, turning their heads to wink at these passing 'giants'. I had never seen such a profusion of Common Lizards anywhere in Britain. It was almost like Australia in their abundance (and only here does this normally shy and secretive animal earn its sobriquet of "Common"). Below, a thrust of trees and green spiked a glittering sea that was as still and calm as an inland lake.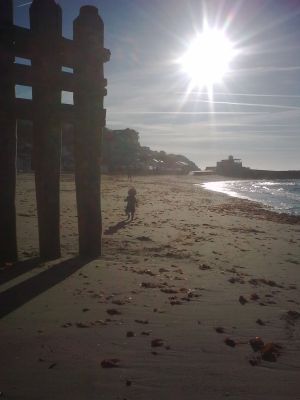 This eagle's eyrie had to be one of the most perfect spots for reading or writing, or just contemplating (and I would snatch moments for all of these over the next couple of mornings). But crusty adult that I was, even I understood that this was not a time for any of them. This was a time for play. But why limit ourselves to the garden? There was a far bigger garden below – a quarter mile of it. The beach. Gathering Daisy in my arms, I bounded barefoot down the narrow rocky path which Alastair had told me formed their own private route to the beach. At the bottom I pushed open an old wooden gate, clogged with leaves, which gave out onto an alley from a high stone wall. We jogged down between the hedgerows, cut behind houses flanked with balconies and verandas and five minutes later were at the beach. It was deserted. The town slumbered above us. The sun, still low but climbing steadily, was immense, fracturing and scintillating, shooting down rays to dance on the water's back.
It was not Daisy's first trip to the beach but it was her first trip with me, her father, and the first in the two months where she had become fully bipedal. Her reaction was one of pure, unalloyed joy. My reaction was to follow in emotion and guilelessness. She became the teacher, leading me in primitive discovery, casting the old as new, transforming the familiar into the extraordinary. There followed an hour of play, of peek-a-boo amongst the creaking monolithic groynes, of separating the black sand from the white, of collecting shells and of watching our foot prints in the wet sand slowly disappear as if time were accelerating.
When we got back to the hotel with glowing skins and glittering eyes and with sand shaking from our hair and feet, breakfast was being served. Danica had found us a table in the centre of the room and my plate of two point two sausages, three and three quarter hash browns, eggs easy over and toast burnt on one side, was waiting for me. Alastair, beaming like a cherubic Basil Fawlty, navigated the room with a steaming cafetiere of strong black coffee, fielding questions, drawing people into conversation and otherwise playing the seasoned host. The fact that we had a baby drew smiles and spontaneous praise rather than the usual English sniffiness, and we did what in usual circumstances would send me into rigid catatonia – conversed with our neighbours. The truth was, in that short space of time, I had grown rather fond of Alastair and his ramshackle temple to bad taste.
After breakfast Danica uttered the word "shopping". Unlike many women, she is sensible of the pain and anguish that the mere mention of the word can have on the masculine constitution and is humane enough to spare me the misery of an actual expedition. So we parted company, she sallying forth with our offspring to inculcate in her the skill for selecting and purchasing the worst rubbish you couldn't possibly need, me retiring to my eagle's eyrie with a book and an Alka-Seltzer. By eleven my body was as warm as one of the lizards I had befriended. The sun was high and the tide was up, the sea a foaming, boiling aquamarine. I swam far out, in deep water, past the waves that had carved out a channel in the sand. The water was beautiful, a perfect temperature, cool enough to be refreshing and to brace the body, mild enough to avoid that lung-deep gasp and cranial snap so familiar to waders in British waters. But it wasn't all to be lounging with books and sporting in the seas. I was there to attend the film festival. I was there to watch films, more particularly, my own, which was showing in programme one of the competition screening just after lunch.
I threw on a shirt and hurried along to the Sacred Cinema where I was due to meet my friend Charlotte who was staying in Cowes and who was making her way intrepidly across the island by bike, and of course, my wife and daughter, by now sated on retail gluttony. The Sacred Cinema, once a church, now, with its wide expanse of sprung timber floor, resembles a scout hall, which I have an idea it actually is. There was a drowsy feeling in the room, not helped by the glow of sunlight framing the blinds which covered the immense vertical windows. Actually this was a good thing, as long as I did not fall victim to it, as it provided perfect dozing conditions for Daisy's afternoon sleep (she tends otherwise to the more voluble scale in her praise and criticism).
Short films still form the core of the festival's repertoire. Things had kicked off on Thursday and since then there had been four programmes of 'Out of Competition Shorts' and one of 'Fuji Film Shorts' shot on that venerable stock. I confess to my shame that I had missed all of these along with the half dozen feature films which peppered the programme. My shame was short lived though; this was Ventnor after all, where all is forgiven.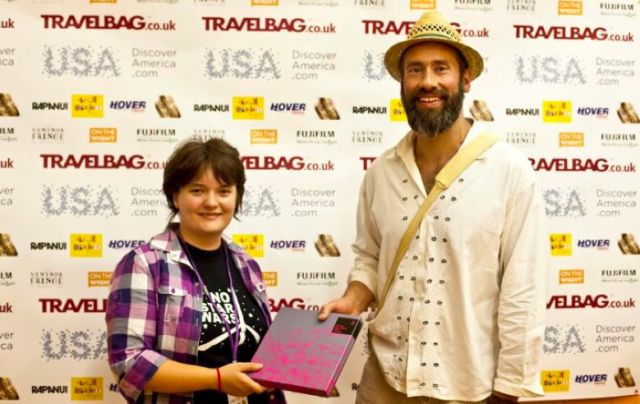 Saturday was the final day of the festival. Together with a chapter of films showcasing 'Island' talent, were the two programmes of competition films of which mine, "Invisible", was a participant. These were further divided into three subsections comprising Drama, Environment and Human Rights films, each group competing for their own "Best of" award. For my money "Dylan's Room", Layke Anderson's meditation on loss and mourning, was the strongest contender for Best Drama, although I also liked "Tepki", a wry Turkish musing on the meaningless of existence which showed traces of Beckett. The Environment and Human Rights sections mixed fiction with documentary subjects. "Machine Man" was an arresting if brutal picture of industrialisation in India which fell under Human Rights. My film "Invisible", a drama about an African refugee's search for dignity and identity as a street sweeper in London, was in the same category. There were some strong and original pictures on show and I maintained a very English "I probably won't win anything and anyhow just by thinking it I'll jinx it" sense of diffidence about proceedings.
After this I couldn't resist whisking Daisy back to the beach where she proceeded to obliterate every dry portion of her pretty white dress with the most profound investigations into Ventnor's rock pool life. It was a very sodden and very cold little budding David Attenborough that I carried back up the hill and dropped into a hot bath. Fortunately we did not have to subject the good people of Ventnor to the vagaries of my daughter's dining habits for a second time. Jim and his wife Rachel had invited us to eat with them in their new house they had been renovating on and off for the past few years. Up and up the hill we went until we had climbed to one of the highest points in the town. Outside a tower-like Victorian house which climbed higher still, we were met by my friend's two offspring – blonde willowy creatures who bore no resemblance to the hyperactive toddlers I remembered from our last encounter. We sat on the terrace, cracked molluscs and drank G&Ts as the yellow light faded and the silhouettes of houses darkened against the setting sun. There was something in the nature of the light, the steepness and the sharp outlines of the buildings that reminded me, oddly enough, of Edinburgh.
As the evening cooled we retired to the dining room where we devoured locally caught mackerel. Then my wife was pulled hither and thither by the children as we explored the house which seemed to mount floor by floor by floor into the heavens. We admired the fine views as we went and the fire surround in the upstairs drawing room which they had bought at auction and which was said to have come from Ruskin's old farmhouse. There was no need to get into a panic about the child either – when she became crotchety we simply slipped her into the pram and shoved her into a dark corner where her fight with sleep was short and one sided.
At nine we once more gathered on the terrace to watch the colourful Ventnor Carnival process pass on Victoria Street. Comprised of numerous floats, marching bands, outlandish costumes and lit by flaming torches, I later discovered that at 123 years, the carnival is the second oldest in the country. There is no agenda or anti-popery sub text, the carnival is simply an act of celebration for its own sake and in this is a perfect capping of the Fringe Festival which has cleverly incorporated this much older tradition.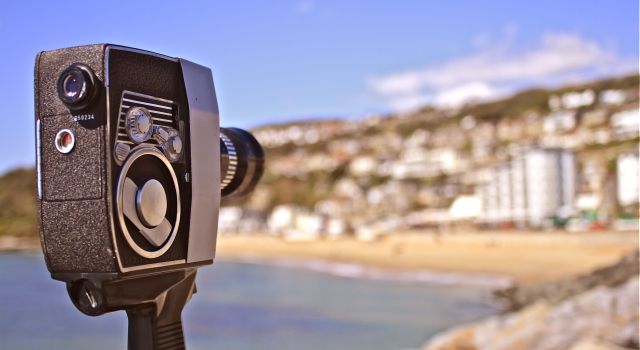 We fought through the throngs on the street using the becalmed baby's pram as a battering ram. We had bid our friends a hasty farewell; it was the Awards Ceremony for the Film Festival and we slid through the doors of the Sacred Cinema just as the announcements were made. "Dylan's Room", as I suspected, picked up the gong for Best Drama. "People of the Coral Triangle", which documented the slow strangulation of one of the last tribes of Indonesian sea nomads, took Best Environmental Short. When they announced my name and "Invisible" as winner of Best Human Rights Short, my feet physically took me to the front but my mind was left goggling at the back amongst the broken chairs and rocking pram. The photos of the moment I saw afterwards were slightly terrifying. In them I could be seen accepting the prize from the nice lady from Amnesty. My eyes were half crazed as though I had been woken from a deep sleep by a slap from a wet fish, my hat was at a drunken angle and my full beard, shot with plenty of post marital grey, seemed to somehow multiply the size of my jaw so that I looked like a sufferer of acromegaly. A sort of Carlos the Jackal gone to seed, or "Taliban chic" as my wife calls it. And Daisy's response to her father's triumph? A smile, a grimace and a long slow fart.
But the evening wasn't quite over. There was still the wrap party to attend. My wife and child were directed home to bed and I swung by to pick up Jim who was to be my partner in some fairly minor crimes. These consisted of drinking too much (or perhaps not enough) high end gin and green vermouth in an ancient Bonchurch coaching inn and being flirted "at" (we stalwartly resisted any inclination to participate) by a raven-haired Irish lady. Fortunately the walk home was downhill. The night was mild as we passed the walled mansions of Bonchurch and joined the open road to Ventnor. We chatted easily as old friends do, letting the silence gather where it needed to. For a few moments we could let ourselves believe that that we were young again, or younger, that our lives, unseen, were spread before us and that in fact all that mattered was what was passing then between sky and earth, the warm summer night, the alcohol in our bellies and the rare quiet gift of friendship. My head hit the pillow at one and I was out like a light.
The next day dawned brighter and more blissful still, if it were possible. I ignored the limescale of old booze and ruptured sleep which clung to me and convinced Danica to come down to the beach with Daisy and I, so sweet was the experience. The place was as empty as before, and the sea was as flat and brazen as liquid quicksilver. I had the best swim of the holiday as my wife and daughter played on the sand. After breakfast we packed up the car and said goodbye to our funny little guesthouse. Away from the coast it got hotter and closer. By the time we reached London it felt like we had entered a roasting pan. We dreamed of Ventnor, our little island paradise. Apparently Johnny Depp has been sniffing about for a house there. I hope not. And I hope the urban sophisticates don't come flocking as their Victorian forebears did. For now, Ventnor, with its old fashioned and new fangled, with its crab shacks and Michelin starred restaurants, with its Fawlty Towers and boutique hotels, with its beautiful sea and mild climate, with its eccentric fringe festival and laid back film festival, is well, nigh perfect.
Some names have been changed in this article to protect the guilty.