This weekend, we're venturing to Vietnam, where Gabrielle Sander experiences heat and hair-raising traffic in Da Nang before the restorative calm of the coast and two of the regions finest resorts…
Mornings are good in Vietnam, evenings too. The Southeast Asian country, which curls along the borders of China, Laos and Cambodia like the tail of a cat, draws you in immediately with its infectious split personality: dizzyingly chaotic one moment, meditatively calm the next. The former plays out on the roads, where mopeds laden with whole families whizz by, seemingly guided by invisible pathways, as they dance alongside other two-wheelers, fume-spouting trucks, buses and taxis.
A heart-thumping, eye-wincing scene for an outsider to take in. Even more so, fresh out of the airport, confused by the fact the clock says you left home exactly 24 hours earlier, even though sense says otherwise – the trickery of time zones – and permeated by a heat perfectly described by a fellow traveller as 'like opening the door on an oven'.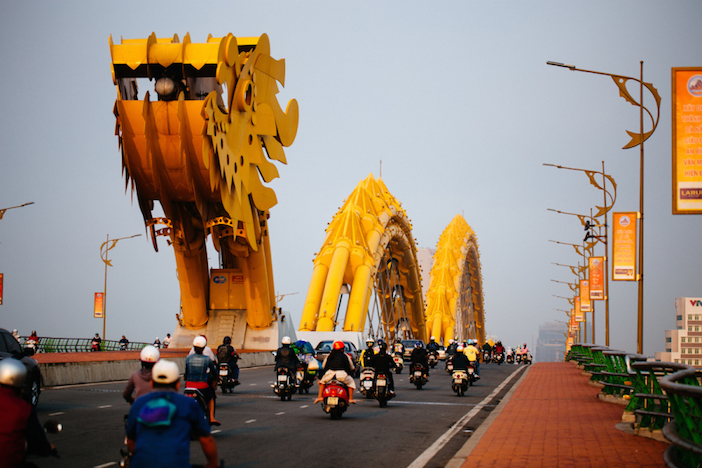 Rather than overwhelm or exhaust, as highs of 30-40 degrees can do elsewhere, the humidity envelopes you, lubricates your limbs into effortless action and forces you to slow down, relax, soak it all up. It also adds a (not overly flattering) frizz to your hair and makes you sweat more than you've ever sweated just standing still. No sooner have you stepped outside, freshly showered and dressed, your pores prickle and burst with fresh droplets.
As such, you carry water with you wherever you go; accept the offer of cold, wet flannels dished out at restaurants and hotel lobbies, like the welcome gift that they are. You develop a penchant for ice cold glasses of strong Vietnamese coffee, sweetened with gloopy swirls of condensed milk, which, you'll think you won't like, but you'll love, and will tuck into with unhealthy frequency.
My dalliance with Vietnam was brief, but intense. It swooped me up and into its folds, fed me with life's best nectars, then landed me back to normality with a bang. The affair started in central Vietnam, the buzzy coastal city of Da Nang, halfway between Ha Noi and Ho Chi Minh City. With only four whole days, the trip could've easily turned into a mad rush to see and do everything. Instead, I treated it as more of a recce, balancing the time between city sight-seeing and soaking up as much as possible right on my doorstep.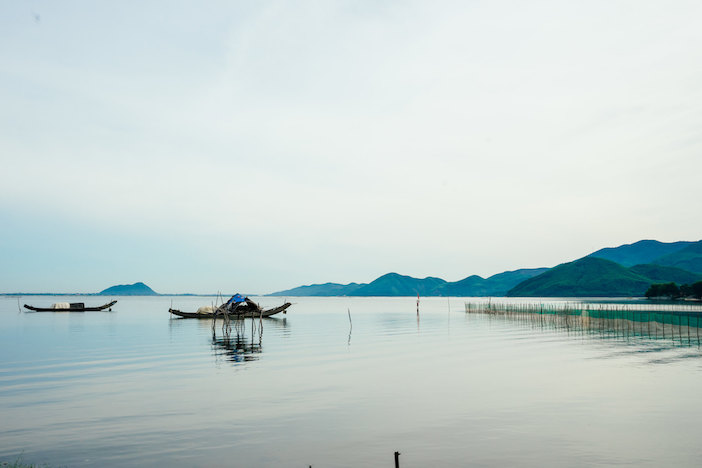 While I landed in Da Nang – thanks to a new Doha to Da Nang route by Qatar Airways – my base was near the sleepier Lang Co, an hour's drive away. Here tucked around the corner from a fishing village and lush green mountainous national park, sprawls the 280-acre, Laguna Lang Co resort, bordered by 3km of sand the colour of Lotus Biscoff and a sea so boldly blue, together they reminded me of David Hockney's A Bigger Splash.
Tucked inside this picturesque spot, is one of Vietnam's best-rated golf courses and two rather lovely Banyan Tree Hotels & Resorts properties: the five-star, family-friendly Angsana Lang Co, and the super luxe Banyan Tree Lang Co, curling deliciously up and across the cliffs with sea-facing, glass-fronted villas. I gleefully split my time between the two.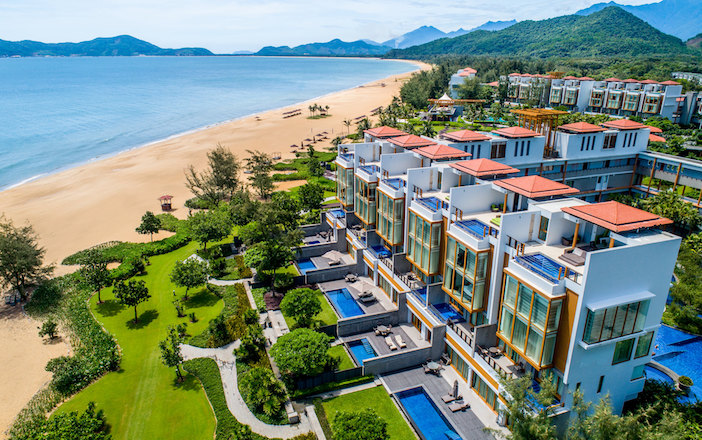 Angsana Lang Co, a pleasing mix of brutalism, terracotta tiles and soft wood, sits within Playmobil-perfect lawns lined with fragrant frangipani trees and palms. Almost every room comes with a private infinity pool, with slide-open glass doors looking towards the Troung Son mountain range or across to the South China Sea. Swimming pools are linked by a long lazy river, and moments away lies the quiet Canh Duong beach, where a small line-up of loungers is manned by a lifeguard who pops over periodically with iced tea.
For a family-focused resort, it's quiet and caters equally well for those without kids in tow. The all-important food covers everything from lunchtime bento boxes at Rice Bowl and Central Vietnamese broths, skewers and rolls at Moomba, to a packed breakfast buffet at Market Place, where dim sum mingles with seasonal pickings, giant gobstopper-size passionfruit and soft sweet mango, and a dozen fruit and vegetable juices sit beside chilled bottles of champagne.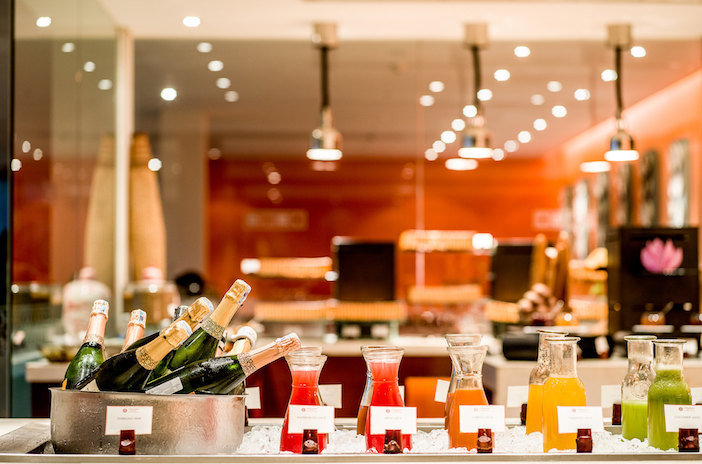 At Banyan Tree's Water Court, the same help yourself offering is dialled up a notch to include everything from smoothie bowls, to Bo Hue (the local rice noodles); jamon iberico-wrapped bread sticks to a make your own caipirinha station. This is not a grab-and-go situation. For the moments in between, the in-room treats at both introduce you to more fruits of the land – pomelo, mangosteen, guava, dragon fruit – and bedtime jars of cookies.
Banyan Tree is a walk, chauffeured golf buggy, or (the best way) boat away; a route cut through the mangrove and lantern-lined river. Check-in is done in-villa and accompanied by jasmine tea and a tiny, foil-wrapped crumbly cake, which is sweet and moreish and, I'm surprised to find, made from mung beans. And then you're left alone to have a little giggle at the luxuriousness of your gated haven.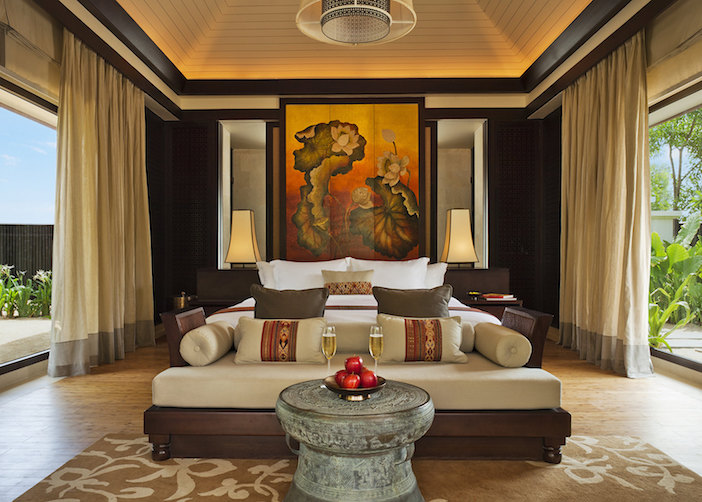 A giant Thai bed dominates the main room, behind which the bathroom sprawls, with an egg-shaped tub sitting in a shop window-style glass end, which adds an element of risqué 'what if the gardener swings by' fun to the bubble bath. Outside, past the day bed, outdoor shower, the lagoon-facing loungers (or beach-facing, depending on your location) an infinity pool sparkles welcomingly, behind which a carpet of lotus flowers bloom.
It's a place you'll want to spend a good amount of time soaking up, so you'd be wise to organise your itinerary to do all the outside exploring at the beginning, and spend the last couple of days lolling here.
Rooms at Angsana Lang Co start from around £102 per night in a Garden Balcony King Grand room on a bed and breakfast basis. For more information, visit www.angsana.com.
Gabrielle's visit continues tomorrow, as she gets hands-on experience with the resort's sustainability programme…