The best way to get around Banyan Tree is by bicycle, a collection of which are permanently stationed outside the front entrance for you to pluck and pedal off at will. Towel tucked into the basket, it's a dreamy commute to the beach, to breakfast, to the spa for the sort of massage that'll send you to hallucinatory levels of relaxation, to lunch on pizza, grilled seafood and mango daiquiris at beach-side, Azura. Everywhere, except perhaps, Saffron, the fine-dining restaurant at the top of the steep hill. You'd be wise to call a buggy for that one. Though, after you've feasted on the aromatic curries, five types of rice, and chilli-laden dishes, you'll want to amble at least some of the way back.
There's a packed activities calendar for guests at either hotel to book onto, ranging from Vietnamese language classes and cooking courses to yoga. After being told that the complexities of the lingo means that 'Ma' translates to 'mother', 'ghost', 'grief', or 'horse', depending on the intonation, I plump for the yoga. Led by a Nepalese man with the flexibility of a Curly Wurly, it's both easy to follow and muscle-shakingly challenging; and in the 8am humidity, a Bikram class in everything but name.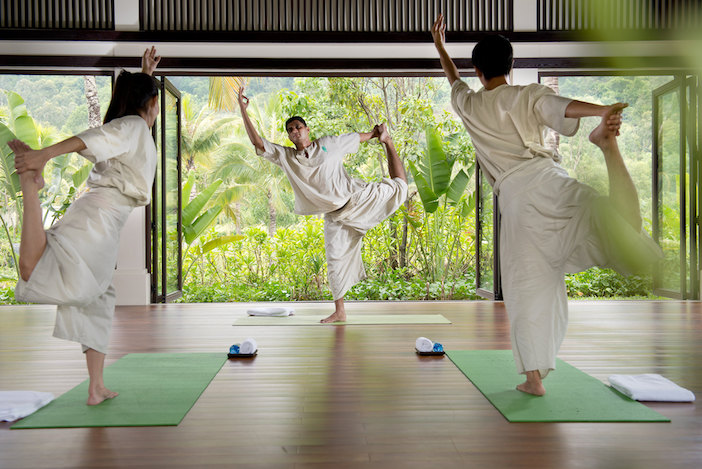 The Banyan Tree group is big on community and sustainability projects, which guests are invited to partake in. Which is how I find myself teaching English to a class of seven to 14-year-olds one Sunday morning. 30 sets of eyes, some creased with expectant grins, others intrigued, witnessing just how profusely it's possible for a person to sweat, when you place them in a 34-degree, unairconditioned classroom.
How on earth can these kids learn in this heat?, I think, as I deliver my first line on the subject of personal hygiene; a suspiciously apt choice: "Showering at least once a day. Good or bad?" "Good" comes the resounding reply. Likely by way of recommendation, then anything. If I'd have been in charge of the itinerary, I can honesty say, I would not have chosen to dedicate two precious hours of my trip to this. But it turned out to be one of the most rewarding things I've done.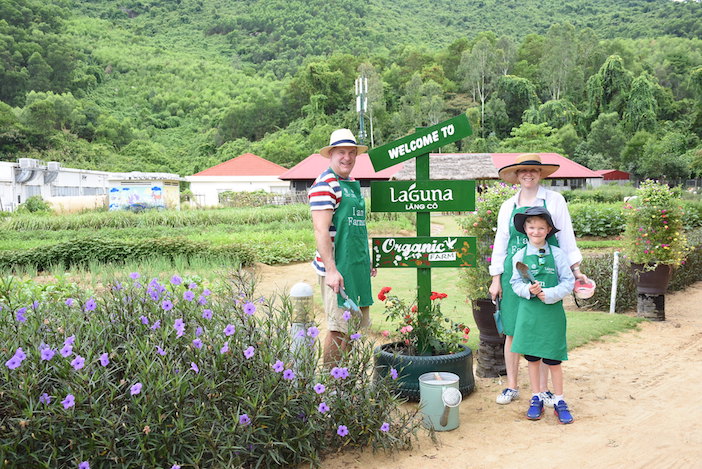 Another activity, worth popping along to for the goat-feeding alone, is visiting the resort's organic farm, where around 4,000kg of the hotels' annual vegetables, fruit and herbs grow: spinach, sweet potatoes, watermelon, okra, aubergine, morning glory, down to the butterfly pea flower used to make the post-treatment tea at the spa.
Just along from there, there's the 18-hole Nick Faldo-designed, golf course, which has the claim to fame of being the only one in the world with paddy fields. Another surely unique addition, is the family of water buffalo I got up close to as they cooled in a muddy pool where the course melds into jungle. Hole 9 takes you right onto the beach, where you'd be forgiven for hanging up your club and hopping into the sea, and from October to January, a 150ft waterfall adds to the photogenic mix. I'm more into tea than teeing off, but time allowing, I'd have booked into one of the complimentary intro sessions.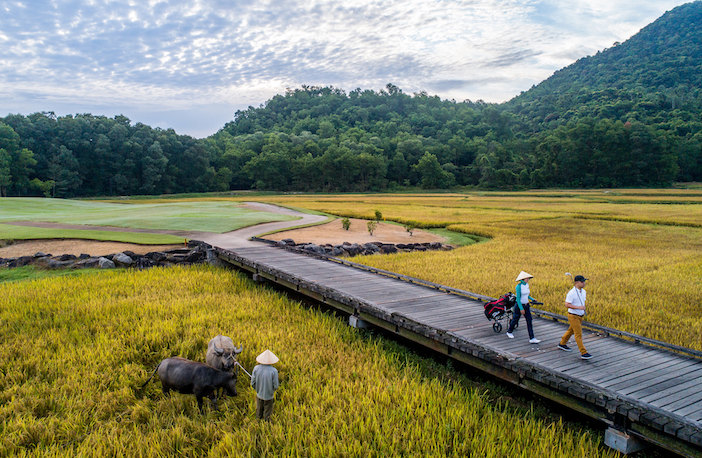 The hotels provide a free shuttle bus from/to the airport and popular nearby destinations, such as Hoi An. For a fee, they'll also arrange taxis and trips to some of Central Vietnam's other gems.
A 15-minute drive from the resort is Lang Co fishing village, where I hopped into a basket boat with one of the resident ladies who dished out heart-warming smiles and slightly mocking laughter in equal measure, at my poor attempts at rowing. We dropped nets, sidled alongside the silty mangroves hopping with frogs and packed with tiny Lang Co oysters, used to make oyster sauce, before circling back to pull in the haul of crabs and mullet.
Five minutes along from there is Lap An lagoon, one of the largest in central Vietnam. Here at a restaurant on stilts, I peeled sticky, sweet, nutty oysters from their shells with chopsticks and slurped lemongrass, chilli and basil broth floating with Chiep-Chiep clams, marvelling at the scene all around: the upside down reflection of the Ba Mach mountain range, fluffy white clouds dancing above, and in the distance the train which runs the 36-hour route from Hanoi to Hoi Chi Min, rushing past.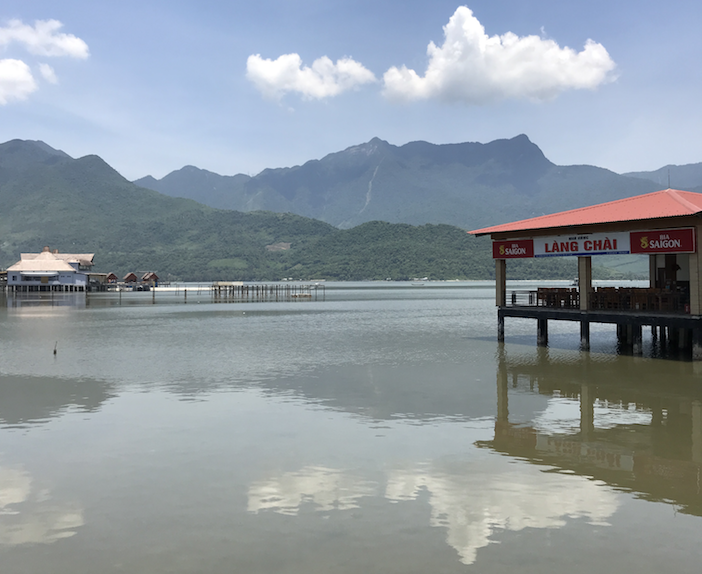 An hour and a half drive away, via Hai Van Park, a picturesque section passing the white sandy Lang Co beach, is Hoi An, a key trading port during the 15th-19thcenturies, drawing in Japanese, Chinese and European merchants and influences. Hoi An translates to 'peaceful place', which by day it largely is. A good time to stroll at snail pace through the pretty streets of the Old Town. Accessed via the ornate wooden Japanese Covered Bridge (200,000 dong/around 10 dollars to enter), this UNESCO world heritage site is a pedestrianised maze strung side to side with lanterns and lined with 14thcentury timber-framed buildings, mustard-yellow French colonial houses, technicolour temples, and cafes serving reviving iced coffees, from the condensed milk-spiked to the more obscure avocado.
Come evening when the temperature dips with the sun, it's anything but peaceful, swarming with visitors congregating along the Thu Bon River that runs through, drawn by the hundreds of floating candle lanterns you can buy for pennies to pop atop. The constant beep of mopeds as they pass through the thick quilt of people; the fizz of street food stalls sizzling with meaty sticks; the chatter of a thousand conversations combining to create a buzzing melody akin to cicadas. It's a dizzying assault on the senses. But, don't let this put you off, it's part of the Hoi An's charm, and if you're travelling to these parts, and stop at this city a must.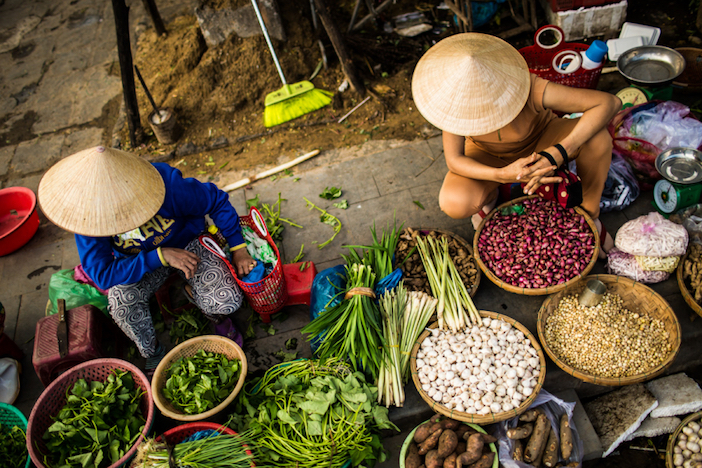 It's not a surprise that Vietnam is so beguiling; the scenery beautiful, the food delicious, the people welcoming: this is southeast Asia, and from what I've experienced, is pretty much a given. But, it's just how spectacular it all is. How quickly you forget home and slip into the swing of things. It's so far removed from this old smoke, four days felt like much more, making it a perfectly doable week away.
Take a day flight and book a window seat (right hand side en route, left on the return). Even if it means having to leap frog over your sleeping neighbours for leg stretching and loo breaks, it'll be worth it – the plane views are immense. On the London-Doha leg you'll enjoy endless sandy flats over the Middle East, interspersed with surprising hits of vegetation and mind-bending shapes of man-made land built onto sea, while Doha-Da Nang will treat you to the mountains and rivers flowing around India and the Bay of Bengal. An adventure before the real adventure begins.
Getting there: Qatar Airways, named the 'World's Best Airline' at the 2019 Skytrax Awards, offers up to four connections per week from London Heathrow and London Gatwick to Da Nang. Economy Class return flights start from £638. Learn more at www.qatarairways.com.
Rooms at Banyan Tree Lang Co start from around £370 per night for a Lagoon Pool Villa on a bed and breakfast basis. Visit www.banyantree.com for more information.
For more information about Vietnam, and to plan your trip, visit the official tourist board website at www.vietnam.travel.
To mark its 25thanniversary, Banyan Tree is running a Celebratory Offer that includes 25% savings on rooms (Best Available Rate), food and beverage services, Spa and Gallery retail. The offer is valid for travel until 19 December this year and is based on a minimum two-night stay.