Alba at dusk. A perfectly round, milk white moon is rising in the sky like a glowing communion host. Donning a dusty pair wellington boots, I make my way through the forest guided by the light of the moon. Ahead of me I can just about make out the moving figure of Buc, the shaggy white dog tasked with sniffing out nuggets of white gold. With the playfulness of a puppy, Buc seems like he'd be happier at home sprawled out by the fire, but he does his best to focus on the task at hand despite being easily distracted by his audience.
The mid-autumn air has cooled to a chill and my teeth start to chatter as we venture deeper into the forest. Having been on a daytime truffle hunt before, when giant black truffles were unearthed with suspicious ease, tonight's nocturnal hunt feels far more authentic. We walk for nearly an hour without the faintest whiff of a truffle. Our hunter tries his best not to look agitated, but the pressure is on for him to find us a treat before supper. Darting off up the hill, Buc begins manically circling a patch of land and digging up clumps of earth. We gather by his side and stand still as statues.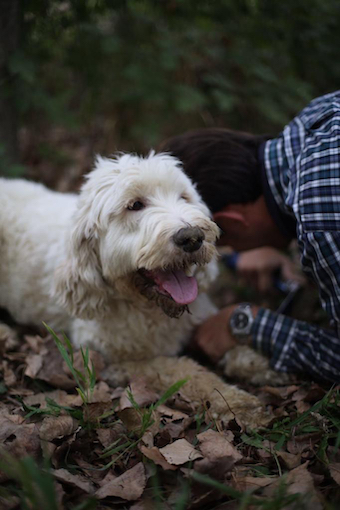 With his nose deep in the dirt, Buc seems certain that this particular patch is the spot of buried treasure. Moving the hound to one side, our truffle hunter kneels down and starts uprooting the soil with a tiny silver spade. The task requires patience and persistence. Having dug a sizeable hole, he bends over and sniffs the ground like a holy man bowing to pray. Content, he gathers up a clump of earth and holds it under my nose. It has the distinct musky aroma of white truffle. Victory is close. Digging deeper into the ground with great care, he eventually unveils the tip of a truffle. Excavating it with the precision of an archaeologist, once freed from the earth, he holds the truffle in his palm as Buc salivates by his side. It should earn him a pretty penny – Alba white truffles can command as much as €40,000 per kilo.
While a number of countries cultivate white truffles, Alba in the northern Italian region of Piedmont, is where the world's most prized tartufi bianchi are grown, its humidity and limestone rich soils making it an ideal incubator for the fungi. White truffles can grow on the roots of five trees: oak, poplar, linden, willow and hazelnut, for which Piedmont is renowned. The region is the home of Nutella and Ferrero Rocher, and if you happen to be in Alba's main square at the right time, you'll get to experience a moment of Willy Wonka-like brilliance when the smell of roasting chocolate fills the air as the factories fire up their machines in the morning.
Truffle hunters have to wait for favourable conditions before they can set off – it's impossible to hunt in the snow and hard in the rain. Most of Alba's truffle hunters begin their search at 4am while it's still dark to protect the whereabouts of the truffles they find. Given the high prices they command, truffle hunting in Alba is a covert business and all aspiring hunters have to pass an exam before they get their licence. Detailed maps have been handed down through generations of hunters and dogs that stray onto competitors' patches of land are in danger of being shot. The season for Alba truffles runs from early October to late January, when restaurants in the region barter to get a good price for the pungent jewels, often displaying them in bell jars like trophies. Adding a sense of urgency to proceedings, a white truffle only stays fresh for a week, meaning they have to be sold and consumed in a matter of days.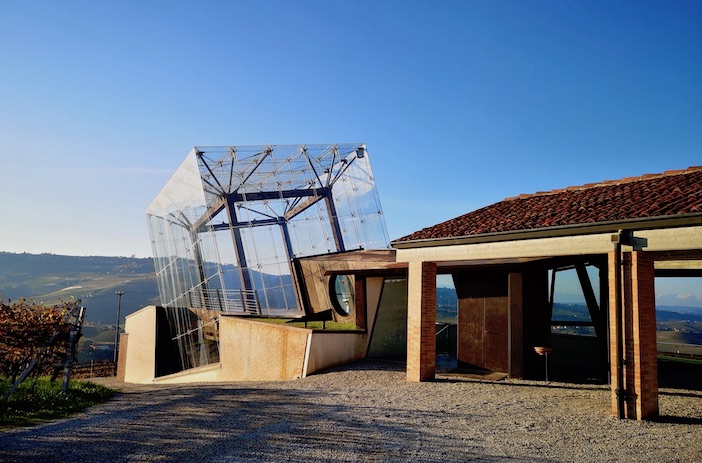 My truffle hunt was organised by Ceretto, a family-owned winery based in Alba. Founded in the 1930s and rising to prominence in the '60s due to the hard graft of Bruno and Marcello Ceretto, known as the 'Barolo brothers', today Ceretto is run by siblings Roberta and Federico Ceretto, and their cousins Alessandro and Lisa, all of whom have an equal share in the business. The family owns 21 hectares of biodynamically farmed vineyard land in Barolo and Barbaresco, along with 80 hectares of hazelnut orchards and an impressive contemporary art collection. Their five prized single vineyard wines, some of which they make less than 500 bottles a year of, cost upwards of €150 and have a loyal following. That may sound expensive, but when compared to the price of top Burgundy, Barolo is a steal.
After a long, winding drive from Turin, we begin meandering through a patchwork quilt of vines bathed in soft afternoon light, their leaves ablaze with gold. The cloudless sky is a brilliant blue. Solitary leaves cling defiantly to spindly poplars. There's something otherworldly about Alba in autumn. It's a quiet, mystical place with the majesty of Tuscany and wines of equal if not better calibre that emit a heavenly perfume of freshly turned earth, cherries and roses. In addition to the truffle hunt, I had come to worship at the altar of Enrico Crippa, the wildly talented moustachioed chef behind the three Michelin-starred Piazza Duomo in Alba, which happens to be owned by the Ceretto family.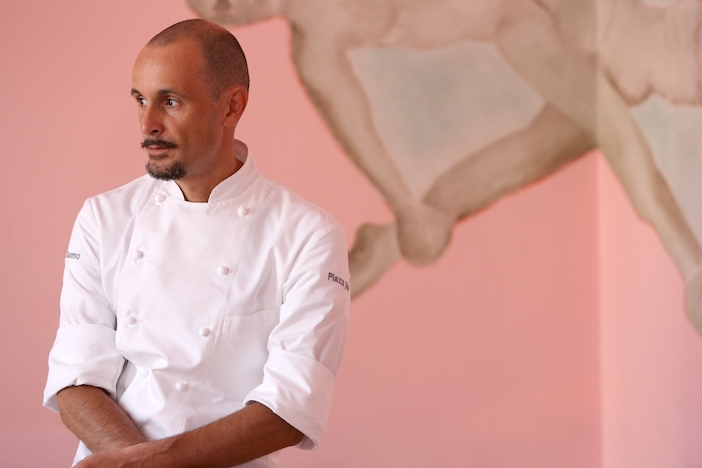 Having fallen in love with the cooking of French maestro Michel Bras, Crippa learnt his craft at El Bulli in Catalonia, where he was taken under the wing of Ferran Adrià, whose molecular flourishes can be felt in many of Crippa's dishes. Obsessed with vegetables, Crippa nurtures a three-hectare biodynamic kitchen garden at Ceretto's estate in Alba, planted with 500 different herbs and looked after by three full-time staff. His signature dish is a salad that includes up to 51 elements depending on the season. Before dinner I'm given a tour of the garden and am permitted to munch my way through it.
While some of the herbs are familiar, many are new to me, including one that tastes like cream and another like mushroom. Foraging fan Crippa is so veggie mad, the Cerettos had to persuade him to add more than one meat dish to his tasting menu to pair with their broad-shouldered Barolos. Offering three types of tasting menu at Piazza Duomo, Crippa changes his offering four times a year with the seasons, but is constantly tweaking his dishes, working with cabbages and pumpkins in winter. Operating with El Bulli-esque attention to detail, the pale pink Piazza Duomo has 24 chefs to 34 guests. Opening its doors in 2005, it gained its first Michelin star a year later, second in 2009 and third in 2012, putting Crippa in the same league as Italian greats like Massimo Bottura.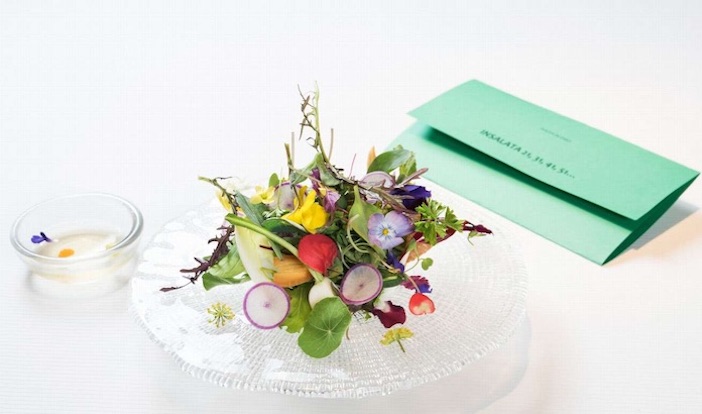 From my first mouthful it was clear that I was in for a memorable experience. To whet our appetites, a plethora of amuse-bouches are paraded into the dining room with military precision and artfully placed on the table. I wondered whether Crippa had decided to serve the entire tasting menu in one fell swoop, but soon discovered that this was just the beginning. Barely an inch of tablecloth was visible once the last starter had been served. I felt like a child on Christmas morning not knowing which present to open first. Some of the morsels, like the exploding 'fake olives' were Adrià-inspired trompe l'oeil tricks, others, like the kimchi and pickled mushrooms, illustrated Crippa's love of Asian flavours. The most daring dishes, like the miso créme caramel and cloud-like foie gras mousse with ginger foam and a peanut biscuit, united unexpected flavours to great effect.
Crippa's second act – sous-vide cod with a sunshine yellow pumpkin sauce – was more classical in nature but no less delicious. Showcasing his technical flair, the iridescent hunk of fish was cooked to perfection, its delicate flavour enhanced rather than overpowered by the earthy sauce. Given that it was truffle season, the prized ingredient made a cameo on the menu, shaved liberally over an al dente risotto laced with chocolate and chestnuts, and drizzled with a liver reduction. The sweet-savoury dish sounds bonkers, which it was, but tasted divine, tiny cubes of lemon jelly adding a citrus lift to the rich ensemble.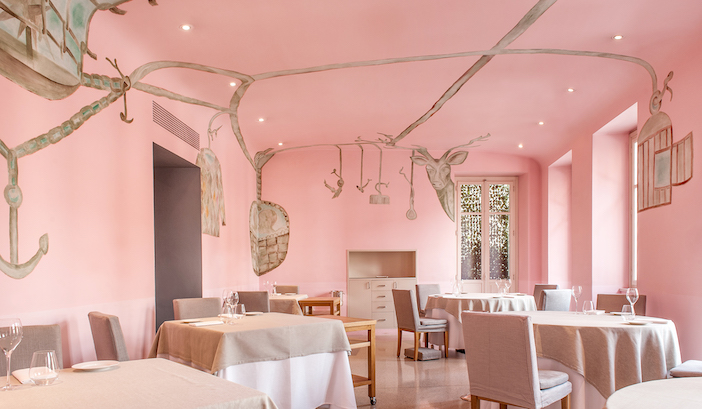 To pair with our partridge, black truffle reduction and foie gras cream, we were served two generous glasses of Ceretto's Bricco Roche Barolo 2012 and Barbaresco Bernadot 2015, which divided the table. While most preferred the power and majesty of the Barolo, with its notes of tobacco, leather and roses, I was more moved by the haunting elegance of the Barbaresco and its ethereal aroma of cherries, autumn leaves and dried herbs. Given that Barbaresco is a significantly smaller region than Barolo, the wines feel all the more precious. Made with the same grape – Nebbiolo – both wines were magnificent, displaying intense power and immense finesse. Structured yet fluid, they danced across the palate with a grace only usually found in the top Pinots of Burgundy.
For the luckiest of guests, there is the option of rolling straight from the dining room into one of the restaurant's four bedrooms. Mine boasted a roll top bath as big as my flat and a prettily packaged hazelnut cake cooked by Crippa. If my evening wasn't indulgent enough, the following day things got even more decadent during lunch at La Piola, the Ceretto family's more casual bistro beneath Piazza Duomo.
Figuring I should go hard or go home, I ordered the eggs en cocotte bathed in cream and blanketed in white truffle, followed by a steaming bowl of buttery tajarin pasta with a generous shaving of Alba's finest. The rusticity of the dishes was in stark contrast to the technical wizardry of Crippa's creations the night before, but there was something so satisfying about their simplicity and ability to deliver maximum pleasure from a few choice ingredients. Sleepy and replete, on the journey back to Turin I dreamt of hazelnuts.
For more information about Piazza Duomo, including details of menus and Enrico Crippa's story, visit www.piazzaduomoalba.it. For more information about Ceretto, including details of their wines and experiences, visit www.ceretto.com.