Nancy and the Bookworm get positively medieval in Yorkshire's historic capital…
The Old Bookworm stands in the dock, accused of singing, dancing and riotous merry-making – a circumstance that brings with it a certain sense of resigned inevitability as far as I am concerned. An austere, be-wigged judge casts disdain and sentence upon his sorry self (the Bookworm has the good grace to wear the expression of one roundly humiliated), while a motley, baying mob of around 15 jeer with relish and call for his blood.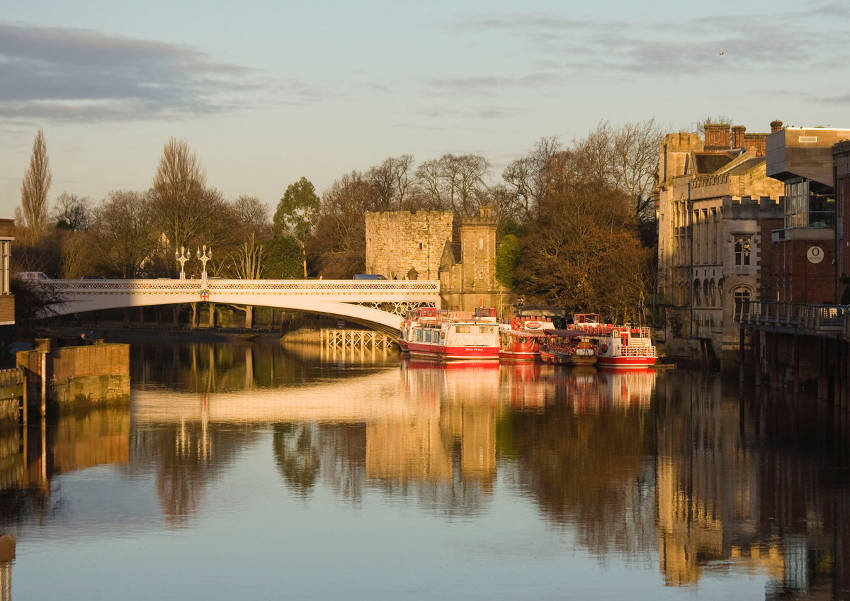 It has been an eventful day for the Old Bookworm; not fifteen minutes ago, he was standing in the stocks, and before that, he had been both beheaded with an axe and operated on by a gore-fixated woman, convinced that he would soon be claimed by The Black Death. This series of events is, granted, too ridiculous even for him (and he has known some tight spots). We are, reader, on a tour of The York Dungeon. The judge and the sadistic plague nurse are, merci mon dieu, enthusiastic actors, while said mob are the grateful remainder of the crowd who have evaded the audience participation aspect of the tour.
'Why is it ALWAYS me?' the Bookworm opines.
'You just have that sort of FACE,' I say, briskly, not wishing to indulge him. Anyway, I think he secretly rather enjoys it; there is something of the pantomime about him, after all – he shall be known as the Grand Old Dame of York from now on when he does something particularly ridiculous. 
We emerge, our heads full of macabre details involving Dick Turpin and witch-burnings, the Bookworm rather proud of his Am Dram turn, myself only too glad to have honed my downward evasive stare and thus avoided the Bookworm's fate. Still, we found ourselves enthralled and after a recuperative draft at the aptly titled The House of Trembling Madness, a medieval drinking hall whose popularity is attested to by the strict 'one-in, one-out' policy and where heads of animals adorn the wall and the grip of grog delirium threatens to claim one and all at any moment, we repair to The Castle Museum. After all, the Bookworm needs to be taken in hand; I sense that the poor weak-willed lamb could easily succumb and cross the line into lunacy. Nothing that an improving museum visit won't sort out, I resolve.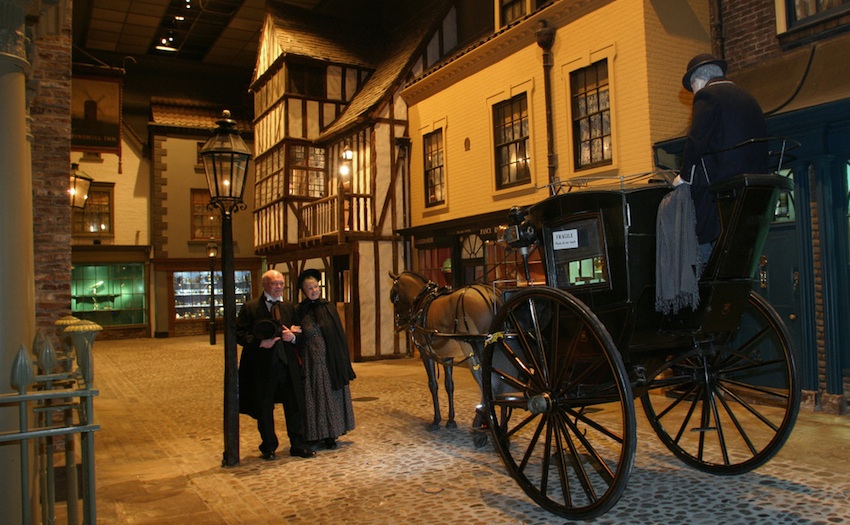 We wander through its impressive galleries that reveal brilliantly just how York would have appeared in times gone by, from the Georgian room set ups to the show-stopping recreation of a Victorian Street that has been designed even to smell as it would have done, the immersive experience unlike any other either of us have encountered anywhere. The Old Bookworm, for his part, his most enthralled by a 19th-century sweet shop(what else?) and it takes me a good 15 minutes to dissuade him from trying to stuff some violet creams from the display into his pockets, like an overgrown latter day Just William.
We finish our tour, yet again, in the dungeons. The Old Bookworm looks at me.
'All you DO is parade me round the cells today. I do believe that you would love to see me incarcerated…' he says pointedly. I do not answer; I find that when he's at his silliest, it's best to take him straight to the museum shop to distract him with some boiled sweets and a novelty pencil sharpener.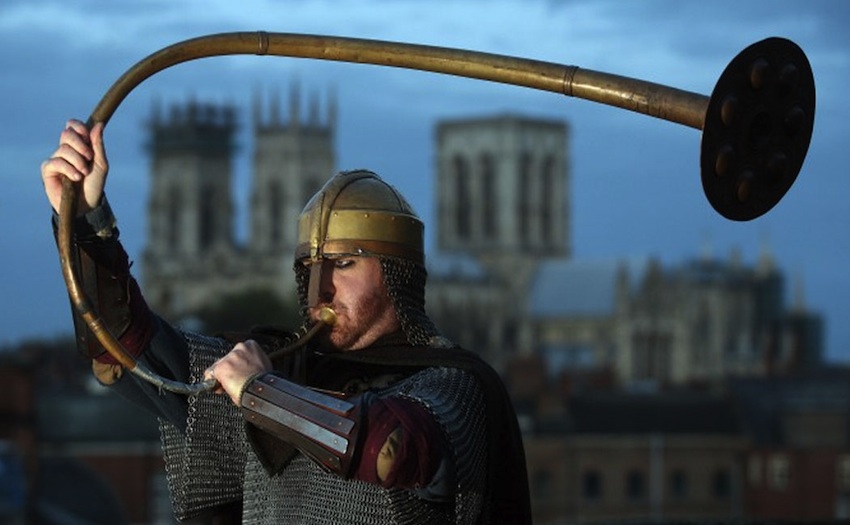 Next on our historic tour of the city fortified by a legendary Fat Rascal bun from Betty's teashop – we stop in at The Jorvik Viking Centre, an attraction that is part museum which teaches about the Vikings substantial role in the city's rich and layered history, part theme park, which pleases us both greatly. Having conversed with a man dressed up as a Viking and gazed upon both weaponry and skeletons, we strap ourselves into a time cart that whisks us round scenes of Vikings going about their business in set-ups that directly reference the1970s archaeological find on this spot that revealed the dwellings of those conquering inhabitants of the city some 1000 years ago.
Fearing by now that the Old Bookworm might have picked up some ideas from our somewhat cruder historic brethren, I suggest that we repair to our hotel for a break. The Mount Royale is warm, welcoming and perfectly situated for our two-night stay on The Mount. A family-run feel pervades (indeed, it has been presided over by the Oxtoby clan since the 1960s) and our room is a comfortable joy, its luxury only augmented by the sliding doors that give straight out onto an elegant private verandah and then beyond to the picturesque garden. We resolve to dine in that night, taking first a dram by the roaring fire in the cosy bar before being shepherded into Oxo's on the Mount, where provenance and sublime execution are clearly important in equal measures to head chef Russell Johnson (do try the scallops, which are sweet, plump and memorable).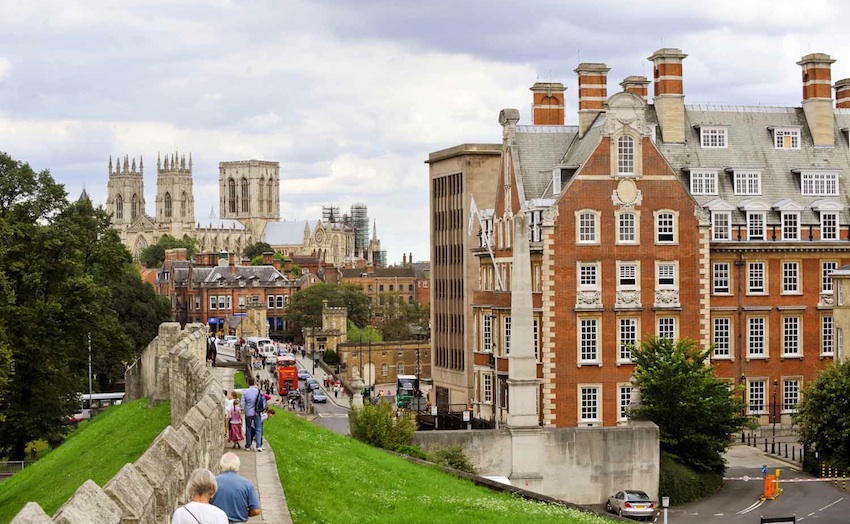 There were to be further culinary and aesthetic treats in store as well, as the following night we managed to partake of dinner at the city's legendary Cedar Court Grand. The main restaurant there, HQ at the Grand, manages the difficult task of making 'fine dining' seem approachable and unstuffy, and all the while keeping things at the level of 'affordable for a special occasion' rather than 'Oh God, what will my bank manager say?' Dishes including delicately seared scallops, wonderfully tender venison and something epic and ornate involving chocolate were all greedily devoured by the Bookworm, washed down with the sort of full-flavoured Portuguese red wine that is frankly so delectable that it makes me want to become a modern-day conquistador and sail over to those shores in search of refreshment. But in the meantime, HQ will be my first port of call.
The following day, as we prepare sadly to leave to York with a last glass of ale at the railway station's toweringly brilliant York Tap, the Bookworm looks genuinely disconsolate to be going. 'I don't want to go home,' he sighs. 'Those Vikings were lucky to live here amidst such beauty – I'd even spend a night in those dungeons if it meant staying a bit longer.' I toy with telling him that such an eventuality could be arranged, but then I look upon his dear face, ruffle his hair and tell him it is the first sensible thing he's said all weekend.
Getting There: Grand Central's North East route travels from Sunderland, through Hartlepool, Eaglescliffe, Northallerton, Thirsk and York straight through to London Kings Cross. For more information and tickets, visit Grand Central Rail's website. To make the most of your visit to York, snap up a York Pass which grants entry into all the main attractions. For more information, including events and all the attractions mentioned in the article, visit the York Pass website. Standard doubles/twins at The Mount Royale Hotel start at £125, including full English breakfast, for more information visit the website.