With the market closed, the fish stalls too far (with further threat of getting lost) and fear of only ever stumbling onto a tourist dive we were advised to avoid, the Lonely Planet guide book came up trumps as it directed us to the one touristy eaterie that's any good, Marganzo. Set behind the bastion walls and round the corner from the plaza grande, it's run by diminutive Mayan women in traditional huipil and served some cracking regional food; crab taquitos and then 'panchugos con pollo' – refried beans, chicken, onion and avocado on a tortilla – basically a deconstructed kebab but delicious all the same when dressed with salsa and accompanied by a montejo, my new favourite beer, and a glass of reposado.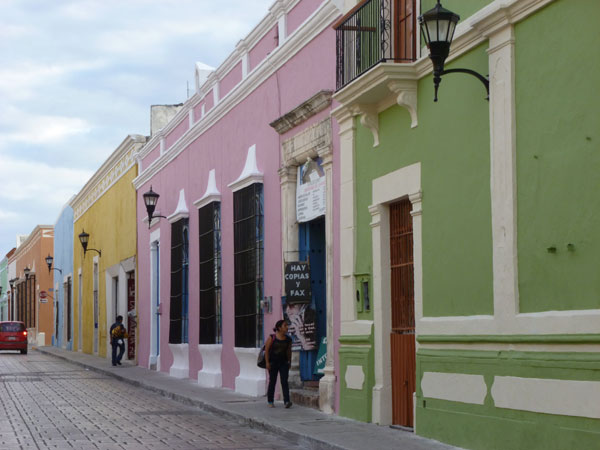 On the way back to the car we stumbled upon a tourist shop who's owner, far from trying to sell us anything, suggested things we should do, with genuine pride for his home town, of which one thing turned out to be a triumph: he directed us to a charming café called Chocol-Ha where we tried hot chocolate with chili, a classic Mayan drink, to cap off our meal. The feared return drive proved oddly elementary as we followed the one-way system out of town – which begs the question, what had we done on the way in? – but, naturally, I had to engage drama by misreading the policeman's 'carry on' for a stop signal before delivering a flustered exchange about being lost on the way to China and then forgetting his directions in my neurotic state and directing Mrs L to the right, when he said left. We got back eventually.
Uxmal
The perils of staying in semi-jungle, even in five star opulence, became evident when we woke up this morning – well, last night, in fact – as we really started to notice the cloying, claggy damp to most of the cloth fibres in our room. Still, with that, and 8am room service of coffee and fruit we were off and on our way for the next Mayan stop: Uxmal (pron. Ooshmal). Our guide book and all further advice said the same thing; it's amazing, better than Chichen-Itza. And it was. The route up to Uxmal was 'up' on account of being the first time we'd encountered a hill the entire trip. It's no surprise, then, that this region is known as Puuc (Pu-yook), Mayan for 'hills', and this would be something reflected in the architectural style of Uxmal itself.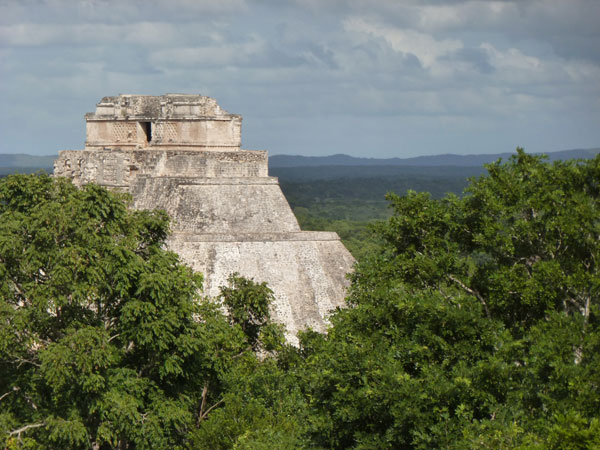 The first thing we encountered was a large oval pyramid, the Casa del Adivino, or Soothsayer's House. It is, alas, a reconstruction but is topped with a doorway that forms the mouth of a huge mask of Chac, the rain god. It's particularly pertinent here since Uxmal displays a lot of innovation for collecting and storing water, including cisterns and reservoirs, on account of the areas scarce supply. Chac features heavily here, adorning the huge Governor's Palace – the geometric designs being typical of Puuc architecture – and symbols of serpents, Kukulcan particularly, on the temples of the vast Nun's Quadrangle; these ruins are a terrific example of the detail of Mayan relief work. Uxmal also gave us our first opportunity to get that classic image, that of temple tops emerging above the jungle canopy. Uxmal, so far, is my favourite.
With the exception of roadworks, one of the other key features of the drive across the Yucatan was passing countless groups of pilgrims on bicycles. Often preceded by a van carrying an effigy of the Virgin Mary, their bikes were adorned with ribbons, bells, and other colourful paraphernalia apart from anything it must have been blistering work but, that is, after all, part and parcel of pilgrimage. For our part, we empathized. Well, as far as the lack of aircon and a diet of rice and beans – our lunch earlier – could take us. We were, admittedly, to be met with more five star luxury at our next stop. If we could find it.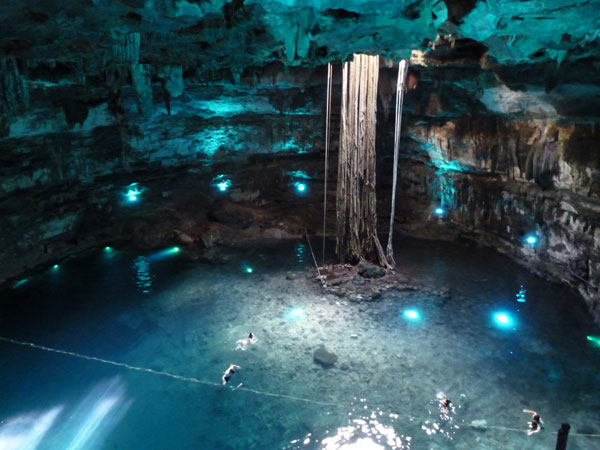 Our second hacienda of the trip, and one of the five in the region bought and restored by a philanthropic couple, Santa Rosa, like Uayamon, sits shoulder-to-shoulder with its village of the same name. And, similarly, a wrong turn led us not through China this time, but Granada, another village en route. Here, more than previously, we had a glimpse into the lives of everyday Mexicans – literally, looking into their square, single room homes, with hammocks, crackly TVs, shared with stray dogs and chickens. What struck me with some were carefully-attended shrines by their front door, further evidence of Mexico's rich Catholic adherence.
In contrast to Uayamon, the accommodation at Santa Rosa is within the main hacienda itself. Characteristic high ceilings, tall hefty wooden doors and window shutters, and warm and uneven décor in keeping with the original gave this a far more authentic feel to staying on a 19th century hennequin ranch. A gated entrance at the end of the village opened to a long, straight drive to the arched terrace across the front of the building. Here we were welcomed with cool towels and homemade lemonade and shown around. Our room was in the converted chapel adjoining the main building and down a cobbled cloister. Alas, with little time for much more than a complimentary 10 minute rub down – once again, sublime check-in hospitality – we unpacked and changed for supper, shared with mosquitoes on the rear veranda.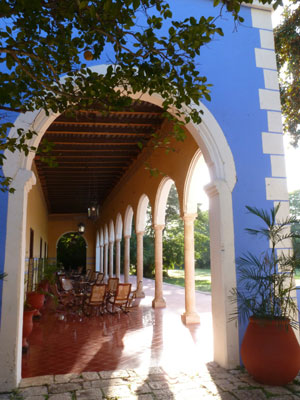 There is a lot of thought put into ones stay at the haciendas here. While we dined on cochinita pibil, slow-cooked pork, the chamber maids had returned to our room to prepare it for the evening; lowering the lights, setting the slippers, placing rose petals about the bed and a CD of Lila Downs – Mexico's most famous export – softly on the stereo. It made for a blissful, restful evening.
Santa Rosa to Playa del Carmen
This was it, then, the return leg; the long haul back across the Peninsula and back to the east coast. Best intentions for an early departure were thwarted by a deliciously languishing breakfast, featuring pancakes, huevos rancheros and a papaya milkshake. But two hours in and we'd made good progress, reaching Chichen by midday, helped largely by a spell on the relentless 180D. No fears this time, however, we were practically native. Turning off to via Valladolid's cenotes in a final bid to get at least one decent swim in a sinkhole, we pulled up at one of the grill shacks along the road for some takeaway lunch of grilled chicken. It looked and smelled delicious but we did question their hygiene policy – oh, well, fortune favours the bold and all that.
The majority of cenotes across the Yucatan, particularly the big ones, far from being mythical or hidden away in the surrounding bush for one to stumble upon are, somewhat disappointingly, symptomatically built-up and overcome by enterprising landowners. And not just landowners it would seem. Consequently, as we turned into the virtually deserted complex around Cenote Dzitnup we were waved down by a small child giving us directions on parking before fleecing us for 20 pesos to 'watch our car'. This sounded like a racket, if you ask me, and I gave him a firm 'or else' look as we gathered our swimming kit and made our way to the entrance. This child exploitation continued through the cheap craft stalls as a collection of imps badgered us with napkins and tea towels, and into the cenote itself where another enterprising urchin didn't even bother with plying crafts, rather just asking for pesos. Batting him aside, all this proved a minor distraction as we descended the steps into the darkness…and emitted a collective 'Wow' once inside. This cavernous well was lit by colour-changing lights but, most strikingly, a 10-foot diameter hole at the top let through a shaft of light and tree roots that grew all the way to the water below. And that water, once we'd got down there, was lovely.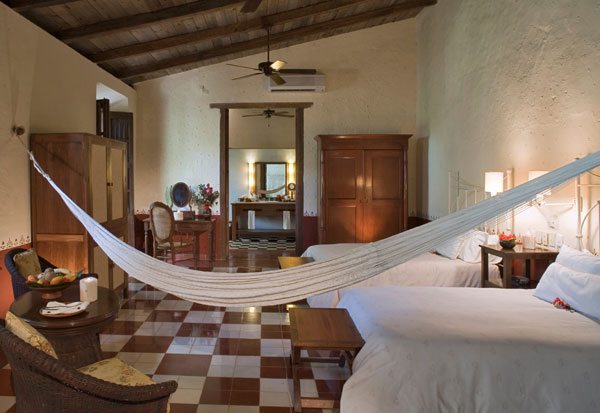 Far from that grilled chicken being a concern, what worried me more was the ready-opened coconut I got done for as we left the cenote, tasting just like tap water poured into an empty husk. I survived, evidently, but I couldn't help feeling as we were hassled by yet more kids in the carpark that this was blighting our experience of Mexican diffidence. But we managed to brush off the boy that clung to our car as we pulled away and set off for Coba.
The final stop on our Mayan adventure, Coba, provided another revelation. Guides, particularly those who tout for business, can be a bit hit and miss as a rule; often indifferent, concerned only for the cash and usually unimpartial. In Mexico, however, they are a godsend. Having avoided them previously, at Coba we elected for one and ours, Mayan by descent, was well-informed, enthusiastic and thoroughly engaging.
Renowned for having the highest temple in the Mayan pantheon, there's much more to Coba than that. A relatively early example of a Mayan city, it showed signs of terrific innovation; the ballcourt, for example, is relatively small in comparison to the others we'd seen on account of it being an early version. Over the centuries, as the Mayan civilisation had grew and built bigger cities, the games went from short, small-numbered affairs to great battles that lasted days by the time Chichen-Itza was built. Not least that by then the contests ended with human sacrifices. An early Mayan city, Coba must have been successful, too. As our guide explained, Mayan temples weren't built in one go but layers were added by successive generations, particularly as the Maya were a migratory people, often deserting cities when resources depleted and repopulating them again generations later. If Coba sports the highest, then surely that's indicative of its longevity.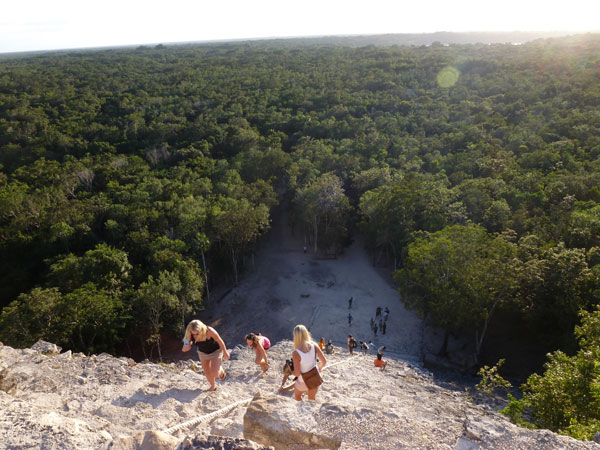 Coba felt like real adventure, too. Many of the ruins are still uncovered and unrestored, buried into hillocks and covered in foliage and vines. And it sprawls, covering quite some ground such that rickshaw riders offered lifts between key buildings, namely the main temple. As we peddled our way there we must have been one of the last, the site official just allowing us an opportunity to climb it. Here, for once, being a latecomer paid off. Treacherously steep, the ascent paid off for as we reached the top, the sun low on the horizon, it bathed the forest canopy in that wonderful coral-filtered late afternoon light. It was a symbolic finale to our Mayan tour.
Our Chevy now wheezing from its punishing drive, it practically collapsed as we pulled in to our final destination; we were back on the Riviera, this time at the Banyan Tree in the private gated enclave, Mayakoba.
Back among the mangroves and undergrowth that marks this stretch of coastline, we juddered our way through the winding cobbled drive that weaves through the grounds of the resort, and pulled up outside the main resort building. Part of the Banyan Tree group, their signature is Far Eastern and this motif continues through the décor. Once again, welcomed with superlative hospitality, a cool hand towel and a cleansing 'Mayan spinach' cocktail – I passed on the tequila (although that would come later) – it epitomised the Banyan Tree's philosophy of physical and spiritual renewal. It's no coincidence that the eponymous banyan tree is heralded for providing shade and shelter to weary travelers. This was to be a perfect conclusion to the trip.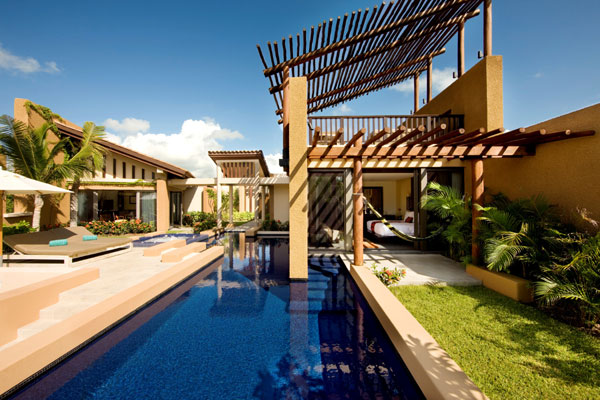 This was barely the start, however. The setting of this hotel is truly remarkable. Poised on the edge of the mangrove lagoon, its main complex is set within the lagoon itself. Bridges join islands within the lagoon, and a ferry – nothing like the one to Isla Mujeres, I should add, but a small private shuttle – weaves through the mangroves to the oceanfront where a private beach of pristine sand and a pool with a sunken bar would await us. Unbelievably, it features a golf course, designed by Greg Norman, that is incorporated amid this fantastic setting. Given the amount of water, sand and jungle amid play, however, it must be challenging, to say the least.
Once again golf-buggied to our suite the door led not to the suite itself, but a private garden. In fact, they're not suites at all. We were staying in a private courtyard villa, with its own pool. Only this wasn't just a pool, it surrounded the villa, like a moat. You could draw either of the patio doors from the bedroom and, literally, take a dip. It was sublime. And there was more inside. The fact that the villa's brochure had its own floorplan suggests that this is something special. We'd come to expect on this trip such things as double bathrooms, separate living areas and 300-ply cotton sheets. But these rooms went to 11. There was a 'bath menu', for example. Not satisfied with water in your bath? Order a three-course meal of hydration therapy.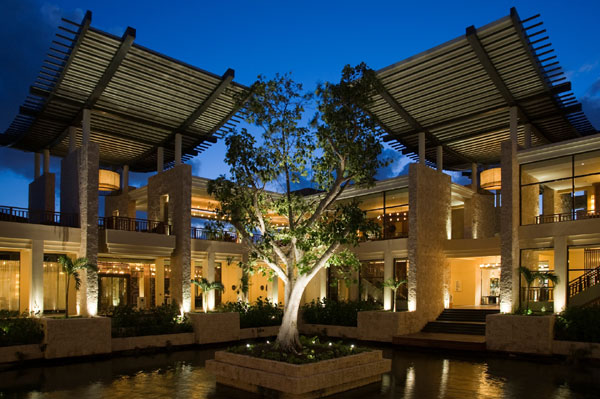 Speaking of three course meals, we next had to weigh up where to eat for dinner. A plethora of choice was presented to us. La Copa for tapas and tequila? A Mediterranean meal in Tamarind, perhaps? Or should we round off the Mexican experience at Oriente? It was Saffron we chose, for Thai food, in honour of the Banyan Tree's signature. Sat on the stilted wooden deck that reached out across the lagoon, and with a pleasant breeze from the water flickering the candlelight on the table, we toasted our fortune…at having made it across the country and back in a clapped-out Chevy, and prepared to dive into two days of beach time on the Mayan Riviera.
The weather, alas, had other ideas. Come to think of it, we'd deliberately bookended this trip with the beach and on both occasions we'd been thwarted by cloud, cold breezes and the occasional shower. Whenever we stepped into the Chevy, however, the sun had blazed and the aircon had packed up. If pathetic fallacy had had any influence, however, it had been ironic. Payback, perhaps, for an experience beyond measure; for the awe and wonder among an ancient culture, having dined like royalty and serfs in equal measure, bantered and bonded with people so hospitable, so friendly, and stayed in some of the finest hotels the world has to offer.
A spot of rain on holiday? A small price to pay, I'd say.
Villa Merida is an independently-owned hacienda in the heart of Merida's colonial centre. For more information, click here.For more information about Banyan Tree Mayakoba, click here.
For more information about Banyan Tree Mayakoba, click here.
Finally, for more information about the end of the world, visit the Yucatan and consult the ancient Maya. Not really, it's actually just the end of their bactun, or calendar. We're all safe as houses, really. I think.