A flagship store housed in stacked-up shipping containers, railway arch cafes where hipsters sip their Flat Whites, graffiti inked on every spare stretch of wall – I begin to feel I've slipped down the rabbit hole and wound up back in Shoreditch. But in fact this is Zürich, a city all too often dismissed as a dull business and banking centre. As it turns out, a mere five minute train ride from the main station to Hardbrücke brings you to trendy Zürich West, a former industrial neighborhood where disused factories now host thrift stores, bars, designers' studios and cultural spaces.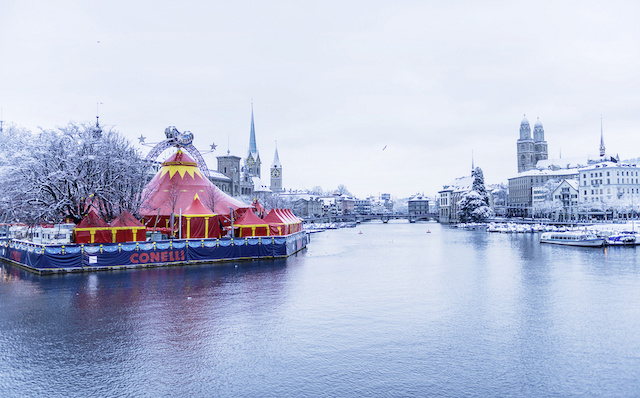 In many ways that shipping container store is totemic, an emblem for this area and its values. It belongs to cult Swiss brand Freitag, which makes functional bags and accessories like iPhone cases and card holders out of reclaimed lorry tarpaulin. It was established in 1993 – not long before Zürich West's makeover from industrial hinterland to hipsterville began – by two graphic designer brothers who found that the standard portfolios didn't manage to keep their artwork properly dry as they lugged them around the rainy city.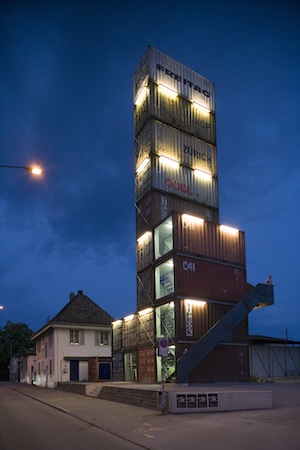 They found the solution for a water-repellent, robust material in the lorries that rumbled past their roadside apartment, and completed the prototype with car seat belts and bicycle inner tubing. Fast-forward 20 years and Freitag has a cult following in Switzerland and beyond, selling 400,000 products a year.
The re-imagining of the industrial continues at Schiffbau, the old Escher-Wyss ship-building factory that nowadays comprises a popular theatre, jazz club and elegant seafood restaurant, La Salle, while the nearby Turbinenhalle houses a complex of shops, restaurants, apartments and offices.
Some of the best shopping – and food – is to be found Im Viadukt, a strip of retail units built into the railway bridge arches. Restaurant Viadukt serves up a different set menu each day with a choice of two starters and three different mains.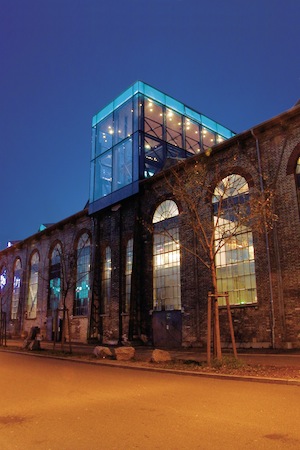 I opted for a peppery spinach soup followed by penne with Savoy cabbage, cream and Balsamic raisins; flavoursome, hearty dishes ideal to stave off the cold. There's an excellent food hall where you'll find both local produce and world cuisine, although my personal favourites were the handmade orange and ginger chocolates by St Jakob.
All this is not to say Zürich's more traditional side should be neglected, though; its picturesque Old Town rivals that of Stockholm, Tallinn or Prague on both looks and atmosphere. Each cobbled street offers up yet another postcard-worthy vignette and historical titbit. There's the Cabaret Voltaire on Spiegelgasse, where Dadaism was born in 1916, and Tavern Oepfelkammer with its distinctive scrawled-on wooden beams and long-standing drinking game challenging guests to imbibe a glass of wine while hanging upside-down from one of the timbers. Meanwhile, peer closely at Marc Chagall's stained glass windows in the Fraumünster – jewel-like bursts of colour in an otherwise dour Reformation church – and above Mary's head you'll see the outline of the halo that the artist had to remove when the church thought this too Catholic a touch. Between history lessons you can refuel with mugs of velvety hot chocolate in the red velvet interiors of Cafe Schöber.
There's a raft of cosy, traditional restaurants in the Old Town, but best among them has to be the oldest, Zunfthaus zur Zimmerleuten. This 14th century guild house is the place to sample Zürcher Geschnetzeltes, a local specialty of sliced veal fillet and crispy potato rösti. Tradition dictates this is followed by Marroni: nests of spaghetti-like chestnut puree dotted with crushed meringue, fresh cream and black cherries. Meanwhile, Le Dézaley, a more casual tavern-style option, also dates back to the 1200s and is renowned for its boozy cheese fondue.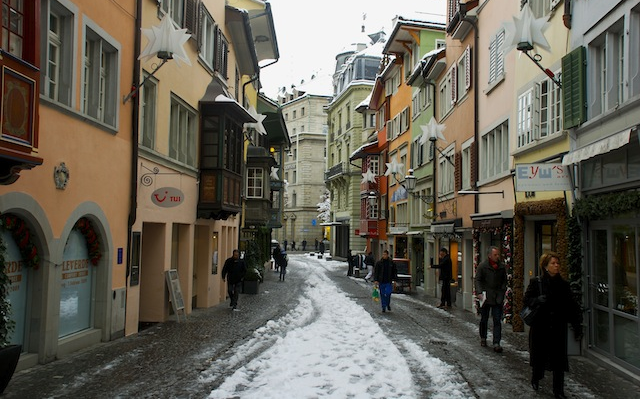 The Old Town is also certainly the place to get a dose of Christmas cheer. After all, it doesn't get much more festive than candle dipping in the temporary workshop on Bürkliplatz (this lakeside square also hosts the city's most popular fresh market on Tuesday-Friday) followed by listening to the choir arrayed on the famous Singing Christmas tree at the Werdmühleplatz Christmas market, a glass of Gluhwein in hand.
Across the Bahnhoftsrasse, Zürich's answer to Regent Street, Hotel Glockenhof is ideally poised to explore both sides to the city – it's close to the Old Town as well as to the train station, from where Zürich West is just a five-minute ride away. Guest rooms are unremarkable decor-wise but they're modern and comfortable, coming with thoughtful touches such as lint brushes and British plug sockets. It also does excellent breakfasts – I was able to sample five different Swiss cheeses on my morning rye bread, as well as vast quantities of Bircher museli. If you'd rather stay in trendy Zürich West itself, however, boutique design hotel 25hours neighbours the new University of the Arts campus and features personal city recommendations from award-winning Swiss interior designer Alfredo Häberli scribbled on surfaces and objects.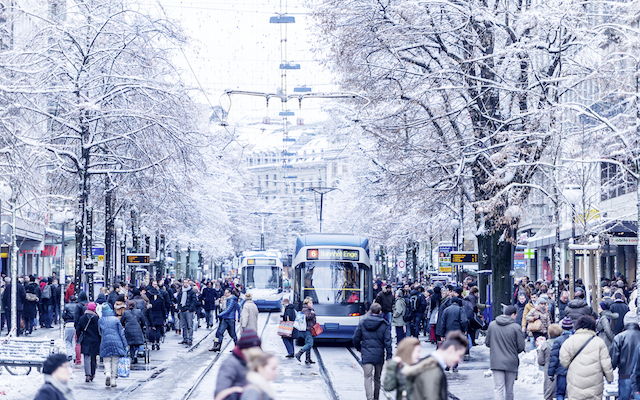 So, one weekend, two very different sides to Zürich to discover, neither of which involved a cuckoo clock or a conference centre. However, chocolate did feature strongly in my experiences of both – I guess that's one Swiss stereotype I'm not in a hurry to escape.